Home
Norovirus Tales
February 2014
Fortunately not first-hand accounts!
Tale 1:
The ships that recently suffered Norovirus outbreaks reminded me of a conversation we had with the ship's doctor on our Royal Princess Alaskan cruise. The Caribbean Princess, one of those affected, has a capacity of over 3,600 passengers, even larger than what we thought was the huge size of our earlier Emerald Princess North Atlantic crossing, with 3,080. The Royal Princess was more intimate, with 680 passengers and 350 crew. In addition to the superior service provided by the lower passenger-to-crew ratio, the officers and crew were also more accessible throughout the trip.
This offered the opportunity to discuss the concern, among the complaints in our eight-page letter to the Princess CEO about seemingly lax sanitation standards. I particularly mentioned that, unlike other lines we've sailed, hand sanitizers weren't provided outside the dining rooms – only at the buffets – or at the gangway entry. The doctor contended that they aren't as effective as proper hand washing and could provide a false feeling of confidence. And, for example, someone coming aboard could sneeze into his hand on his way up the gangway, then touch the handrail, potentially affecting the next person to touch it1. And indeed, there was a placard inside our cabin exhorting us to frequently wash our hands, but I wasn't convinced that was reason enough to ignore additional precautions. And, based on a recent Time Magazine article that the large Princess ships hosted 5 of the worst 13 Norovirus outbreaks to date, it seems that my concerns were not unfounded.
In any case, he then told of a previous voyage on another ship when a few passengers contracted the Norovirus. His first action was to have the doors removed from all the public rest rooms so that passers-by would shame users into compliance. (In case you wondered, the restroom design was such that only the wash-up area was visible.)
He also quarantined affected passengers to their cabins. Of course, those in the worst throes of the illness would have no desire to leave their cabin, or even their bed, except for frequent toilet visits. In fact, he said they were assisted in detecting new cases by passengers reporting what seemed to be excessive flushing in adjacent cabins.
However, even after they are feeling better, and would undoubtedly wish to participate in the many attractions for which they are being charged hundreds of dollars a day, they remain contagious for a while, and the impulse to ignore the quarantine is strong. In fact, this cruise included a "royal" who ignored the order. He didn't say if she really was royal, or just someone with enough clout to be accustomed to having her own way. However, the second unauthorized time she appeared in the dining room, they were prepared.
Her table had been separated from others and had been placed atop a large plastic drop cloth. Four crew members in Hazmat suits, complete with rubber gloves and boots – and gas masks – were positioned a few paces from each corner. After she completed each course, the plates, crystal, and silverware were ceremoniously removed, dumped into a hazardous materials container, and the lid was snapped shut. When she finally slunk away to her cabin – or more likely, suite – she was trailed by a crew member spraying the floor behind her with disinfectant.
From then on quarantine orders were followed by all, and the outbreak was nipped in the bud.
---
1 The Norovirus is generally spread by contact, either with other people, or with surfaces, that are contaminated. To minimize the first method – shaking hands is a difficult habit to break – some cruise lines have suggested substituting a friendly elbow bump. Avoiding the second method is more difficult, for example instinctively gripping a handrail when climbing stairs, or when there is some unexpected ship movement while walking down a corridor. However, any virus on the hands can't infect you if you can avoid touching your face – the mouth, nose, or eyes – until the next time you wash your hands. This may be an even harder habit to break, since observational studies show that we may do this sixteen times an hour!
---
Tale 2:
On our most recent cruise, on the Seabourn Pride in December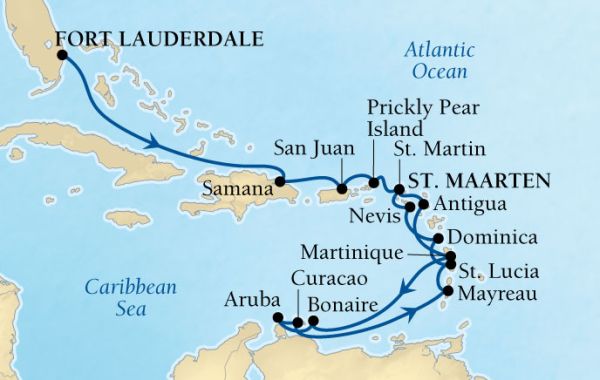 we struck up a conversation with a with a fellow passenger while watching the sun sink into the sea.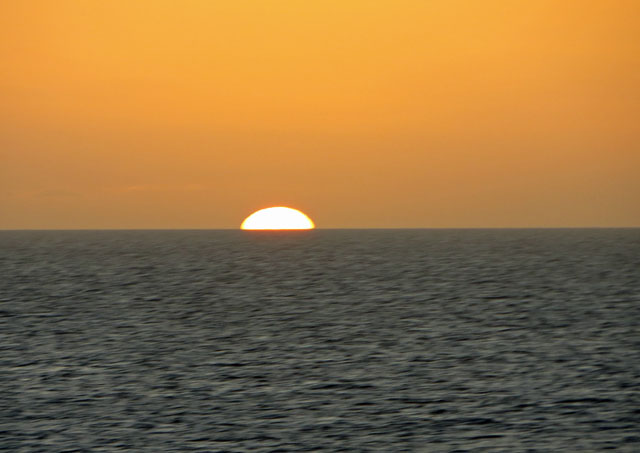 This sight was more rare than you might think, because more often there were low clouds that provided their own spectacle.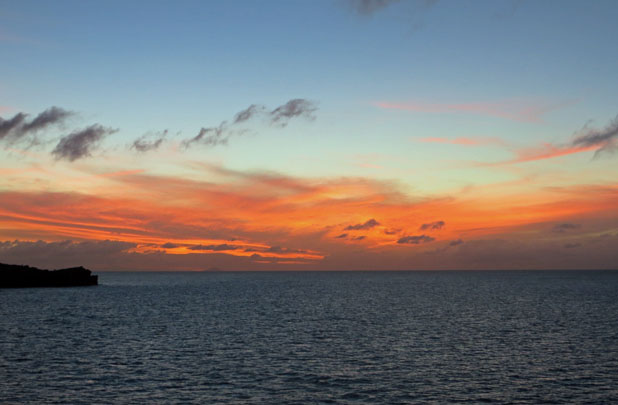 As the sun disappeared we witnessed the even more rare green flash. Unfortunately, I hadn't anticipated it, or I'd have set the camera to video.
When we next met him – with only 208 passengers, it's not uncommon to frequently encounter people you've met before – he was formally dressed, and we realized that he was a priest, in fact having been provided passage in exchange for his services. We arranged to meet for dinner, the first of several, when we heard more of his interesting background. After ordination he served as a high school teacher and prison chaplain, and later as an Air Force chaplain. Most recently, he is senior priest with a Catholic lay organization that sponsors children and elderly persons in developing countries worldwide. His travels to various parishes around the country have resulted in over 13,000 sponsorships to date.
His interests include snorkeling – he brought his own gear – and birding. One evening I brought my laptop to the table, and installing his camera's memory card, we viewed his feathery tropical finds between courses. In his late 70's, but appearing much younger (funny how that doesn't seem that old any more!), he still enjoys skiing, and arranged the timing of a recent trip to parishes in Salt Lake City and Ogden to spend some time on the nearby slopes, and to view several films at Sundance. He's also a pilot, and at the end of the cruise was on his way to Jacksonville, where he'd moved his plane from Vermont before the winter set in.
This being a holiday cruise, there were Christmas eve and Christmas morning, as well as Sunday, services, and he recounted the story of a similar cruise that wasn't as pleasant as this one. Told he could bring a friend, he invited the Guidance Counselor at the school where he was teaching. All went well, until, at dinner Christmas eve he thought his fish tasted a little, well, fishy. He finished it anyway, but not long after, suffering the agonies of food poisoning, he realized he'd made a big mistake. Somehow he managed to soldier on, celebrating midnight mass, and after a few hours of fitful sleep, the next morning's Christmas mass.
The hours passing with no sign of relief, he made it to the medical facility. Although the cause was obvious, in addition to whatever treatment the doctor provided, he also quarantined him to his room, and directed him to notify his companion also not to leave. Of course, in his condition, he had no desire to roam, but his friend had no such hindrance and, ignoring his entreaties, left to get a drink.
The ship's efficient computer system flagged his purchase, and he was tracked down and sternly instructed to obey the quarantine. The priest soon recovered, no further cases surfaced, and the quarantine was lifted, but they were closely monitored for the rest of the voyage.
A few weeks after returning home, he was notified that he was banned from future trips, or at least complimentary ones, on that cruise line. As he said, no good deed goes unpunished – poisoned by the ship, he was able to struggle through, managing to perform his duties but, undercut by the supposed friend he treated to a free cruise, his reward was to be exiled.
Fortunately, there isn't an industry-wide Do Not Sail list and he has continued to enjoy several cruises each year on high-end lines, but by himself since then. Not that it's a drawback – cheerful and gregarious, with a wide range of interests, he seemed to be friends with everyone by the end of the trip.
It was his misfortune to be stricken on a ship where one has to pay for drinks – his companion's transgression would never have been detected on Seabourn! However, he never would have been sickened by Seabourn's gourmet fare in the first place.
© Copyright 2014 Jack Ludwick - All Rights Reserved
Home