Home


North Atlantic Itinerary
September-October 2009
You may recall that our Seabourn repositioning cruise last year eventually resulted in our returning to Europe, in Business Class. After ten days in London, we flew to Copenhagen for four days, before boarding the Emerald Princess for an 18-day repositioning cruise in the opposite direction – to Ft. Lauderdale, with stops at Oslo, Norway; Edinburgh, Scotland; Dublin and Belfast, Scotland; Reykjavik, Iceland; Qaqortoq, Greenland (a name1 that was new to me); and St. John's, Newfoundland. Although we have been to Edinburgh and Dublin, the others, including Copenhagen, we hadn't yet visited.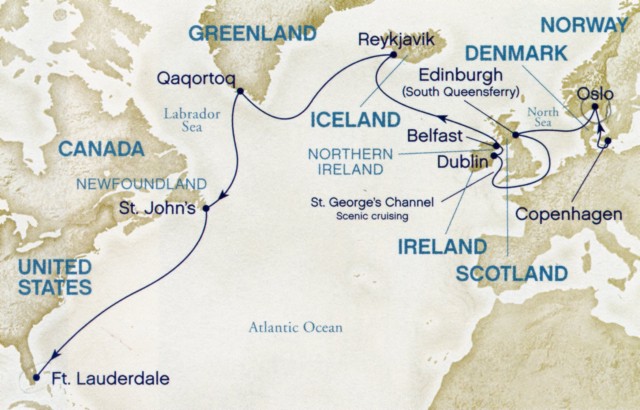 St. John's had to be scrubbed when forecast high winds made it too risky to attempt to dock, but we were able to call at all the other ports. We had encountered 70 mph winds directly from the side while cruising in the open sea, so we were aware of the effect high winds can have on a 19-story ship longer than three football fields. It presents a lot of sail area, and the stabilizers had a tough time maintaining a near-vertical position. However, even 18-foot seas didn't result in uncomfortable motion.
Unfortunately, to not a few passengers' disgruntlement, Princess didn't substitute another stop, they just proceeded in a more leisurely fashion to Ft. Lauderdale.
This is the ship in calmer seas. As I've mentioned elsewhere, I make it a point always to be on board when the ship is at sea, so this isn't one of my photos.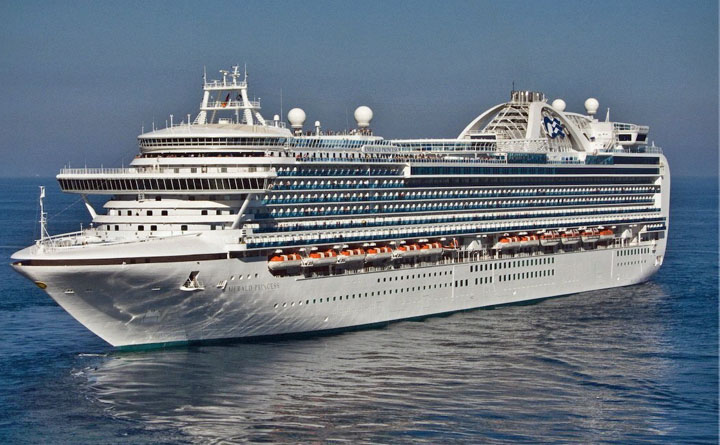 At least St. John's wouldn't be that difficult for us to visit sometime. However, Greenland is another matter, and fortunately conditions were calm enough for all who wished to tender ashore. And on a 3,200-passenger ship, that is quite an undertaking. In fact, after having waited nearly two hours for our turn to proceed to the tender, by the time we reached shore, the line to return stretched out of sight in the distance.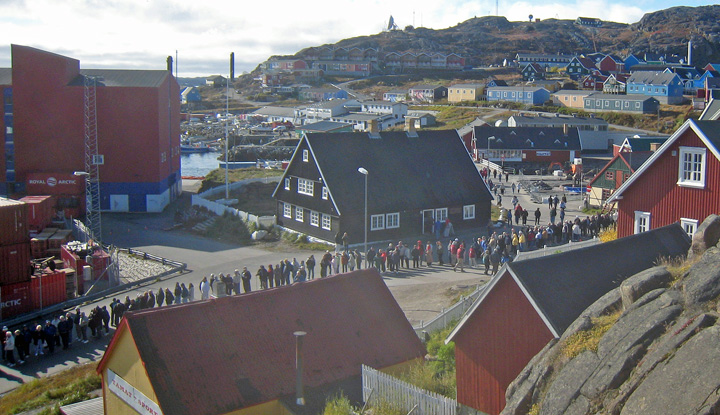 During the wait – which wasn't really uncomfortable as we were seated in the theater – I heard one woman say that her husband was staying aboard to watch DVDs and order room service! Perhaps he'd been ashore there before and knew what was in store.
But everyone else wanted to say they'd set foot on Greenland. As the saying goes: "You've seen the world, now see Greenland." If not arriving by cruise ship, there are few other options. There are several flights a week from Copenhagen, and sometimes from Reykjavik, which cost about $500 each way.
On earlier trips I might have commented about how expensive that is. However, this time we had planned to spend five days in London, then go to Paris (perhaps to fly, perhaps by Eurostar – you're probably familiar with much of our spur-of-the-moment planning by now) for another five days, and fly from there to Copenhagen. However, we found that because there is essentially no competition on that route, it would cost over $400 each. Rail wasn't much less expensive, and would take 18 hours and two train changes. So we stayed in London and flew EasyJet, for $125.
The hotel, Le Meridien Piccadilly, is a short walk from the Piccadilly Circus tube stop, located on, what else, the Piccadilly line, whose train we boarded at Heathrow. The five-day increments were particularly opportune, because we were using Starwood American Express card points to pay for our stay – otherwise the rate was about $400 a night – and they were having a "stay four nights, get one night free" promotion.
We were given a huge room – it had a bathroom at each end – on an upper floor overlooking Piccadilly Street. Although the many windows were double-glazed and did a good job of keeping out most street noise, that night we found that low-frequency vibrations from trucks and buses still penetrated. Even more distracting, what seemed to be lightning flashes occasionally shone through the drapes.
We soon realized that the flashes were coming from the huge video display on Piccadilly Circus, whose panels continually cycled through a series of advertisements, one of which was startlingly white. We also realized that the one air conditioning vent at the far end of the room was inadequate to cool a room of that size.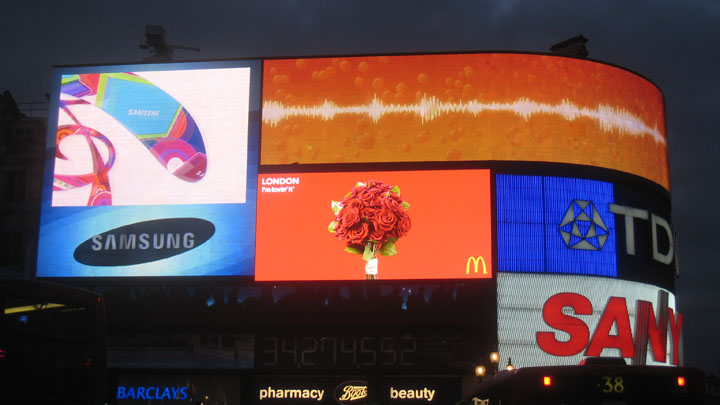 The next morning we requested a quieter room, and they showed us one that was really quiet. However, it was also really dark, since it faced a small courtyard and the surrounding tall buildings blocked the sun. Although that room would have been adequate, we asked if there were another one, since we would be staying another four nights; as we thought at the time. The next one also faced a courtyard, but that one was larger and the room was brighter. This was another huge room with a bathroom at each end, although, with air conditioning vents at each end, the cooling was more than adequate.
Unfortunately, there was a drawback – we immediately detected that a previous occupant had been a smoker. The clerk said they had a machine that would eliminate the odor. I was skeptical, but since we were going out we said we'd give it a chance to work. He said that he was also a non-smoker and would be sure that it was odorless. And sure enough, whatever the machine's mechanism, there was no trace of smoke and the rest of our stay was without incident. Once again, the third room was the best one!
---
1In case you're wondering how to pronounce such a tongue twister, our ship's tour director's version varied from time to time. And even this pronunciation is said to have a Danish accent.
© Copyright 2010 Jack Ludwick - All Rights Reserved
Home