Home
North, to Alaska!
August 2 - 16, 2010
Although we greatly enjoyed the port visits on our North Atlantic crossing last fall – with Oslo, North Queensferry, Belfast, Reykjavik, and Qaqortoq all being new to us – the shipboard experience left much to be desired. In fact, we experienced more problems than on all our previous cruises combined. After receiving the second copy of my eight-page letter1 (return receipt included) Princess offered us a substantial discount off a future cruise.
You may think that accepting such an offer would be reminiscent of the guy who complained that not only did that restaurant have terrible food, but there wasn't enough of it! However, we realized that many of the problems we encountered were because of the huge size of the Emerald Princess – 3,000 passengers. When we found that the 680-passenger Royal Princess2 was making 14-day trips to Alaska – and at two-for-one prices, before our discount – we signed up for the August 2nd departure. We hadn't been there before, and this was an opportunity to see it while there are still some glaciers to view.

In case you wondered, this isn't one of my photos – I made it a point always to be on board when the ship was at sea.
We later learned that this trip was, in fact, a unique opportunity – even this year, the seven-day Princess cruises were aboard the monsters, and next year the Royal Princess is being transferred to the P&O line, also a Carnival property, as the Adonia. The uniqueness comes from the route, which included traversing the "Inside Passage" (protected from potentially rough seas to the west) as well as the Gulf of Alaska, and returning to the departure port.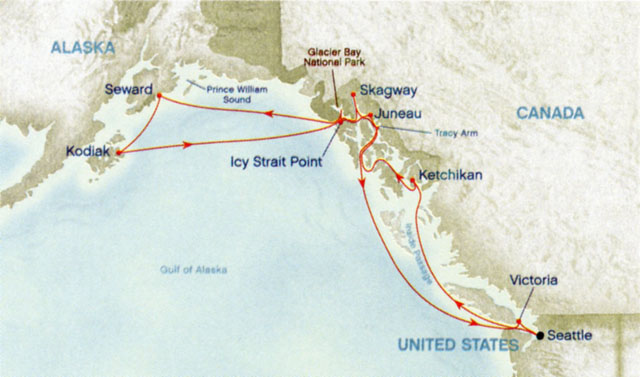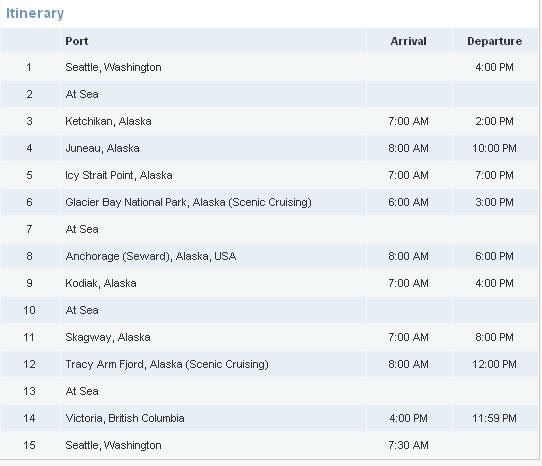 Most seven- or ten-day cruises sail up the Inside Passage and return, or make a one-way trip, beginning or ending at "Anchorage." The quotes are because few cruise ships actually land at Anchorage, which is on the north side of the Seward peninsula, because it would take another day to sail around it into the Gulf of Alaska. Most Anchorage cruises actually start or end at Seward or, more recently Whittier, which is closer, with a transfer by bus or train. Other tours incorporate land packages, e.g., including Denali, Fairbanks, Dawson City, or Whitehorse at either the beginning or the end of the cruise.
Almost everything about this trip was perfect. The weather was pleasant wherever we visited – several times residents told us that it was one of the best days they had experienced all year. In Kodiak, the Cruise Director said this was his sixth visit, but the first one that had been sunny, and warm as well. The ship was well laid out and the staterooms more efficiently designed than some ships with larger quarters – there was an amazing number of drawers and shelves, even in the minuscule bathroom. And there was plenty of room to stow our carry-on-size bags under the bed, although I don't know where those we saw arriving with mountains of luggage found to stash theirs.
As for other amenities: One of the advantages of a huge ship is they can provide Las Vegas style shows, and indeed we've seen some Cirque de Soleil type performances on other cruises. Ours had a relatively small troupe of singers who also danced and dancers who also sang. However, the shows were amazingly professionally staged and choreographed and the singers were some of the best we've heard. There were also individual performers: the usual magician, although his level of talent was a little greater than might be expected, having performed more than 8,000 times at Las Vegas' MGM Grand; a guitarist whose repertoire ranged from classical to country, with comedy segues; a New York supper club/jazz vocalist; and two comedians, one tired and one hilarious, featuring "a show with over 250 punchlines." I soon lost track of how many there might have been because I was laughing so hard.
The downside of the large ships featuring "anytime dining" is that most people prefer to dine early and also to attend the early performance of the shows, either in the amphitheater-style theater or in the large lounge that often featured a popular comedian. Since the capacity of the two dining rooms, plus the buffet, is greater than that of the venues, we soon realized that one had to arrive forty minutes early to secure a decent seat.
Not a problem on the Royal – the capacity of the Club Restaurant necessitated traditional early and late seatings, resulting in plenty of available seats in the cabaret-style theater for the shows, even if one arrived late. On the Emerald Princess we had soon realized why the library was so popular – people needed to pick up something to while away the time while waiting for the show to start. Although that was not necessary on the Royal Princess, I think we've seen similar wood-paneled multiple-room libraries in British country houses.
The Club Restaurant was not the only dining choice on the Royal Princess – there was also the Panorama Buffet, which often had a wider variety of choices than the restaurant. Unfortunately, the level of the cuisine on this ship was rather pedestrian – often artistically presented but generally lacking flavor. On each ship we tried an extra-cost specialty restaurant and had to send back entrées – a tough New York strip steak and a raw lobster! On the Royal, where we were celebrating our 44th anniversary, they deleted the extra charge, although the antipasti were delicious. The Emerald cover charge already had been complementary as compensation for some of our earlier problems. However, Royal's wide array of pizzas, available in the buffet for much of the day, and night, were outstanding.
As you may infer from the weather report, the balcony came in for its share of use. Even when the ship was providing close-up views of glaciers, it provided a comfortable vantage point. The ship's small size allowed us to closely approach glaciers, where the captain had it perform a slow pirouette, providing panoramic views to all. Which reminds me – on a small ship, you have the opportunity over the course of the trip to get to talk to the crew, from the captain to the cruise director, the hotel manager, the doctor, and the entertainers. On this cruise, the captain's wife and six-month-old baby were on board, leading to much shameless pampering.
And, as on all our cruises, we met many interesting people. Alaska certainly has an allure – many of those we met had been there several times before, including one couple on their eighth cruise. They said that they normally came every September, before proceeding to their condo in Hawaii for the winter, but this was their first time in August.
Our Monday departure meant that we weren't in lockstep with the big ships, which left on Saturday or Sunday – we were all alone in Glacier Bay National Park (admittedly, only two ships are allowed on any given day), Tracy Arm (a narrow, twisting fjord with glaciers at the end), and Icy Strait Point (which provides an unspoiled Alaskan experience). And on the last Sunday, in Victoria we – 680 strong – were by ourselves in port, just in time for the Dragon Boat Races – the previous day there were 8,000. It also meant that we had no competition for taxis on our arrival back in Seattle.
Although we didn't take any wildlife-searching shore excursions, we did see whales, sometimes from our balcony, eagles nesting – of course, that isn't that rare these days in the DC area – salmon leaping up a waterfall to spawn, and a black bear less than ten feet away. Fortunately, we were on an elevated walkway, and his attention was focused on a salmon-filled stream.
More details to follow.
---
1 It didn't take me long to realize that Princess had actually implemented several of the suggestions in my letter. The discount we received was certainly a bargain for them – for an earlier Secret Shoppers cruise analysis, on another line, all our expenses had been paid.
2 Some of you may recall the short-lived Renaissance line which offered some attractively-priced cruises for a few years, at least some staterooms being filled on an auction basis. Unfortunately, this was while we were both still working, and not able to take advantage of deals that suddenly appear; i.e., unlike today.
Eight identical ships were constructed, imaginatively named R One to R Eight. The owner was financially shaky to begin with, but the precipitous decline in tourism after 9/11 finished him off. Today, all the ships are still sailing, although under different flags – our Royal Princess was the R Eight. Princess has two others: Pacific (R Three) and Ocean (R Four)3; Hapag-Loyd has one: Columbus 2 (R One); Oceania has two: Regatta (R Two), and Nautica (R Five); and Azamara has the remaining two: Journey (R Six), and Quest (R Seven).
I mention this because we were favorably impressed with the R Eight, in case you might be considering a cruise on a sister ship in the future Of course, the Royal has been renovated, possibly more than once, but no doubt so have the others.
3 2016 Update: The Ocean Princess (R Four) has been sold to Oceania and after a refurbishment named the Sirena.
© Copyright 2010 Jack Ludwick - All Rights Reserved
Home