Home
Next Story
A Few Peculiar Passengers
Aboard the Seabourn Legend
April 2009
Some of you may recall that last spring we had planned a thirteen-day Atlantic crossing on the Seabourn Legend, from Ft. Lauderdale to Lisbon, after which we'd tour Portugal for a while before returning. Although an ear infection caused us to cancel, it seemed a good enough idea to try again this year, although the return plans were quite different. So we began our first voyage on Seabourn.
---
We were midway through our first dinner when a man at the next table summoned the Maitre dí. For ten minutes he recited a litany of everything that was wrong with his meal. The plate was not warm enough – it should be too hot to touch – the flavors werenít balanced, etc., but the last straw was that there were only six peas! We noticed that the other diners at his table continued eating as though nothing unusual was happening. The Maitre dí listened patiently, but we attracted his attention as he was leaving and told him that the complainer was a windbag, that we had dined at many fine restaurants and found this cuisine to be superb. He thanked us and departed for the kitchen to dispatch the chef for his share of abuse. After the chef received his harangue, we repeated the process, and he also thanked us. Thus we encountered The Chronic Complainer, little realizing that he was to be just the first in a cast of colorful characters.
Our attention next was drawn to a table across from us, to Zorro. Completely dressed in black, but with a silver belt, he lacked only a mask and cape, and perhaps sword. He later draped his jacket over his shoulders in a reasonable imitation of a cape, but a sword wouldnít have made it through the shipís metal detector. We soon realized that he was informing the sommelier that he was an expert in all matters oenological. Although Seabourn offers top-shelf spirits (e.g., Bombay, Grey Goose, Makerís Mark, Famous Grouse, French Champagne, and three kinds of VSOP Cognacs), gratis, all the time, the wine offerings are mid-range. However, their ďcellarĒ does include fine, extra-cost, vintages, one of which he had selected to display his expertise.
When we later mentioned Zorro to others, they immediately knew who we meant, and we learned from some who were in The Club that evening that he was also The Scourge of the Dance Floor. Admittedly, the dance floor is compact, but he whirled his partner around it with reckless abandon, to the peril of those more considerate of their fellow dancers.
The next day while strolling around the deck we spotted the Chronic Complainer documenting his many complaints – he had already nearly filled a page of his yellow legal pad. We also had an opportunity to talk with the Maitre dí who was organizing the lunch buffet on the deck adjacent to the outdoor Sky Bar. On such a small ship, the crew members are easily accessible, and even the Captain may join you for a chat. And this ship's Captain was the most gregarious we have encountered – his welcoming remarks were so smooth that he might have started his career as a Cruise Director.
When we sympathized with the Maitre dí about his treatment, he said it was of no import – the man had cruised with them many times, always complained, but continued to return! I said it reminded me of the guy who said the food was terrible, and not only that, there wasnít enough of it. The Maitre dí made sure that we were seated well away from the complainer from then on.
As Seabourn newbies, I guess we shouldnít have jumped to conclusions. The Captain had announced that 70% were repeat cruisers, and he hoped on next yearís crossing it would be 100%. We might be among them, since it will be the Legendís last crossing. [We later found that its transatlantic repositioning cruises have continued, although not necessaily from Ft. Lauderdale.] Deemed a mega-yacht, it has a maximum capacity of 208 (the Captain also revealed that on this trip passengers numbered 185, to the crew's 187), but within the next two years, two 450 mega-mega-yachts will be launched to cruise Europe and the Caribbean, and the three smaller ships (the others being the Pride and the Spirit) will be transferred to the Far East.
Imagine our surprise, on such a small ship, to meet an Australian couple we had gotten to know on our last small ship voyage, aboard the Silversea Silver Wind, and that they had also been aboard the Seabourn Spirit on the next leg of its voyage after it was attacked by pirates off the Somalia coast! Fortunately, it had been able to outrun the pirates, but not until they caused some damage to the ship and injury to a crew member.
On larger cruise ships, there is often a Captainís Table one or more times per cruise, when a select few get to dine and converse with the Captain, which we were fortunate enough to enjoy on a previous Holland America cruise. On Seabourn, they have a similar, but expanded, arrangement, called Hosted Tables, with crew and entertainers hosting multiple tables nearly every night. With so few passengers, it didnít take long before we were invited to the Chief Engineerís table. Evidently we passed muster, because we later joined the magician, the Assistant Cruise Directors, the piano-playing comedian, the singing duo, and the onboard chaplain, a Catholic priest, and his female suitemate – an unusual arrangement.
At a table of eight, one has an opportunity to learn enough about others to know if youíd like to get to know them better. We were fortunate to have congenial tablemates, but our friends had the bad luck to twice be seated with The Rejector. Unlike the Chronic Complainer, she didnít bother upbraiding the dining room staff. She just sent everything back – sometimes twice, and often without tasting, throwing off the timing of service for the whole table. To make matters worse, she annoyingly arrived late. After the second experience, our friends thought they were jinxed, and declined further invitations.
The Rejector reminds me of another picky eater we heard about who sent back his Osso Buco because it had a bone in it! And one of the ship's featured lecturers had the chef prepare her own recipe for lemon cheesecake, then pronounced that it didnít taste anything like hers!
As you may already have surmised, Seabourn aims to satisfy any reasonable request. A German couple at our first Hosted Table began with what appeared to be Steak Tartare, which was not on the menu. We learned that they had pre-ordered it, although without any of the other classic ingredients – onion, capers, anchovies, and egg yolk – in other words, raw chopped beef. Their next course was a thick New York strip steak. He said that American beef is the best, so he orders steak every night, and, in fact, often for breakfast as well. Although itís also not on the breakfast menu, I did the same one morning, and Betty Lou had baby lamb chops. I later pre-ordered a genuine Steak Tartare for lunch, when Betty Lou likewise pre-ordered a lobster salad.
The indoor/outdoor Veranda Cafe was a popular place for lunch, with its ever-changing buffet, served by staff if one wished, complemented by a standing menu. However, the main attraction was the view, overlooking the ship's wake, and our friends warned us to arrive by 12:15, before the rabid Trivial Pursuit contingent swooped in after each morning's bout. One day we saw a group of six enjoying a large pan of paella, also not on the menu. However, the ultimate was the night a table of ten in the Dining Room feasted on a whole roast suckling pig! The pre-order in this case was two months – suckling pigs arenít a staple even in Seabournís larder.
And one can order caviar, with Champagne or vodka, depending on your taste, whenever and wherever you wish. After seeing it being it served to a woman at the Sky Bar, seemingly as a pre-appetizer for a later lunch, we often did the same, as well as before dinner with some world travelers we know.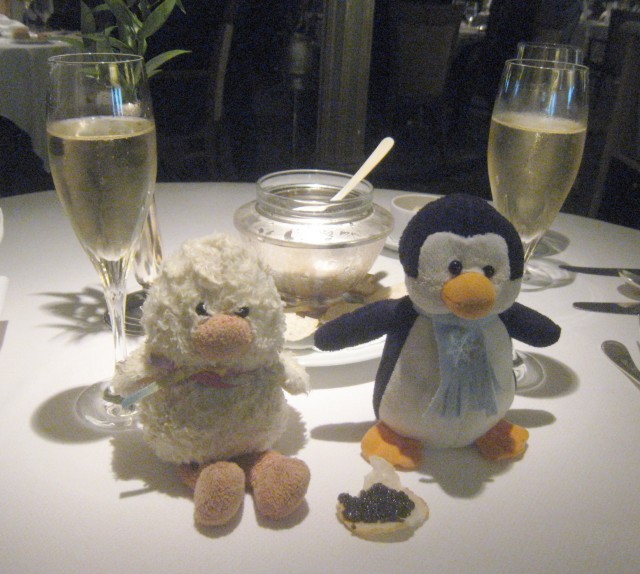 After Peep and Flo made their appearance, we learned of others' companions that were also enjoying the cruise. First, what looked like Peep's big brother peeked out of a friend's pants pocket. Actually a duck, it was a gift from his children – or so he said. Then, a couple stopped by our table one night and confided that they had four bears in their suite. However, they must have been bashful, because they remained out of sight. And Betty Lou just reminded me that at breakfast in Coimbra, Portugal one morning, after they had graced our table, a pig made his appearance at one nearby.
But not all the characters ďrevealedĒ themselves only in the Dining Room – there was also The Butt Cleavage Dowager. A slender blonde well into her 70ís, she presented a striking appearance when clothed. However, much of the day she was sunning on deck clad in a bikini, at least one of which suggested her nickname, although the original version was a little less couth.
But she was obviously at home there, with over 1,100 days aboard Seabourn, and her son, more than 100. Thereís no doubt the idle rich are different from the rest of us – the German couple we met were flying to Miami two weeks later, to make another crossing, on Oceania this time. This was "only" their seventh Seabourn cruise, but when we asked if they had any experience with the Princess cruise line, since weíll be returning from Copenhagen on the Emerald Princess in September, they said they had – sixteen times.
© Copyright 2009 Jack Ludwick - All Rights Reserved
Home
Next Story