Home
Previous Story
Next Story
Lovely Americans?
Portugal
April, 2009
It seems we're not ugly in Portugal. Or in London, for that matter1.
Although we did have reservations for four nights at a hotel in Lisbon, made the morning we sailed, there were none for the week we'd be driving around Portugal. One reason is that we had no idea what our itinerary might be, although we had a list of likely sights from Frommer, Fodor, and Rick Steves, whose map is shown here.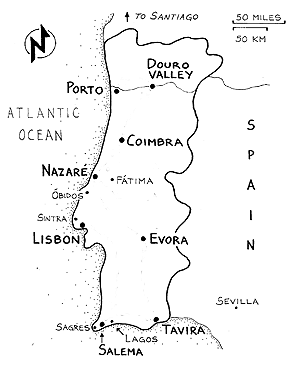 Then, one day in the Solar do Vinho de Porto in Lisbon, which offers over 200 port wines by the glass, we met an American couple that had just returned from visiting several of the towns on our list, using Cascais as their base of operations.
Cascais, half an hour to the west of Lisbon, is a seaside resort where the rich and royal used to summer. Now many others have discovered its charms. Although not shown on the map, it would be located below the dot shown for Sintra. (Which we visited by train while staying in Lisbon, including the National Palace, a blend of architectural styles resulting from building campaigns over the last 800 years, also known as the Town Palace, and a more fanciful one atop a peak miles away. And the Imperio do Vinho, which you might have deduced is a wine and tapas bar.)
Cascais did seem like an attractive starting point, so we chose the Hotel Pestana Cascais from the Michelin Red Guide, and made reservations for two nights using my "Estonian" phone.
Rick Steve's map of Portugal shows many of his recommended sites. We'd already been to the north on a previous trip to the wine regions of Spain and Portugal, and we ran out of time before getting to the Algarve to the south, but we did eventually visit his other recommendations.
The next day we visited the picturesque medieval walled town of Obidos, but realized that even this relatively nearby town took too much time coming and going. (The people we had talked to had admitted that their return from Coimbra, a more remote destination that was also on our list, was after midnight.)
So the next day we made reservations with Theresa at the Hotel Miramar in Nazaré, a former fishing village that is one of Rick Steves' favorites, but we found only its beach to be of interest today. On the way there we stopped in Fatima, a famous pilgrimage site since a sighting of the Virgin Mary during World War I.
The nexr day we planned to travel further north to the university town of Coimbra, but my call to the Hotel Dona Inęs wouldn't go through. I tried several more times that night and the next morning, and finally appealed to Theresa for assistance. She had no trouble contacting them, but after some discussion in Portuguese, told us that they were fully booked. We were disappointed, since the Michelin Guide hadn't shown other attractive choices.
She talked with them some more, during which the only words we recognized were "Americans." Then she reported there was a room available, but clarification revealed that it was a smoking room. Once more we were disappointed, since we are both allergic to cigarette smoke. After some further discussion, she found that they did indeed have a non-smoking room for us.
Although it turned out to be only a standard room, as compared with our previous two, which were suites in size, it cost only $80, bountiful breakfast buffet included, and the next day they moved us to a much more spacious room with a more impressive river view, at no increase in price.
I later found that the reason for my failed phone calls was that on my first attempt I'd entered 315 instead of 351 for the Portugal country code, and on each succeeding try, instead of punching in a dozen or so numbers, I'd just pressed Redial, each time faithfully retransmitting the incorrect number. However, if I hadn't made that error, it's likely that, on our own, we would have gotten no further than "No room at the inn." 2
Later, in London, we had the Concierge call for a reservation at Pied a Terre, a Michelin two-star restaurant. He was very personable, and we'd earlier been chatting with him about other matters. After announcing that he was calling from the Russell Hotel, he said he'd like to book a table for "two nice Americans." And when we arrived, we found that we had been given a choice table in the main dining room, which Michelin had recommended.
---
1 This trip is the same as the one we had to cancel last year when I got an ear infection. Beginning with a thirteen-day Atlantic crossing from Ft. Lauderdale to Lisbon, Portugal via the elegant Seabourn Legend, we spent four days in Lisbon, rented a car and toured Portugal for a week, then flew to London for another three days before returning home.
2 You might assume that I would have been recognized as an American when I called, so the final result would have been the same. However, we've found that it takes an advanced level of English fluency to be able to distinguish between British and American pronunciation. Even the German project leader I worked with in Frankfurt, who spoke very good English, once asked me if some people we'd met were English or American.
The reason this may be significant is that on the Continent it's likely that more people have been exposed to Ugly Brits than to Ugly Americans. Although it's possible that their percentage of boors may be no higher than ours, they have been visiting in greater numbers and for a much longer time than we have.
On a similar note, several times in the past when we'd been off well-worn tourist routes, although the local residents could tell by our French – or Spanish, or German – that we were English speakers, they were surprised to learn we were Americans. And one of the very few times in all our travels that we were rudely treated because we were recognized as English speakers was in a hotel and restaurant not far from Le Havre, where we had disembarked after our cross-channel ferry voyage from Portsmouth. After all, if there is one place Americans should be welcome, it's a site that close to the Normandy beaches.
---
This trip finally solved a mystery we encountered when we lived in Germany nearly twenty years ago. It is not surprising that most Europeans who are fluent in English speak with a British accent – there are a lot more Brits than Americans teaching the language in Europe. However, we were surprised when we visited Stockholm by how many Swedes had an American accent. I noted it at the time, but it wasn't until we remarked to a Portuguese cabdriver about his American accent that we found out the reason. He had learned, or perhaps "perfected," much of his English from watching American television programs, and Portugal, like Sweden, broadcasts foreign programs in the original language, with subtitles. Unlike in Germany, where foreign programs are dubbed.
© Copyright 2009 Jack Ludwick - All Rights Reserved
Home
Previous Story
Next Story