Home


Not Paris
Copenhagen, Denmark
September 2009
The train from the Copenhagen Airport whisked us quickly into the center of town. Having read that our hotel, the Ascot, was not far away, we still didn't know if that meant it was within reasonable walking distance1.
When I called them with my Estonian phone, they said it was only a ten-minute walk. We should cross the road in front of the train station, turn left, walk alongside Tivoli Gardens – towards the giant Ferris wheel – and they were on the square behind it! We, of course, had spotted the towering structure, but thought it was part of Tivoli Gardens.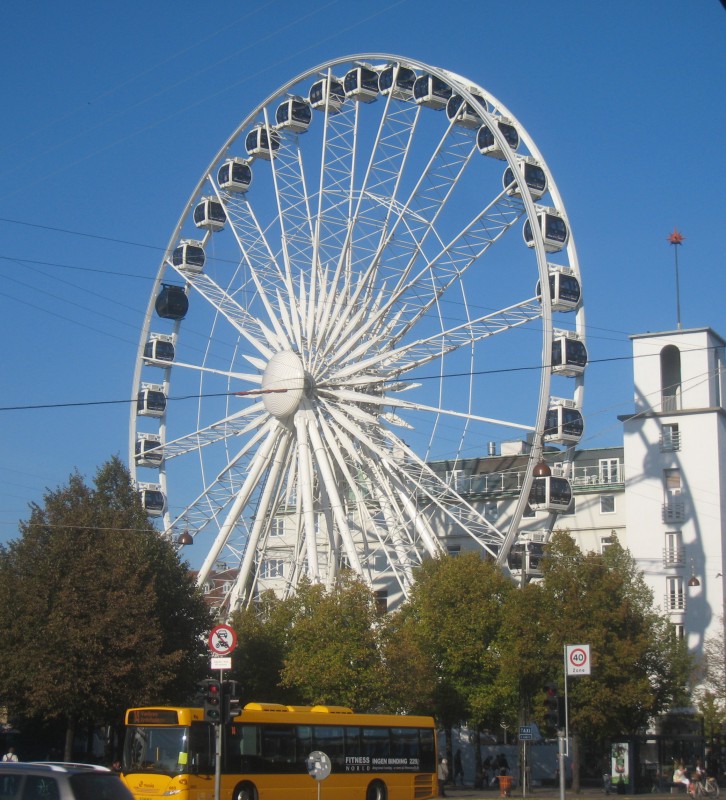 In fact, Tivoli does include a Ferris wheel – constructed in 1943, it's not as large, but it is more charming. However, it is tall enough that in 2008 a Swedish woman was able to successfully commit suicide by leaping from its heights.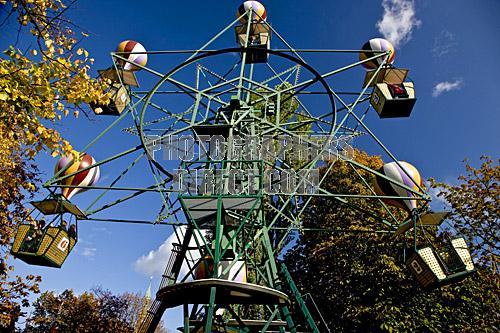 When we asked about the larger one in Axeltorv square, the hotel receptionist said it came from the Place de la Concorde in Paris! We later found that this 50-meter tall "observation wheel" had indeed been there, on the edge of the Tuileries Gardens, but it is being replaced by a 60-meter one.
The "Copenhagen Wheel," the largest in Scandinavia, was installed, initially for a three month period, as an indication that City Hall was now welcoming flashy events and businesses with open arms. This particular location was chosen because it was the only open space downtown where it wouldn't interfere with power lines, but after its construction it was found to be directly in line with a telecommunications link. Although it was not revealed how that was resolved, a more serious problem surfaced just as the ride was scheduled to open in July. Officials uncovered discrepancies between the permit application and the construction itself, raising concerns that the ground underneath the wheel might not be strong enough to support it! Fortunately, test drilling showed that it was safe to proceed.
The fare was about $15 for a 13-minute ride – perhaps 2 or 3 revolutions. Alternatively, one could reserve a four-person VIP gondola, with leather seats and glass floor, for $120 – if you might wish to enjoy a glass of champagne on the ride it would cost an extra $402.
Evidently, the Copenhagen Wheel was a big success, because its initial three-month stint was extended to January, and there was talk of making it a permanent fixture. Of course, there is a long history of "temporary" installations hanging around well past their expiration date, including the Eiffel Tower and the London Eye. And when we arrived in Belfast, we saw another next to City Hall. The Emerald Princess port lecturer said it was installed the previous year when City Hall closed for renovation, but it's still going strong.3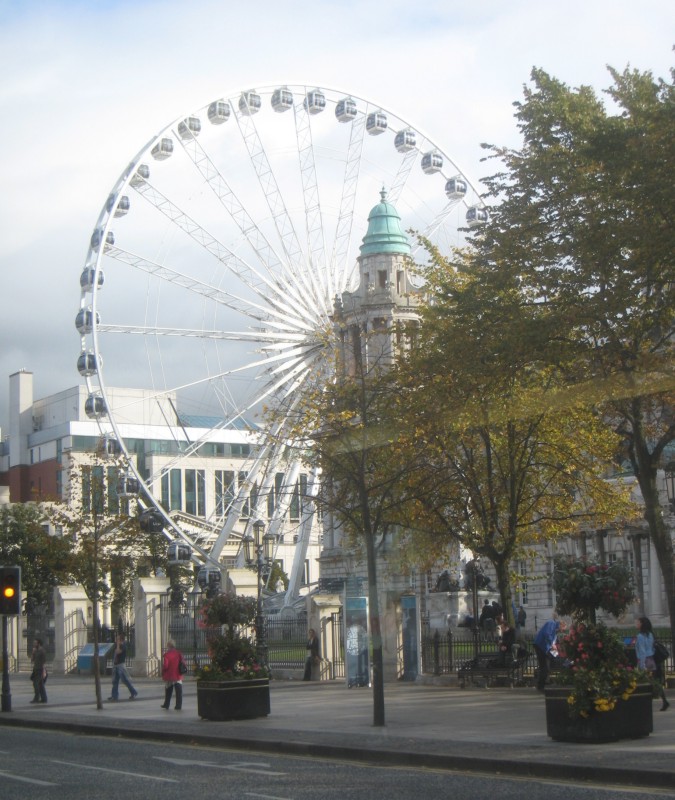 ---
1 This is our total luggage, including computer, Skype phone and GPS, for the 32-day trip – 10 days in London, 4 in Copenhagen, and 18 on the Emerald Princess, formal nights included. And adequate to protect us from a London deluge that deposited an inch of rain one day, and for below-freezing temperatures in Greenland another. Layering is one secret and locating lightweight, non-bulky, wrinkle-resistant clothing is another, but a big reason is that Betty Lou has become a master at packing.
The wheeled suitcases are carry-on size. In addition to our Copenhagen trek, we traveled by tube from Heathrow to our hotel near Piccadilly Circus, and later by bus to Victoria Station, where we caught the train to Gatwick for the flight to Copenhagen.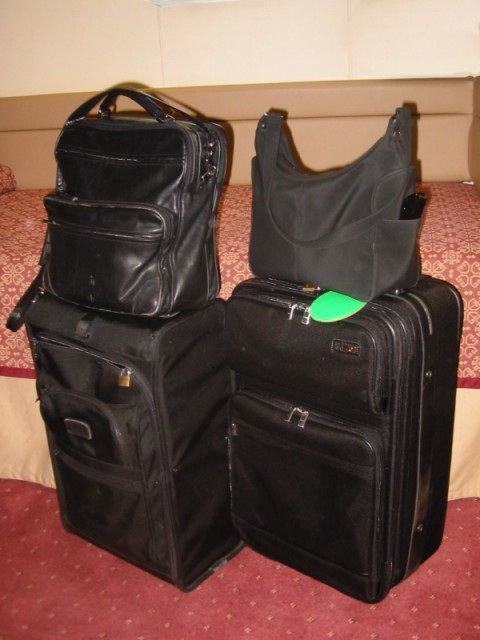 When we first started traveling in the '60s, a travel guide recommended making two piles on your bed, one with your money, the second with your clothing. Then to double the first pile and cut the second one in half! We've always found travel deals, so we haven't needed to do the first, but the second was great advice. As Betty Lou says, if the Queen invites us to dinner, we can always buy something.
We have recently heard from a friend whose mother had a similar saying: "We're not going to the jungle!" However, I then realized that we indeed did go to the jungle that way.
2 From our trips to Stockholm when we were living in Germany, we were aware that Scandinavia was expensive. However, we had been lulled by the hotels.com price for the Ascot Hotel – categorized as very expensive by Frommer – of $165 a night, including a huge buffet breakfast. It took just one turn around the block, checking restaurant prices, to return us to reality. The Copenhagen McDonald's version of the Dollar Menu cost $3, and that evening, at the Il Peccato restaurant, we shared an antipasto platter and a pizza, and each had a draft beer – the check was $82. I forgot to mention the tap water, which cost $3
3 This story has been in the works for some time, and when I recently checked the Copenhagen Wheel website found that it indeed had been dismantled January 31, with no future plans for its next appearance. Evidently demand is not great for high-altitude sightseeing during a Scandinavian winter's short days and long nights.
© Copyright 2010 Jack Ludwick - All Rights Reserved
Home