Home
Previous Story
Next Story
Sint Maarten/Saint Martin: The Restaurants
February 2008
Maybe it's just because we chose restaurants recommended by Frommer or Fodor, and our new friend Étienne, but all those where we ended up had expansive views of the water. The map does show so many bays, lakes, and lagoons that it would seem to be fairly easy to find a picturesque location to construct a restaurant.
• We took the minibus into Phillipsburg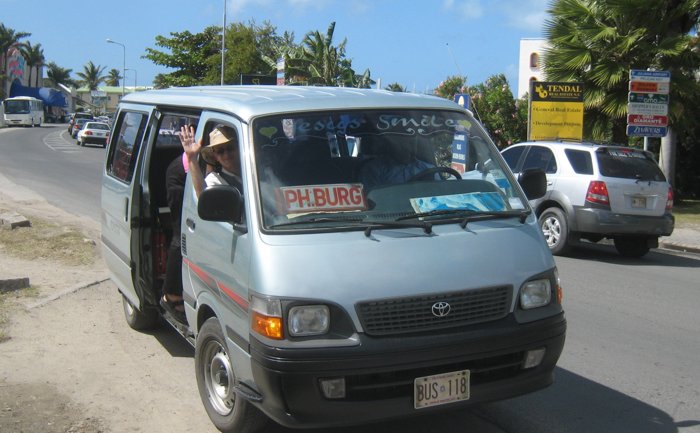 down to the pier area in time to see a Segway parade.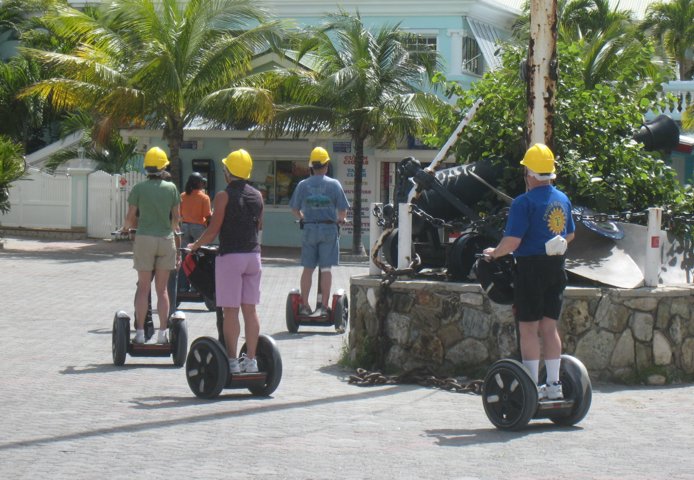 • We initially checked out The Green House for lunch but finding it a bit frenetic went further up the pier to Chesterfield's. Even though this was within sight of the cruise ships, it looked like it was in a strip mall and wouldn't attract the casual visitor. Behind the facade we observed activity on Grand Bay.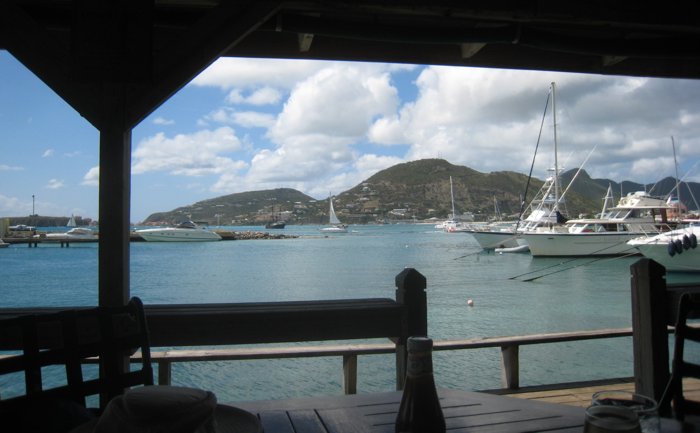 During our lunch, a shore-excursion "pirate ship" docked, the passengers debarked, and a cook fired up a grill on the bow, soon flipping fish, steak, and ribs for the crew.
After paying our check, we tarried, enjoying the view, and soon were approached by the manager who had noticed that our wines had not been included in the total. She obviously realized that we hadn't known that either or we would have already fled, but Betty Lou joked: "Oh I thought they were on the house!" She replied, "Would you like one on the house?" And indeed served us one. It was typical of the friendly service we had everywhere.
• Traffic on our return was like a DC rush hour, but fortunately we weren't driving and had live in-vehicle entertainment. Several women gossiped about their bosses, their boyfriends, their hair, their bodies. Perhaps they thought that since it was in French it was more private than it really was. We have noticed that it's easier to understand the language in French-speaking areas that aren't France.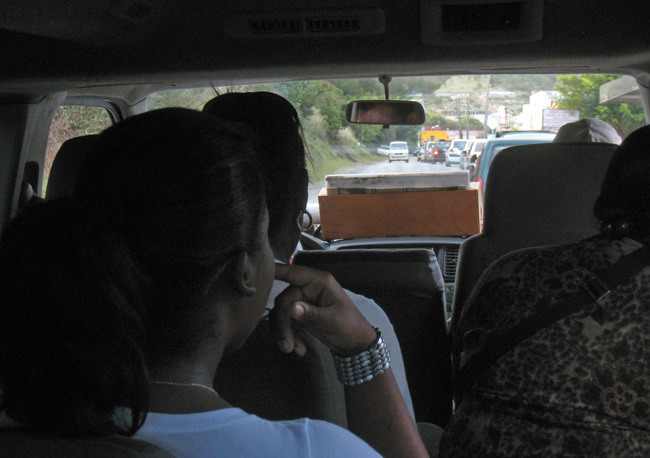 • Frommer's review of Il Nettuno in Grand Case called it "the most elaborate, best managed, and most appealing Italian restaurant on either side of the island" and mentioned that the owner, Raymon Losito, had previously included a 25-year stint at a French restaurant in Washington, DC. After the KFC transfer we asked a nearby passenger how to get to Grand Case. He didn't understand English, but queried his friend (and it not being French, was probably Papiamento) who told us that we'd change in Marigot.
Others made sure that we didn't get off too soon. When we arrived at the transfer point, a minibus in the direction of Grand Case was waiting. After a few minutes, and the arrival of a few more passengers, we departed. We told the driver when we boarded where we wanted to go, and he drove us into the main street of town. We later learned that they normally just stop on the main road, from where it's up to you to walk into town.
When we arrived, Raymon was sipping an espresso and enjoying a Havana cigar near his display of Redskins paraphernalia. We learned that the Washington restaurant he had owned was La Nicoise, where, you old-timers may recall, the servers wore roller skates. He moved here to retire but it didn't take long before he was back in business on Grand Case Beach, sans roller skates. We had to admit that the smooth white sandy beach extending for miles in each direction were very seductive. Although for most of our lunch we were the only diners, the one hundred coming for dinner had made reservations well in advance.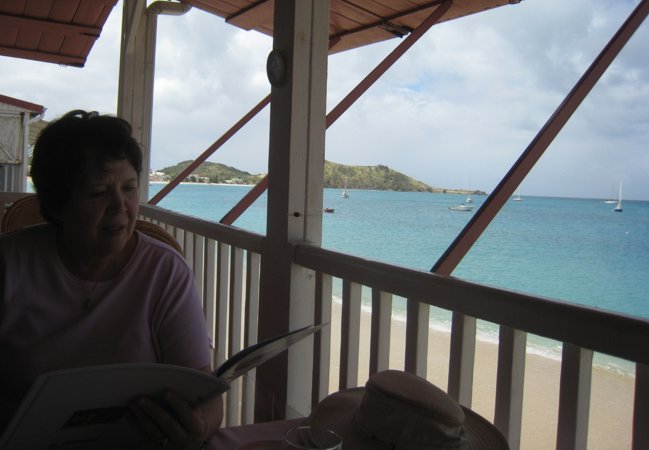 • Étienne had earlier recommended Turtle Pier Restaurant for lunch, via the Mullet Bay minibus ("just wait at the pharmacy sign"). He often takes his children there on a Sunday to watch the huge bass gather around the fishing boats for handouts. Sure enough, when one came in, the monsters were waiting.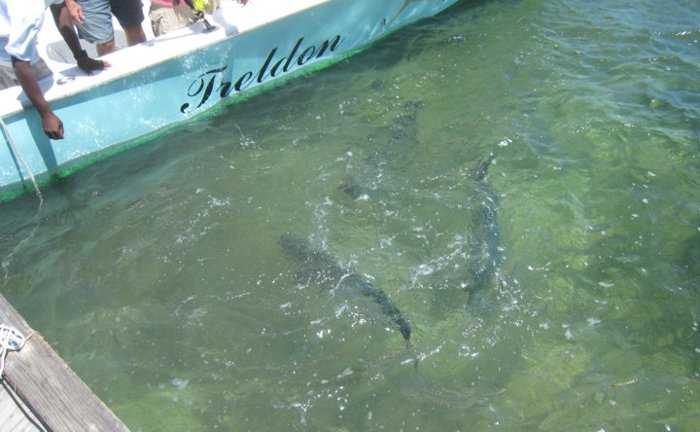 Frommer did mention the location across from the airport as not being a great asset, but we learned that the Sunset Beach Bar, a short distance from the end of the runway, is a popular gathering place for thrill-seekers who wish to experience the excitement of jets hurtling close overhead. However, the people who told us about this said they'd been disappointed the night they'd gone there. There were no flights, because some runway edge lighting cables had been damaged. It happened Saturday and night operations did not resume until Wednesday, because, they said, they could not disrupt daytime flights. It was not revealed whether the four nights between were completely devoted to repair work, but this is the Caribbean.
Princess Juliana Airport (whose airport code, SXM, is often used as shorthand for the entire island) is modern, but the 600 passengers that had to sleep on the floor Saturday night probably didn't find it that comfortable. However, their plight paled next to those aboard an Air Transat flight from Toronto, which was diverted to Antigua. Since no hotel rooms were available there, the plane proceeded to Venezuela's Margarita Island after refueling. Their luck did not change the next day, when other, unspecified delays prevented their departure until too late to arrive at Sint Maarten before dark. So the flight returned to Toronto, and the journey was only completed Monday afternoon, some 41 hours late.
• Dinner at the highly-regarded Saratoga (the chef/owner moved here from Saratoga Springs, New York) didn't begin very auspiciously. Although our table was nicely situated to view the yacht club marina (although artistically illuminated, it was a little too dim for a photo), an overhead light made it seem that we were literally in the spotlight. We asked if they could dim it, and they responded with a barely noticeable change. When we asked to change tables, the waiter said the tables were all reserved. We pointed out that we also had reserved, and so far, except for a group of four, we were the only ones present. He went away and on his return rather grudgingly let us move to the adjacent table.
Which we discovered was in front of the loudspeaker, with the emphasis on loud. Beginning to sound like a stuck record (or CD), we asked if the music could be turned down a little. This time when he came back, he said they couldn't do it, because then the soft music wouldn't be audible. He also said that there were not many loud selections, and indeed as the evening wore on, and the background noise level rose, it became less noticeable.
We then had a few questions about some of the menu items. What was a "torchon" of foie gras? Foie gras is pretty expensive, so was this a fancy name for a "sliver"? His explanation basically was that it was liver. I said I knew what foie gras was, what I wanted to know was what was a torchon. He repeated his previous "explanation." Giving up on the appetizer, I asked what curing process went into the "house-cured" pork tenderloin entrée. He said that was the way it was delivered to the restaurant!
I suggested we cut our losses and leave, but the cuisine had been lavishly praised both by Frommer and Fodor, so we resisted our instincts and were glad we did. Betty Lou is still raving over the giant shrimp with red Thai curry and soba noodles and my house-cured pork tenderloin with mango-pear chutney was delicious – I did know what mango-pear chutney was.
Surprisingly, the waiter was expert in wine presentation, and when we later told the hostess about our experience, she sighed that she couldn't get the waiters, all males, interested in the food preparation, despite mandatory briefings whenever menu items changed. However, they were enthusiastic about the cocktails, of which there were several specialties, and the wines.
She also told us that torchon actually referred to the preparation, the foie gras being wrapped in a towel (torchon being French for dish towel) and poached. And, as we suspected, the curing for the tenderloin was actually performed in-house, over the course of several days. Betty Lou later found a recipe that sounded like it would have a similar flavor--unfortunately, it didn't.
As we left, we saw two stylishly-dressed blonde babes having a smoke before dinner. They were interested in what what our experience had been, and during our conversation we learned that not only were they also from Virginia, but they weren't that much younger than we – the outdoor lighting was subdued, but it wasn't that dark. They said they were going to Bikini Beach the next day, and I said I could see why. Googling later showed that Bikini Beach is actually a restaurant. However, it is on the northern end of famous Orient Beach, which becomes more and more clothing-optional as one goes further south. Of course this is on the French side.
Betty Lou tsk-tsked their smoking, warning that it would give them wrinkles. They said they'd only taken it up a few years ago, to help them keep their weight down!
• This isn't a very appetizing way to wrap up the restaurant scene, but … Since Los Gauchos, on the Pelican Resort's grounds, is one of the few fine restaurants that is open on Sunday, we made reservations for our last night's dinner here. Leaving the Beach Bar happy hour, we took a short cut across the sand to the side entrance.
Noticing a whiff of sewage on the way, I was reminded of our trip long ago to St. Lucia, where, in certain areas, fortunately not near our room, one could detect the fact that they had their own sewage processing facility. However, when we entered the restaurant, the odor was even more pronounced. Astounded, we asked what the problem was, and were told that it was just air freshener that had been sprayed around before opening! We looked around and saw many already seated, seemingly oblivious to the odor. As for us, we notified them that we had a reservation but were not staying and went to the nearby Veranda restaurant.
Although the beef we had there was ground, as in cheeseburger, and probably not from Argentina, it was of gourmet quality, as was the tangy black-bean soup. From the Veranda's second floor vantage we could view the casino parking lot below.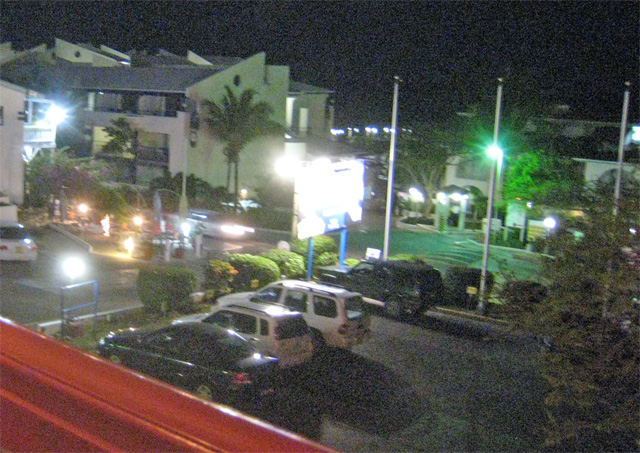 It gradually filled, followed by the pirouette of late-comers entering, fruitlessly searching, and departing. Not everyone – occasionally someone would just stop where he was, lock his car and leave. When we mentioned to the waiter that it seemed that the casino should monitor the lot, he said they didn't care. In fact, one night, he had seen someone who had been blocked in, and the outraged owner, perhaps fueled by free casino drinks, alternately slammed into the car in front and the one behind until he had made a large enough gap to leave!
© Copyright 2008 Jack Ludwick - All Rights Reserved
Home
Previous Story
Next Story