Home
Next Story
Sint Maarten/Saint Martin
February 2008
The recent account of our trip to Aruba several years ago must have triggered a longing for a cold-weather sojourn to the islands again, because a $336 (round trip) non-stop flight from Dulles to Sint Maarten caught Betty Lou's attention. You can see its location to the east of Puerto Rico on the map.
We had visited several times before on cruise ship stops and found its dual-personality – half Dutch, half French – appealing. February 12th we made reservations for the 18th through the 25th. There was the slight problem that we didn't have a place to stay, and we soon found out that was not a minor concern during the high season. There was the new Westin, whose least expensive rooms were available for $421 per night, plus 15% service charge, 10% resort charge, and 5% room tax – not a good deal compared to the airfare. (Situated at Dawn Beach on the east coast, this is the same hotel in whose vicinity Leta Cordes disappeared.) We were beginning to consider the option of sleeping on the beach.
However, we realized that there are also many condos and time-share complexes here – in fact, Betty Lou's sister and brother-in-law own one at the Pelican Resort, located at the X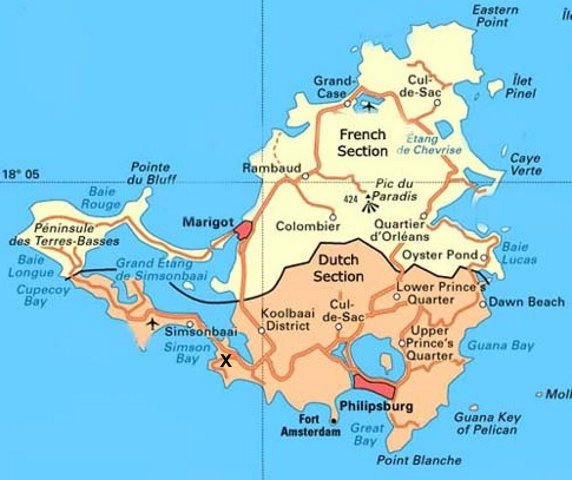 although unfortunately not during this time period – so she checked with Royal Resorts, which manages the complex. Cole told us that there was an ocean-view villa available for us in the Bougainvillea building for $160 per night, no extra charges. When we looked at the online resort map, we saw that it seemed to be behind other buildings, making it unlikely that the sea would actually be within view.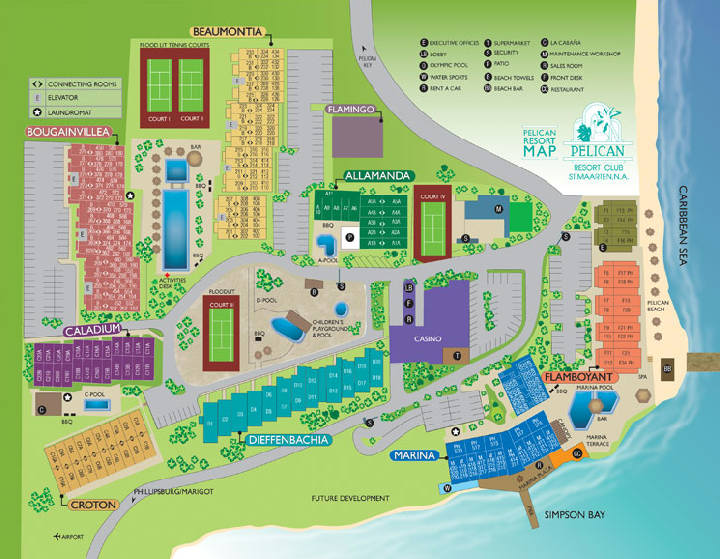 Betty Lou told Cole she'd beat him up if it wasn't as advertised, although since he was actually in Cancun, that would have to wait for another visit.
However, when we arrived, we found it to be even better than we anticipated.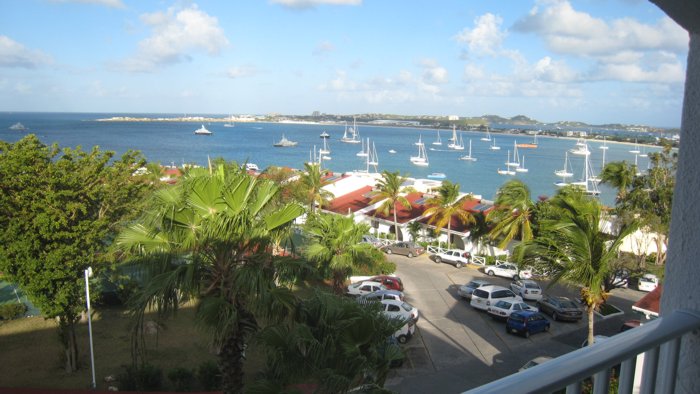 We had forgotten about how hilly various parts of the island were, here allowing a series of buildings to be constructed all with panoramic vistas. The views reminded us of the Riviera, and in fact various marinas berthed yachts of that class. Like the cruise ships that reposition between the Mediterranean and the Caribbean as the seasons change, many of the wealthy yachters move here for the winter, and leave in June, before the rainy, and hurricane, season. (The Pelican Resort News reassures: "Hurricanes do not happen instantly. There is ample warning of an approaching storm. In case of a hurricane, you will be advised by Management on proper safety procedures.")
Even this time of year, frequently in the morning, a brief but often intense downpour would occur, resulting in some spectacular rainbows.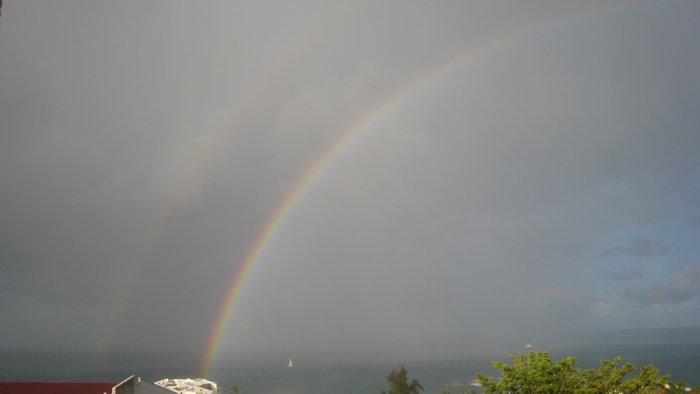 You may be able to make out that this was a double one. On a morning trip to Grand Case, twice we encountered rainstorms, fortunately both times when we were snugly aboard a minibus. By the time we arrived there, it was sunny again.
Some people never leave the resort, which includes several casual restaurants and one, the Los Gauchos Argentine Grille, good enough to be recommended by Fodor, as well as the Peli Deli mini grocery for those who wish to eat in. Our villa measured over 1,100 square feet – larger than our first house – and included a complete kitchen and separate bedroom.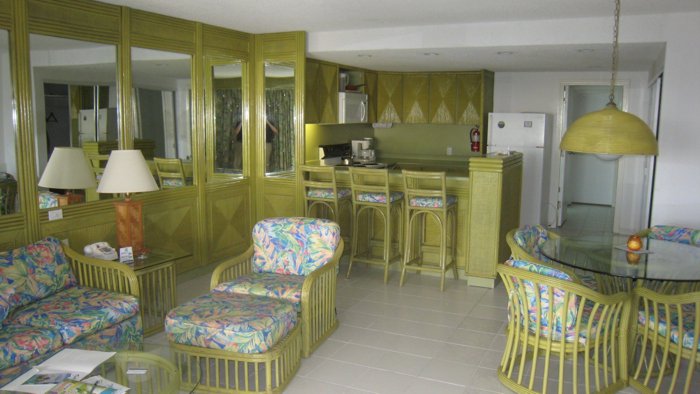 And, there's a white-sand beach. Don't be misled by the lack of people – I forgot to get a beach photo until the end of the last day.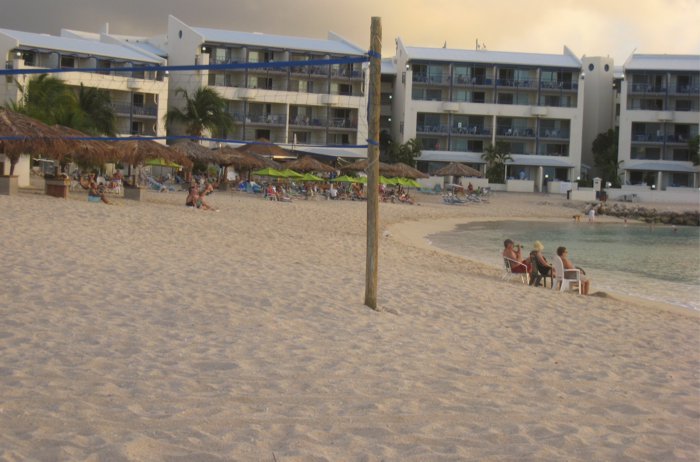 For those who don't want to track in sand, or walk up and down the hills, there are several spacious pools.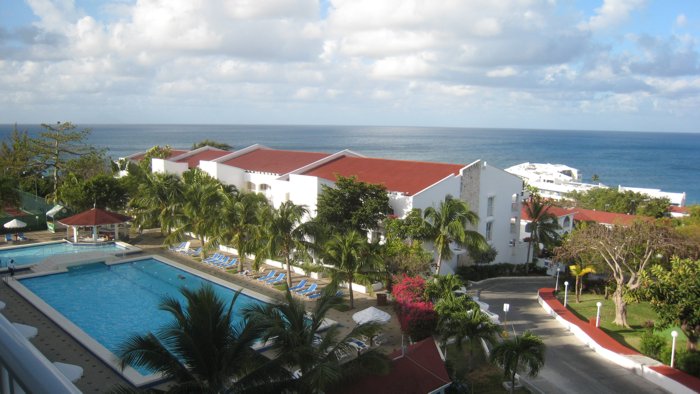 The Pelican Resort News noted that free WiFi was available around the various pools. We found that our villa was near enough that we could check our email, as well as record Car Talk from WAMU and other favorite shows from KCSM in California for later playback.
Also on the grounds are the Hollywood Casino, the Red Piano nightspot, a laundromat, and of course, several bars, with two-for-one happy hour from 3 to 5. The Peli Deli also stocks wines, beers, liqueurs, and all kinds of liquor. We bought a liter of "St. Maarten" rum for 8 NAf (Netherlands Antilles florins) – about $4.45. When we later checked the label, we saw it was "Bottled for St. Maarten Rum Co., Bardstown, KY."
Liquor can be sold in grocery stores as well as liquor stores any day of the week. Uniquely, the entire island is a duty-free zone with no local sales taxes, so prices of all kinds of imported goods are low, and indeed most goods are imported.
Quirks of an Internationally-Divided Island
When I searched the database of locations where my international phone would work, the only St., Saint, or Sint, I could find was St. Lucia. It turned out that to find Sint Maarten I needed to search for Netherland Antilles, of which it is a member, and which also includes nearby Sint Eustatius and Saba, as well as far-flung Curaçao and Bonaire. But no longer Aruba, which in 1986 was granted status aparte, becoming a separate country within the Kingdom of the Netherlands.
And the St. Martin political situation is no less complex, being an "overseas collective" of France, which, although last year ceasing to be under the jurisdiction of Guadeloupe, the administrative capital of the French West Indies, still uses its telephone country code.
This does mean that calls between Sint and Saint, even just over the border, can incur much higher long-distance charges than you'd think. Although not for my phone, whose Explorer SIM card rates were $.55 per minute.
The currency choices are no less confusing. Although both France and the Netherlands have converted to the Euro, only St. Martin has followed suit. As noted above, Sint Maarten has continued with the Netherlands Antilles florin. However, as a practical matter, dollars are accepted everywhere. This was particularly useful to us, as the local currency prices haven't tracked the continually-dropping dollar. And there were several places advertising $1 = 1 euro on both the Dutch and French side.
It was novel to see an extra question from the ATM machine asking if you want florins, euros or dollars. When we used one – it turns out that there are many purchases that require cash and we were running low – we later found the charge to be a reasonable 1%.
But of course we didn't remain within our compound, not with a selection of restaurants said to offer the best cuisine in the Caribbean, particularly in the town of Grand Case.
Getting Around
One can rent a car; however, it can't be picked up at the airport. The taxi union being particularly strong, you must take a taxi to your hotel, to which a car can then be delivered. However, the generally narrow roads are usually congested, with their share of crazy drivers. Once our minivan had to slow to pass a two-car collision whose injured were still aboard – we read that if tourists get in an accident, it's their fault. And when you do arrive at an attractive destination, there may well be no place to park. Although many at the resort had rented cars, we talked to several who recounted the frustration of driving to Marigot, Grand Case, and Phillipsburg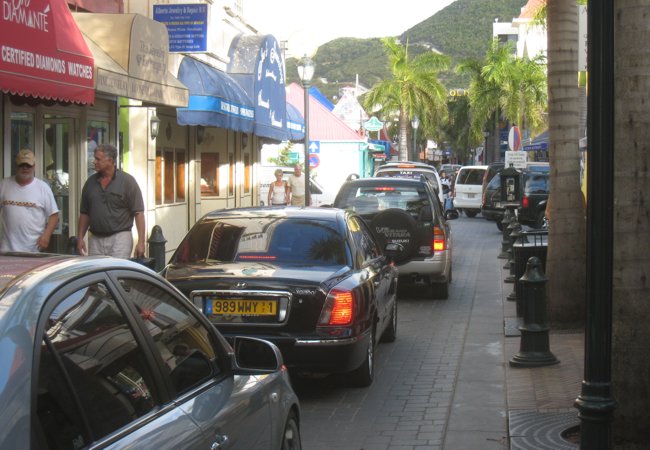 but not being able to stop there.
Of course, taxis eliminate this problem but aren't inexpensive over the distances considered; e.g., $25 from the Pelican Resort to Grand Case.
Early on we asked Étienne, a manager who was temporarily filling in for the Concierge, about taking minibuses to other parts of the island, as we had previously done between Phillipsburg and Marigot, as well as in Antigua. He verified that they traveled on all the main roads; we just had to know the endpoints, like our Metro. Mullet Bay was to the west, Phillipsburg to the east, Marigot and Grand Case to the north. Fares were $1 to $1.50 depending on the length of the trip.
The only potentially tricky parts are when you have to transfer in midstream. For instance, to go to Marigot you head towards Phillipsburg, get off across the street from "the KFC" (yes, Kentucky Fried Chicken), and walk a few hundred feet across the intersection to catch the bus heading north from Phillipsburg. Everybody knows the bus stop locations by landmarks. In addition to "the KFC," the one nearest the Pelican Resort, which even has a shelter, is "across from the pharmacy sign." When returning from Grand Case, it was "the yellow building at the corner." One near the Marigot marina was "across from the currency exchange." Actually, you can say "Stop here!" almost anywhere, and between traditional stops you can flag one down where you are, but the the traditional stops usually have convenient pulloffs. If one doesn't stop, it's because it's full, but another one will be along in a few minutes.
The next story has more of our dining experiences on the island, whose best restaurants feature fine views as well as fine food, but here's an appetizer.
We had previously lunched at the nearby Boathouse with a view of Simpson Bay beach and found their fish and chips to be the best we'd had in a long time.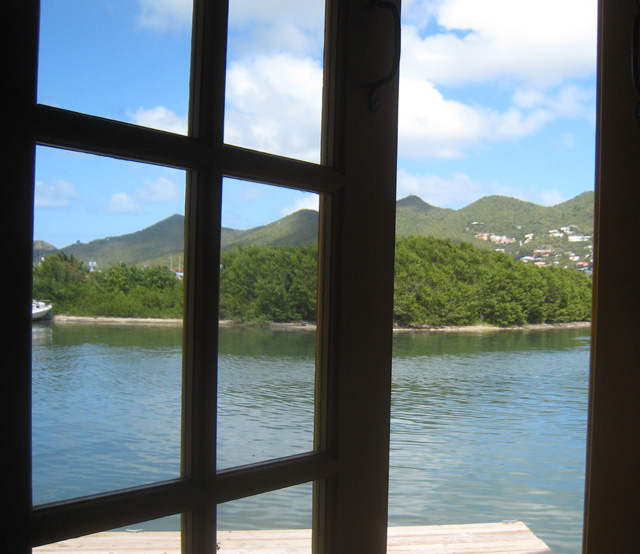 However, the Philly cheesesteak was disappointing. Although there was no doubt about "where's the beef," it was not sliced thinly enough to disguise the fact that it was less than tender, although not so tough as to send it back and order something different, which I had done at another restaurant.
Since our return flight didn't leave until 4, we decided to stop here again on our way back to the airport. Although ribs, a very popular item on the island, weren't on the lunch menu, they told us we could order them, which we did, along with the fish and chips. The generous portions were too much to finish, so they ingeniously packed them in plastic soup containers as a later alternative to airline pretzels.
Arriving, as usual, several hours early, we were able to change the middle seats our last-minute reservations entitled us to for adjacent aisle seats. We were pleasantly surprised to find that our bargain ticket price even included the $30 departure tax, and after security, we perused the duty-free shop. We have often found that prices in airport duty-free shops, including alcohol, aren't necessarily that much of a bargain, after the airport mark-up. Princess Juliana Airport seemed to be satisfied with a modest profit, as Grey Goose vodka sold for $23 per liter and Bombay gin for $12.
Since it had been quite a while since prices had seemed to be worth the hassle of lugging back bottles, and the flight was non-stop, I asked how much one could take back to the U.S. these days. Two liters each, they said. Since four fit neatly in a handled box, we bought two more, and left it with them while we relaxed in the Soualiga Business Class Lounge, which anyone could patronize for $20. When boarding was announced and we returned to the shop, we found that they had thought we had forgotten to retrieve our purchase, and one of the clerks had gone to the gate to find us! Talk about great personal service. And they even threw in a couple of liqueur miniatures.
After all were aboard, we seemed to be waiting for a long time. Finally the pilot announced that the delay was because they were their trying to get more fuel, which was rationed! After nearly forty minutes he said we they would have to depart with what they had, which would be adequate to reach Dulles if the weather cooperated and we could receive good routings Otherwise we'd have to refuel at Richmond. Betty Lou later talked to a flight attendant who said that she'd heard of this happening to other airlines, but this was the first time for them. She said there were so many private and corporate jets attracted to this island that would pay above the going rate, that sometimes they would ration fuel to the airlines! She also said if they had stop to in Richmond, they'd lose a bundle, because most of the passengers had connecting flights.
Fortunately, we encountered no hindrances along the way and we even made up most of the lost time. We could tell from our sparsely-populated mobile lounge that indeed there were few for whom this was their destination. The customs/immigration agent scanned our declaration and asked how much alcohol we were bringing in. When we said four liters, he informed us what no doubt many of you already know – that the limit is still one liter per person. However, he also said that it wouldn't be worth the paperwork to collect duty. When we later checked the rules we found that the rate is 4%, which indeed would only have amounted to $1 or so. Afterwards, I happened to think that from the size of our box he knew how many bottles it could hold, and he might have really have been checking to see if we'd claim that we only had two.
For the first time in a long time, our bags had arrived so soon that they were already unloaded next to the carousel. Since we had liberally sampled the hors d'oeuvres in the Soualiga lounge, the remainder of our lunch was still untouched. Since we could not transport it through Customs, we now looked around for a likely place to dine. There was a row of several seats along the side wall, possibly just for that very purpose, because an agent soon emerged from an office behind us, asked if the aroma she detected was chicken, and did we need napkins? She declined our offer of some ribs, and when we disposed of the empty containers in the trash container conveniently placed just before the final customs check, the officer, who probably had observed our repast, chuckled, welcomed us back, and motioned us through.
© Copyright 2008 Jack Ludwick - All Rights Reserved
Home
Next Story