Home
Previous Story
Next Story
Safe, Safer, ...
Dubai, March 2002
You may have guessed the original name of this supermarket.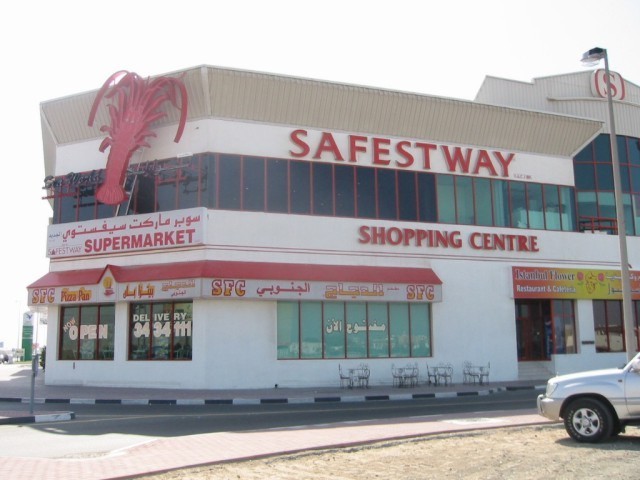 The fact that it's now slightly different attests to the UAE's crackdown on various illegal activities that used to be overlooked. The owners must have determined that this was indeed the "safest way."
Before oil was discovered, Dubai's wealth was mainly based on what is called the "re-export trade." This involves merchants importing goods, then delivering them to other ports, via the fleet of dhows that still pack The Creek's dhow wharfages. A large portion of the "deliveries" was seen by the receiving countries as smuggling; early on, it was mostly gold to India. Since the Indian government intervened in the early '70s, most of the cargo you'll see being unloaded and loaded at the wharfages is legitimate trade: tires, bags of rice, furniture, boxes of "Men's Snap Short Pants," mattresses, refrigerators, and just about anything else you can, or even cannot, imagine.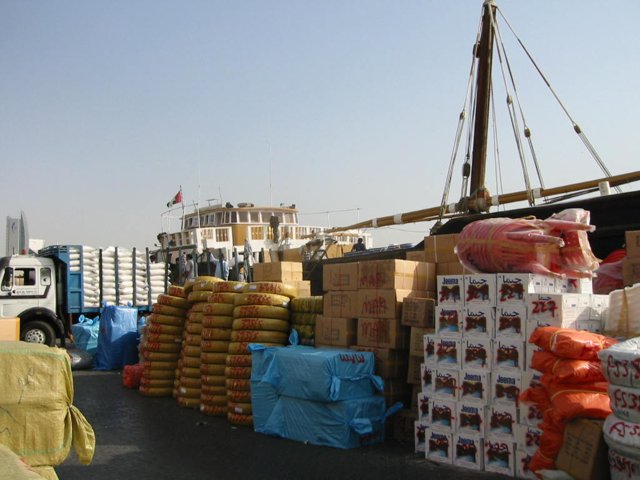 The Lonely Planet Guide says that smuggling isn't entirely defunct; only now it involves Levis and VCRs to Iran and caviar and carpets on the return trip1.
The Gulf News reported a recent crackdown on counterfeit wares, although we had to fend off the street vendors offering us "Rolex" watches wherever we went. Maybe they're just very adept at disappearing when police show up, although many are within sight of the main police station downtown. However, if you're looking for a quality "Rolex," in the Karama district, they're concealed in various handbags the shopkeepers have on display. On the other hand, if you're looking for a quality imitation handbag, they fetch them from the back room, or a nearby warehouse. So I guess the authority's campaign is having some effect.
I don't know if the name of this restaurant had a similar evolution to that of the grocery store.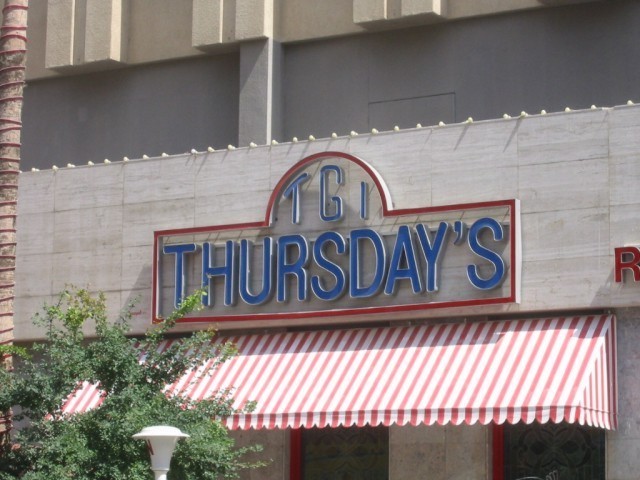 Maybe they just got the concept wrong—as a previous note mentioned, since Friday is the Sabbath, Thursday here is equivalent to our Saturday.
---
1 Several friends independently have witnessed another form of smuggling that regularly occurs at the northern end of the Musandam Peninsula, a touristic area of mountainous fiords. During the afternoon, truckloads of cigarettes are loaded onto high-powered boats that congregate at sunset to make a high-speed dash across the Strait of Hormuz to Iran. The next morning most return filled with goats. Iran does not announce any interdictions, however it's understood that those unfortunate enough to be captured are weighted down and dumped overboard, and their boats sunk.
© Copyright 2002 Jack Ludwick - All Rights Reserved
Home
Previous Story
Next Story