Home
Previous Story
Next Story
Just Another Day in Paradise
February 26, 2002
Jimmy Buffet might have been describing Dubai–at least this time of year. During the day the temperatures are in the 70s or low 80s, dropping into the 50s at night–"and the skies are not cloudy all day." Although the sun is pretty high, it's not that intense, although sunscreen is needed if one lounges too long at the rooftop pool.
As I said, that's this time of year. Our friends cautioned us that winter is the only bearable season, from about November to March. In the summer it can reach 50oC–122oF–accompanied by a humidity of 90%! Although there is desert all around, the city of Dubai is situated on the water. Of course everything is air conditioned, but, although the thermostat in our friend's apartment is a typical Honeywell model, the "Heat" position is not connected.
Coming from an area with a diverse international population, we didn't at first notice anything particularly unusual about our surroundings here. Of course, the wide variety of native garb worn by the dozens of nationalities (even the Galleria Residence where our friends live,1 associated with the Hyatt Regency, is home to 46 nationalities 2) is more distinctive than we're used to seeing, but it took us a while to realize that there were a couple of genuine differences.
For one, we realized that we saw very few who looked like us. That started the game of "spot the Caucasian." Of course, one is more likely to find them near the hotels, the Dubai Museum, or the major gold shops. So far we've never encountered any on an abra, the small wooden water taxis that cross "The Creek," the inlet from the Gulf 3 that splits Dubai. Their main purpose is to provide cheap transportation–about 20¢–to workers, of whom about twenty at a time sit on outward-facing benches. It gives a great view of the center city, and one can even engage one, after the requisite amount of haggling, for about $12 for an hour to view most of the city from the Creek.
When we do find Caucasians, they're usually British; to be expected after their extended period of control here. There is a plethora of British pubs in various hotels–in general alcohol can only be served in hotels.4 And, based on one visit to George and the Dragon, in the Ambassador Hotel, they're really authentic. Based on our admittedly incomplete survey, Germans are next, followed by Scandinavians. Infrequently we do hear an American accent, and we have recently found that there is even a Billy Blues honky-tonk bar and a Johnny Rocket's 50's-style diner.
We also noticed that the throngs were almost exclusively male. This Muslim society in general considers a woman's role to be manager of the household and children. When we do see women, they are usually with their husband; of course there may be two or three other wives also following him. And are all covered to various degrees, although few to the extent of the Afghan burkas we've all recently seen on TV. (In the UAE, a burka is a facemask of stiff material that covers the eyebrows, nose, and mouth. It gives the appearance of a large mustache, and was said originally to have been introduced to fool invaders into thinking the women were also men.) Another reason for the preponderance of males is that many of the expatriate workers are here by themselves, supporting a family back home, whom they may visit only every year or two.
The range of cuisines matches the nationalities. The Dubai Explorer guide lists 41, including Argentinean, Austrian, and Portuguese. We went to a hotel known for its Thai restaurant and found that it was now Russian. When the Ukrainian waitress assured us that they had a Russian chef we decided to give it a try. One of the soups listed kvass as an ingredient. From our trip to the Soviet Union long ago we knew that was a type of beer made from fermented bread. Tank trailers on the street would purvey it–everyone would use the same plastic glass. (Although we didn't see any when we got to Moscow; they gave the wrong impression to visitors, we heard.) We asked if it really was kvass, thinking that perhaps they substituted beer. She said it was imported from Russia. We asked about the ham specialty, thinking it was unlikely they'd have a wide variety to choose from in a Muslim country. Imported from Russia, she said. We noticed the sour cream for the borscht was tangier than we were accustomed to–also imported from Russia. And sure enough, a glance at the map shows it isn't that far away. The food was delicious and the wine list extensive.
In fact, one can find anything here. Every fast-food chain you've heard of in the U.S., and ones you haven't heard of because they're from the U.K., is here, with signs in both English and Arabic. Of course, there are the souks, traditional Arabic markets where all kinds of goods are bought, sold, and exchanged, as well specialized ones, for example for gold, spices, perfume and electronics. And there are hypermarkets with goods of all kinds and malls that rival Tyson's Corner. For example, the City Centre includes IKEA, JCPenney, Laura Ashley, Shoe City, Woolworths (the British store, not the defunct U.S. one), Radio Shack, Florsheim, Rockport, and Liz Claiborne, to name just a few. We have to contrast that to our experience in Germany, where it was impossible even to find shoes to fit an American foot.
---
1 The Galleria is even larger than the Hyatt next door, and its residents have access to their facilities, including the Olympus Spa, which is better equipped than the Bally's we'd been going to at Tyson's Corner. Most of the ground floor of the Galleria is taken up with an ice rink, complete with Zamboni and championship-level instructor, and it's busy most of the day.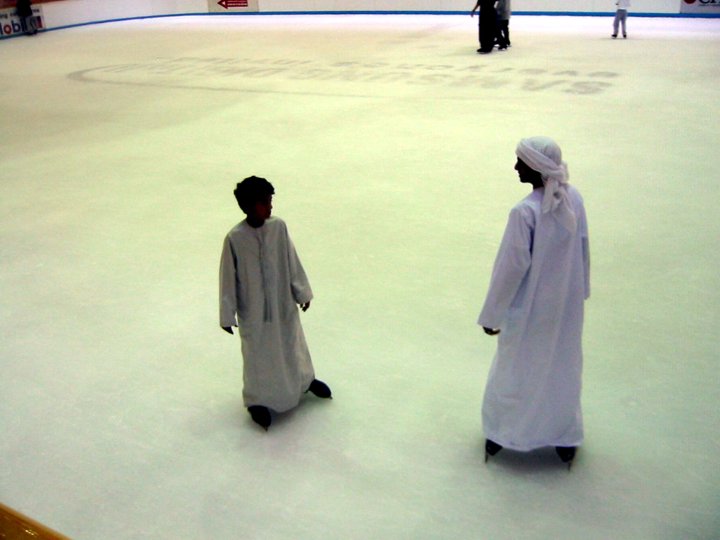 Our friend's three-bedroom furnished apartment, including linens and kitchenware, and which includes twice-weekly maid service, is on the 27th floor with an expansive view of the Gulf and the Creek, with its continual comings and goings of dhows carrying cargos of all kinds. And they can order room service whenever they tire of cooking but don't want to go out. The previously-mentioned rooftop pool area offers a panoramic view of the entire city and port and even when the temperature is in the 80s there is a breeze that makes it positively comfortable. There have been several bikini-clad sunbathers to distract one's e-mail composition. By the way, in case you're interested in teaching at Zayed University, they are particularly looking for Americans.
---
2 Only about a quarter of the people in the UAE are citizens, also called nationals or locals, the rest being expatriates. The nationals are subsidized by the 50% of the oil money that is not used for economic expansion. Most of the expatriates are allowed in to provide cheap labor. They are mainly from India, Pakistan, and the Philippines, although dozens of other countries, including Afghanistan, Sri Lanka, Indonesia, and Bangladesh, and the Arab countries of Lebanon, Syria, Egypt, and Iran, are also represented. A much smaller group of expatriates, including our friends, as well as the other residents of the Galleria, are here to provide expertise in areas lacking in the UAE. For example, there is only one national in all of the emirates that is qualified in library science.
---
3 Maps that show the city just say "The Gulf." Before we came, we checked several maps, including the CIA one available online, and stated in Why Dubai? that it was "The Persian Gulf." Like some other things here, that isn't PC–it's the "Arabian Gulf." News reports from the nearby area of strife may mention Israelis, but they live in "Occupied Palestine."
---
4 Dubai is the most liberal of the Arab countries in regard to alcohol, although they impose regulations that remind one of the old-time British pub hours. For instance, no alcohol can be served between 4 and 6 PM in certain hotels, and all day on certain other days. At first, we thought the 4 to 6 PM restriction was universal, based on our experiences at our Hyatt (whose lobby lounge ceases alcohol service during those hours; none of their other bars or lounges are open then) and the Dubai Sheraton. Then we discovered that the English Pub in the Intercontinental hadn't heard of any such ban–perhaps it depends on which sheik owns the hotel.
By the way, since the Islam Sabbath is Friday, the "weekend" here is Thursday and Friday. There doesn't seem to be a TAIW (Thank Allah It's Wednesday) saying. Our friend can purchase alcohol at one of several authorized outlets because she has a liquor license, which looks just like a passport, with distinctive green cover, photo, and multiple pages on which each month's purchases are recorded. To get the license requires an affidavit from the employer which includes the annual salary. The salary determines the maximum monthly amount that can be purchased. We found a good selection of wines from France, Italy, South America, South Africa, Australia, and the U.S, as well as a wide range of name-brand distilled spirits. And the prices are reasonable–until the 30% surcharge is added!
© Copyright 2002 Jack Ludwick - All Rights Reserved
Home
Previous Story
Next Story