Home
Mistaken Identity – Again!
Agadir, Morocco
May 16, 2011
As you may recall from the itinerary, we called at two Moroccan ports. Casablanca, a familiar name to everyone, was the second stop, but I don't think I'd previously heard about the first one, Agadir. First established by the Portuguese as a fish-trading port in the 16th century, Agadir was soon taken over by Marrakech-based Saâdians.
In more modern times, when a German gunboat showed up at the port in 1911, it was feared that Germany might wish to turn Agadir into a naval base on the Atlantic, and the French took control of all of Morocco. Morocco gained independence in 1954, but just four years later a massive earthquake leveled the city, burying alive 15,000 and leaving 50,000 homeless. King Mohammed V reacted quickly, stating that, "If destiny desired the destruction of Agadir, its reconstruction depends on our faith and our determination," and Agadir was rebuilt as a modern city with wide boulevards and earthquake-proof buildings, today with 200,000 inhabitants.
We were in port only for five hours, and excursions to the more interesting sights were at least 90 minutes away, so we decided to take the shuttle bus into town and look around. This was the only port where we noticed heightened security – fortunately, they found nothing suspicious.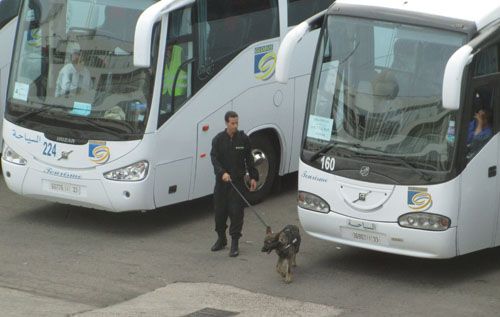 On the ride into town we spotted a mobile aviary. Perhaps he was a supplier to a later site we visited.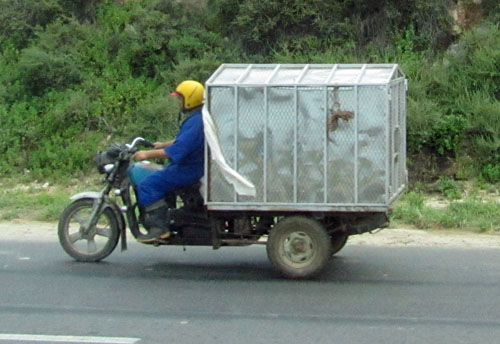 On the hill overlooking Agadir are the remains of the walls of the Kasbah, some of the sole surviving remnants of the 1960 earthquake.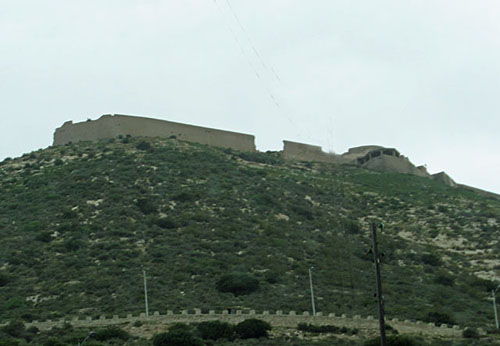 In general a kasbah is a fortress, or the native quarter that includes it, but the one that you may have heard of, as in "Come with me to the Casbah," refers specifically to the one in Algiers. Oddly enough, although Charles Boyer's provocative invitation to Hedy Lamarr was heard in trailers for the 1938 film Algiers, it didn't appear in the film itself.
We soon entered town,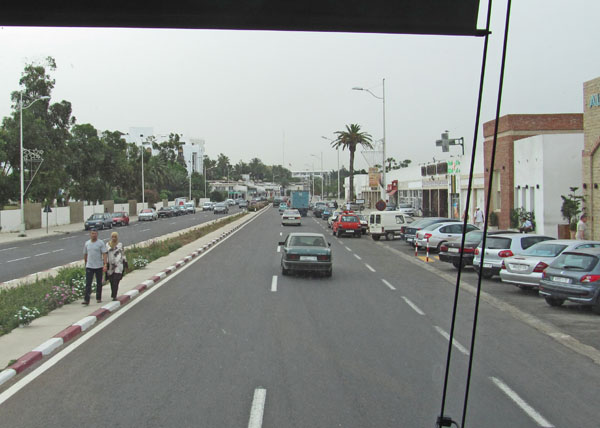 passing the Congress Hall during a break of a high-level meeting. French signage still coexists with Arabic.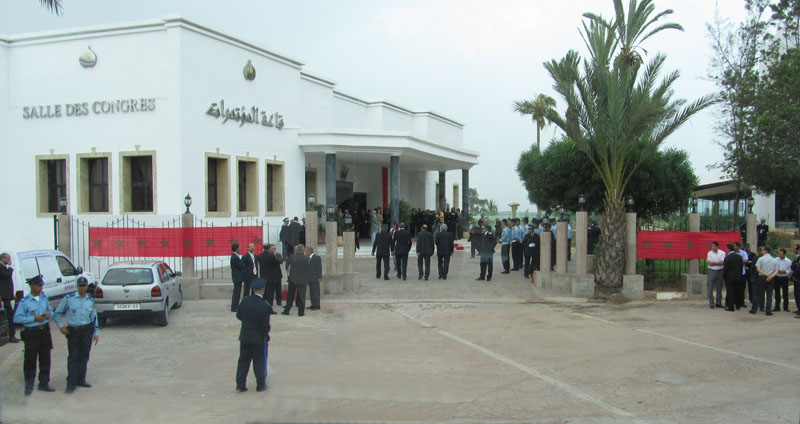 We were deposited at the edge of Agadir's large and dusty main square.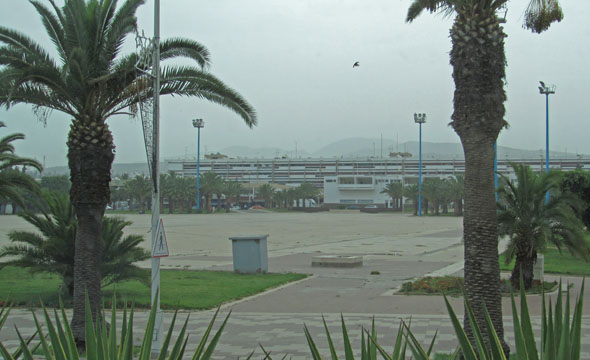 One has to walk across the square to reach the shops, and also an attraction I had learned about from the driver, thanks to my position in the front row. Called "La Vallée des Oiseaux" – The Valley of the Birds – it was either a park or a zoo.
However, the touts know where the tourists will arrive and they're waiting, eager to strike up a conversation. "Hello, where are you from?" "I can show you the sights." "I know the best shops ...." It's best not to encourage them by getting involved in a conversation, and in fact we later heard from two women that felt so hounded they turned around and went back to the ship.
However, when one said, "Ali Baba!", I instinctively answered, "and the forty thieves." He repeated, "Ali Baba" several more times before we managed to shake him. As we strolled along the street, glancing into various shops – killing time until the Vallée opened at 11 – another passerby glanced at me and blurted, "Ali Baba!" It was obvious that something was happening, but I was not about to start up a conversation to find out what it was.1
When we arrived at La Vallée des Oiseaux,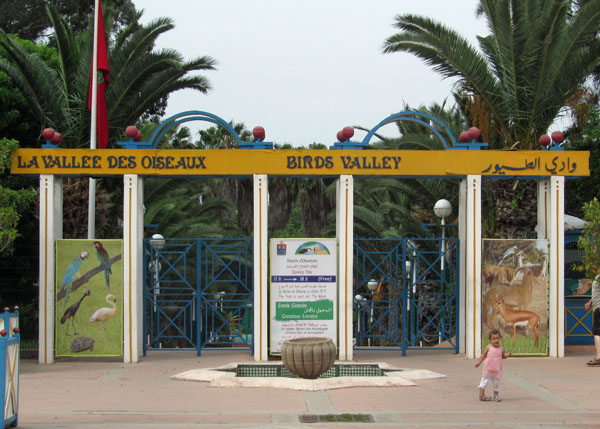 we found that it was a linear park, a green oasis only 100 yards wide but stretching several blocks downhill nearly to the beach.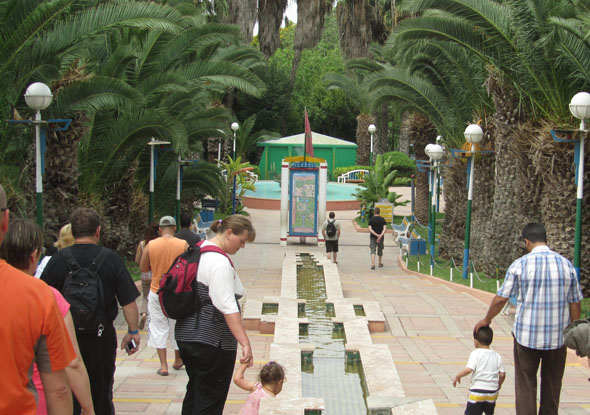 It did include many types of birds: domestic – at least to us,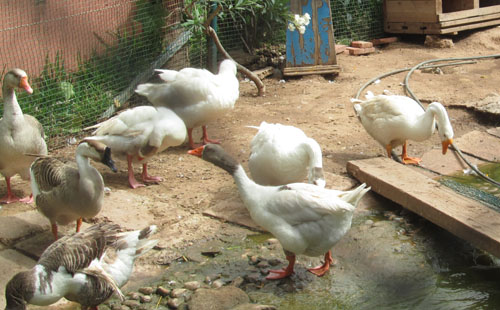 elegant,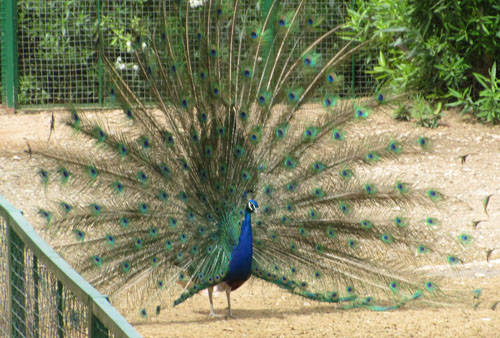 exotic,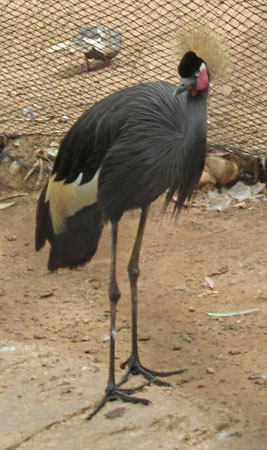 and extinct.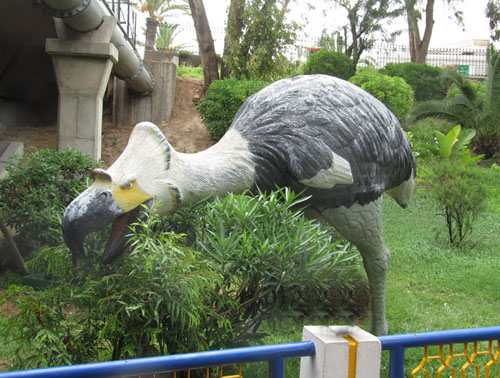 There were also four-legged animals: antelope, llamas, monkeys, and hairy, large-horned Barbary sheep – eager to eat out of Betty Lou's hand.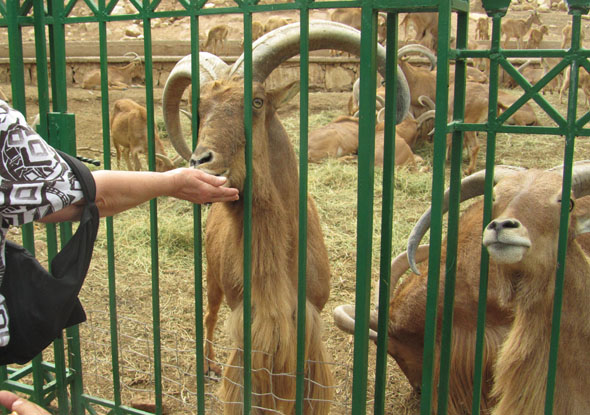 Although Agadir is the largest sardine fishing port in the world, today its main attraction is the beach, aided by the temperate climate and 340 days of annual sunshine. One wit noted that it is similar to a European beach resort but "lacking any of the flamboyance, or decadence". Dozens of hotels and condos have sprung up along the six miles of pristine sand, attracting hundreds of thousands of tourists each year, particularly during chilly northern European winters. In fact, at a later doctor's appointment I learned that the echocardiologist had spent a week there in December with her sister, who lives in Munich.
The Arabic inscription on the hill, below the Kasbah, says "God, King, Country." We heard from several people that the current king, Mohammed VI, is well-liked, although some of his high-level appointees are seen as corrupt. There have been some pro-democracy demonstrations, but there is none of the revolutionary fervor recently gripping other North African countries.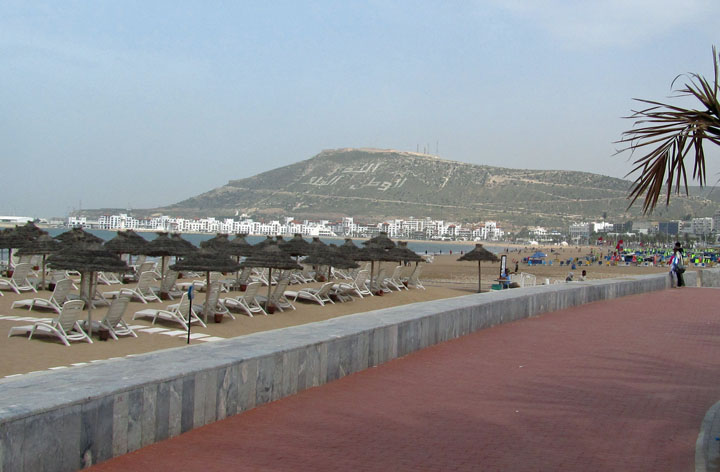 This Arabic inscription needs no translation.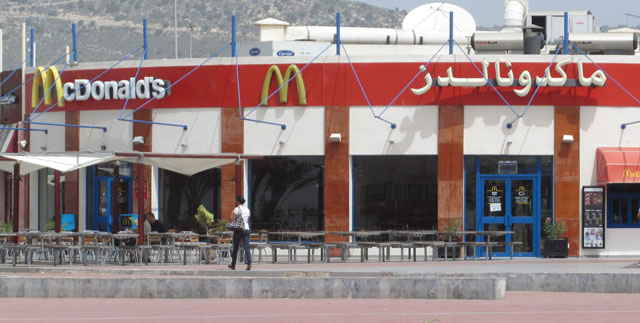 Unfortunately, when we were ready to return from the beach, it was not obvious which of the maze of unsignposted streets would lead us back to the square – where the last bus to the ship would be leaving in 20 minutes.
I had brought along my GPS, which included detailed street maps of Europe – but unfortunately not of Africa. However, I had saved the location where we got off the bus, so at least we knew in which direction we should head (the arrow shows our location on the beach). And, after several zigs and zags, we did arrive with time to spare.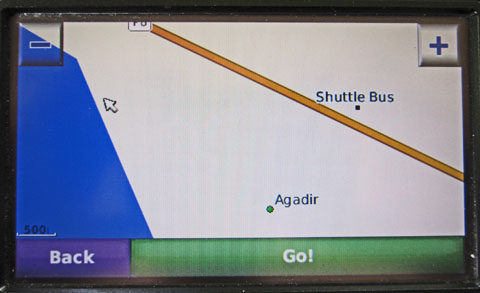 ---
1After returning home, my searches for Ali Baba mostly turned up a 1944 film starring Jon Hall as Ali Baba. And I had to admit, another dead ringer!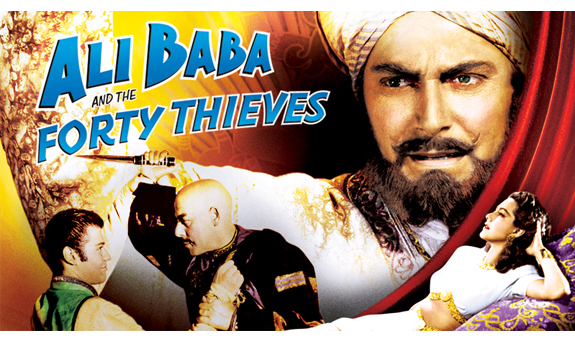 © Copyright 2011 Jack Ludwick - All Rights Reserved
Home