Home
Peep & Flo on the Silver Cloud
May - June, 2011
This trip began with another Silversea repositioning cruise, this time in the opposite direction from the previous one. Departing from Bridgetown, Barbados, we called at St. Lucia, Dominica, and St. Barts, then headed across the Atlantic for stops at the Canary Islands (Tenerife and Lanzarote), and Morocco (Agadir and Casablanca), before disembarking at Lisbon. We then spent three days in Lisbon, three in the Algarve, two in Marseille, four in Ste. Maxime, and a week in Cannes – after the film festival!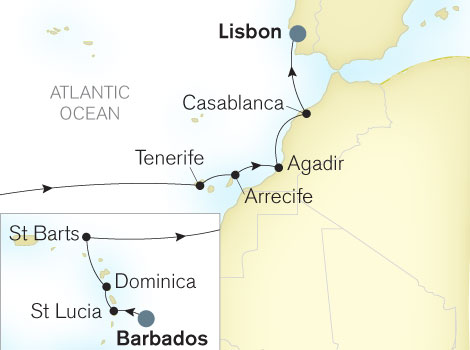 We flew down a day early in case of flight problems and stayed in the Barbados Hilton, which is constructed on the grounds of an abandoned lighthouse.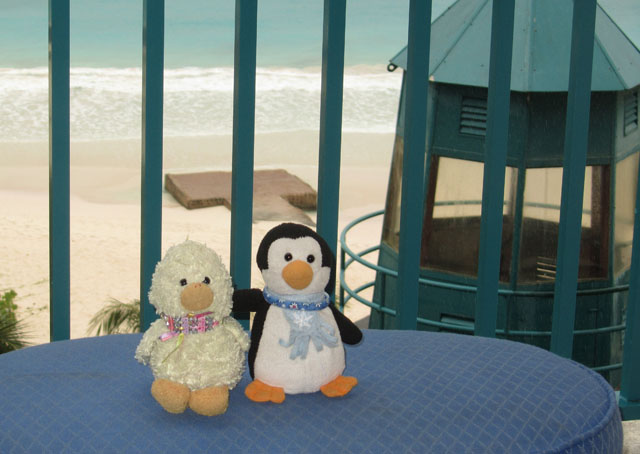 Soon after boarding the Silver Cloud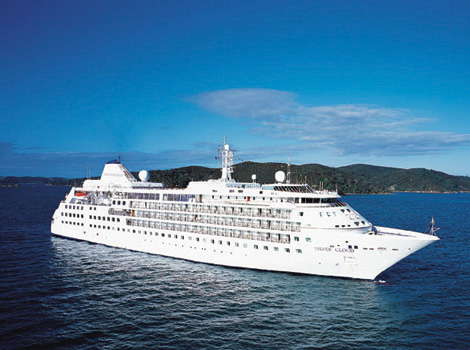 Peep & Flo became instant hits among the crew. When they were not perched on our table attracting compliments, people asked where they were. (Sometimes, when dining outside at the Terrace Restaurant, the wind was strong enough that we feared we would have to sound the alarm for "Bird Overboard!" so they would remain safely tucked in Betty Lou's purse.)
The first night at dinner, we found that the Maitre d', Jorge (pronounced George) was one we knew from the previous crossing. Perhaps he has a another job between cruises.
Since Jorge is on my email list, he's been aware of Peep & Flo's continuing travels and he greeted us all warmly. One night he provided them with their own plates of pumpkin seeds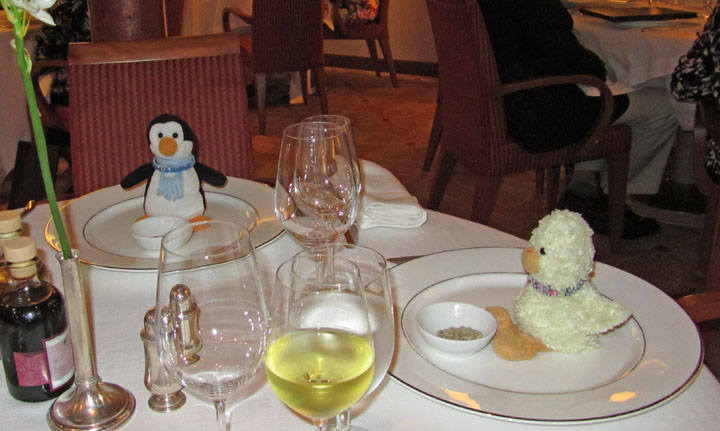 and on formal night, their own bird-sized glasses of Champagne and tower of sweets. Of course, Flo is always dressed for the occasion.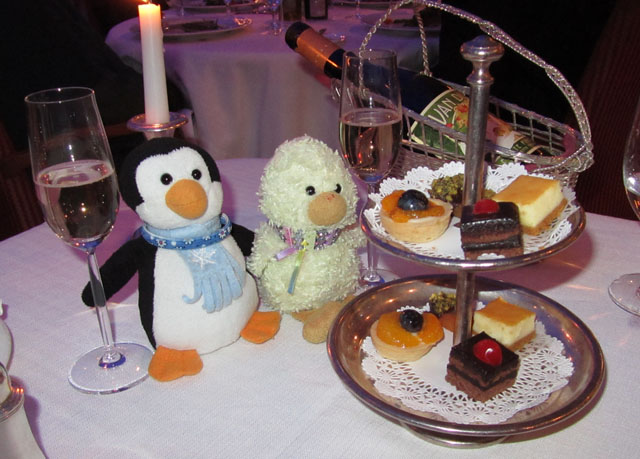 Another night, they each enjoyed a sparkling rosť, and Flo was served a plate of anchovies, saving him the effort of diving for them.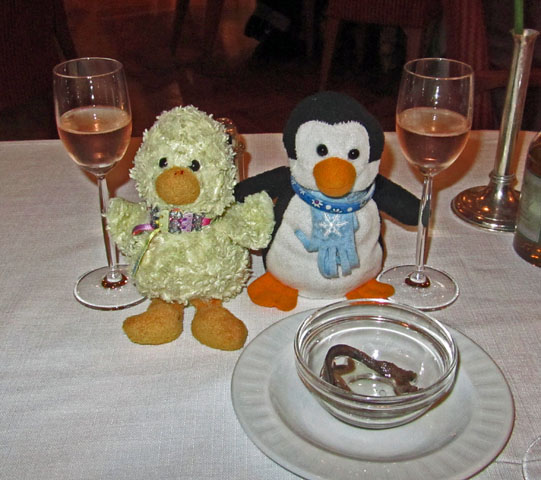 They've also enjoyed teatime, although sometimes they prefer beer with their scones and finger sandwiches.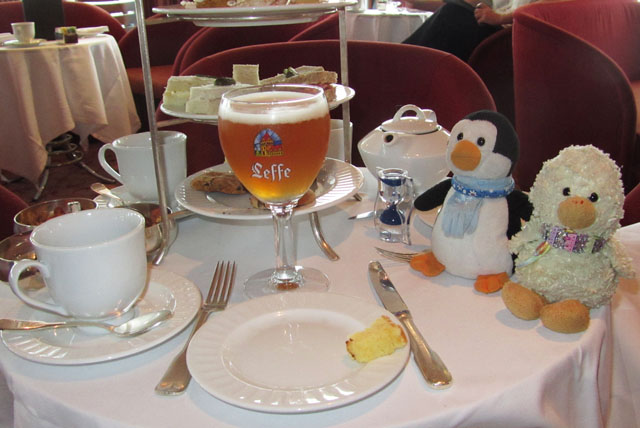 One day we toured the Navigation Bridge, where they discovered a kindred spirit.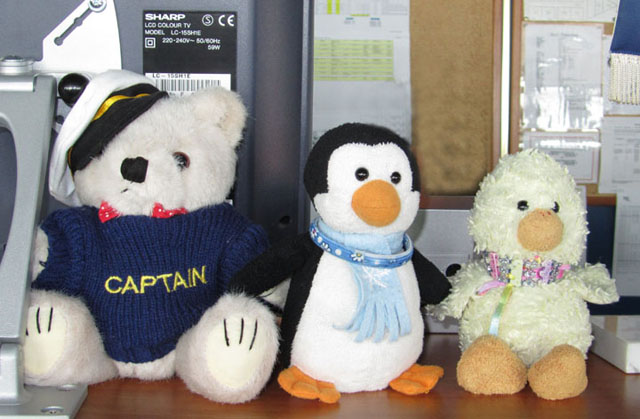 Even at lunchtime, they are plied with cookies and provided with a celery tree to shade them from the encroaching sun.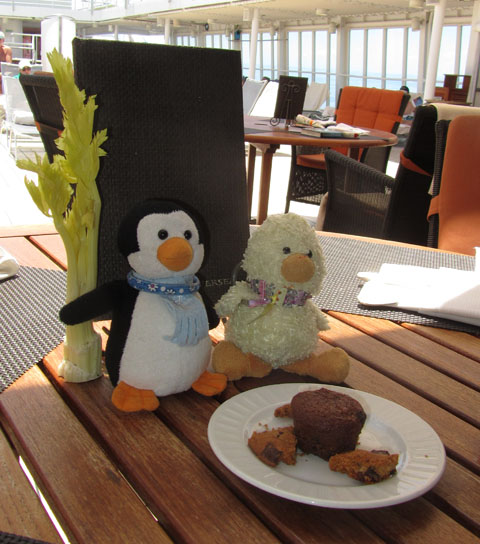 And one night when we returned from dinner we found some new friends waiting for them – a penguin and a duck!
(In case you haven't been on a cruise where such creatures may appear on your bed at the end of the day, the talented cabin staff learn how to make various animals out of towels, or in the case of smaller ones, washcloths. In fact, there are even books about the art of Towel Origami.)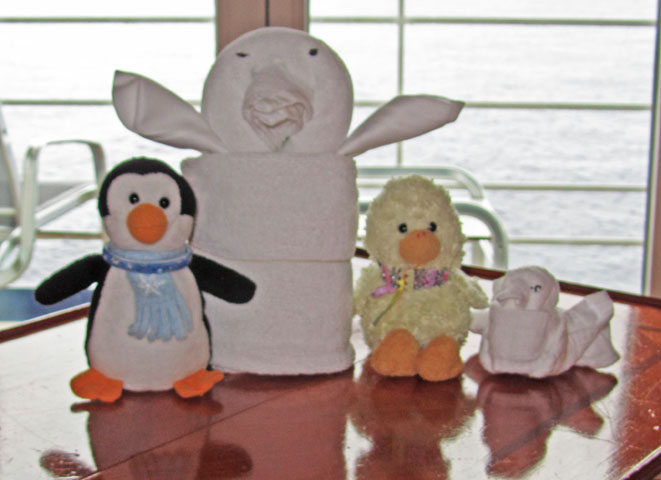 They have been so spoiled they are going to be insufferable when we finally get home!
© Copyright 2011 Jack Ludwick - All Rights Reserved
Home