Juneau
August 5, 2010
Today we sailed into Juneau, the Alaskan state capital,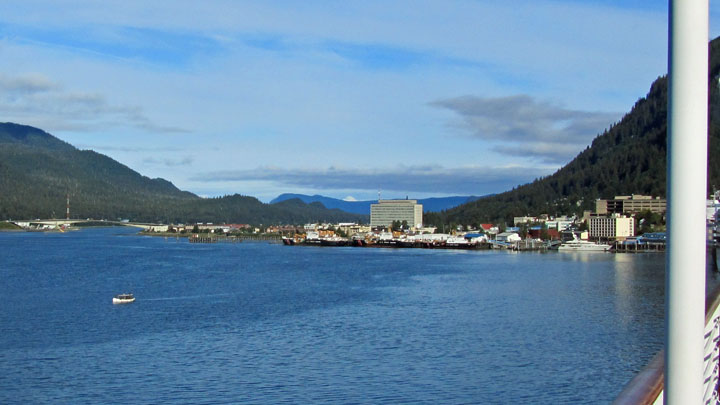 and set off to visit the Mendenhall Glacier, 12 miles to the north.
Like Goldilocks, we had three options to get there:
the ship's shore excursion: $44, departing at 9 and 11:30, returning at 12:00 and 2:30: Too Big
a city bus: $1.50 each way, with frequent service, but taking an hour after innumerable stops, and before a mile walk to – and back from – the glacier: Too Small, and
the Glacier Express; a 20-minute ride at half-hour intervals, $14 round trip, in converted school buses:Just Right.
Commentary was also provided by the driver, in our case a witty, irreverent – he informed us that the drugs had kicked in so now he was ready to go! – opinionated, long-time resident, as opposed to the seasonal workers that swell the population each summer. He pointed out bald eagles along the route and alerted us to a favorite photo op – Wal-Mart in the foreground with a glacier in the background. We also learned that the main Juneau north-south highway, including about 10 miles of divided highway leading towards the glacier – and the half of the population that lives in the northern suburbs – is only 40 miles long.
As you may have realized from a previous note, Juneau is the only state capital that can't be reached from the mainland by road, only by air or water. However, our driver recounted the rather extreme arrival method of three Canadians who recently skied in across the glacier to reach Juneau. They did call U.S. Customs by cell phone to arrange a legal entry.
Although the temperature downtown was in the 70s, we were prepared for the colder air sliding down over the glacier, having brought along our lightweight rain gear. The glacier originates some 13 miles uphill, where the annual snowfall averages over 100 feet. As this exceeds the summer snowmelt, year after year snow accumulates, compacting underlying layers into solid ice, which begins an inexorable slide downhill. It has taken 200-250 years for the ice at the lake's edge to join us.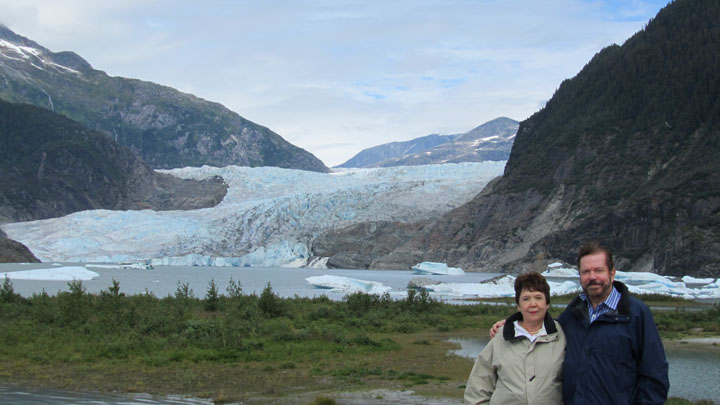 (Evidently an unofficial duty of park rangers is to photograph visitors.)
We later met a woman who had taken the helicopter tour that landed on the glacier, giving one the opportunity for a close-up inspection of the Juneau Icefield. She had asked someone how cold it would be and they said about ten degrees cooler than where they were. So she brought along a scarf! One does wonder how the realization that she'd be walking on ice wouldn't have clued her in to what the surrounding temperature might be.
Although we didn't witness any icebergs calving from the glacier, we did observe many in Mendenhall Lake.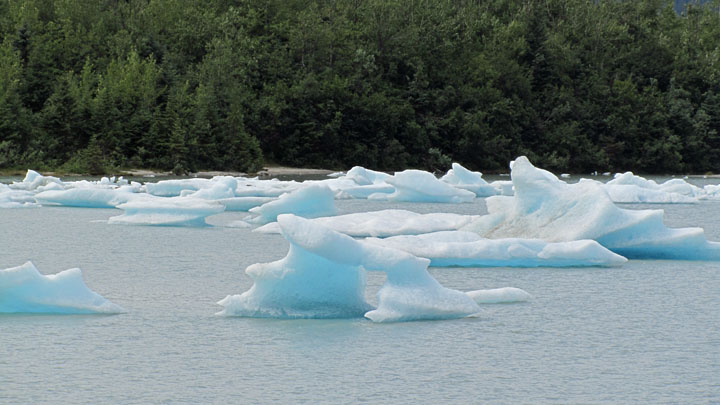 At various times during the trip, we were informed why parts of icebergs and glaciers are dark blue. It took a physicist to debunk most of the theories, and to provide the scientific reason.
A stream from Lake Mendenhall leading to the sea is attractive to salmon, the prized Coho in this case.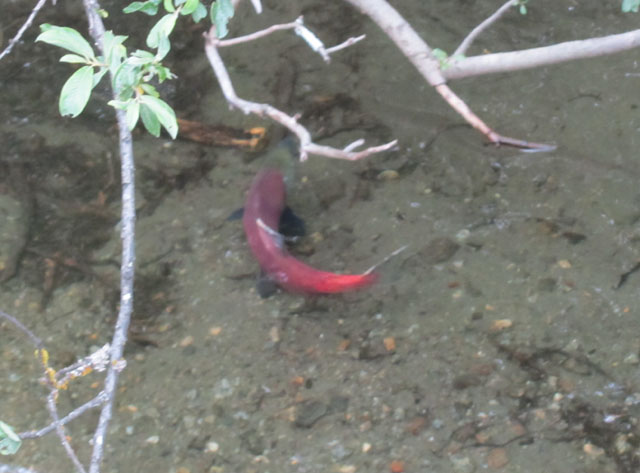 Although visitors are not allowed to fish, park residents have no such restriction.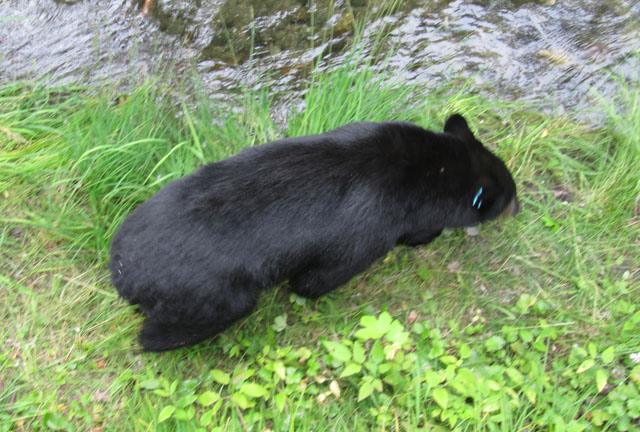 Evidently this young one was still learning, his leap into the water resulting only in a supersonic retreat by his intended prey.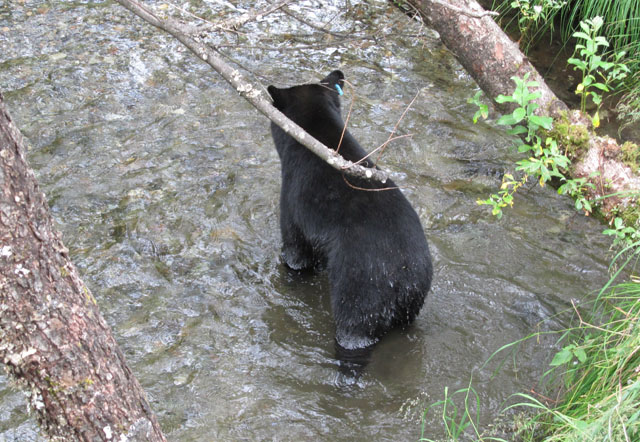 Since full-grown males wish to avoid humans, they move elsewhere, making the park a perfect nursery for females and their cubs.
We also noticed bear-proof trash cans, which are now found everywhere in the city.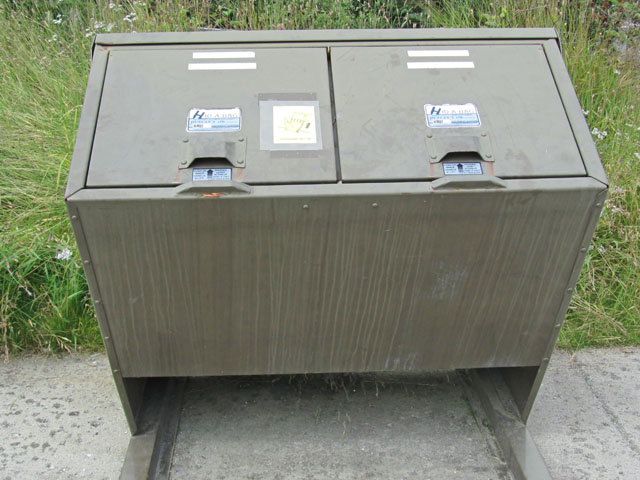 The old style only provided an attractive buffet for bears that would roam the streets searching for the next snack. Evidently the new design has served its purpose, because few people to whom we later showed our photos had actually seen a bear.
On the return, the driver dropped us off near the Alaska State Museum and gave us detailed instructions on how to see more of the sights. "Cross the highway, walk a block north, go through the parking lot across the street from the museum, to the next street, where you'll see the S.O.B. (State Office Building – they're big on acronyms in Juneau, he said),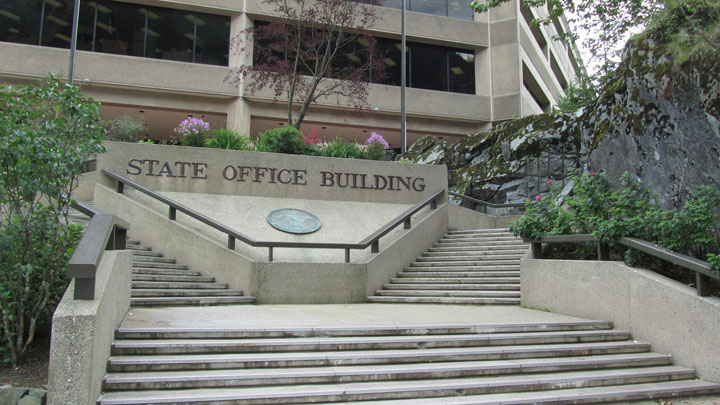 and take the elevator to the 8th floor," where one can see an original totem pole carved in the late 1800s and later purchased by Robert Simpson.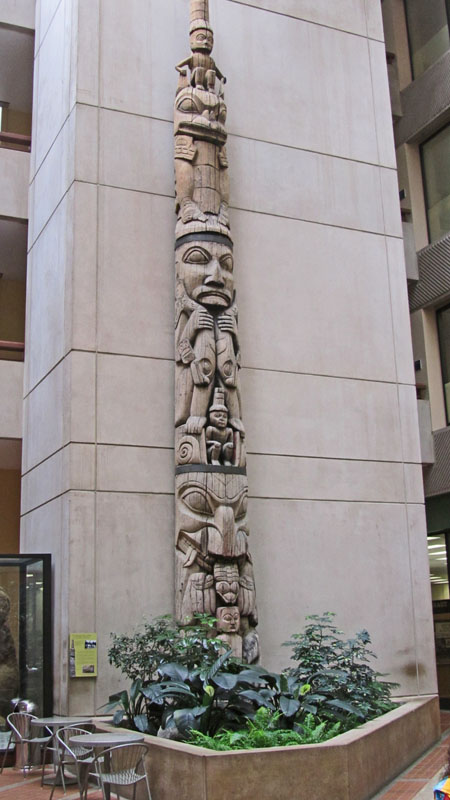 He displayed it, along with several smaller ones, in front of his "Nugget Shop," which sold Alaskan arts and crafts. A postcard from around 1925 shows them with vivid colors,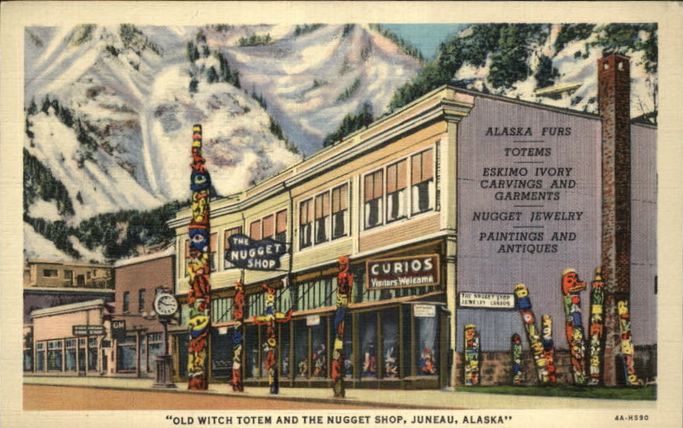 but by the time it was donated to the Alaska State Museum, the colors had faded. Called the "Old Witch Totem," it depicts characters from two traditional stories of the Haida clan. The top two figures portray an encounter between a clan ancestor and the Chief of the Bullheads.
The remaining figures illustrate the story of a young man with powers acquired from the Wasgo – a powerful supernatural water creature – to help feed his village while coping with his vain mother-in law, the old witch. The Wasgo is depicted on the center of the pole in human form, lifting two whales, and is repeated at the base of the pole with a shrimp its mouth. For the whole, fantastic, story, click here.
There is also a really big slice of jade, the state gem,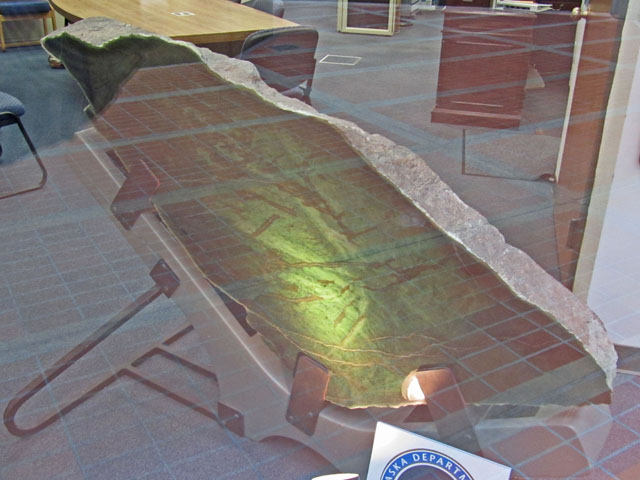 as well as a huge brown bear,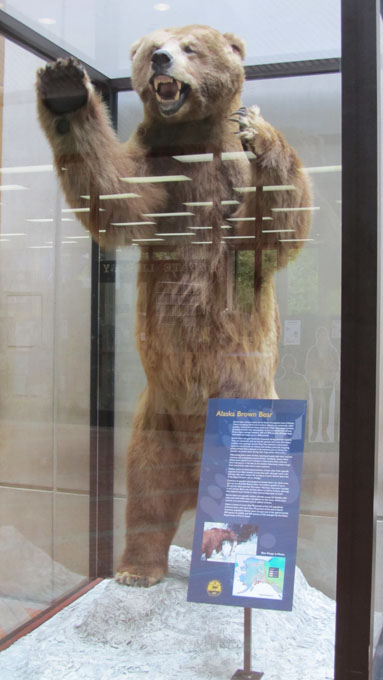 and a pipe organ originally installed in 1928 in the Coliseum Theater, and which is now used for Friday noontime concerts. A custom-fitted cover shrouded the console when we visited, but I found this photo on the Internet.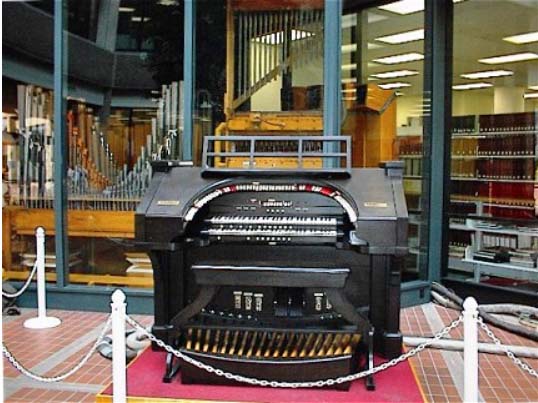 Unfortunately, we visited on a Thursday – as one who has enjoyed listening to many pipe organs around the world, I'd be interested to know what this one sounds like when "the glass panels that enclose the organ's (security enclosure) vibrate with music."
Unlike what we've become accustomed to in the lower 48, we encountered no metal detectors, handbag searches, or even conspicuous guards.
Leaving by the rear entrance, we were again at ground level – by taking the elevator we had avoided climbing the San Francisco-size hills. A few blocks up the street is the elegantly-pillared Governor's Mansion eschewed by the previous governor during her aborted term of office.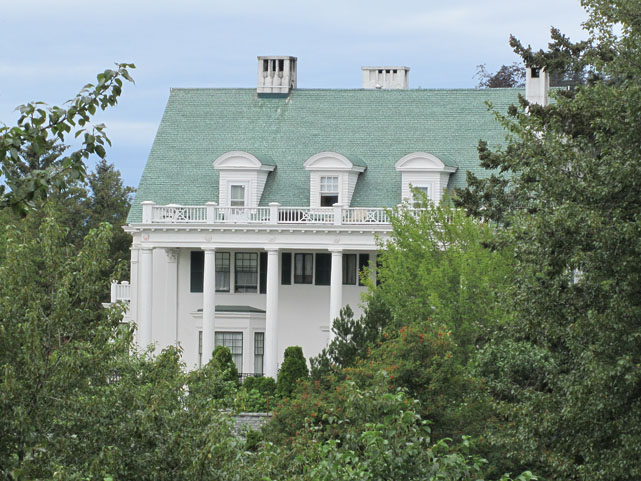 We passed the Capitol Building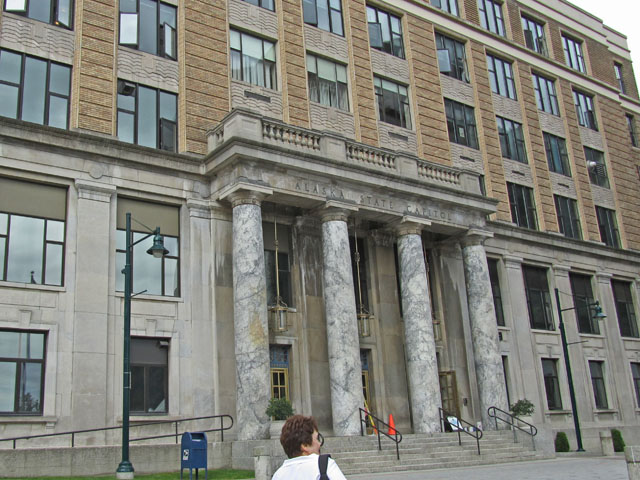 on our way to Franklin Street, the main street of town – not to be confused with Main Street, which is no more important than a dozen others. We were thirsty by now so we headed down South Franklin Street to the famed Red Dog Saloon. Unfortunately, as our driver had warned us, it was really packed with tourists – someone would have had to have been thrown out through the swinging doors for us get in.
Fortunately, he had also told us of other watering holes in the neighborhood as well as their characteristics, including a hard-core drinkers bar, a sports bar, and a fern bar, but we chose the Lucky Lady, a neighborhood retreat, for an Alaskan Amber.
Not all establishments have installed air conditioning to adapt to the warmer, although brief, summers so we settled near the front, where a large fan provided a welcome breeze. However, we noticed many postings on the back wall, which closer inspection revealed were newspaper clippings, photos, and maps commemorating Mary Joyce, the remarkable woman who owned the Lucky Lady until her death in 1976. She also also owned the Top Hat across the street, but said she named this one after herself, because she aid she really was a lucky lady. However, our later research showed that in her long life she made much of the luck herself.
The Indomitable Mary Joyce
Born on a remote farm outside Baraboo, Wisconsin around 1899 – she was always evasive about her actual age, requesting that her tombstone read "Arrived in Alaska 1929" (her wish was honored) – she earned a nursing degree in Chicago and, drawn by the lure of the growing movie industry, struck out westward with other friends to Hollywood. She found work as a nurse at Paramount Studios' first aid station, was promoted to Technical Director for films involving hospital scenes, and even had a bit part in the silent film "Sorrel and Son," whose director was nominated for an Academy Award. A photo from somewhat later reveals that she was indeed photogenic.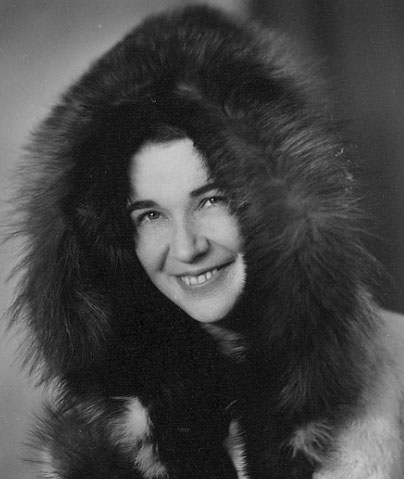 However, it was her position as a Special Duty nurse at Hollywood Hospital that changed her life forever. When she reported for duty one day in 1926, the supervisor warned her about her new patient: "Don't be surprised if you're dismissed in the morning; he's already fired eight others." But that didn't happen, and she was hired by Mrs. Erie Hackley Smith, heir to Michigan lumber baron Leigh Hackley, as a private nurse for her son, Leigh Hackley Smith, known as "Hack," while they cruised Alaska's Inside Passage in her private yacht, the Stella Maris. Hack was a World War I veteran who suffered from alcoholism and other post-war health issues and she felt she couldn't leave him alone without nursing care.1
After visiting Twin Glacier Camp, 40 miles south of Juneau, on the banks of the Taku River, Mrs. Smith decided to buy it and put Hack in charge, with assistance from Mary, reasoning that its location was remote from any source of alcohol. They added more buildings and raised trained huskies as freight animals as well as for dog sledding at the lodge while entertaining guests as a diversion from Hack's health issues.
Every Spring Mrs. Smith returned with a boatload of supplies, which they hauled ashore by skiff, then up the hill to the lodge by dog power. One shipment included lavender bathroom fixtures (of which the tub and sink are still in the lodge today) and a registered Guernsey cow named Myra, because Mary hated canned milk in her coffee – just because you're in the wilderness doesn't mean you have to rough it! Myra later developed a strong appetite for salmon, which found its way into the flavor of the milk – perhaps Coffee Mate is missing a bet here!
When Hack succumbed to a heart attack during a hunting trip in 1934, Mrs. Smith deeded the lodge to Mary. She turned it into a tourist resort with accommodations for 30 and changed the name to Taku Glacier Lodge. She cooked and entertained the guests as well as directing day-to-day operations. But she soon took on a new assignment from Pacific Alaska Airways, who needed a radio station on the Taku River to coordinate their twice-weekly flights from Juneau to Fairbanks, becoming the first female radio operator in Alaska.
However, the lodge was closed in the winter, so the following year when she was invited to participate as Miss Juneau in the 1936 Fairbanks Ice Carnival set for March, she decided to attend, but to make the thousand-mile journey by dogsled! Bear in mind that she had to leave in December to make it there in time; that is, mostly in darkness with temperatures of up to 60° below zero – she later said she was glad when it warmed up to -40°. No balmy Iditerod March jaunt for her! That time of year did offer the advantage that rivers and lakes she encountered, and on which she often traveled, would mostly be frozen.
As you may imagine, most thought her idea foolhardy – some of the comments she received were, "But you can't do that, there are mountains or something you can't get over. Anyway it's no place for a woman." Indeed, the route she was considering was mountainous, and one 300-mile section was virtually unmapped – a place where whites had not yet been. The usual route to the east was some 200 miles longer than the one she had in mind, which was more direct, similar to that followed by Pacific Alaska Airways flights. In fact, some parts of her route later became part of the Alcan Highway.
Fortunately, her connections at Pacific Alaska Airways proved invaluable. Radio operators from stations between Juneau and Fairbanks gave her advice on various alternatives; one had a guide who had gone part of the way. She usually found native guides to accompany her, but it was still no easy task. She didn't ride on the sled – or sometimes toboggan in areas where there was no trail. She said her five dogs had enough work just pulling the supplies.
In fact, she often walked ahead in snowshoes to break trail for them. During one stretch she recalled, "I had been told that there was always a light snowfall (i.e., powder) in the interior, and only on the coast did we get heavier snow. I do not mind breaking trail when my snowshoes only go down to my knees, but I do resent it when I go down up to my neck and the snow gets in my ears."
When she arrived at a home of a radio operator, or other cabins or villages along the way, she was warmly received. At one, she "wondered why they kept looking at me and finally one of them said 'but you're not at all what we expected…we thought you'd be big and masculine and you're so little.' I told them 'I'm sorry to disappoint you, but I'm afraid I'm as big as I can ever hope to be.' There was much laughter and friendliness and I felt immediately that I had known these people all my life."
However, there were also stretches where there was no man-made shelter and she had to rely on her "rag house," a small tent. And, where her food supply ran low, every creature was on half rations, and there was no game to be found – where "there isn't even a wolf in this country, nothing for them to live on," and the dogs became gaunt and began to gnaw on their traces.
There were mishaps: "As we were rounding a bend, the toboggan started sliding and I jumped off to steady it and went right through the ice up to my waist. It was a nuisance having to stop and build a fire. Everything froze immediately I even had to thaw out my socks before I could pull them off, and it wasn't too warm changing to corduroy pajama pants. I had sent my other ski suit to Fairbanks by plane, and now my toboggan was all iced down making it twice as heavy to pull for the poor dogs."
And: "The sun went down… it had gone down in my heart long before. We were going through tundra with a scrub brush here and there, no trees… the Tanana River lay to our right but where was Tanana Crossing? I had not known it could be so far. There were no words spoken between us (her Indian guide, Allen). We saved our energy to encourage the dogs who now could hardly pull empty sleds. Perhaps they had lost faith in us. The wind started to blow and it got dark. We went on and on with our heads down, the dogs following and despair in my heart. It was a blizzard by this time. I had heard of men freezing to death outside their cabin door. Was I to be so close to Tanana Crossing and never get there?"
Fortunately, that didn't happen, but the harsh conditions and a bout of flu meant that she still was 250 miles from Fairbanks as the Ice Festival was about to begin. Her journey had been followed with increasing interest by the "outside" press – at one stop, after she had been out of radio contact for several weeks, she was shown a telegram from the Milwaukee Journal: "WILL PAY YOU FOR QUICK EXCLUSIVE COVERAGE ON SIGNIFICANT DEVELOPMENTS IN SEARCH FOR MARY JOYCE STOP DISCOVERY DEAD OR ALIVE STOP WILL ALSO PAY FOR EXCLUSIVE PICTURES AND HER STORY IF ALIVE STOP."
She had become a celebrity, and Fairbanks insisted she fly there for the Ice Festival opening. As she was Miss Juneau, they asked if she would enter the beauty contest to decide Miss Alaska. She demurred, saying that her clothes hadn't arrived from Juneau, "and anyway, I should show the legs that mushed a thousand miles?" (A bathing suit competition was included.) But for ten days they swept her up in all the activities, after which she flew back and finished the journey to even more accolades. The Carnival Committee presented her with a silver cup and cajoled her into parading down the main street before attending a luncheon in her honor.
After returning to manage the lodge, answer mail and write articles – and a manuscript – about her trip, she continued to make news. One day she came across a man stranded on a rock in the Taku River after his boat was wrecked in icy rapids. After rescuing him, she learned he was the famous "Glacier Priest," Father Bernard Hubbard, who, with a team of geologists, had been studying glaciers in Alaska for several years. A newspaper headline proclaimed "Girl Saves Life of Glacier Priest" – she was 38 (or thereabouts) at the time. In 1938 she returned to her cinematic roots, appearing in a film that took place in the lodge and the surrounding wilderness, "Orphans of the North," playing a character called "Taku Mary."
And it wasn't long before she took up flying, becoming one of the first female pilots in Alaska. Her career as a bush pilot, however, was cut short when during an emergency landing in the Gastineau Channel her flying boat had a minor collision with a floating one. But that didn't end her interest in flight – she became a stewardess on Pan-Alaska Airlines, a subsidiary of Pan Am, at a time when only certified nurses could be stewardesses.
Mary's experience with running dogs proved useful during World War II, when the U.S. Navy commissioned her to haul radio equipment by dog team. As the war progressed and the threat of Japanese invasion seemed imminent – they had already taken two Aleutian Islands – she sold the Taku Lodge and moved to Juneau. During the war years, she returned to nursing and afterwards she purchased the Top Hat Bar in Juneau and one across the street which she renamed the Lucky Lady. Here she entertained her customers, many of them politicians and government workers a short walk away, with tales of her adventures until she peacefully died in 1976.
She never married, saying she liked her independence and was popular enough that she had any boyfriend she wanted.
Today, Mary's Taku Lodge continues to be a popular shore excursion for cruise-ship passengers, providing a salmon feast after a float plane ride over five glaciers.
In case you're looking for something "cool" to read on a hot summer day, a Kindle edition of Mary Joyce: Taku to Fairbanks, 1,000 Miles by Dogteam is available from Amazon.com for only $3.99. Of course, you don't need a Kindle to read it – there are free Kindle programs for the PC and Mac and free apps for Android and iDevices. [September 2014 update: Unfortunately, Amazon no longer offers the Kindle edition – only a $15.28 paperback version.]
The author, Anne Greiner, is Mary's niece, who initially had gotten to know Mary during her visits with her mother and later moved to Juneau for several years. Although Anne added details about Mary's life before and after the 1,000 mile trek, and was the source of the information on the back wall of The Lucky Lady, the account of that journey is Mary's.
---
1 Details in the book revealed a surprising coincidence. Hack's World War I service was as a volunteer ambulance driver in France with the American Field Service, before the U.S. entered the war. He was wounded and while in the hospital became addicted to morphine, although it was his fondness for alcohol that later was his weakness.
The American Field Service was reactivated at the beginning of World War II, with volunteers serving in many major theaters of operation. After the war, a group of volunteers launched a student exchange program to promote international understanding.
The coincidence? In 1957 I was selected as an AFS foreign exchange student to Luxembourg.
© Copyright 2012 Jack Ludwick - All Rights Reserved