Home
Ketchikan
August 4, 2010
Ketchikan is sometimes called the First City of Alaska, not because of its age or its prominence, but because it's often the first one encountered by northbound ships cruising the Inside Passage. (See the itinerary for a map.)
With a year-round population of 13,000, it grew up around a major salmon spawning creek that runs into the interior. Today it is particularly noted for its collections of totem poles. We were interested in those at the Saxman native village a few miles to the south, which was accessible by a pricey shore excursion, or by a city bus.
Our ship tied up in the center of town, adjacent to the Tourist Office, where we learned that the hourly bus that went past the Saxman village to the south was about to arrive.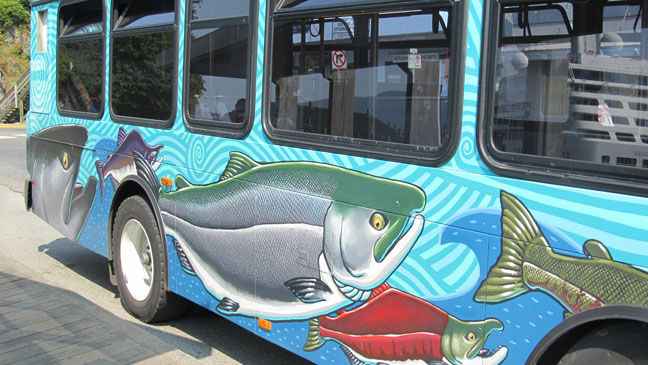 For $2 not only were we transported there, but the bus driver also told us about a nearby bald eagle's nest. Of course, bald eagles are no longer a rarity in our area, but here we spotted the whole family – an eaglet, mother, and father standing guard, although they were reluctant to pose for a group photograph. However, you can glimpse the mother's back in the first photo. We later saw many others in trees or sitting on poles along the road on our way to the Mendenhall Glacier in Juneau.
The entry to the village was lined with totem poles, with the Beaver Clan tribal house at the end.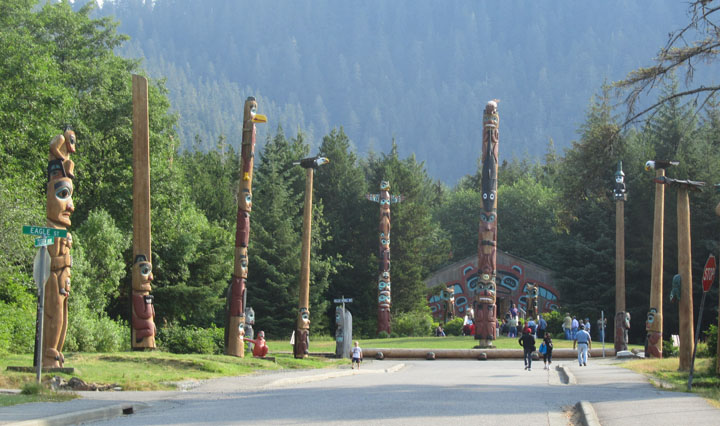 Totem poles, which can represent a variety of legends, historic persons, or events, are still being carved here. Common animals represented are the raven, eagle, bear, beaver, frog, and salmon. Although they are often very stylistic, a raven always has a straight beak whereas an eagle's beak is curved, and although a bear and wolf look similar, the observant can distinguish them by the shape of their teeth and the length of their snouts.
Although totem poles have no religious significance, when missionaries arrived, they reviled them as objects of heathen worship and urged converts to cease production. That, along with epidemics brought by the newcomers and government policies to assimilate native populations led to a dramatic decline in production by the beginning of the 20th century. In the 60's and 70's there was a renewed interest in the art, and today a number of native artists produce them on commission, in the traditional way, using chisels and mallets. A large one can take as long a year and cost thousands of dollars per carved foot.
As we departed the bus, we had noticed a sign that geezers could ride for half price, so on our return we paid $1, although we were disappointed that the driver didn't require proof. When we inquired about the city bus route, she said it was a touristic loop and radioed her colleague to pause a few moments until we arrived. This ride was free and the knowledgeable driver, Louise, described the points of interest as we passed.
She also related how a bear broke into her basement one day, so she called the State Police, who are also the animal control officers. By the time they finally arrived – they're also not really that interested in encountering a bear – it had left. When she asked what she should do in the future, they said to throw some firecrackers down the stairs! She said that not only were they illegal, she doubted that her insurance would cover a fire that might result. Instead, she went out, bought a gun – evidently, in spite of what we might recently have heard, not every Alaskan owns one – and fortified her basement door.
We stopped off at the Totem Heritage Center, which preserves, indoors, a rare collection of century old totems – even the rot-resistant cedars eventually decay in the wet climate.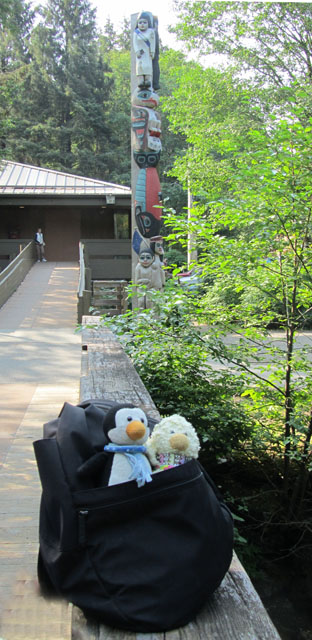 We had seen enough of them by now, so we strolled through the nearby park until Louise returned.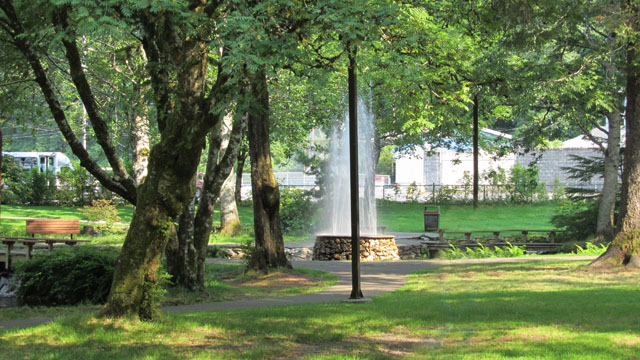 We also spotted evidence of Alaskan humor.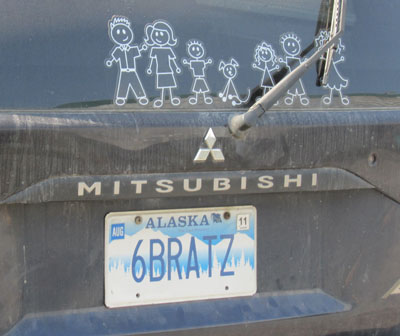 Back in town, we saw hordes of salmon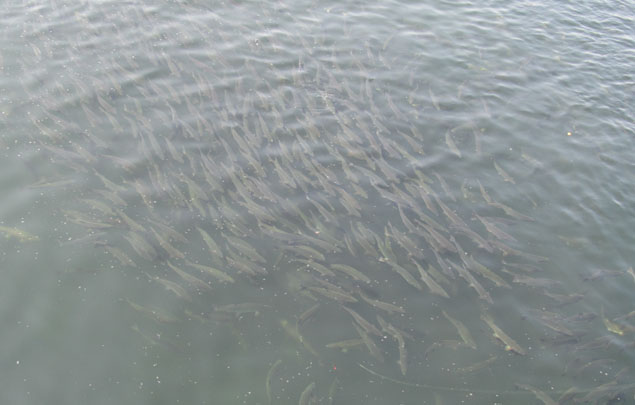 gathering strength for the final push upstream along Creek Street.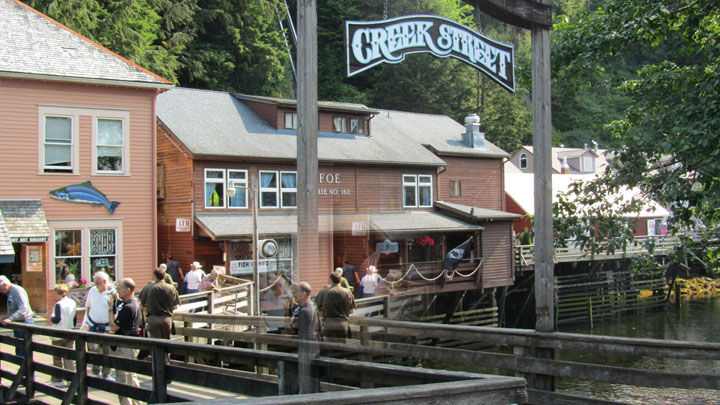 Now an eclectic shopping and dining area, it was formerly the red light district. Saturdays, fishing boats and floatplanes would converge, disgorging crews for a night of drinking and carousing. It was said at the time that Ketchikan was the only place in Alaska where both the fish and the fishermen came to spawn.
Today, one of the only remnants of those days is a museum, Dolley's House, immortalizing its most famous brothel, complete with a madam to entice you inside. Another remnant is the pathway along the creek from uptown known as "Married Man's Trail."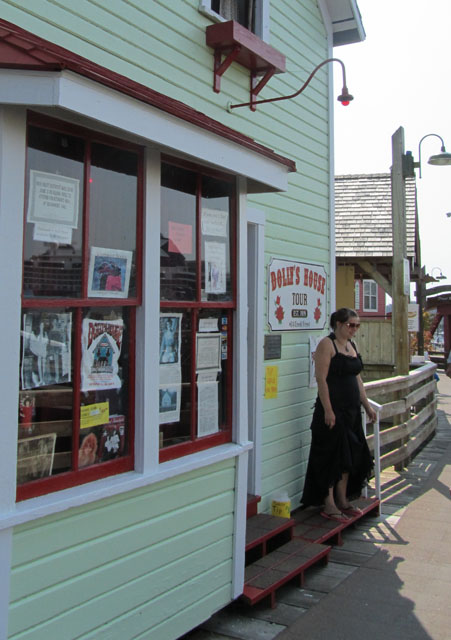 Upstream, a fish ladder provided an easier alternative to opposing the waterfall's torrent,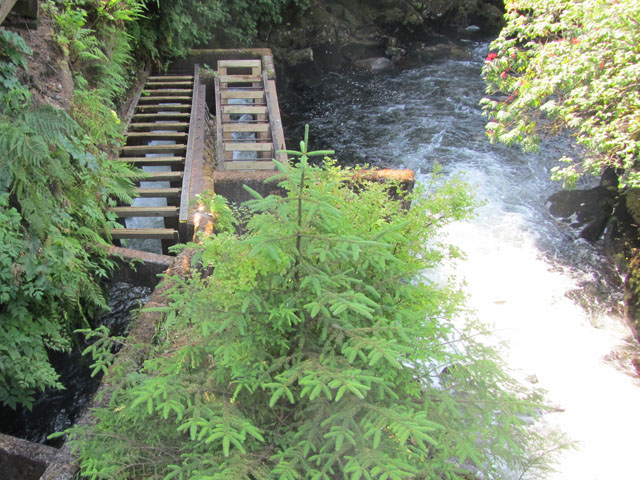 but most salmon preferred the more strenuous route. One could only admire the valor of their efforts, attacking time after time until finally fighting their way to the top. Unfortunately, my reflexes, combined with the camera's shutter delay, meant that I wasn't able to capture any of their leaps.
As we sailed away, we saw many floatplanes taking off and landing.
A few days later, we were reminded of the dangers of flight in the vast Alaskan wilderness subject to rapidly changing weather conditions, when a floatplane crash killed five, including former Senator Ted Stevens. Floatplanes aren't just for leisure flights – most of the settlements along the Inside Passage are only accessible by sea and air.
Knowing of the ALCAN highway, which, linked with others, allows one to drive the 2,100 miles from Seattle to Fairbanks, you might think that one could also access these towns. In fact, there is an even closer highway, but it is still some 100 miles away, and the mountains and glaciers in between make such connections impractical. Consequently, the road network in the cities we visited consisted of a downtown grid and roads to the north and south along the coast, sometimes with an occasional development, but petering out after 10 or 15 miles. It's not until Skagway that a road, the Klondike Highway, snakes its way alongside rivers and lakes and over mountain passes to join the rest of Alaska.
© Copyright 2010 Jack Ludwick - All Rights Reserved
Home