&nbsp &nbsp Home


The Itinerary
October 7 - 26, 2000
We flew from Dulles via Spanair and began with four nights in
Madrid. Home to the Prado, with its room-after-room-fulls of Velázquezes, Goyas, El Grecos, and Bosches; the Reina Sofia, which is to modern art what the Prado is to traditional art, and which includes, among six rooms of Picassos, his massive Guernica; the 2000-room Royal Palace, including the finest armory in Spain; enough tapas bars to feed us for our entire trip without repeating; and El Rastro, Europe's largest flea market.
We then picked up a car (although the Europcar office is closed on the National Holiday, Avis isn't) and stayed one night in
Avila, known for its perfectly preserved medieval walls, after visiting, on the way,


The Valley of the Fallen, Valle de los Caídos. A 500-foot cross on a hilltop rises above a huge underground chapel, a monument to those who died in the Spanish Civil War – as well as Franco; and


El Escorial. Constructed 400 years ago, this granite-and-slate behemoth looks more like a fortress than a monastery and royal palace. It includes a 60,000 volume library with the largest collection of Arabic manuscripts on the Muslim faith in the world, as well as an elaborate model of the universe, with an earth – securely positioned in the center – whose representation of North America is seriously misshapen.
From then on we stayed two nights each in
Segovia. Many cities have an Alcázar (fortress) but Segovia's is the most picturesque, mainly because it burned down in 1862 and its reconstruction didn't have to repulse ferocious hordes. Some guidebooks label it Disneyesque; of course the copying went the other way. At the other extreme of age, a still-functional Roman aqueduct,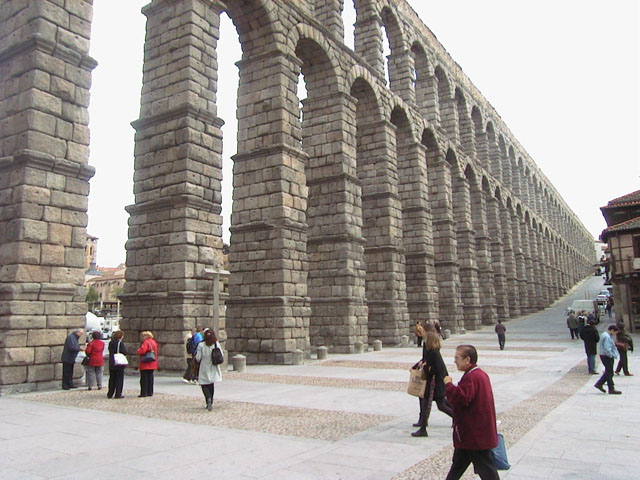 constructed entirely without mortar, leads into the heart of town. To view the famous, non-functional, Pont du Gard in the French countryside this spring we first drove an hour from Avignon, then walked half an hour from the parking lot.


Salamanca. Home of Spain's grandest plaza;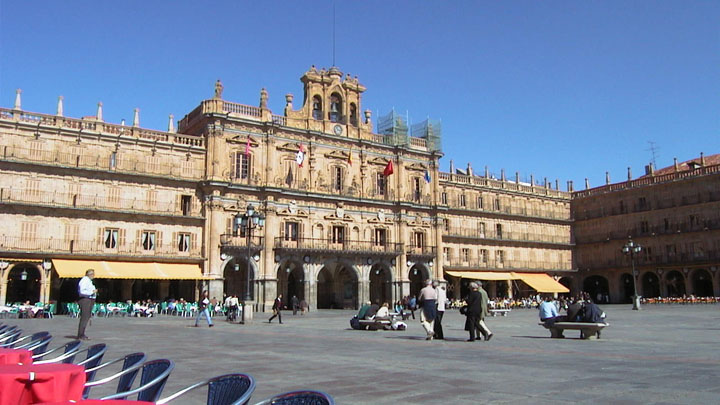 and on the "New Cathedral," constructed between 1513 and 1733, an astronaut added by a whimsical restorer in 1993.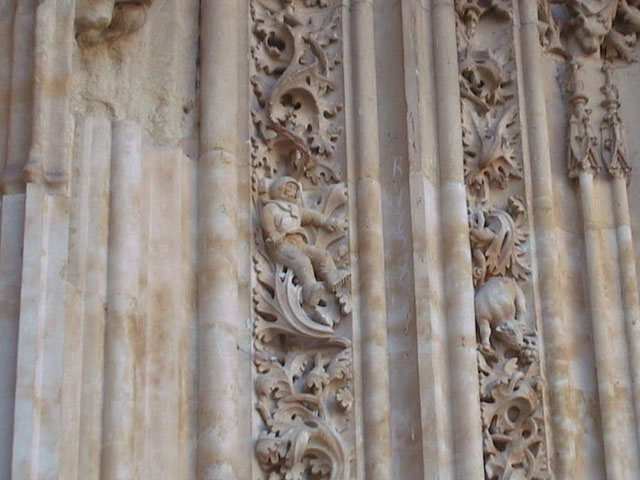 Causing a furor when it was first noticed, it is now accepted by the locals, who say "After all, he is closest to God."


Toledo. A national landmark,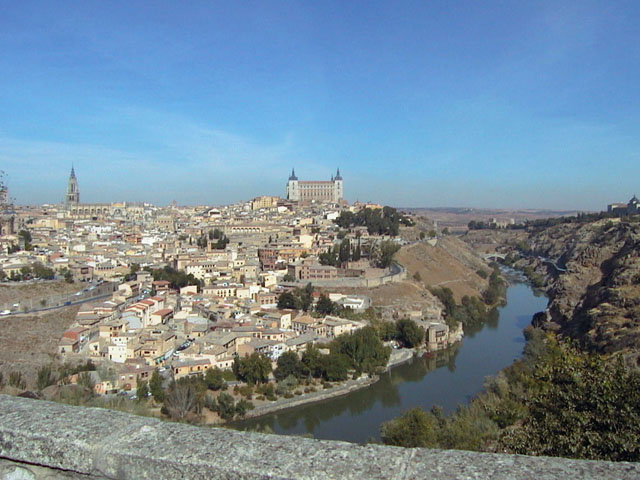 its streets and buildings are relatively unchanged since El Greco – Domenikos Theotocopoulos; no wonder his friends called him "The Greek" – painted there for the last 37 years of his life.
It is also Spain's Damascene center, supplying ceremonial swords to US military academies as well as miniatures to tourists.


Granada. Entry to the Alhambra, Europe's last and greatest Moorish palace, is limited to 400 people per half-hour. Fortunately, we were able to make telephone reservations via credit card a day in advance. Its open-air rooms with lacelike ornamentation open onto tranquil courtyards with tinkling fountains.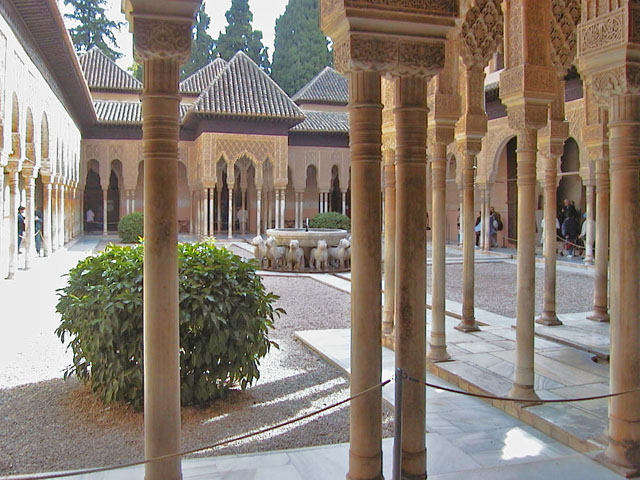 On an adjacent hillside, Generalife, the summer palace,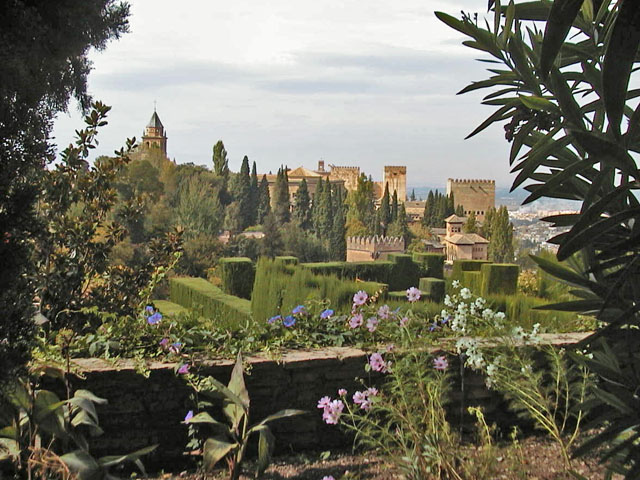 has even more running-water features, including a "water stairway" whose stone banisters channel streams of water alongside several stories of steps.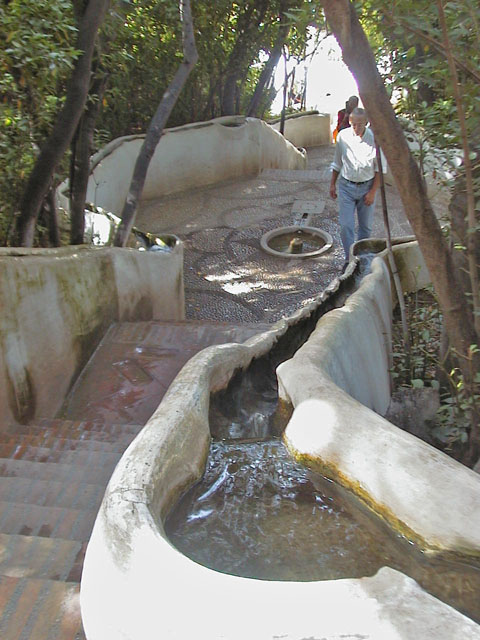 Coming from an arid climate, the Arab conquerors equated such an abundance of water, diverted from ten miles upstream, with their view of Heaven.

Elsewhere in Granada, the Royal Chapel includes the tombs of Ferdinand and Isabella. Isabella supporters attribute the bigger dent in her sculpted pillow to more brains.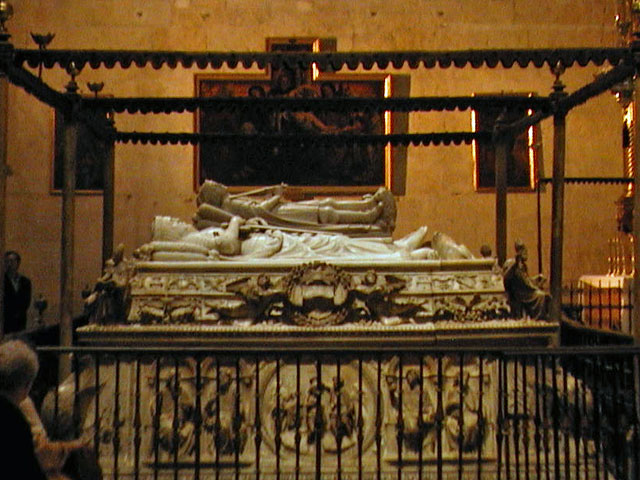 In a nearby room rests the box once filled with jewels that Isabella gave to Columbus to finance his search for the new world.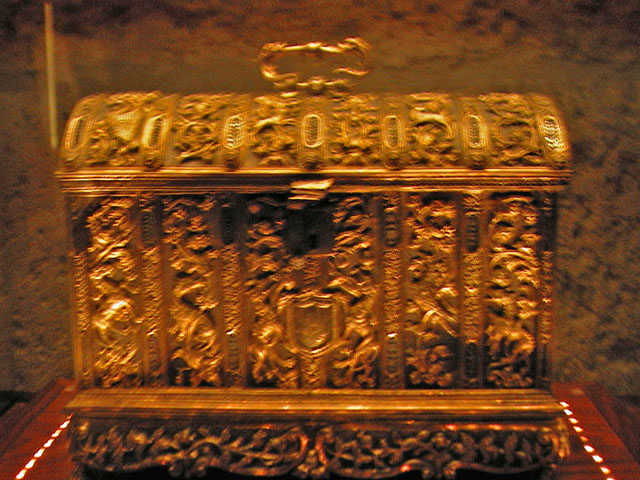 Nerja. Since Granada is only an hour from the Costa del Sol we decided to spend a couple of days there. Unlike much of that area, dubbed "Costa del Condo" by some, Nerja has managed to keep much of its quiet Old World charm. The Balcón de Europa at the end of the town's main promenade gives a fine view of the coast's beaches and coves and the distant Sierra Nevadas.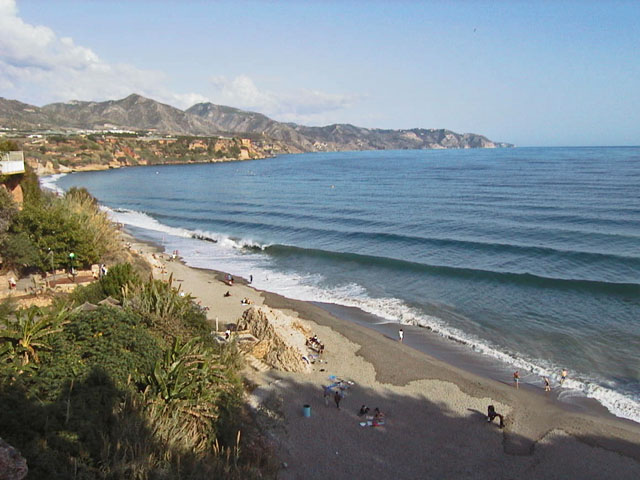 The next day, church bells notified us of a wedding.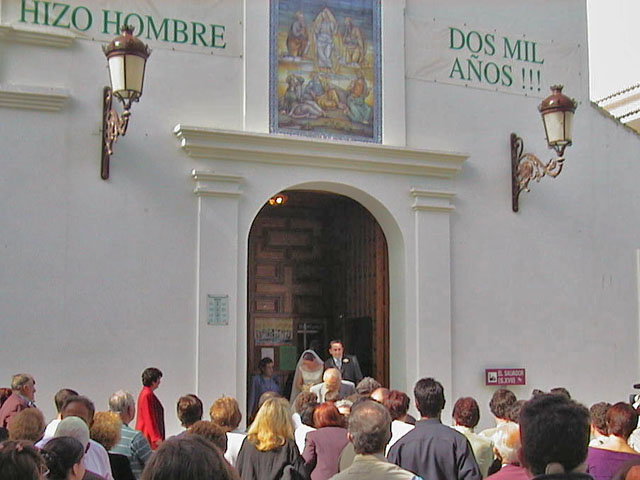 A haven for British expatriates, Nerja provided a welcome respite after two weeks of culture- and history-cramming. Next time we'll stay longer!


Sevilla. Spain's fourth-largest city, Sevilla is known for its beauty and romance. Near the Guadalaquivir River, a statue of Carmen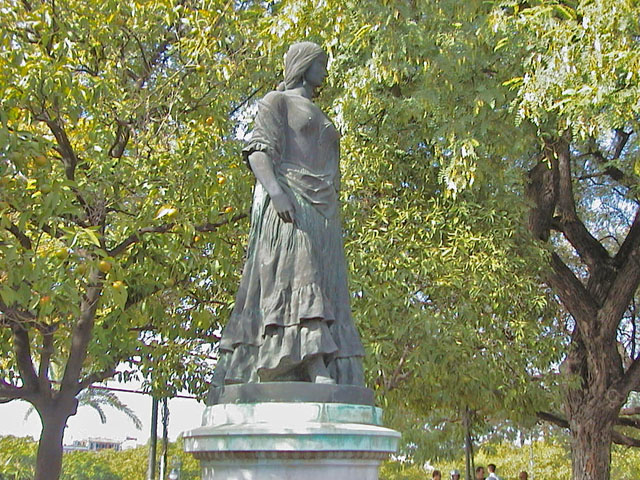 gazes longingly across the road at the bull ring.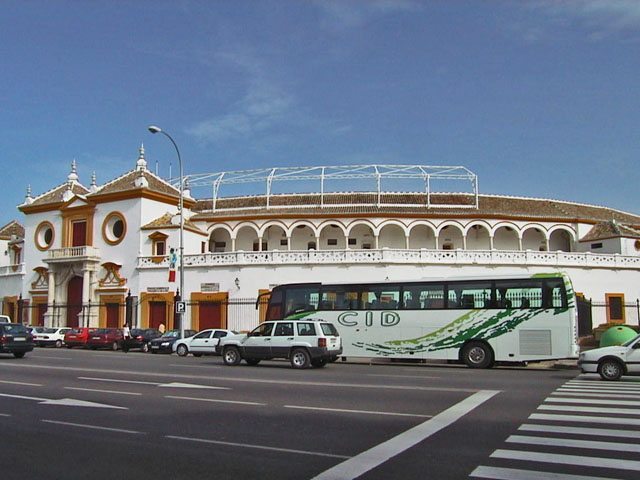 Further to the east, the tobacco factory where she worked now houses part of the Universidad de Sevilla.
Sevilla's Cathedral is the largest Gothic church in the world and the adjacent Giralda Tower, originally a Moorish minaret (to the right), has a 300-foot spiral ramp to the top, designed to accommodate riders on horseback!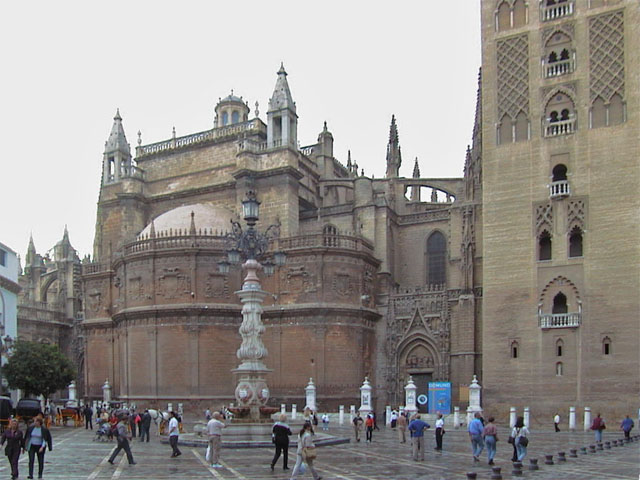 Although Sevilla is renowned for its flamenco, we were disappointed with the show we viewed at its best club.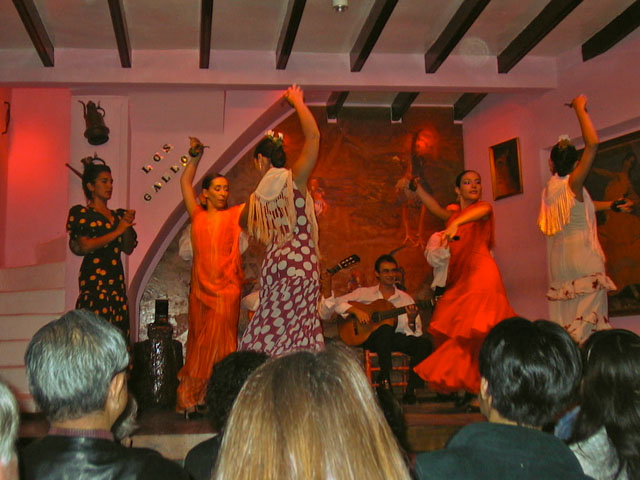 Our concierge later admitted that since flamenco has become so popular worldwide the best performers are being hired away, particularly by the Japanese.

Although he was helpful in recommending the best Internet café we encountered in all of Spain and in getting us tickets for the flamenco show and the high-speed train, a magazine in our room noted that concierges can't do everything. It told of a Japanese businessman who was so impressed by the bullfights that he wanted the concierge to have fifty bulls shipped back home to him so he could arrange his own!
We then took the high speed train (the AVE,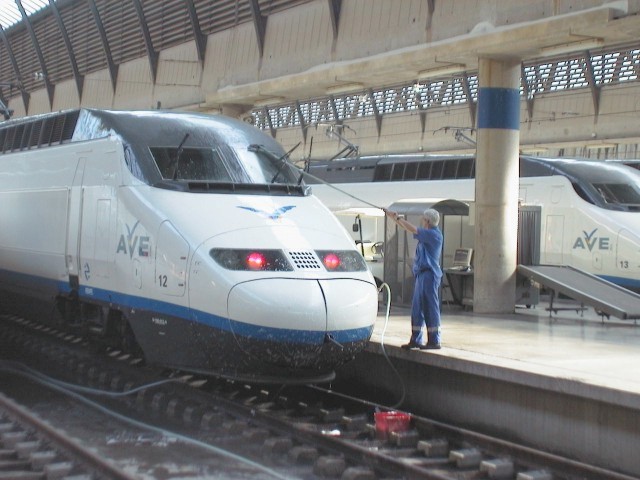 similar to the French TGV on which we've previously traveled from Lyon to Paris. AVEs depart hourly and make the 340-mile trip in 2-1/2 hours, including a stop in Cordoba) back to
Madrid for another night and flew back the next day. Since the flight didn't leave until 5 PM we had the opportunity to try two more of Madrid's fine restaurants; for dinner the evening we arrived and for lunch the next day. Once again we were reminded of the late dining hours – when we called for a reservation, they said that we could come when they opened at 9 PM as long as we didn't dawdle, because the table was booked at 11! We missed the deadline by fifteen minutes, but the reservation was also late.

The restaurant we chose for lunch, El Olivo, had its own story – it's the only restaurant in Spain with a cart of forty regional olive oils to choose among, to soak up with their rough-textured bread.
There are several more places that we'd like to visit (e.g., Barcelona; Santiago de Compostela; Bilbao; Gibraltar; various wine regions around Barcelona, north of Madrid, and, in the south, Jerez – i.e., Sherry) but they'll have to wait until next time. As will Portugal.
[The next year we did take a wine tour beginning in Barcelona and ending in Lisbon, visiting the wine regions of Penedes, Rioja – with a side trip to Bilbao – and Oporto. And we also later visited Santiago de Compostela and more of Portugal.]
The map below is from the Michelin Green Guide. Michelin deems the towns, or sights, in green to be "worth a journey," those in orange are "worth a detour." In case you wondered, to cut down on visual distractions I've deleted a few other Michelin-highlighted sights that we didn't visit this trip (e.g., Cordoba).