Home
A Leaf-Peeping Cruise
October 11-25, 2014
... or at least that's what we anticipated.
It all began when towards the end of September I emailed a friend we had met on an earlier Seabourn Caribbean cruise to inquire whether he planned on taking another cruise this winter. He said this year he was celebrating his big 5-0 on a two-week cruise on the Seabourn Quest from Montréal to Ft. Lauderdale, leaving in two weeks.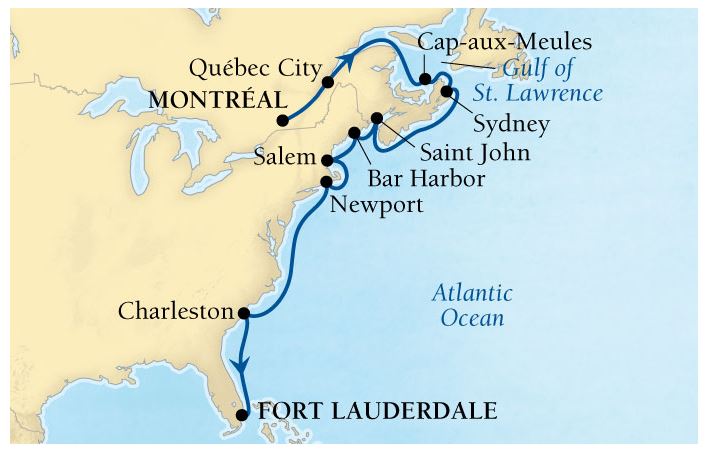 The Quest is one of the three new "larger" – 450-passenger – "mega-yachts," eventually replacing the original 212-passenger ones. We'd previously sailed the smaller Legend and Pride, as well as the larger Sojourn (the Odyssey is the third), and although we, like most, preferred their intimacy, the new generation does have significant improvements.
Coincidentally, a high school classmate had recently asked my opinion about Canada-to-Boston cruises next September on either the Holland America Maasdam or the Norwegian Dawn. Since we'd sailed the Maasdam several times, as well as other HAL ships, and a Norwegian ship of a similar size to the Dawn twice, I provided some of our impressions. It did look like an interesting theme so I also took a look at what they had available this year.
However, I didn't think to check Seabourn until receiving the reply. There were only a few suites available, all Oceanview, so we consulted our travel agent and booked one she recommended. When I notified our friend, I also commented that he may have already realized that, unlike most – perhaps I should add normal – people, we don't always plan that far in advance! He had made his reservation in March.
Several days later Betty Lou checked the Seabourn website and saw that there were now Veranda suites available, and at 5% less. (The high-end lines don't have anything as common as "Balconies;" in fact some even have "Verandahs."). It turned out that they (or, based on what we later learned, perhaps "it") were of a type called Veranda Guarantee (VG) which, as you may imagine, guarantees one a veranda suite. However one doesn't know what it will be and sometimes may not even find out until boarding.
Fortunately, only a few days later, we learned we were assigned a V4 suite (categories range from V1 to V6, with the higher numbered ones being more desirable; based on location since all are of the same, generous, size). For example, the lower deck V1 and V2 verandas have much less visibility than the higher V3 to V6 ones.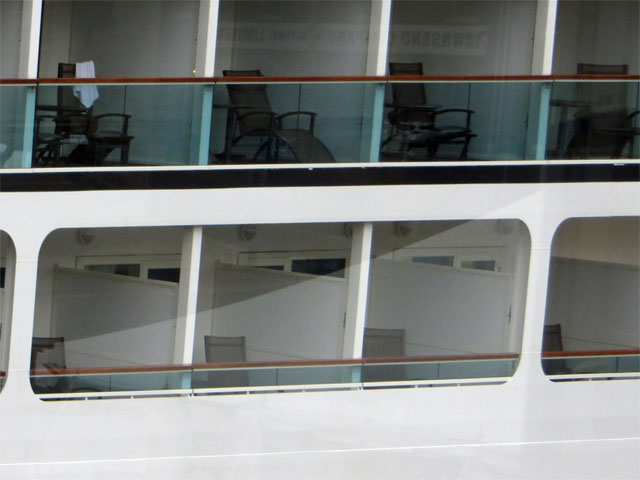 Although the cool weather we experienced for much of the trip meant that we didn't spend much time on the veranda, the view from inside a lower deck veranda suite would have been restricted.
Thanks to the last-minute guarantee, we received a 20% more expensive Veranda suite for, as previously mentioned, 5% less than our original Oceanview one! When I notified our friend of our good fortune, we found that he knew the original occupants, who had upgraded to a Penthouse Suite. (As you may have surmised, there are several categories higher than the Vs.) No doubt that's when the VG became available and Betty Lou was the first to notice it.
However, this close to departure, she had to use all her Internet wiles to track down a reasonably-priced nonstop flight to Montréal. Fortunately JetBlue between Ft. Lauderdale and DC has never been much of a problem.
The last time we were in Montréal was after a 1976 family reunion in the Catskills. We drove up along the coast, making multiple stops, including several of the cruise ports, before taking the ferry from Bar Harbor across to Nova Scotia, around the island, and through New Brunswick to Montréal.

Most of the time we camped, in a backpack-size tent that fit in the trunk of my '71 Mustang. All the equipment, including the tent, sleeping bags, air mattresses, camp stoves, lanterns, etc., was greatly improved from what was available in my Boy Scout days. When I mentioned this to Betty Lou, she almost beaned me that I'd take her into the wilderness without knowing what we were getting into!

At Montréal, exhibiting other, also perhaps not normal, priorities, we stayed in a $2 campground on the outskirts and drove in for sightseeing – and a $50 dinner. And since I was working on ground transportation projects at the time, explored the rubber-tired Metro system.
This time we arrived two days early and Starwood points landed us a huge corner suite at the W Montréal. However, our dining preferences hadn't changed.
But I digress. Paradoxically, although the weather at most ports was unseasonably cool, in the 50s and 60s – we often heard those familiar words, "You should have been here yesterday, it was in the 70s." – there didn't seem to have yet been enough cold weather to convince the trees that it was time for a radical color change.
Here's an example in Montreal's Mount Royal Park during our city tour.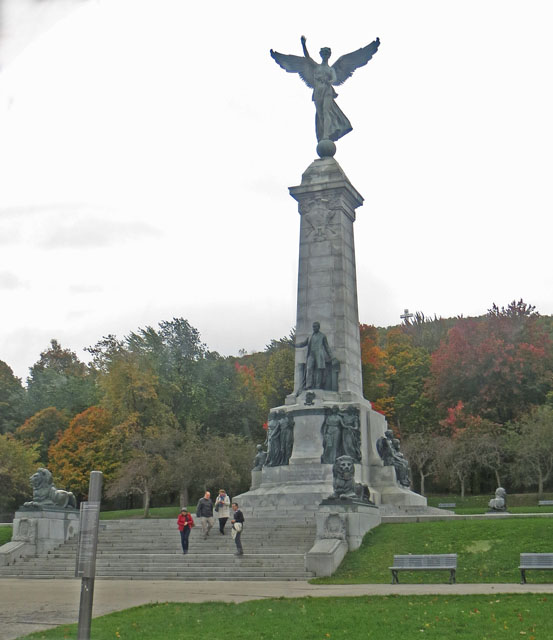 The imposing sculpture is a monument to George-Etienne Cartier, a dominant political figure. He was a leading proponent of the confederation by which three British colonies became the four provinces of the Federal Dominion of Canada in 1867: Ontario, Québec, New Brunswick, and Nova Scotia. A major reason for his support of the confederation was the perhaps not unreasonable fear of American expansion, considering the recent annexation of Texas from Mexico.
After departing Montréal, our first stop was Québec – we were told that only outsiders called it Québec City. Some narrow, shop-lined streets might have been in France.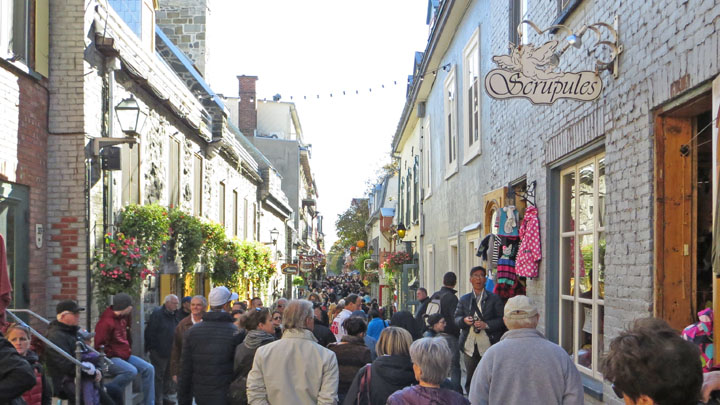 We viewed these color-resisting trees during our funicular ascent to the upper town.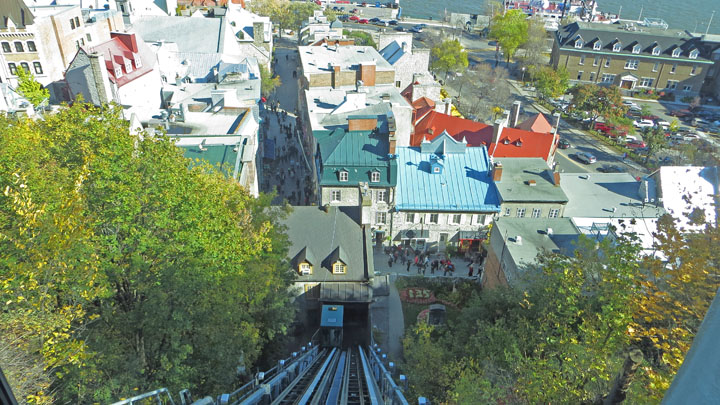 Arriving on Sunday, we were drawn by the pealing of bells to the Notre-Dame de Québec Basilica.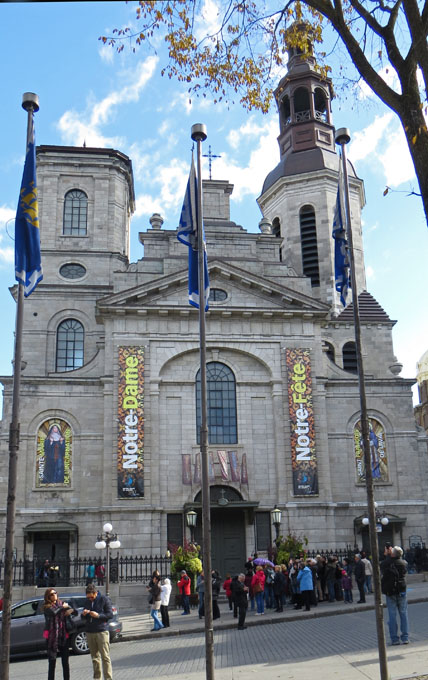 whose majestic interior was filled with hundreds of worshipers.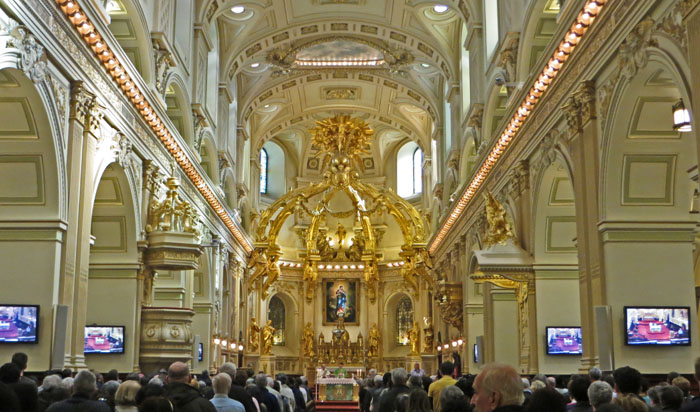 The nearby market square, adjacent to the Hotel de Ville (City Hall), featured some whimsical seasonal displays.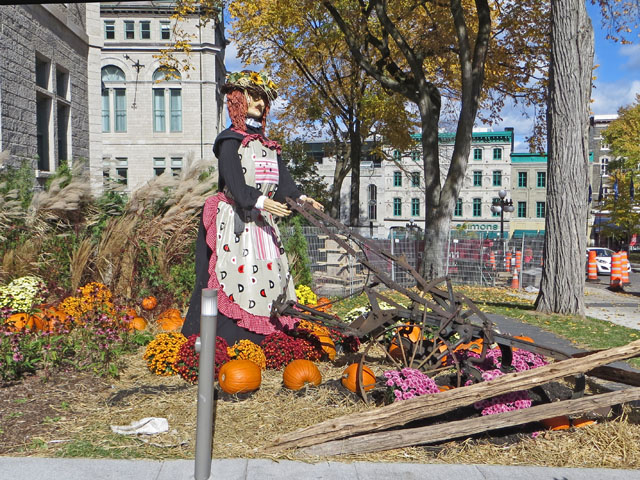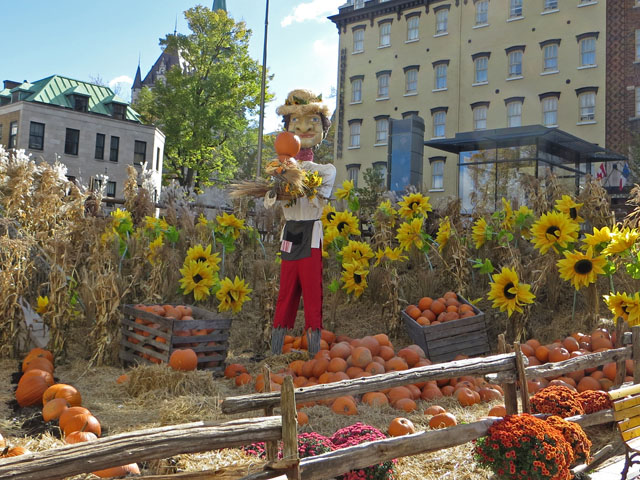 The Chateau Frontenac, now a Fairmont hotel, dominates the skyline of the upper town.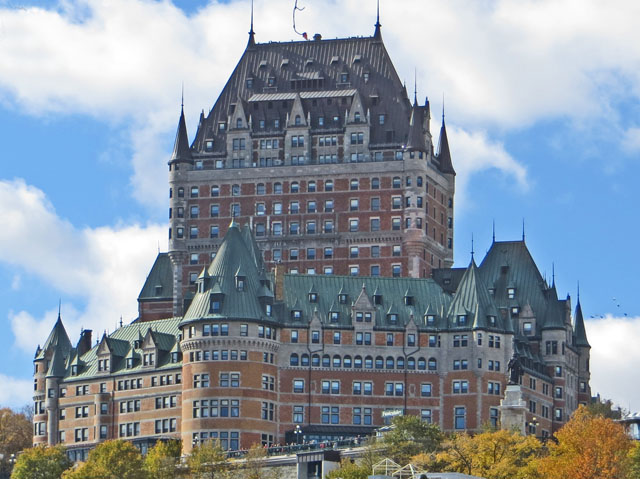 It boasts over 600 guest rooms and suites, three restaurants – and Le Sam Bistro, named for Québec founder Samuel de Champlain. The bartenders were really hopping, mixing all sorts of exotic drinks: Bloody Caesars, White Cosmos, French 75s, and Algonquins – a house specialty "smoked with white cedar and orange peels," requiring extensive preparation.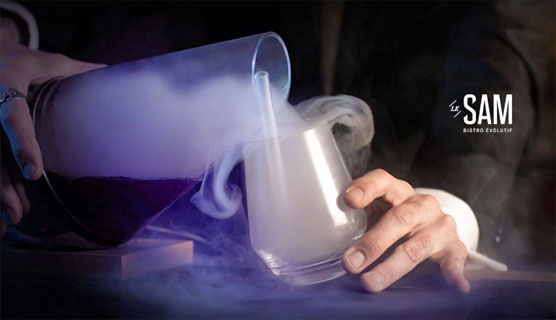 Peep and Flo's selections gave them a breather, although they did have to provide a snack refill.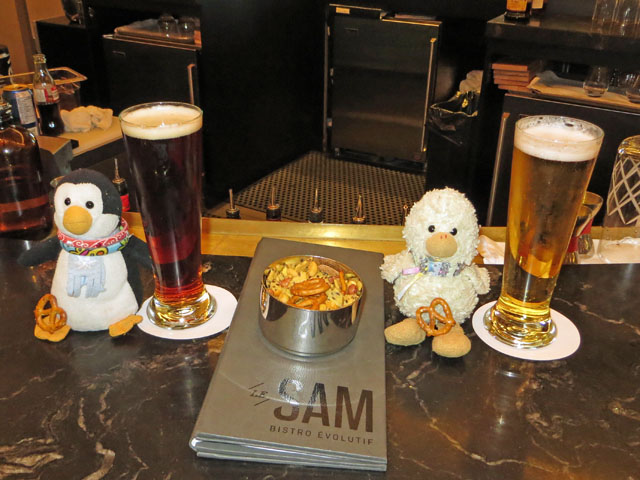 The little island of Cap-aux-Meules, whose brightly-painted buildings help cheer up short winter days, didn't have many trees.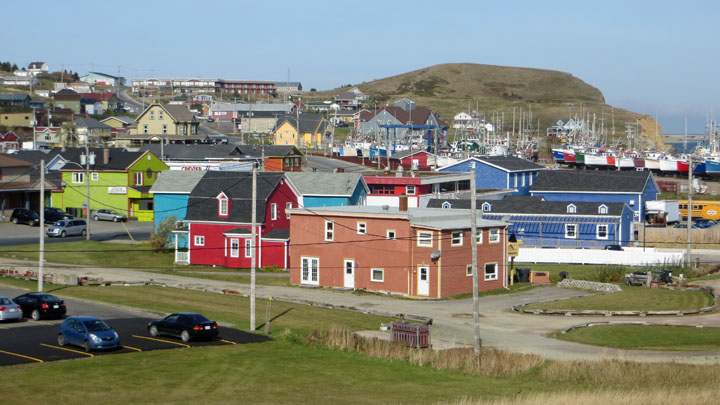 Peep and Flo needed a break when their little legs got tired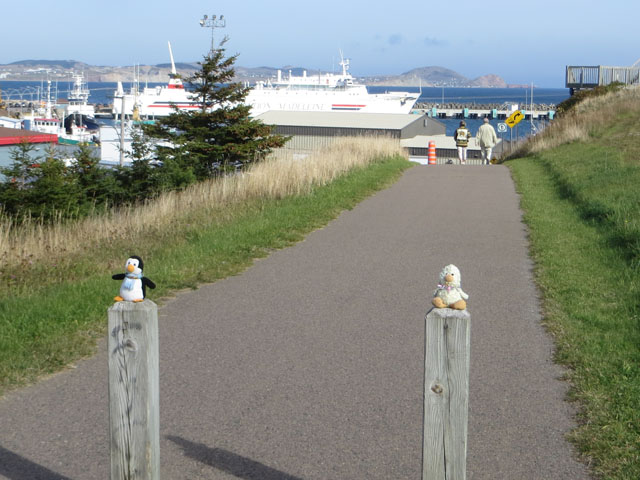 climbing Grindstone Hill.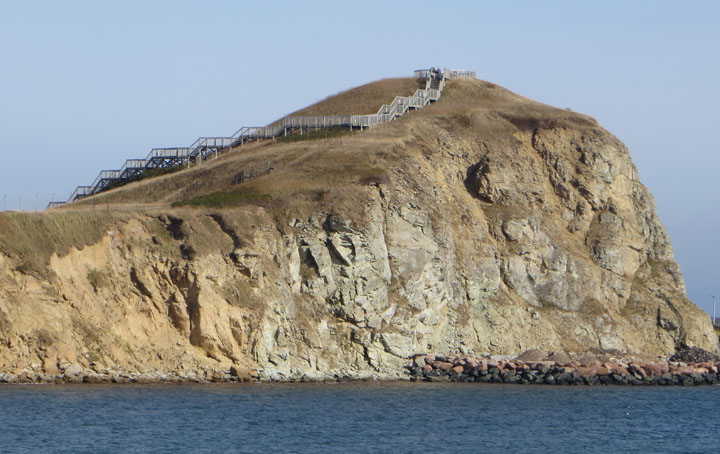 They were careful to heed the warming signs.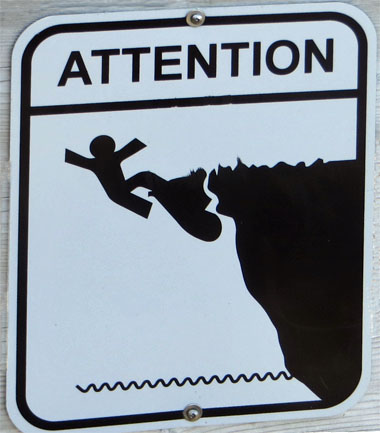 At Sydney, Nova Scotia, the trees surrounding the historic church had also resisted a complexion change.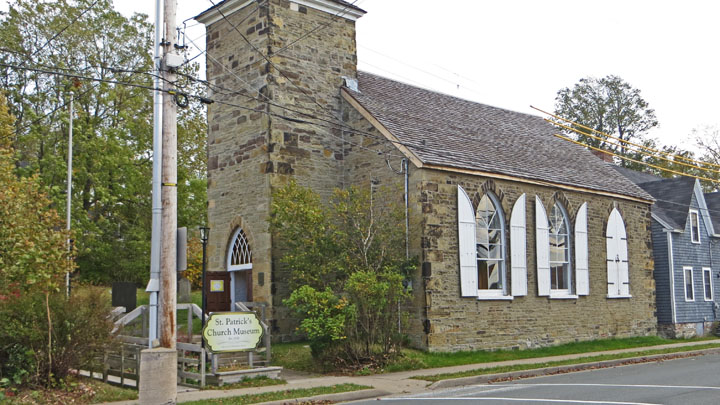 Although we had encountered substantial winds throughout Canadian waters and ports, Sydney was the only scheduled docking where the gales were so strong that we had to anchor offshore and tender in.
Trees in King's Park in Saint John, New Brunswick did show the beginnings of a color change.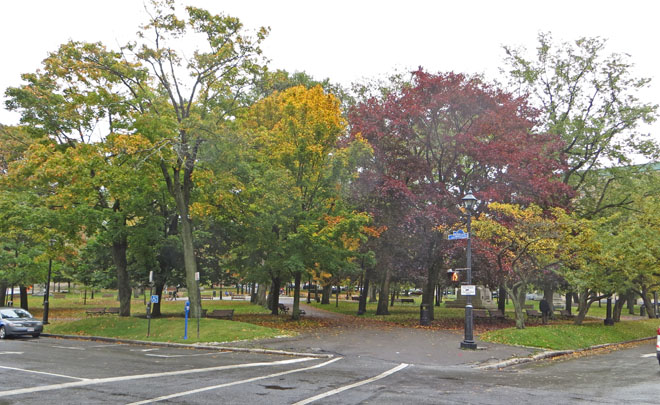 Saint John, the oldest incorporated city in Canada, served as a sanctuary to American settlers loyal to the British crown during and after the Revolution. When Loyalists designed King's Square in 1847, they laid out the walkways like a Union Jack, something that wouldn't have been obvious to me, without knowing about it.
A typical aerial view isn't any more informative, but the map view does show the resemblance. The centerpiece is a two-tiered bandstand. Of course bandstands, although not necessarily two-tiered ones, have been very popular in Britain.
Another factoid is that Saint John's main street (and the Saint isn't usually abbreviated, to differentiate if from St. John's, Newfoundland, which usually is) is said to be the steepest in Canada, rising some eight stories from the waterfront street level within two blocks to that of the park. Perhaps it's the "main street" that gives it that distinction, because the street I climbed from our hotel in Montréal to reach a huge Best Buy-related store (again I forgot the computer mouse) was pretty daunting.
Or maybe it's because we didn't have to make this climb, because an indoor "pedway" begins in Market Square,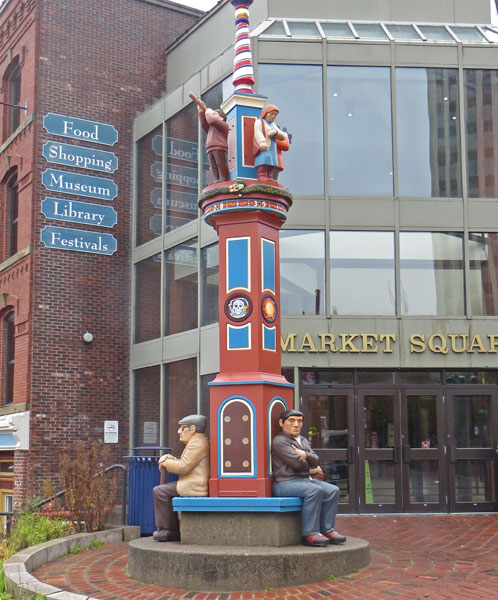 proceeding through several large indoor malls,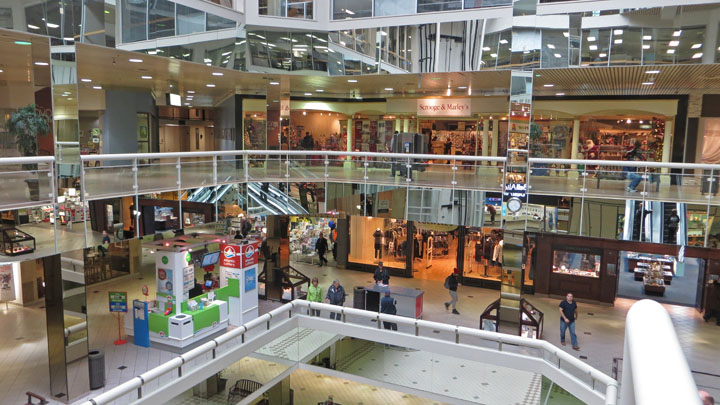 and a block-long market.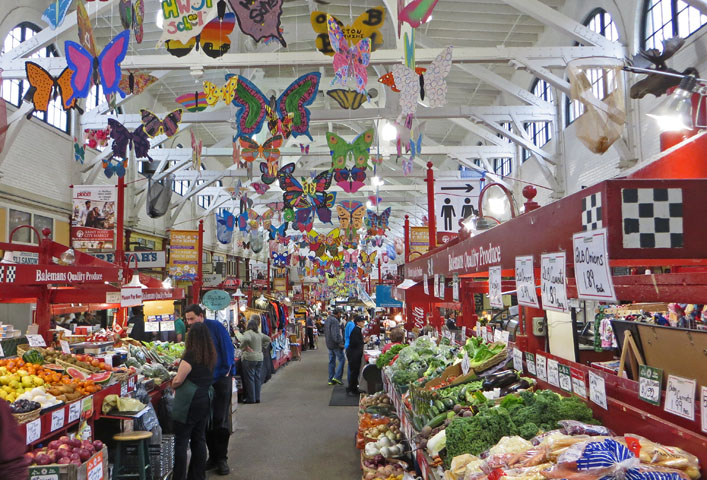 Escalators provided occasional vertical assistance along the way.
Descending by foot we came upon this group waiting for a bus. Perhaps those outside Market Square were waiting for the same bus.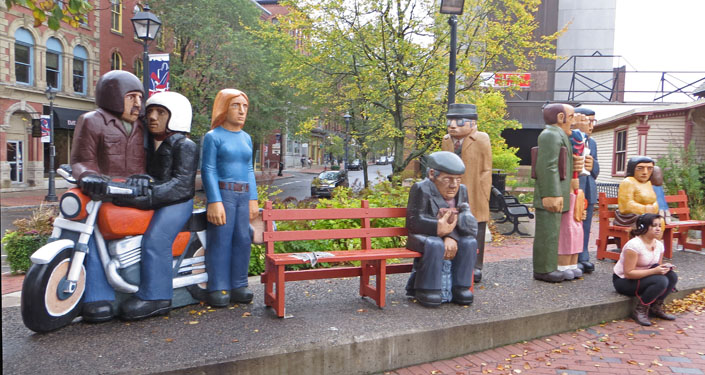 At Bar Harbor, we took a one-hour "Cadillac Mountain1" tour on an Oli's Trolley and finally spotted some colorful hues.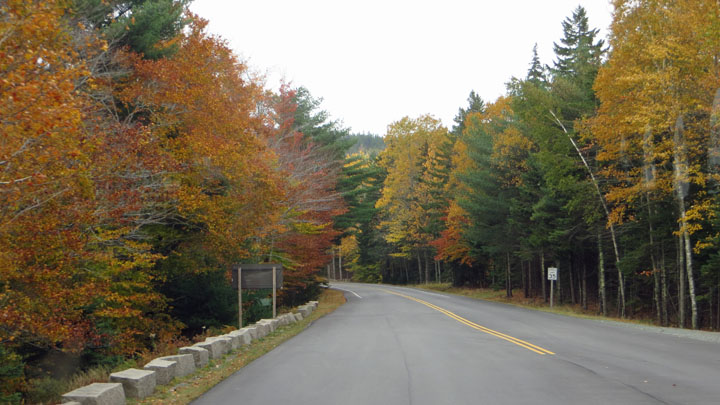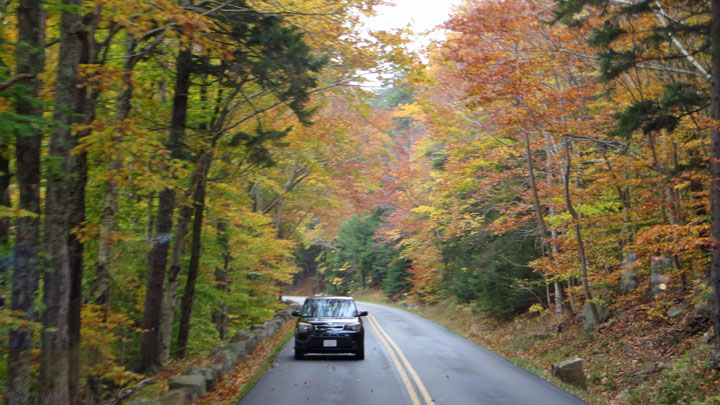 although not as brilliant as what we later saw on our way home from National Airport.
1The quotes are because the top of Cadillac Mountain was fogged in, so we skipped making the ascent.
Low tide was approaching, providing the possibility to walk across the exposed sand bar to Bar Island.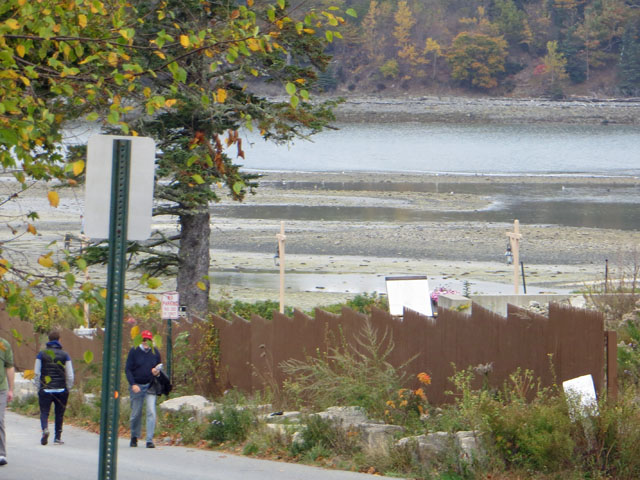 As we departed, we passed the "Two Bubbles." In case that isn't what initially comes to mind, they were originally called the "Two Boobies."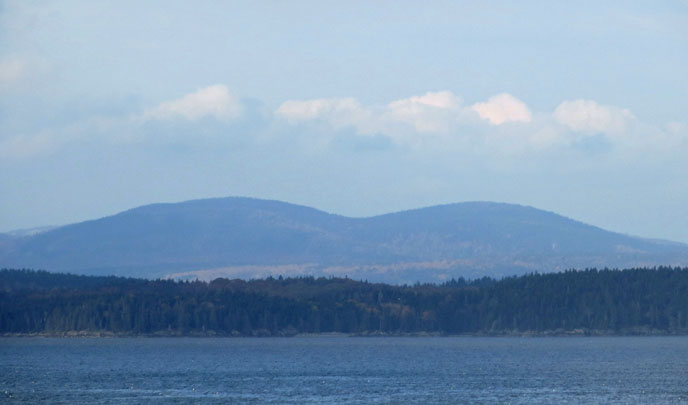 Although the Sunday we arrived at Salem was nearly two weeks before Halloween, the town is always mindful of its heritage.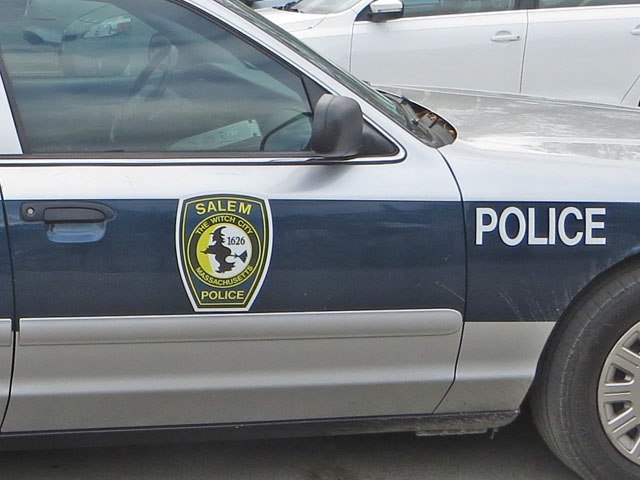 Houses and yards were bountifully beastly bedecked.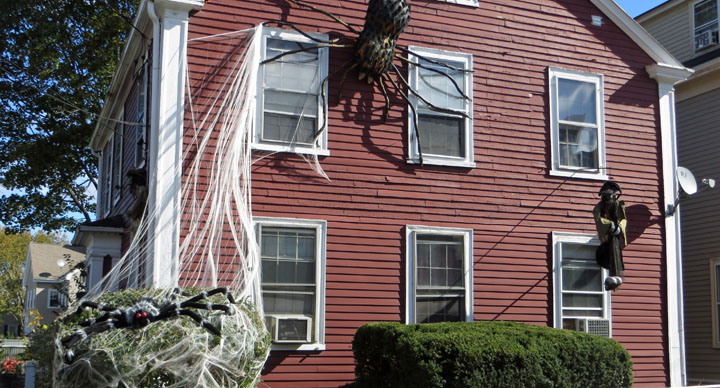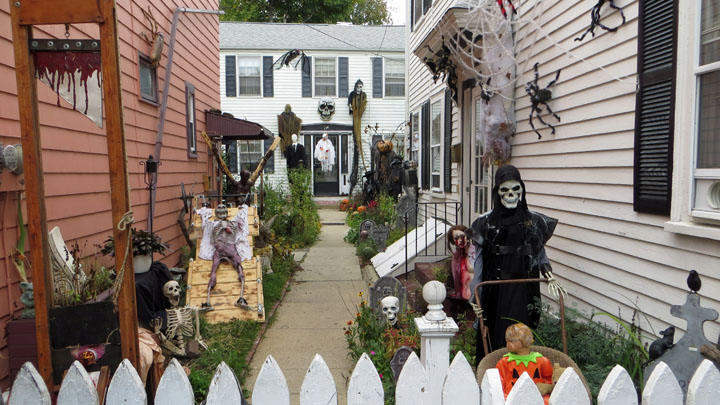 Several blocks of Essex Street were turned into a pedestrian zone, with food and craft booths
as well as wandering monsters.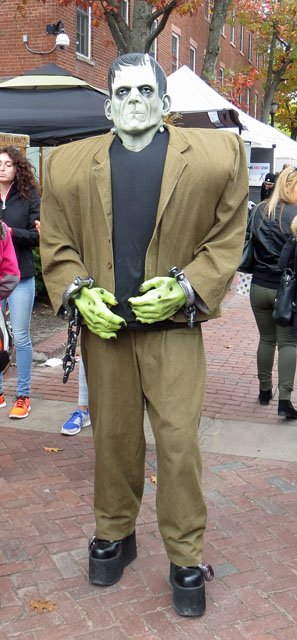 However, Peep and Flo spent much of their time enjoying the many exhibitions in the expansive Peabody Essex Museum.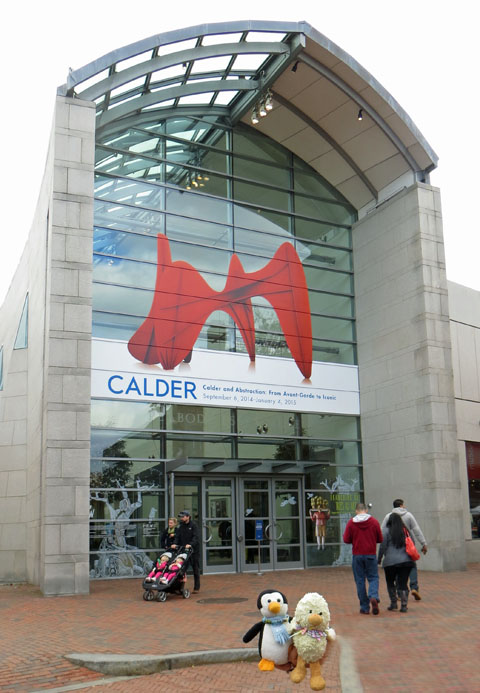 As you may imagine, many of the passengers disembarking at Ft. Lauderdale didn't have far to go to return home, although there were also significant departures at Charleston.
Of course, our two-week cruise was not the end of the line. The Quest sailed on, and we overheard one man say he was staying aboard until Antarctica – 71 days! After Ft. Lauderdale, she would visit several Caribbean islands and South American ports, cruise up the Amazon, back down, and continue down the east coast.
At the end of November, three-week Antarctic voyages would begin, initially from Buenos Aires, Argentina to Valparaiso, Chile, then back and forth three more times before retracing the earlier route northward, including the Amazon and the Caribbean. From Ft. Lauderdale she would head across the Atlantic, similar to repositioning cruises we previously enjoyed, to start the Mediterranean season.
This shows the first return, the only one that stops at Grytviken on South Georgia Island, arriving there in early January. The significance of the timing is explained later.1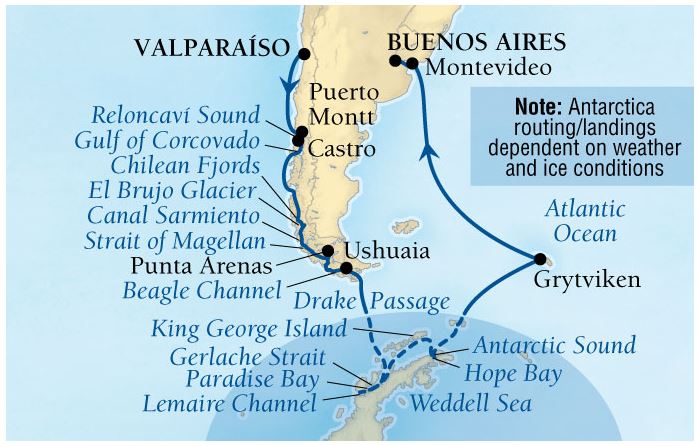 Many of the crew members were also looking forward to visiting Antarctica. In fact one whose contract was ending earlier extended it for just that reason.
Of course Flo was disappointed we wouldn't also be continuing, so he could meet some of his relatives. However, we learned that there was another on board who would be able to – "Arty" (for Antarctica), a full-size Emperor penguin, was traveling with Judy, the Assistant Cruise Director.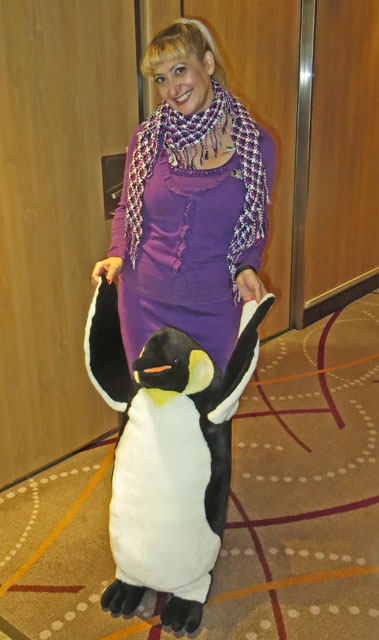 ---
We have since learned that, to publicize Seabourn's recently-inaugurated Antarctica cruises, other members of the family were aboard the other Seabourn ships as well. Earlier they had all met in the Seabourn Board Room to discuss their roles in upcoming voyages.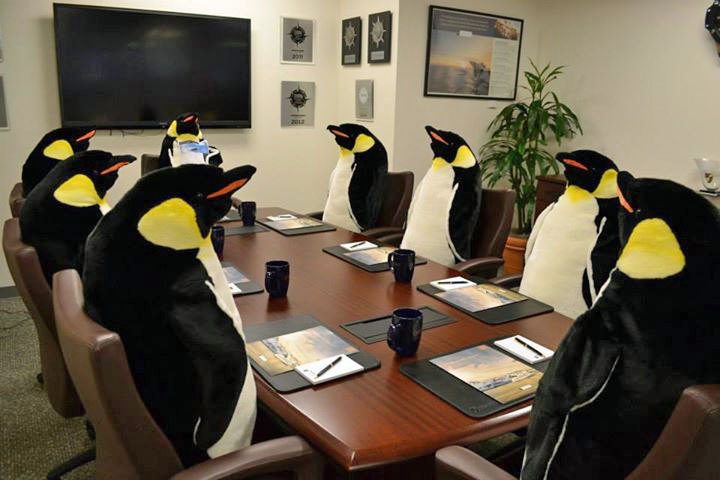 As for us, maybe next year!
---
1South Georgia Island was the destination of an amazing 800-mile voyage in a small boat through the Drake Passage, the worst seas in the world. It was a last-ditch effort by Ernest Shackleton and a small crew to reach a whaling station from which a rescue could be mounted for the rest of his men stranded on inhospitable Elephant Island.
The incredible story of their nearly two-year ordeal is recounted in Endurance – the name of the ship, as well as the spirit that all exhibited. One reviewer noted that their experience illustrated that no matter how bad a situation is, it can get worse! A short version can be found here.
The Seabourn Quest is the only one of the new trio to have been specially modified to gain Ice Class certification, a fact whose significance I only recently realized.
On a later voyage Shackleton died of a heart attack while moored at South Georgia Island and was buried in the Grytviken Cemetery.
His ship was named the Quest – the Seabourn Quest will be landing at Grytviken nearly on the anniversary of his death.
© Copyright 2014 Jack Ludwick - All Rights Reserved
Home