Home
A Visit to the Ship's Doctor
October 2014
Several days into our cruise I contracted a cold. It was typical, with nose blowing and occasional sneezing and coughing. However, a few evenings later I began to suffer a series of dry, racking coughs. In fact, they were frequent and severe enough that my abdominal and back muscles became sore.
After a fitful night of sleep I consulted the ship's doctor. Absent this background you may have questioned my motives for the visit.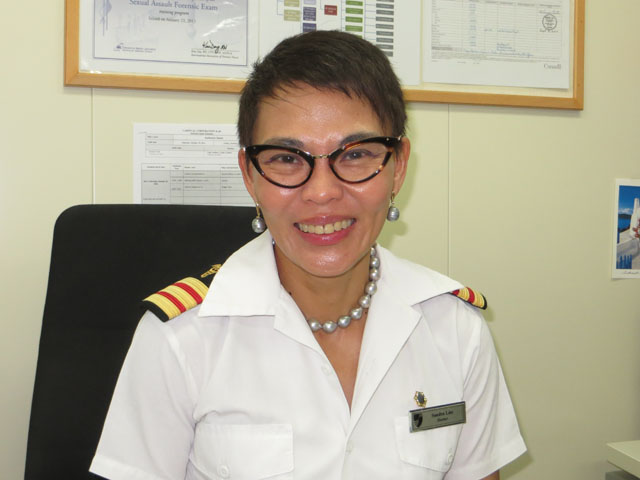 Coincidentally, she was also the doctor on the Seabourn Pride during our Caribbean Cruise last December. After the Pride moved to the Windstar line, most crew members transferred to other Seabourn ships. We met several others that we knew, including the Cruise Director, several waiters, two stewardesses, a bartender who had been promoted to head bartender, and a flamboyant chef.
In case you still have suspicions, her photo is only one of dozens of crew members that I posted on my website.
Betty Lou accompanied me and began by asking if they could be non-professional, telling her how cute she looked in her pearls and matching earrings. I commented that the reason I brought her along was that it would be considered sexist if I said it!
If you know Betty Lou, you're not surprised that she also asked if people died on the ship. "Oh yes." she answered, matter of factly, adding, "Not on this cruise." Well, it was only a week old!
With the average demographic of this high-end, all-inclusive line, it's not surprising there would be some deaths. Although our "Atlantic Coast Harbors" cruise was for only two weeks, I previously mentioned overhearing a man who would be aboard through Antarctica – 71 days total – and some cruises are around-the-world in length.
On the other had, on the previous cruise, one evening in The Club before dinner we saw a young man enter alone and invited him to join us. We learned that he had recently broken up with his girl friend, but would be joined by a girl, friend, in San Juan. He had purchased the unlimited Internet package, because he had to be available at all times – he owned hospitals in Austin!
He also was enough of a frequent flyer that he wasn't charged for any itinerary changes. His parents lived in New York and his brother had recently moved to Alexandria, Virginia. Plans weren't yet set for Christmas, so he had flight reservations from Aruba1 to both locations, as well as to Austin. If his brother went to New York, he'd use that ticket, if his parents traveled to Alexandria he'd fly there, unless he was needed in Austin. He'd just cancel the other two reservations.
Unlike what you might think, and which did apply to some others we met, you'd never know about his circumstances by his demeanor. His companion, a real babe whom we first saw in a jaw-dropping bikini at the "Caviar in the Surf" barbeque on the cruise line's private island, was equally down-to-earth.
I've received several suggestions that I should also provide a photo of her. Actually, the idea had crossed my mind, but unfortunately I didn't have an opportunity to capture one in an unobtrusive matter. If it had stayed sunny, I might have been able to use the 20X telephoto lens to get a shot on the beach, similar to the one here, but a rainstorm blew in and we all crowded in to the bar area. Fortunately we were fewer than 200; when we'd been there with the Holland American Line on some previous years, there were 1,400 or more.
Here's an example from an earlier Seabourn Sojourn cruise. You'll have to take my word that she was more curvaceous, as well as more comely, than any of this buff group of crew members.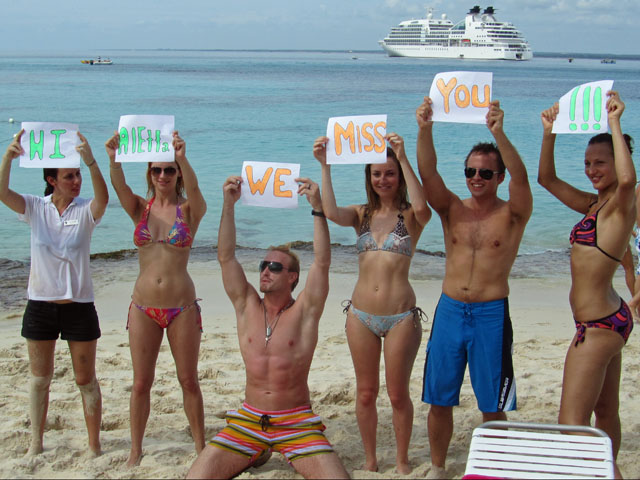 But I digress. The diagnosis was a severe case of bronchitis and I was given a bronchodilater (sounds like some sort of ranch implement!) inhaler to use daily every six hours and a three day supply of prednisone to be taken after breakfast and dinner, and a like amount of Zantac to be taken before those meals to counter any possible side effects.
Several days later, the cough returned, although now in a "productive" mode, and I also returned, to the doctor, whose stethoscope revealed that my lungs were now clear – "The difference between night and day." she said. However, I might have a bacterial infection, so I was given a five-day antibiotic Z-pack.
Of course, I wasn't actually "given" anything, but the total cost of two doctor's appointments – after waits of minutes, not days – and medical supplies and prescriptions, was $209, not an outrageous amount. And which was covered by travel insurance2.
---
1 The 18-day itinerary consisted of an 11-day "Caribbean Discoveries" cruise from Ft. Lauderdale to Aruba followed by a 7-day "Holiday" cruise departing from Aruba December 22. Most passengers disembarked at Aruba and were replaced by a new group.
2 Ironically, it took longer to settle this claim than for the earlier much larger ones; in 2008, and in 2013. The reason was that, although I had submitted a copy of the ship's billing statement, I held off sending a copy of the appicable credit card statement because it actually showed a credit, not a charge! The reason for that was that shipboard credits from our travel agent and the cruise line were greater than the medical bill and our other charges. All drinks and gratuties are included, we didn't take any ship-organized shore excursions, as former cruisers we each received 120 minutes of complimentary Internet usage, and the only other expense was for a reflexology spa treatment for Betty Lou.
When they pointed out that the missing item of information was required, I sent them a copy along with the explanation and all was well – evidently they only require that each box is checked.
© Copyright 2014 Jack Ludwick - All Rights Reserved
Home