Home
Deja Vu
January 2015
At the first port stop during our supposed leaf-peeping cruise last fall, Quebec's Chateau Frontenac had captured my attention, but not only by its commanding presence above the St. Lawrence River.
I grew up in Union Springs, a village on the eastern shore of Cayuga Lake. Even if you're not familiar with the Finger Lakes, you may know ours from "Far above Cayuga's waters..." the alma mater of Cornell, located in Ithaca, some 35 miles to the south. Or perhaps you know it by Wells College, in nearby Aurora, founded by Henry Wells; also founder of Wells Fargo and, probably not as well known, American Express.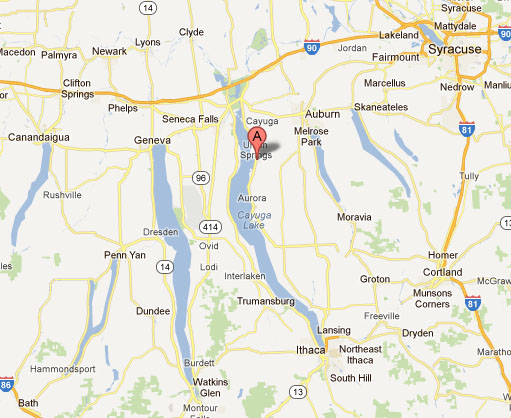 One of Union Springs' claim to fame (there may be others, so I'm hedging) is that located a half mile offshore is one of only two islands in the Finger Lakes. Called Frontenac Island, I had never thought to question where the name came from. (On the other hand, Union Springs was named after the plentiful springs that made it a good location for a settlement.) But now I wondered if or how its name was related to the one in Quebec.
Here's a 1903 romantic painting of Frontenac Island by William Bruce, a local artist, which cleverly masks the view of Union Springs. Of course, the town was much smaller at that time.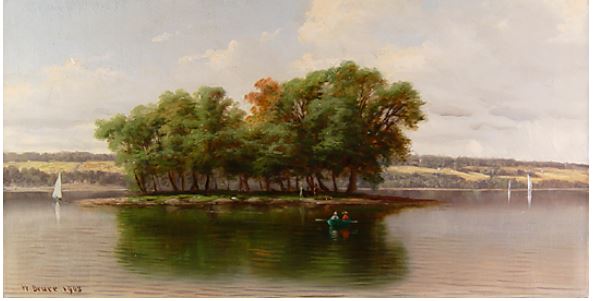 My first thought was that Frontenac might be a Native American name. Several tribes originally occupied the entire region, and many Finger Lakes towns and villages, and all of the lakes themselves, have names derived from their languages. And then there was the Chateau Frontenac's signature cocktail, the Algonquin.
However, it didn't take long to learn that the Quebec name came from Louis de Buade, Compte de Frontenac, who was French Governor-General of New France in the late 17th century. Also that the Chateau Frontenac was always a hotel, although erected on the grounds of an earlier chateau that had been demolished for its construction.
On the other hand, extensive Googling revealed nothing about the origin of our Frontenac, although it did turn up a Frontenac Point on the other side of the lake, near Taughannock Falls, and a paddle-wheel steamer that plied the lake in the days before motor vehicles.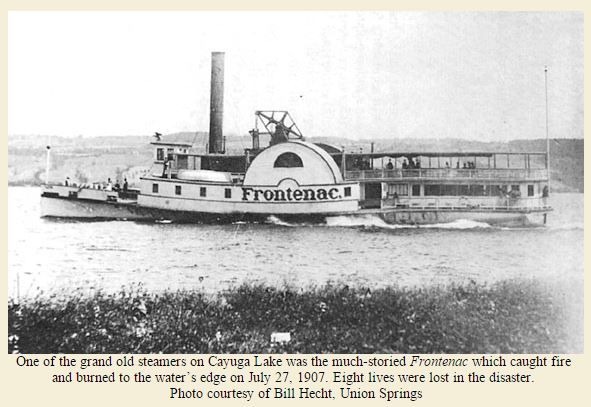 Several steamers ferried freight and passengers from one end of the lake to the other, making several landings on both sides. The five-hour voyage must have been more pleasant than the alternative – the stagecoach.
And then I recalled that our high school yearbook was called the Frontenac. Also, when I visited in 2008 for a reunion whose anniversary is best left unstated, we also stopped in at the Frontenac Historical Society and Museum. Their website indicated that it was now closed for the winter; however a phone number was listed. It was the home of a board member, who sent me a link to an article by an archaeologist from the Rochester Museum of Arts and Sciences who had studied the island in the early 1940s.
He declared that the island was likewise named for the aforementioned Count, but not when or by whom. However, he also wrote that de Buade "never contemplated this territory, in his day in the possession of the Cayuga Nation of the Iroquois Confederacy, although in 1696 he led a military expedition against the neighboring Onondagas and Oneidas." Since the Cayugas were also members of the Confederacy, it seemed unlikely they would have so honored him.
He also revealed that the island owed its existence to its being composed of a particularly hard limestone, able to resist the glacial onslaught that gouged out the fingers that filled with water after the glacier retreated. (Native American legend is more poetic: "The Creator reached out to bless the land and left his hand print.")
When I emailed a classmate in the area of my search, she told me that a former high school teacher of New York State history, who had also been Cayuga County Historian, lived in town. If I'd had any inkling that he was still in the area, he would have been my first contact attempt.
Now in his 80's, his mind is as sharp as ever, and he immediately pointed out that our area was also part of New France at the time. So, although he didn't have a definite reference as to when and how our various Frontenacs were named, this was French territory and obviously someone named them in the Count's honor.
If I'd done a little research about New France, I'd have learned that it actually included, not just part of Canada and upstate New York, but an immense portion of North America1. I haven't yet found a good map of that time period, but here's one from about 50 years later – the blue part was New France! The purple part also was included before it was ceded to Great Britain in 1713.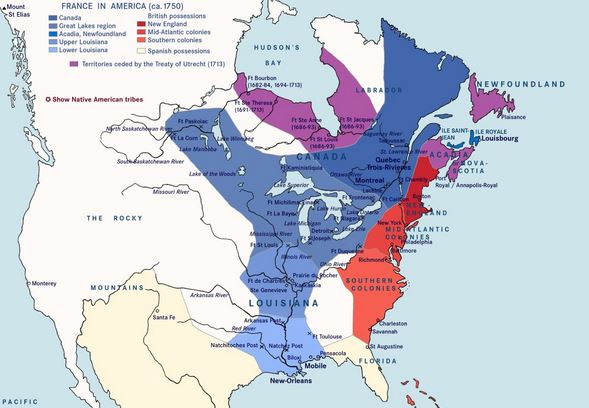 Of course, our phone conversation was more wide-ranging than my initial query, both regarding his role as historian and as a long-time resident of the village. Among his revelations were:
Around 1900 a racehorse named Charlie B, who trained nearby, frequently swam out to Frontenac Island and back. Perhaps this was part of his training, but he seemed to enjoy it. In my day, it was somewhat of a test for us to swim there, but we were usually accompanied by a boat, which brought us back. I know, we were wimps.
Our local doctor when I was growing up liked to play the horses. When I asked how he could do that, he said that there was a betting parlor in Auburn, the nearest city (population about 35,000), 12 miles away. I said I didn't know there were such places, but he said they were legal at the time. He also said there were "chalk boys" who would earn their money by writing up each horse in a race and their odds on a big blackboard.

I said that although I didn't know about chalk boys, I did remember pin boys. In fact, I'd written a story about a classmate whose father "did him the favor" of getting him a job as pin boy while he was in high school. The historian countered with his experience of taking a phys ed semester of bowling in college

One meeting, half the class would bowl, while the other half would set pins. The next meeting, the roles would be reversed. (Coincidentally, I also took bowling, but with automatic pinsetters, and earned an automatic "A" by bowling a 201. It was quite a while before I next broke 200.)
The horse-race-betting doctor was an avuncular character with a gray mustache – a perfect fit for a small town. I particularly remember that his waiting room included a large bell jar that incorporated a faux tree whose branches were populated with taxidermied birds. I don't know if this was before the days when old magazines were the main distraction, but I always found the birds fascinating viewing.

However, one year he suddenly had the urge to attend the Kentucky Derby, so he got in his car and drove off, leaving it to his wife to break the news to those in the waiting room!
---
1 You may wonder why de Buade needed to wage a military campaign against the Iroquois if the French were in control of the area. The reason is that they weren't actually in control of most of New France, because so few French had been persuaded to settle there.
Although France was by far the largest country in Europe, with a population in 1700 of twenty million compared with six million for England and Wales, its economic policies provided no incentive to emigrate. The colony was seen as a source of raw materials for the benefit of the mother country, and although the fur trade with the Native Americans was its main economic activity, it was in the hands of a monopoly and the profits went to France instead of the colonists.
There weren't many opportunities for investments anyway, since there was very little that could be profitably produced in Canada. Apart from small-scale crafts, manufacturing was forbidden when it would compete with metropolitan producers. The prices of various goods were controlled and trade with the neighbors – the English colonies – was forbidden. And to top it all off, colonists were taxed, with the funds returning to France.
So it's no wonder that only ten thousand or so settlers remained on the continent, almost all of them in Canada, and that when military action was necessary, it would have to be deployed from there.
© Copyright 2015 Jack Ludwick - All Rights Reserved
Home