Home


Geography Quiz
The North Cape of Norway
July 14, 2002
Q: Where does the sun rise in the north?
A: Anyplace above the Arctic Circle in the summer.
Although actually, since the sun never sets then, it doesn't really rise either. But it does dip to its lowest position in the north, at midnight, circles around to the east at 6 AM, reaching its highest point at noon, in the south. It continues around to the west at 6 PM but at midnight is still well above the horizon.
We're back aboard the QE2, or at least it's the means by which we've reached the North Cape, the nearest point of the European continent to the North Pole.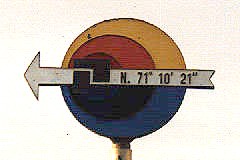 The Itinerary
July 8 QE2 depart Southampton
1: July 10 Hellesylt, Geirangerfjord, Geiranger
2: July 12 Tromsø
3: July 13 Hammerfest
4: July 14 Skarsvåg
5: July 16 Trondheim
6: July 17 Ålesund
7: July 18 Bergen
July 20 QE2 arrive Southampton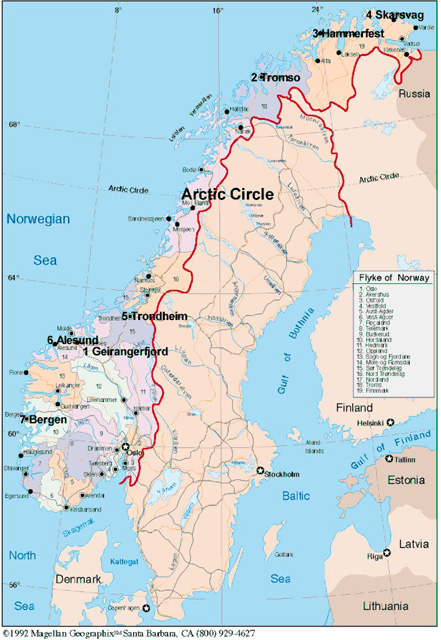 However, even this far north the temperature was 65º today – the Gulf Stream still has a lot of warmth left when it reaches the Norwegian Coast and even in winter it rarely gets much colder than 10º. The towns and cities are further sheltered from the harshest storms by being located in fjords, which are themselves further protected by thousands of islands – all the results of long-ago glacial activity.
Reindeer did clatter across our path,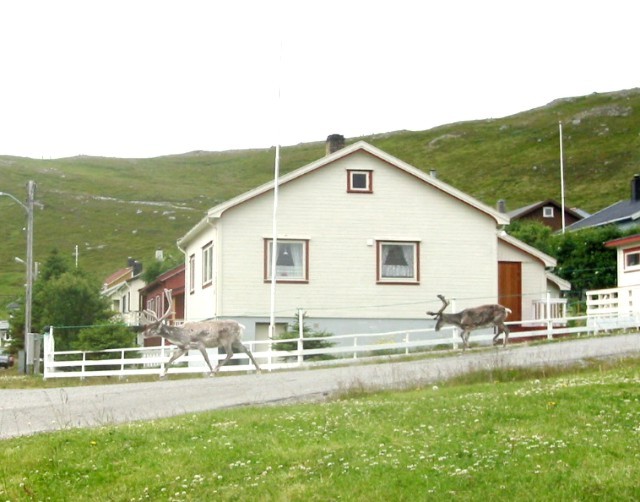 but they seemed to be fairly tame, as we were still within the town of Skarsvag at the time. However, they had reason to be cautious – Betty Lou has a new reindeer fur hat that will be useful if we ever encounter cold weather, for example if we venture into the interior in the winter, where it has dipped to -100º.
Yesterday we were in Hammerfest, billed as Europe's northernmost town – they claim that other more northern settlements, Skarsvag, for example, are only villages. We were fortunate enough to be here for the Arctic Open – a beach volleyball tournament.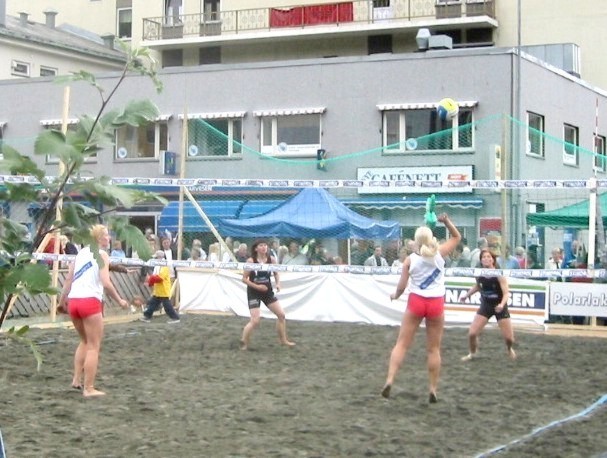 The format is similar to what we're used to, with both women's and men's two-player team competitions. There were some differences: the sand courts were in the town square, not several blocks away at the fjord's edge, where rocks predominate. Also, there was more of an element of whimsy – one female team sported red horns and tails. A less fortunate difference is that their garb was more designed for sports – no bikinis here.
Two days ago in Tromsø it was 80º, as you may infer from the sun-bathing beauty.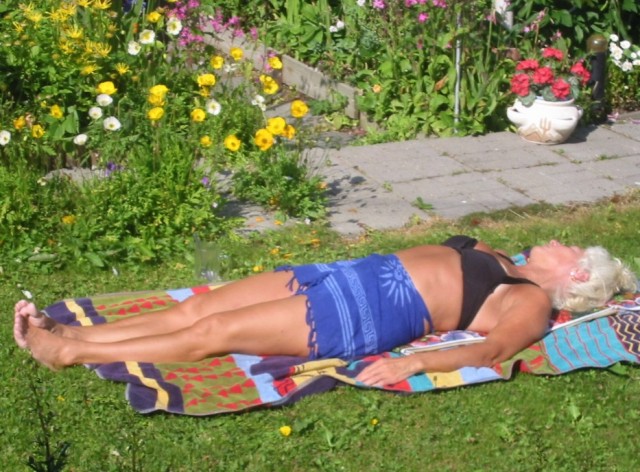 She was in her own front yard, next to which our bus had parked while we visited the nearby Maritime Monument, and she wasn't about to let a few onlookers interrupt her pursuit of the rays, whether midnight or midday. Of course, Europeans are more casual about such things – topless sunbathers lounged next to the path through Grüneberg Park when we lived in Frankfurt, although the nude area was a little further away. And one time when I was using the men's room in the Stockholm Airport a female janitor nonchalantly entered to mop the floor.
It is a strange experience to sample the midnight buffet in the Lido Restaurant in broad daylight. Earlier, to correct a mix-up in our original table assignment in our dining room, the Caronia Grill, we were given a table for four. The Mâitre d' said that although he'd arranged the table setting to face outside for lunch, he'd reverse it for dinner since it would then be dark. He had our best interests in mind but obviously had forgotten about what cruise we were on. And we have to close and latch the window covers to sleep at night.
A Cunard polar projection map (I knew those MITRE projects evaluating map projection methods would be useful someday) indicates that Skarsvag, Hammerfest, and Tromsø are all further north of the Arctic Circle than Fairbanks and Anchorage are south of it.
Tourism is obviously still down. Although the ship is said to be full, even the day we left the Cunard web site still advertised half-price staterooms, which had initially attracted our attention months before. The previous times we'd been on the QE2 had been "crossings," between England and the U.S. or vice-versa.) This cruise originated at Southampton, although about a hundred, "in-transit," passengers came aboard at New York. They most likely make up a good portion of the 228 U.S. citizens on this cruise. We're in a distinct minority to citizens of the U.K., who number 1,402, but that makes it all the more interesting – we've met some fascinating people who struck up conversations because they love to hear our accent!
We flew to London and Cunard bussed us to Southampton, with no problems except for waiting times – in addition to the early arrival required before flight departure, there was a four-hour wait at the Heathrow Renaissance Hotel before a ninety-minute bus trip to Southampton and a two-hour wait in the departure lounge. Fortunately, the beard "overshadowed" the fact that nearby facial areas really could have used a shave before dinner.
However, these inconveniences were minor compared with the experience of a couple traveling from Chicago who also had planned to take the bus to Southampton. An aircraft malfunction caused them literally to "miss the boat." They caught up with the ship two days later in Geiranger, which is at the end of a magnificent fjord with a series of waterfalls, each more spectacular than the previous one. Since they had booked an air-sea package, Cunard was responsible for getting them aboard. They estimated that those arrangements cost Cunard more than they had paid for the entire cruise.
Here is one group of waterfalls.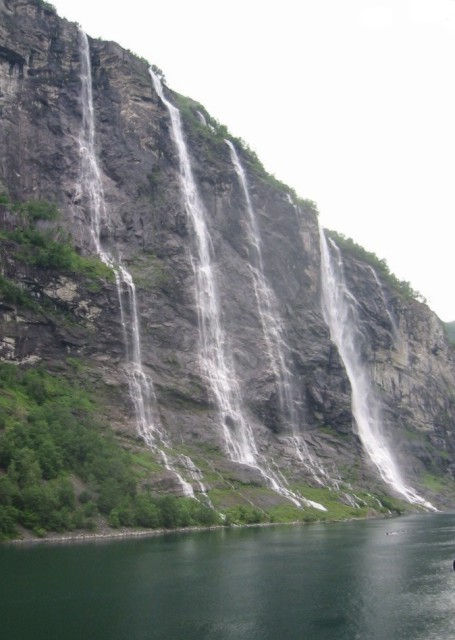 These falls are over 800 feet high – you can get an idea of the scale from the motorboat at the base of the second waterfall from the right. The fjord's bottom is another 1000 feet below the surface.
© Copyright 2002 Jack Ludwick - All Rights Reserved
Home