Home


Passenger Demographics
Aboard the QE2
July 18, 2002
As mentioned in a previous note, the ship's newspaper one day printed a tabulation of the number of passengers by nationality. The UK, with 1402, and the US, with 228, made up 94% of the total. Australia and Ireland had 20 each, Canada and Germany, 15. Ten countries had only one passenger, including Norway. At first it seemed strange that nearby France and Italy only had one each. However French and Italian ships, and dozens of others also travel this route.
I was about to repeat a factoid from the data sheet handed out by Cunard about the number of cruise ships that annually visit the North Cape – 4,000 – until I did a reality check. I think an average of more than ten per day, year-round, is a little high, particularly since the maximum number of cruise ships in any port on our trip this year was six, in the much larger port of Bergen. Even there, it was like rush hour when all the cruise ships left at the end of the day.
After several more days' of shipboard observations, a couple of other tabulations that would also be of interest came to mind. Cunard actually has the data to be able to provide the first one – the distribution of passengers by age. Based on the fact that we're among the youngest (there are a few young families with children of various ages – we even saw a playpen in a suite that was being cleaned) I'd guess that the peak is somewhere in the eighties.
Another category is some measure of body mass index; that is weight divided by height. As an estimate, I'd say that this distribution would have a "bulge" beginning at about fifty-percent higher than my level and proceeding upwards. Three multi-course meals, plus afternoon tea and midnight buffet, are provided daily on the QE2. Everyone is assigned a table reservation in a dining room. There are four classes of dining room – the more expensive the cabin the more intimate the dining room and the more attentive the service.
We booked the cheapest room that seated us in the Caronia, which has single seating; that is, we can arrive any time that it's open. The next cheaper room qualifies for the Mauritania, which requires one to choose an early or late seating. Another digression: a video shown on one of the ship's TV channels revealed that Cunard initially chose its ship's names so they ended with -ia, for example, Mauritania, Caronia, Britannia, Russia(!); but my favorite is Carmania – this was long before the age of automobiles.
You don't have to eat in your assigned dining room – anyone can dine in the Lido, where everything is available cafeteria-style with first-come, first-serve seating. In each dining room one can order as many items of each course as desired. However, the more self-conscious, or efficient, gourmands might frequent the Lido. Or, perhaps, both their designated dining room and the Lido.
Some of the really impressive girths on display bring to mind a Norwegian advertising legend we learned about, who, however, was a U.S. circus performer with the stage name of Dolly Dimple. Standing just five feet tall but weighing 565 pounds, she was documented by Guinness as "The world's most beautiful fat girl." She later lost 400 pounds, but it's her earlier figure that appears on the back of local buses, advertising a chain of 55 pizza restaurants throughout Norway.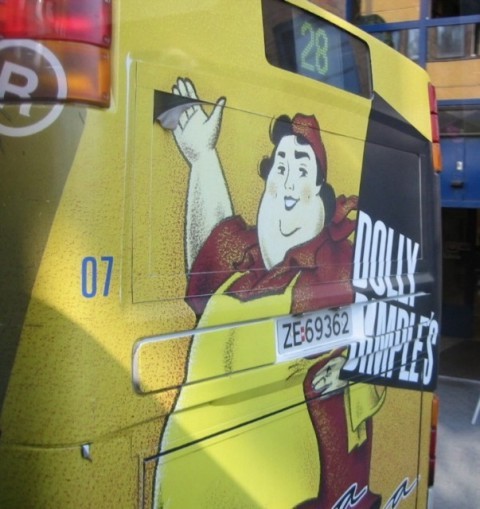 However, among the extended-belt set, it's the stealth "porkers" that are the most impressive. You'd never guess, seeing them seated in the dining room, that when they stood up at the end of a meal you might think they're smuggling a cannonball back to their cabin!
© Copyright 2002 Jack Ludwick - All Rights Reserved
Home