Home


Halloween in Copenhagen?
September 2009
We had planned on arriving in Copenhagen a few days before the cruise departed but moved it up a day when we learned that Tivoli would be closing for the season Sunday, September 27th. The most popular attraction in Denmark, with four million visitors during a five-month summer season (and nearly another million during a seven-week Christmas opening), Tivoli was the inspiration for Disneyland. Not to mention that, after Michael Jackson appeared there, he wanted to buy it! But the Danes would have none of that -- it's a national treasure, and has been for a long time.
Tivoli was founded in 1843, when architect Georg Carstensen petitioned King Christian VIII for permission to establish and operate an amusement park where there would be "music, performances, entertainment, alehouses, restaurants and amusements, and, after dark, illuminations and fireworks." It is said that he persuaded a king worried about restless subjects by telling him, "When the populace are enjoying themselves, they forget about politicking."
Originally situated outside the city walls, after the city expanded and the walls came down, today it's centrally located between the train station and city hall -- as well as across the square from our hotel.
At its opening, two amusements were offered: a horse-drawn carousel and a "scenic railway," an early type of roller coaster, which, after each ride, had to be hoisted back up before its next descent.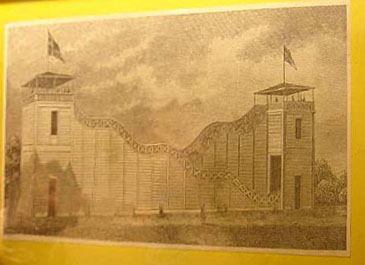 Today Tivoli includes the most modern floorless tubular steel type roller coaster, the Demon; with three loops, the biggest in Scandinavia. However, the most popular ride remains the Mountain, a wooden roller coaster that was installed in 1914 and that still includes an on-board operator!
However, the thrill rides (this one is innocuously described as a "carousel," admittedly, at 260 feet, the world's tallest),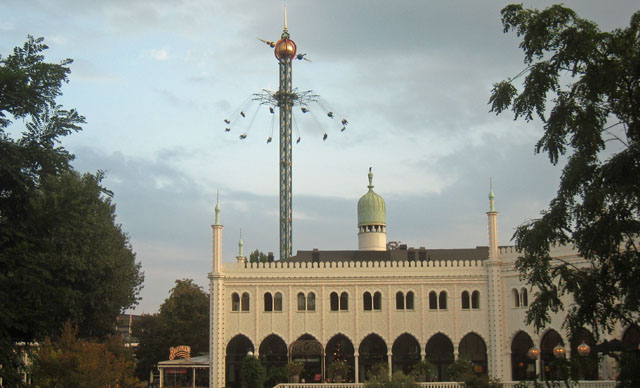 and kiddie rides -- and bumper cars (it's been a while since I've seen these)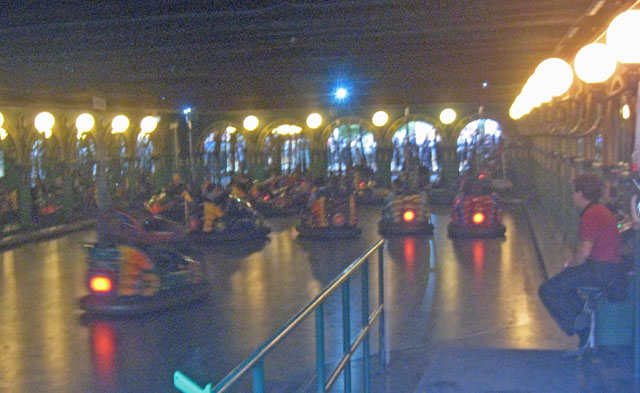 are only a part of the multiple attractions. There is a bandstand, with a performance in progress when we arrived,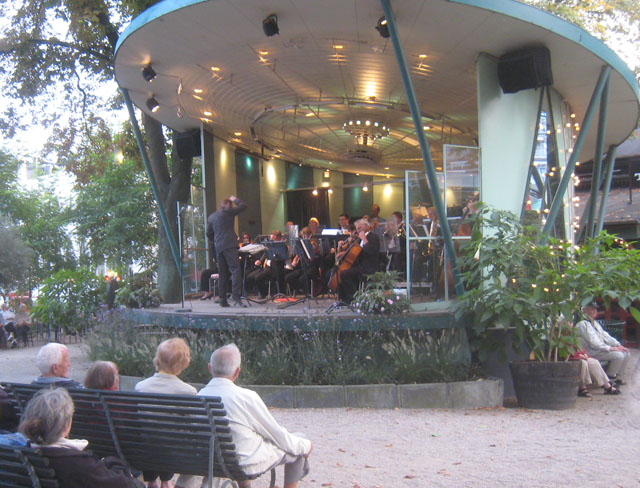 a children's theater and a unique Chinese-themed pantomime theater. There are two performances a day, but our timing was off here. Constructed in 1874, although the lighting has been updated, the peacock-tail curtain still requires five men to operate -- it splits in the middle and sinks into the orchestra pit below.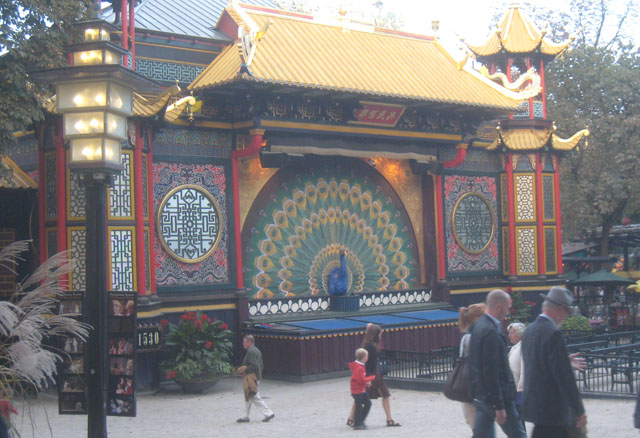 There are also two indoor and three outdoor venues for concerts -- classical as well as rock -- ballet, and theater1.
Although Tivoli provided Walt Disney his inspiration for his theme parks, at 20 acres it's on a more human scale, and with a more grownup atmosphere. No cavorting cartoon characters or merchandising, but 45 restaurants, from fast food to beer gardens and bodegas to the Hard Rock Café to restaurants with Michelin stars. And with a wide variety of cuisine: Italian, sushi, international, steakhouse, Croatian, Danish -- traditional and modern, and in the Frigate Sct. George III on Lake Tivoli -- a remnant of the original city moat -- Caribbean.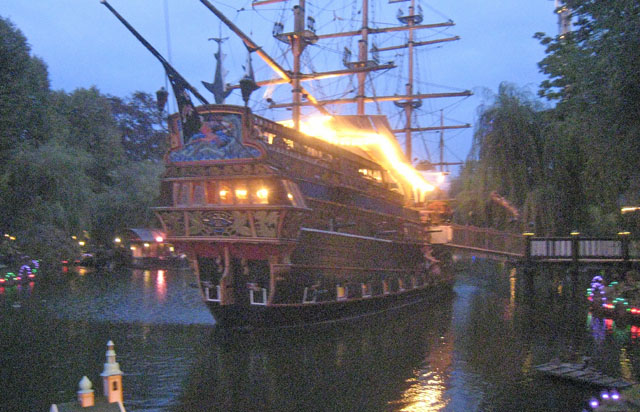 In addition to the ready availability of alcoholic beverages throughout the park, there is a kiosk selling only tobacco-related products. That's not so surprising, considering the largest tobacco producer in Scandinavia owns 43% of Tivoli, which they purchased in 2000 from the Carlsberg brewery!
Another side of the park includes carnival-type offerings: shooting galleries, hoop tossing, tin horse racing,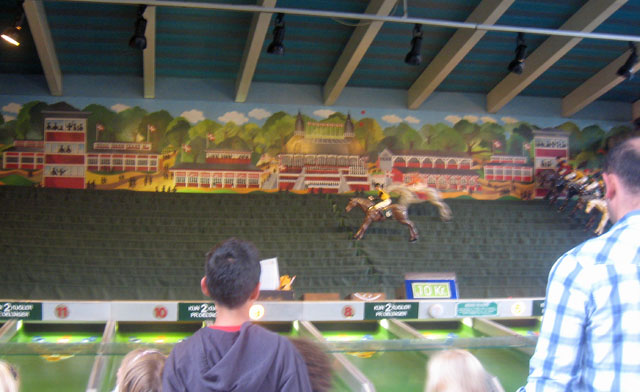 a Fun House, a House of Horrors--and gambling halls.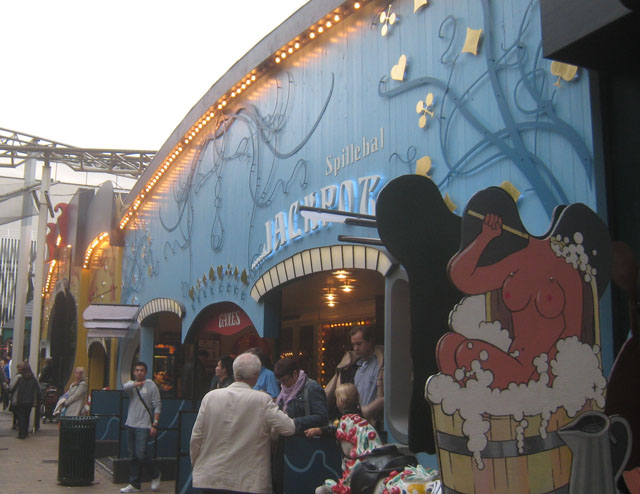 I'm not sure of the significance of the bathing beauty.
A large part of the area is park-like, with trees, flowers, Lake Tivoli, and benches from which to people-watch. As dusk falls, over 120,000 colored lanterns softly illuminate the gardens.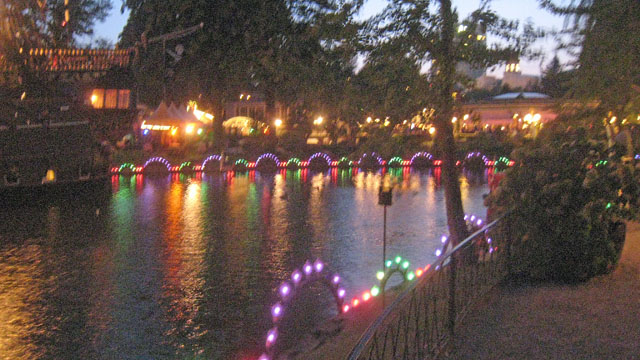 Fortunately, we were there late enough in the season that this occurred at a reasonable hour. (Although their electric bill must be immense, they have reduced their carbon footprint with specially-made 5- and 15-watt soft-glow bulbs, and the glass and the metal base are recycled at the end of their life.)
Then it was time to see the Boy's Guard perform and parade. Consisting of about 100 boys between the ages of 9 to 16, their uniforms are similar to those of the Queen's Life Guard. Founded in 1872, they were initially paid in sandwiches and beer! Today, their reward is an extensive musical education, leading to professional careers for many, as well as world travel. In fact, they helped open Epcot at Walt Disney World in 1982.
In front of Hans Christian Andersen castle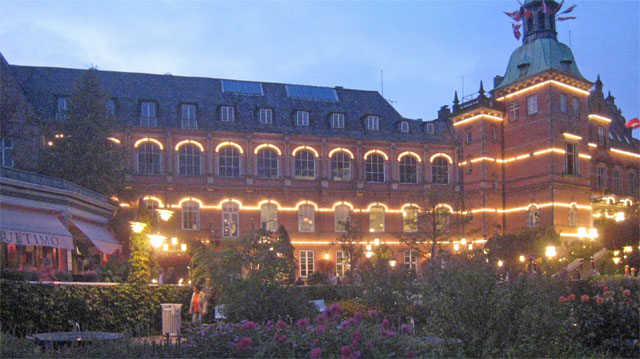 they assemble,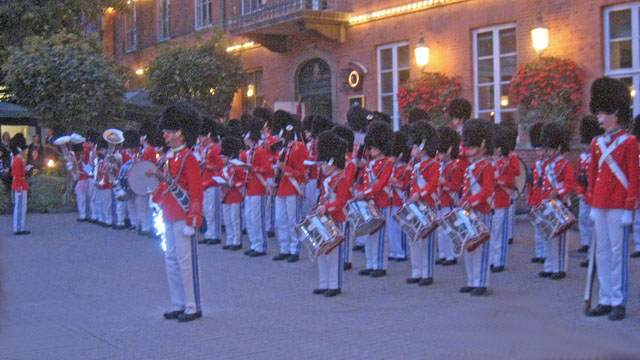 then march off.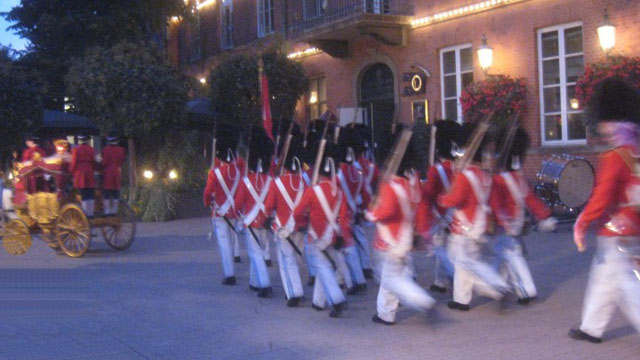 After the parade we noticed many people heading in a single direction, and thinking there might be another performance of some sort about to begin, we followed them. We soon realized that they were actually exiting towards the train station, evidently for a carefully-scheduled departure time.
Since we had no such concern, we lingered, but as we eventually departed, saw an unusual sight: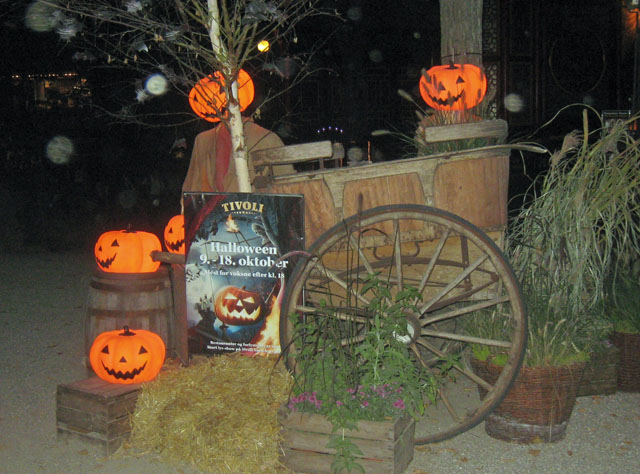 This surprised us -- at least in Germany, Halloween was not celebrated, although our costume party one year attracted much interest from our neighbors. So we asked the hotel receptionist if Halloween was a big holiday there, and she said no, it was an event manufactured by Tivoli to attract additional patronage between when they close for the fall and reopen for their big Christmas season. In fact, they even selected the date to coincide with a school break time, so they'd be assured of plenty of pressure from the little ones!
---
1 Even after the park is closed for the season, concerts and other cultural events are held in various venues. The next night, at a sidewalk café while where we were observing the hundreds of cyclists returning home from work, we noticed lines growing in both directions from the entrance, and asked the waiter what was happening. They were waiting for the gates to open for a free concert on the open-air stage by several rock groups, sponsored by a local radio station.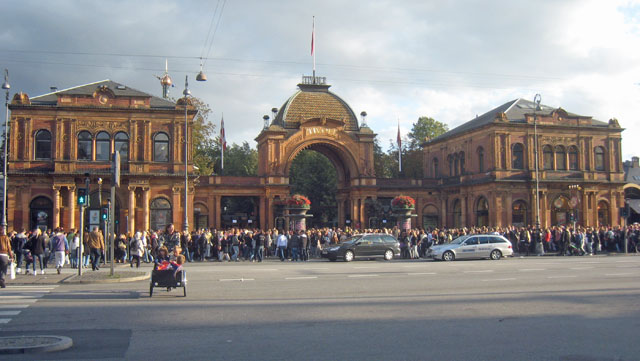 © Copyright 2010 Jack Ludwick - All Rights Reserved
Home