Home


Are You Bashful?
Lousiana, Denmark
September 2009
One day we decided to visit Louisiana. No, we didn't hop a flight back to the U.S. – Louisiana is a modern art museum 25 miles north of Copenhagen on the Øresund, a narrow strait between Denmark and Sweden connecting the Baltic Sea and the North Sea.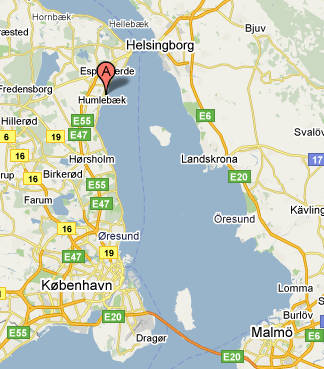 We purchased a discount ticket that combined round-trip train fare with entry to Louisiana.. The pleasant 35-minute ride to Humlebæk provided scenic views of the countryside, although the day began with rain.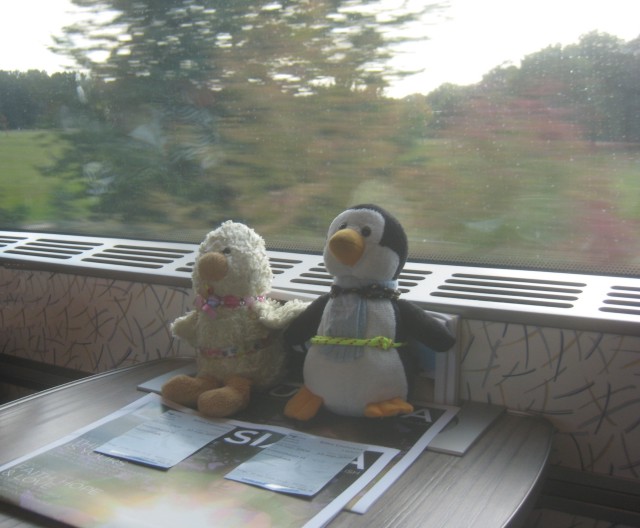 Fortunately, the rain ended by the time we disembarked. One could take the sidewalk along the local road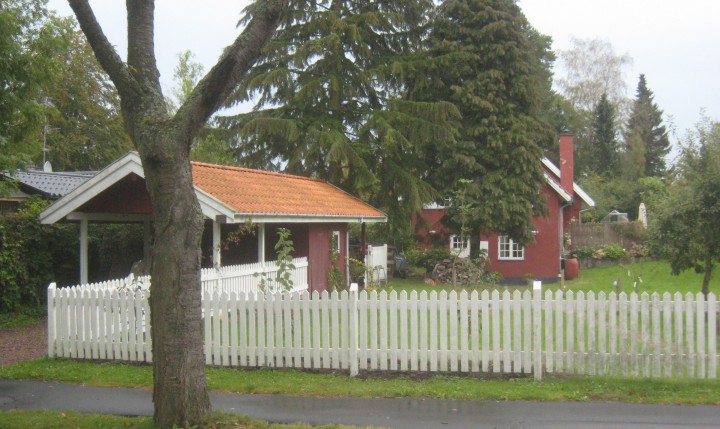 to the main road, then walk along its heavily-traveled shoulder to the museum, or branch off on a path through the woods that emerges across from the museum, which we decided to do. The GPS confirmed that we were indeed on the correct path.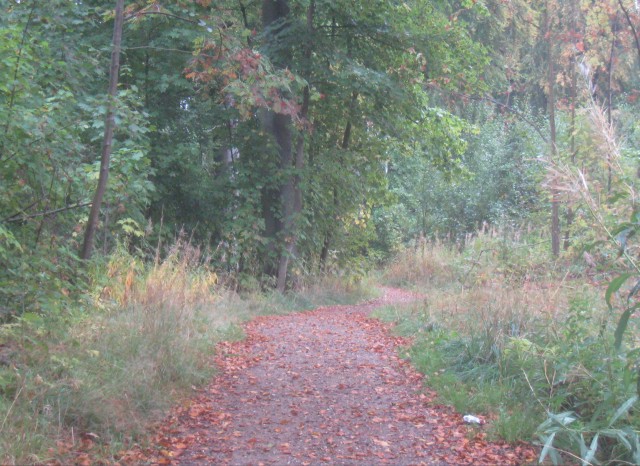 The name comes from the villa from which the museum has grown over the years.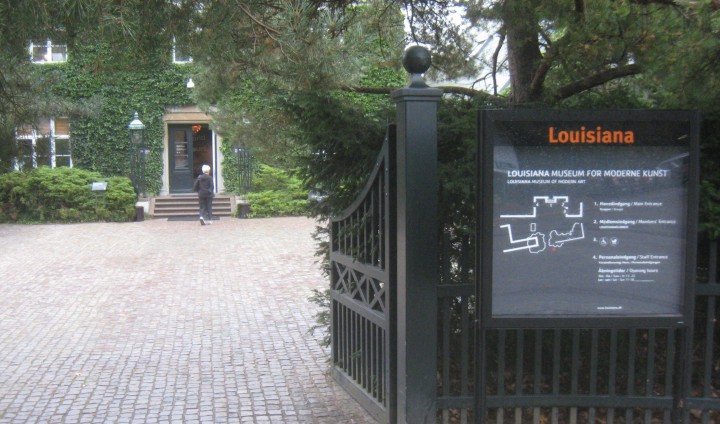 Louisiana was built and named in 1855 by "Master of the Royal Hunt" Alexander Brun, who was married to three women in the course of his life, all named Louise. Unfortunately, I haven't been able to find out more details about this fascinating story. Did he have a fetish for the name, and they fled when they realized it? Did they disappear under suspicious circumstances? Or was it just an example of a long-lived man and short-lived women, and there happened to be a plethora of Danish Louises at the time? Unfortunately, I didn't know the origin of the name at the time or I might have dug further in the museum bookstore.
I had learned some interesting facts there about the museum and its founder that don't surface in Google searches. Knud Jensen, after inheriting his father's successful cheese wholesale company in 1944, became interested in art, initially by postwar Danish artists. Twelve years later, when his warehouse walls ran out of space for his acquisitions, he sold his business and looked around for a location to construct an art museum. Settling on Louisiana, in 1958 he engaged architects to design a museum that would take advantage of the 25-acre grounds with its views of the Øresund. However, bankers were skeptical of the viability of an art museum in the countryside, and they mandated that it be designed so that it could be converted to an inn if (when?) the venture failed.
However, the public loved it, and he never looked back, expanding several times, adding galleries both above and, on the Øresund side, under the ground so as not to block the view. Louisiana now also exhibits modern art, photography, and sculpture from international as well as Danish artists. We were sorry not to be able to view their heralded extensive collection of art by "Pablo Picasso, Morris Louis, Andy Warhol, Robert Rauschenberg, Yves Klein, Ernst, Moore, Serra, ..." most of which was in storage so that two large exhibitions could be mounted.
However, the exhibitions were fascinating. The first, called "The World is Ours," featured international contemporary artists.
One work was a "cloud" festooned with hundreds of microphones, which were, however, employed as tiny speakers broadcasting snorts and hums in waves around the cloud.


Another was reminiscent of the Icebar, if you could have driven your car inside. A large sub-freezing chamber garaged a BMW with its skin removed, which was now covered with ice and icicles. An insulated cloak was provided before entry so one could leisurely peer through the ice to view the seats, the dashboard, the engine, ...


In a nearby gallery, sensors detected the size and position of shadows cast by visitors on the wall to change the frequencies of a battery of world band radios. Move a little forward, your shadow grows, and the station may change from classical music from Moscow to talk radio from Philadelphia.


One short film featured a score of people walking through an an eastern European city carrying large plastic mirrors before them. Cameras at street level and higher documented the random, shifting reflections of buildings, vehicles, and mystified pedestrians.


Another film was of a deserted McDonald's which gradually became inundated with rising water. Ronald McDonald floated away, soon joined by chairs and tables, straws and condiments, eventually cash registers. A comment on the effects of global warming?
If so, the second exhibition, "Green Architecture for the Future" presented possible solutions in three vast sets of galleries. The architects' exhibits demonstrate that it is possible to build a sustainable future without compromising on aesthetics and comfort.

"The City" presented sustainable projects in existing cities and neglected urban areas, as well as plans for completely new, CO²-waste-free cities.


"Climate & Comfort" looked at how site-specific building traditions in different regions around the world have inspired modern architects to make use of a given locality's particular climate and energy conditions to provide comfortable levels of temperature, humidity, light, sound, and air circulation.


And "Metabolism" viewed buildings and products as living organisms, to eliminate the concept of waste – everything can be recycled and emerge as new materials. One provocative example of alternatives: "Should this building stand for only 25 years and then automatically degrade into fish food, or should it be programmed to be able to change its function and meet the needs of future generations?"
Many models, some large scale, depicted buildings that have been constructed using the ideas and philosophies described. Others illustrated proposals for buildings, even entire cities, some occupying two stories of the gallery, whose upper level was viewable from a catwalk.
Unfortunately, no photography was allowed in the exhibitions, but it was permitted for the outdoor works, including Calders on the lawn outside the cafe from which Sweden is visible, 8 miles away. Benches are available and you can enjoy your own picnic at lunch. We had followed the example of members of the tour group in our hotel and assembled sandwiches from our bountiful breakfast buffet.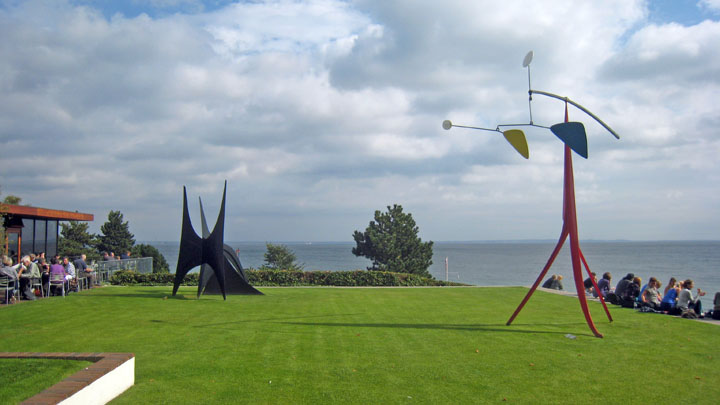 On the grounds, there were sightings of unusual creatures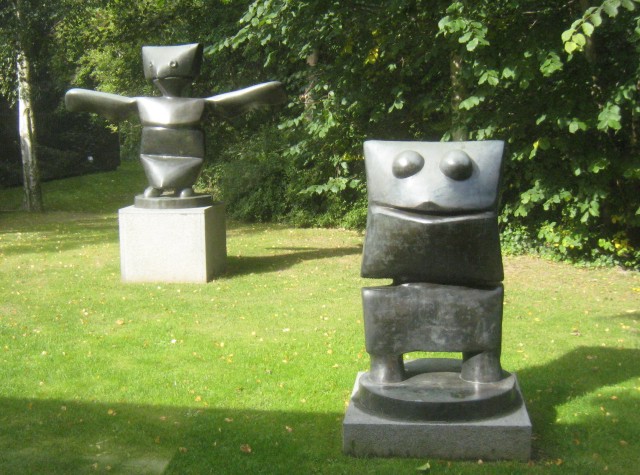 of various types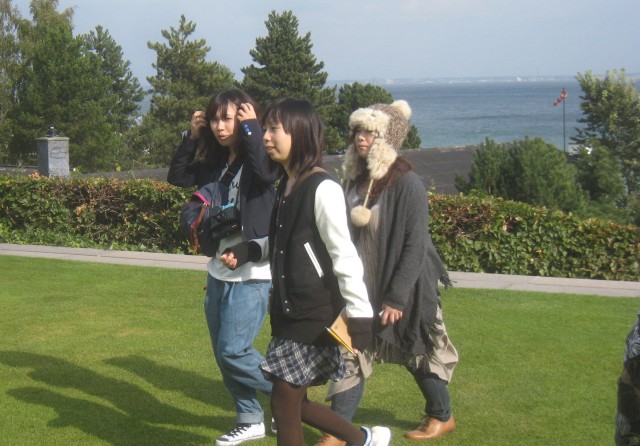 as well as interesting sculptures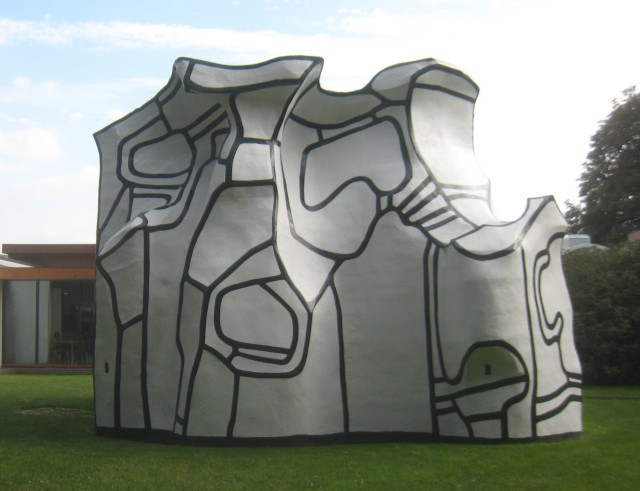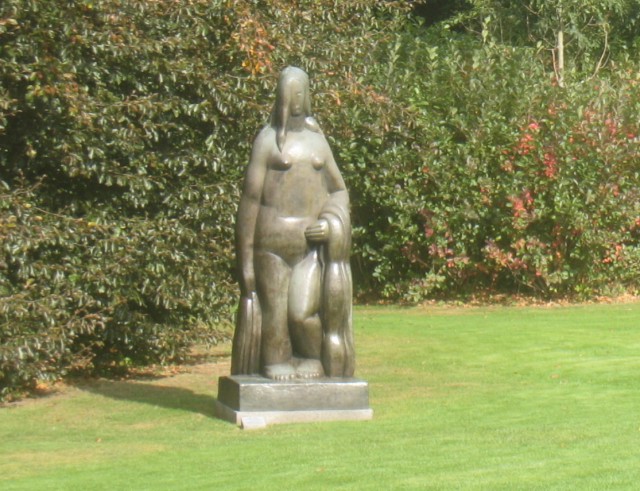 A favorite of Peep & Flo was this Louise Bourgeois. I'm sure you recognize it as "Eyes."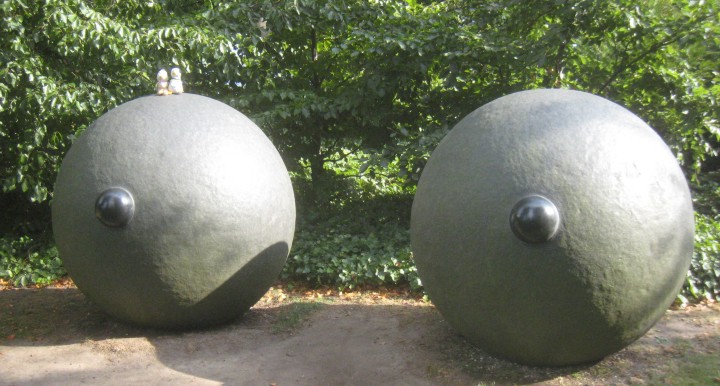 In the book store, we had realized that the Danes had a sense of humor.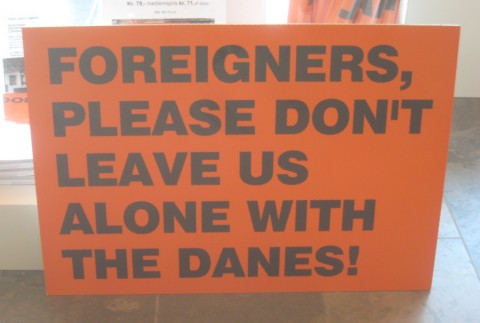 However, there was further evidence outside. This reflective enclosure, "Don't Miss a Sec" by Monica Bonvicini,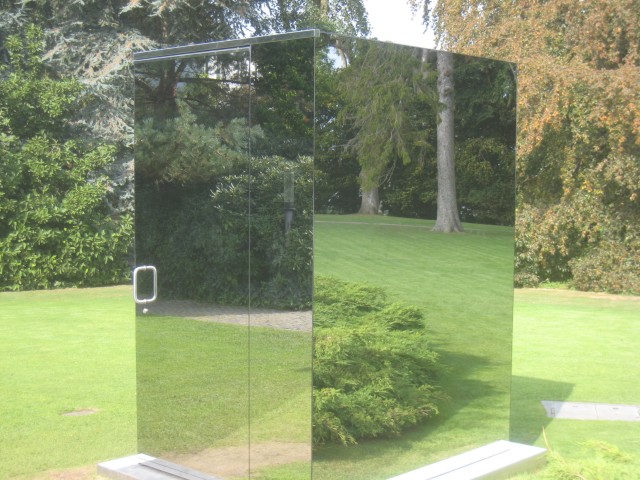 was actually a fully functional public toilet constructed of one-way glass.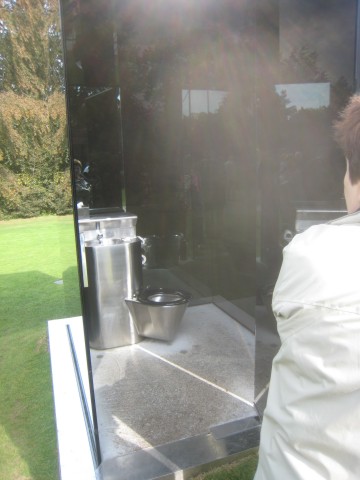 Although inside one had a clear view of the surroundings, no one – not even mischievous teenagers who knew the secret – could see into the interior.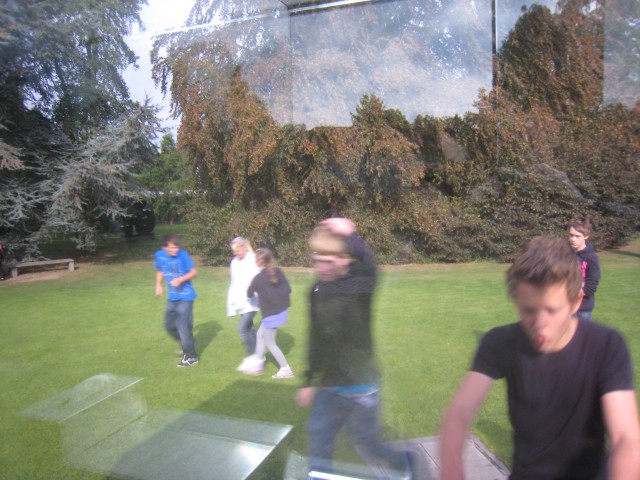 You may have previously seen it on the Internet – in 2004 it was stationed outside the Tate Britain museum next to the Thames for a while. Here there were plenty of facilities available inside the nearby museum, but it does raise the question of what inhibitions one might have about using it on a crowded street.
When it was unveiled, the artist explained the meaning of the work: "Far from testing the viewers' levels of embarrassment versus exhibitionism, the idea was conceived while watching people at art openings. Amid the gossip and pageantry, nobody wanted to leave the room for fear of missing a key entrance or comment. The "Don't Miss A Sec" exhibit reflects peoples' reluctance to leave the spectacle, and allows the art-goer to remain in the action, even while on the toilet."
It wasn't revealed if it ever had been installed at an art opening for its intended purpose!
© Copyright 2010 Jack Ludwick - All Rights Reserved
Home