Home
Previous Story
What's Playing?
London, England
April 2009
Soon after arriving in London, we took the tube to Leicester Square, site of the original TKTS booth. It used to be known as the half-price ticket booth, but these days, although some shows are still available at half-price, itís more aptly described as the discount ticket booth. On an earlier visit, when there were more matinees, we patronized it extensively, seeing 8 plays in 5 days. This time we were looking for big-name musicals – in particular, The Lion King, which we had missed when it was in Washington – or in London, for that matter, where it's been playing for nearly 10 years. However, the best we could find was Chicago, for £38.50, plus £2.50 service charge – about $62 at the then-current exchange rate current of $1.50 per £. This was for a £55 ticket, so the discount was less than 25%.
Two days later, when The Lion King was having a matinee, we decided to go directly to the box office when it opened in the morning. At the Lyceum Theatre, we told them that we were old and asked if they had any deals for that afternoon. Did they ever! Twelve rows back, two from the aisle, for £20 each! (We were disappointed that they didnít ask for proof of age. However, that was more than compensated for by the student who carefully scrutinized our passports at Coimbra University before issuing us discount tickets for entry to various of its treasures. He then confided that he had been amazed when one of his classes included someone nearly as old as we were.)
Feeling lucky now, we stopped into the Royal Opera House next door, where Il Trovatore was being performed that night. We struck up a conversation with a fellow queuee, who was also a fellow geezer. He already had a ticket for Il Trovatore, but had brought a fairly extensive handwritten list. I asked if he was buying tickets for others, and he said no, they were all for future performances for himself. He gave us tips on less expensive seats that were very good and which ones to avoid, but since they were sold out for the few days we had left, we couldn't take advantage of his expertise.
So we continued on a few blocks to the Cambridge Theatre, where Chicago was playing that evening. Their deal wasnít quite as good, £25 – although still 40% less than TKTS' price – and the seats were front row on the aisle. We were concerned about visibility so close to the stage, but the ticket agent educated us about London theaters, of which, he said, there are two styles. Victorian theaters have a high stage, from which a front row seat would have limited sight lines, but theirs was Art Deco, whose stage was low. To prove it, he closed the ticket counter and took us down to our seats. The stage was at eye level – and what an eye-popping location it later proved to be from which to ogle all those statuesque, scantily-clad babes! Betty Lou claimed that the equal number of buff guys, most of the time shirtless, werenít that interesting.
Exiting the theater, we were considering what to do for the next few hours until the Lyceumís doors opened, when Betty Lou spotted a nearby Vidal Sassoon salon. We had been traveling for quite a while, and I, at least, was getting shaggy, so we stopped in. They analyzed our hair and its tendencies, took into account our preferences, and we emerged looking MAH-vel-us, but I doubt if weíll be regularly returning for a trim.
We then dropped by a Marks & Spencer, chose a layered salad and joined the lunchtime throngs in the Covent Garden Market.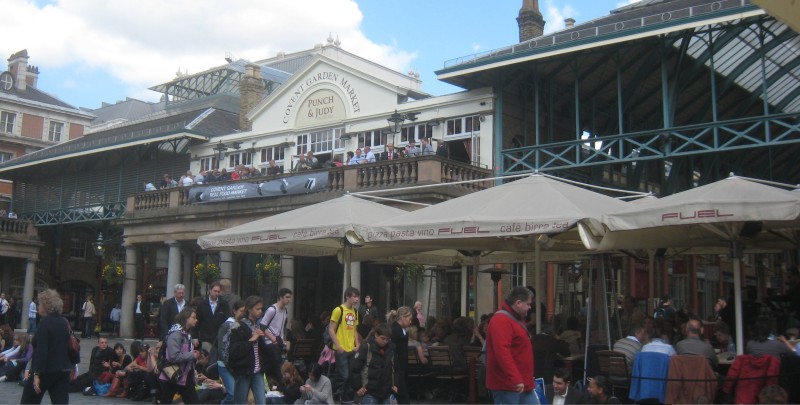 From out of nowhere, a soprano solo aria provided unexpected music to munch by – was it a recording? (That evening at dinner, between shows, we overheard a couple at the next table requesting their bill because they were going to see The Lion King, so of course we engaged them in conversation. They were from Scotland – the accent sometimes took some concentration to understand – and by coincidence were also in Covent Garden at the same time we were, and saw that there actually was a live singer, although they were no wiser about who she was or why she was performing there.)
It hadnít registered until we approached the Lyceum that a Lion King matinee would of course attract hordes of kids – it looked like there were whole classes, even entire grades of them, totally filling the sidewalk. Fortunately our seats entitled us to use a different entrance, and they didn't turn out to be a distraction – almost all were in cheap seats far behind us, and the great stagecraft kept them, as well as us, enthralled.
It began as the stage filled with ingeniously-crafted animals, many of whom entered down the aisle next to us: giraffes; gazelles; a leopard; lions, of course (Betty Lou is still practicing her roars and pounces); birds; hyenas – even an elephant. It was amazing how they brought to life sequences that could be easily accomplished in the earlier film animation, including a wildebeest stampede, into which the lion patriarch fell to his death from a cliff seemingly in the rafters, and a later tumble over a waterfall from an equally dizzying height.
Then there was the meerkat and warthog vaudeville pair who saved the young Simba from vultures after he'd fled the pride. The warthog came out with enough flatulence jokes – sometimes literally, accompanied by a cloud of gas – to keep the kids howling, while there were enough double entendres to entertain the adults.
The kids cheered the good guys and hooted the bad guys, and when the curtain call came, Scar, the villainous lion, was at first taken aback when the boos rained down, then grinned at the tribute.
---
The civilized British have constructed their theaters with an easily-accessible bar on each level. Somewhat like a pub in flavor,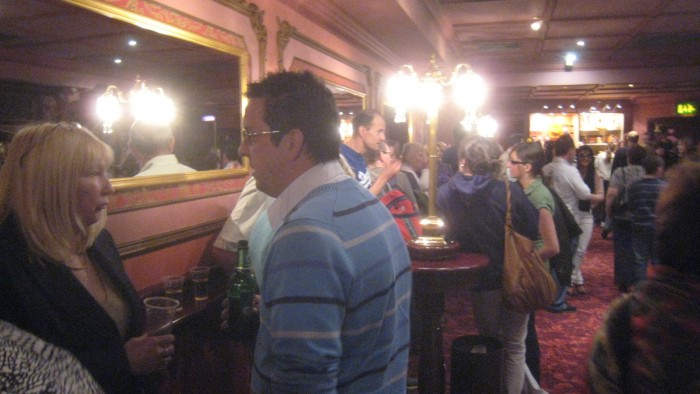 one can pre-order a drink to avoid the crush at the interval, and the bartender tells you where on the ledge surrounding the room it will be waiting. Or, if you prefer, you can purchase an ice cream treat from a vendor in front of the stage.
However, they seem to be rather schizophrenic about the drinks. This sign is in the theater – the no-photos warning explains why the picture quality is not very good,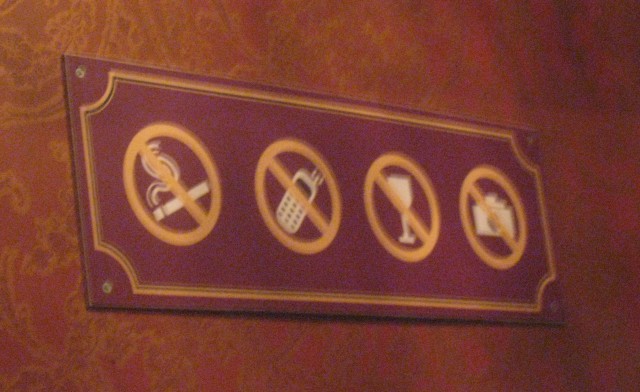 while this sign is on the inside of the menís room door.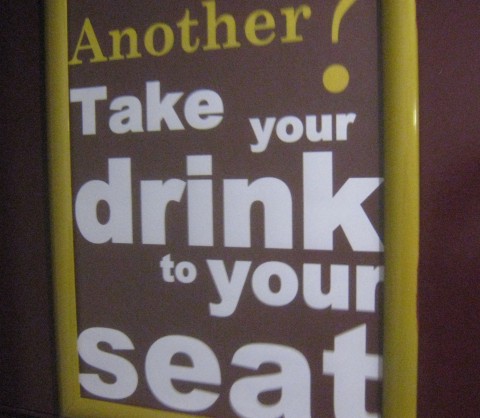 Which brings up another interval rush – to the loo, where every urinal was occupied by a wee one, some of whom barely made the height. The good thing is that in 5 seconds they were done!
© Copyright 2009 Jack Ludwick - All Rights Reserved
Home
Previous Story