Home


What's Hot
August 2009
My website host maintains statistics about the most recent 500 visitors. They would like me to upgrade from this free service to one that would increase this number manyfold – for a monthly fee – but it is adequate for my traffic, and interest. I make no special effort to attract the search engines, but they eventually find everything, and the curious follow.
Many statistics can be provided, but the one I find most interesting is "Popular Pages." Those of you who have perused my website are encouraged to make your own guess about which of the 132 (as of today) stories, and 55 others about living in Frankfurt are the most popular.
As you might expect, travel destinations are well represented: St. Maarten, Aruba, Dubai, Santiago de Compostela; as are modes of transport: Concorde, MaxJet/Virgin Atlantic and Silversea, Autobahn Dreaming. However, these, and many others, account for only about one-quarter of the total.
Of course, Topless in Cannes? is a likely candidate, although I wonder how many leave thinking what a friend sent me after reading it: "You rat, I'll never trust you again!" However, with 75 views, it's only number 3 on a recent list.
Although one's Internet address, fortunately, cannot uniquely identify each visitor, it can provide the location of the Internet Service Provider (for example, Comcast in Arlington, Cox in Herndon, MITRE in McLean), which can be mapped. This map shows where those viewing "Topless in Cannes" reside, including several countries where the female form is completely shrouded, which could tend to heighten interest there.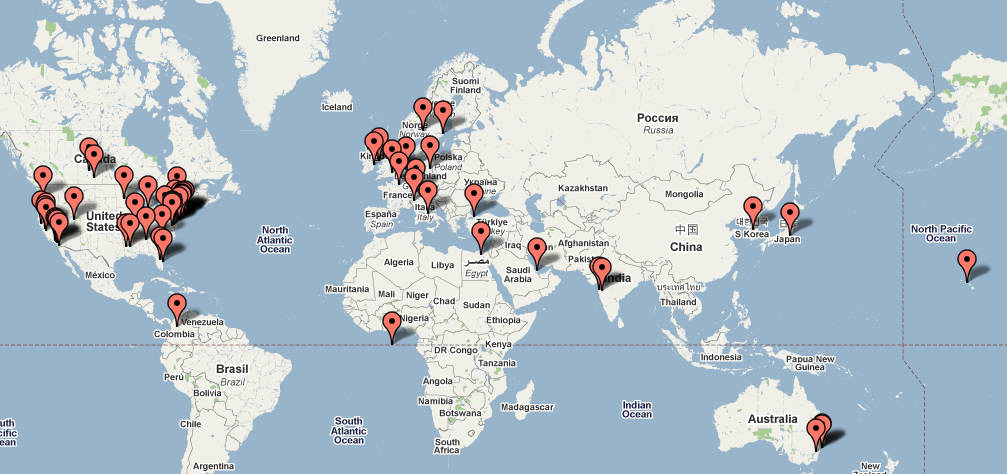 I challenge any of you to have selected as most popular (147 views) the account of Betty Lou's 2004 thumb surgery, which has been number 1 for years! I guess there are a lot of medical students, or potential thumb operatees around the world. And number 2 (130 views) recounts my struggles with the infernal French keyboard while the Spanish keyboard I later encountered has received little interest.
I guess, as the old lady said when she kissed the cow, "Chacun a son goût!" (To each his own.)
© Copyright 2010 Jack Ludwick - All Rights Reserved
Home