Home
Paris
September, 2011
When planning our return from Europe after our Spring crossing to Lisbon in May we discovered, as after a previous crossing that it was cheaper to book a round-trip flight back home than one-way, so we scheduled the return flight to Paris in September. (To return to the U.S. this time, we boarded the QM2. Although we had sailed several time on the QE2, this was our first time on Cunard's new flagship.) We were surprised to realize that it had been over ten years since our last visit to one of our favorite cities.
We had meant to visit earlier – two years ago we had planned to spend five days here after five days in London prior to our North Atlantic crossing departing from Copenhagen. However, we found that because there was essentially no competition on the Paris to Copenhagen route, it would cost over $400 each, so we stayed put and flew EasyJet from London for $125.
We've often visited Paris, so this time we searched out some non-tradional sights, beginning with our neighborhood. I was pleased to find these très friendly Parisiennes in a nearby park.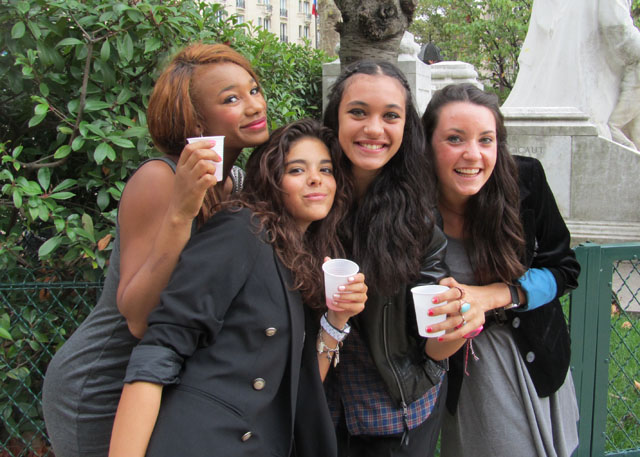 One of the owners of our hotel has found the solution for travel and parking in this congested city. (He does wear a helmet when not posing.) Although we always search out a hotel on the Left Bank, we rarely end up in the same one more than once. However, we initially stayed at The Lindbergh – yes, the aviator – many years before and recognized another one of the owners, who coincidentally has a dog named Flo.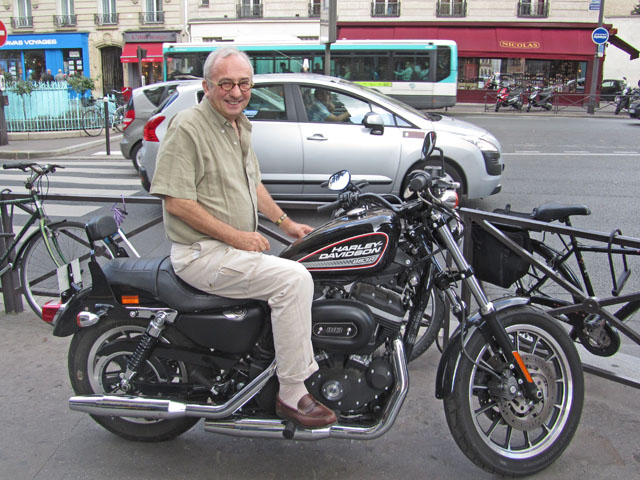 Other two-wheel travel is also very popular.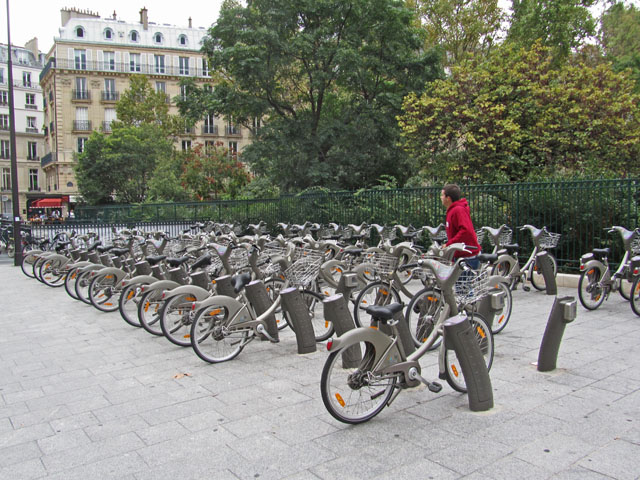 Of course, Paris is the city of romance, and we soon spotted a bride and groom waiting for a car across from La Rotunde, a historic eating place in Montparnesse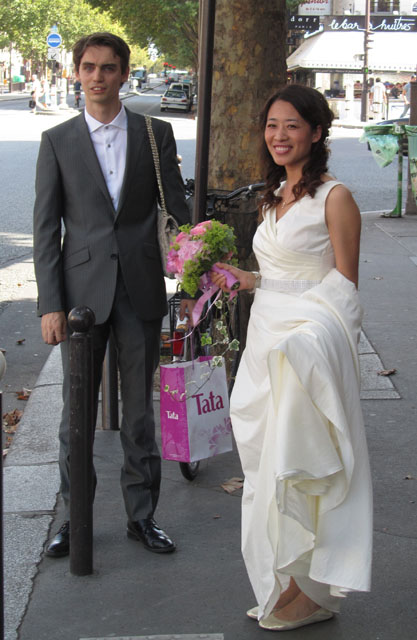 that we visited several times.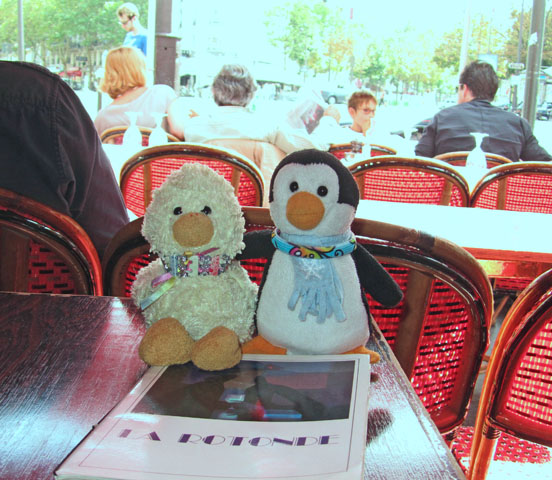 More romance, in our neighborhood park.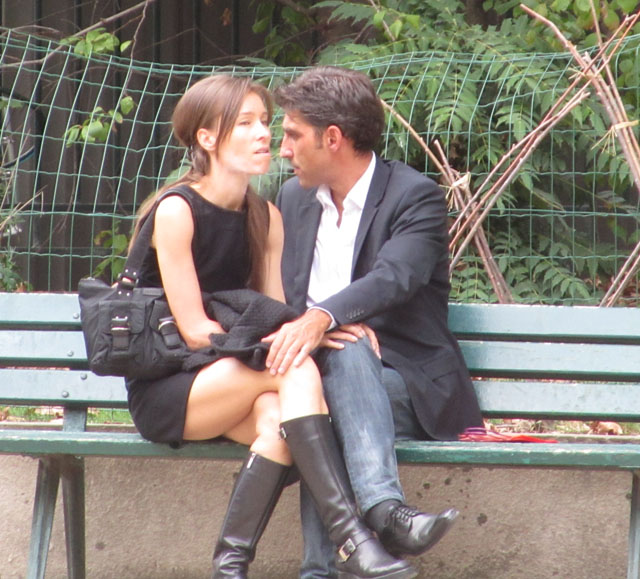 A penthouse was having some furniture delivered.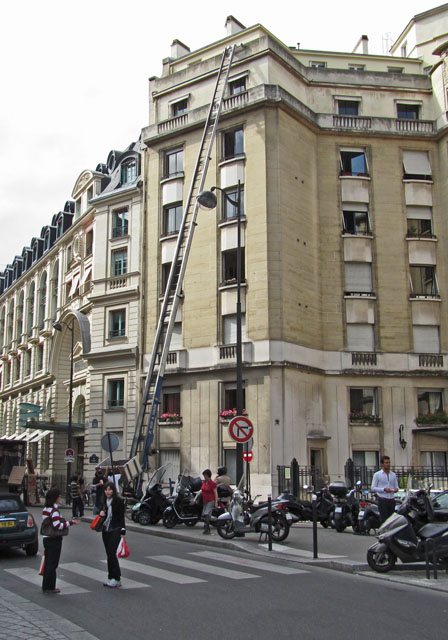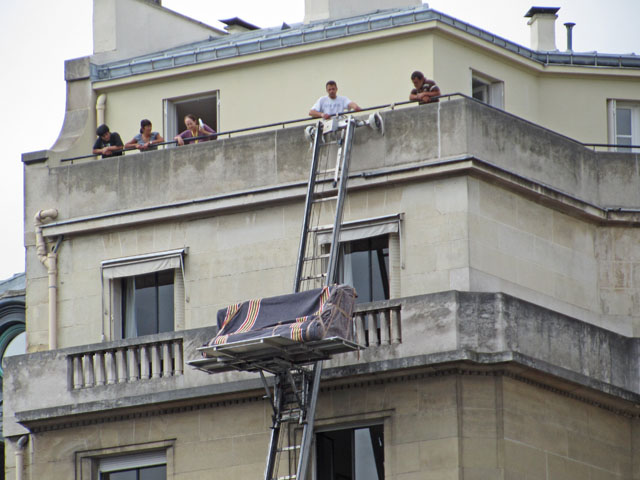 Even the vegetables in the Rue Cler market are a work of art.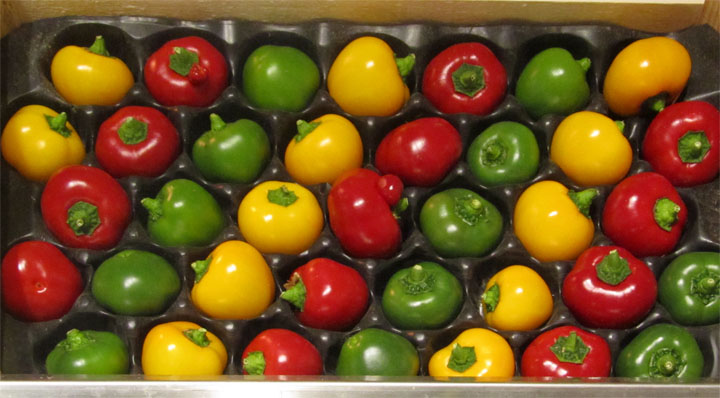 This was Peep and Flo's first visit, and they enjoyed the sights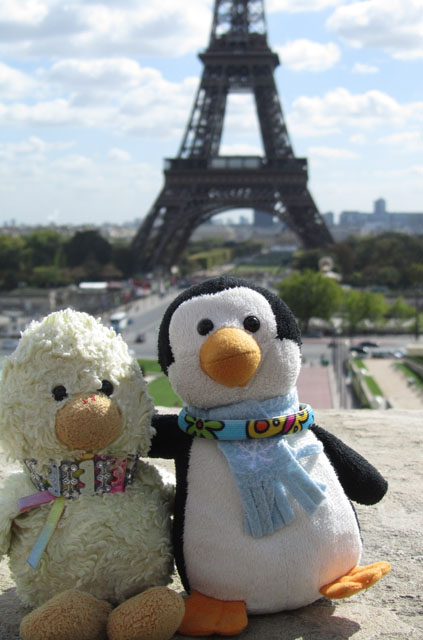 and the sidewalk cafés.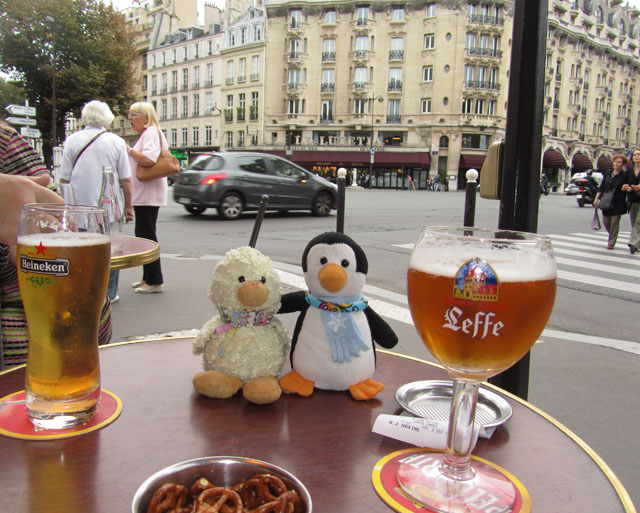 One day we made reservations for lunch at Le Baratin, compulsory for the small but highly-regarded bistro in the eastern part of Paris, not far from the Père-Lachaise cemetery, final resting place of such notables as Chopin, Moliere, Victor Hugo, Isadora Duncan, Oscar Wilde – and Jim Morrison.
It's an arty neighborhood,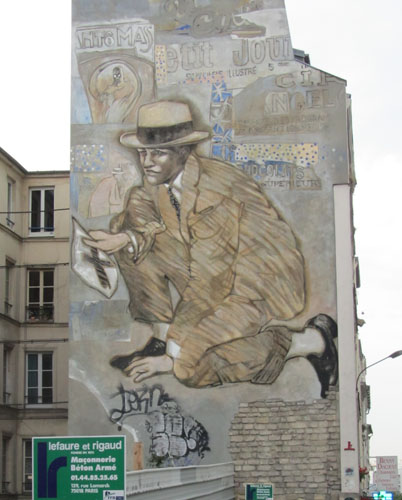 whose main street is fortuitously aligned to provide a view of the Eiffel Tower1, some four miles in the distance. (If it seems closer, it's because the lens was zoomed to 5½ power.)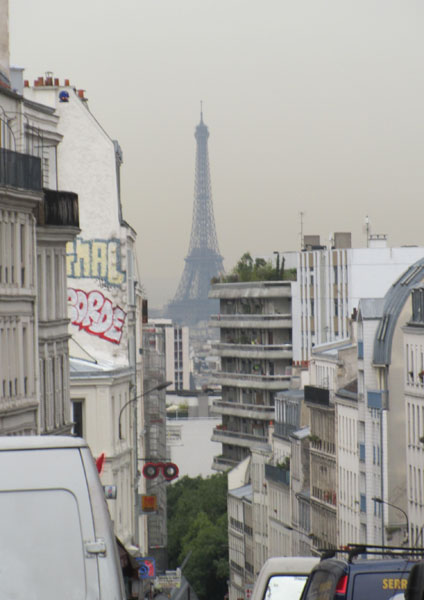 At Le Baratin, Peep and Flo were warmly welcomed by Beaujolais, the resident bistro cat.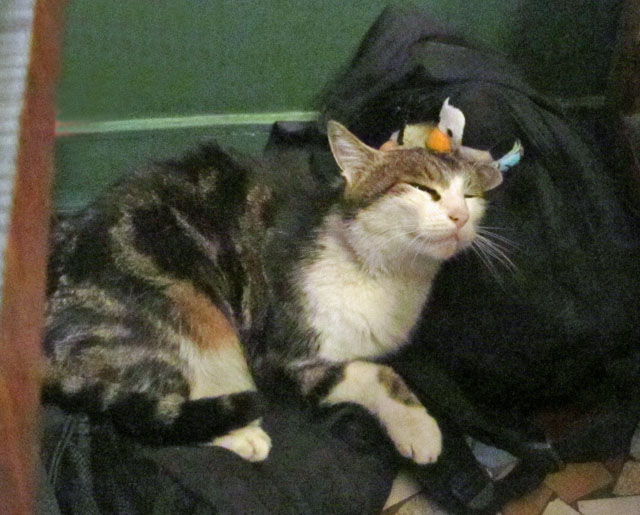 while we enjoyed the day's food and wine selections.
The first course featured a variety of salads, including beets, mesclun and parmesan, and green beans with herbs, but also rice and tuna, and pork snout vinaigrette! We almost always order something different and share, as well as try things we don't normally see on menus, so we had the beets and the pork snout. Of course, we ordered both main courses, beef cheeks in bouillon and herbs, and pollack stew with tomato.
The tight spacing in the small bistro made it easy to strike up conversations with neighbors, in our case two publishers, one of whom was "a true Parisian" – he didn't own a car. Fortunately, his colleague did, because their workplace was some distance away and not near a Metro station – and they were frequent visitors.
We aren't dessert fans and normally both would have ordered cheese, but our neighbors waxed rhapsodic over the house specialty, a type of pudding with cake in it, which, like all the other courses, was delicious.
The well-chosen, extensive list of wines by the glass made choices difficult, but we began with a white Burgundy and a Corbières rosé, followed by an Old Vines Chinon (we're great fans of Cabernet Franc) and a Côte du Rhône.
A few days later we again enjoyed lunch at a more historic venue – La Maison Fournaise on the same terrace where Renoir painted his masterpiece, The Luncheon of the Boating Party.
---
1Or perhaps as planned by Baron Haussmann, the 19th century architect who designed modern Paris, and who also is buried in Père-Lachaise.
© Copyright 2011 Jack Ludwick - All Rights Reserved
Home