Home
Got Pests?
July 2016
Friday afternoon, July 2nd, Betty Lou noticed that a bunch of insects were flitting around between a window and storm window. They were tiny little things, but of course one immediately thinks – swarming termites!
On the Washington Consumer Checkbook website I looked up "Pest Control Services" that served Arlington that were also check-rated for quality and price, and called the top five. (By the way, if you don't already subscribe, I recommend you do. Over the decades it's provided us with many reliable service providers while saving us substantial sums of money.) Of course, in addition to being a Friday afternoon, it was also just before the long July 4th weekend.
Several had recordings – two with which I left a message, and one that wished me a patriotic weekend and to call back after the holidays. One business was no longer in existence, and amazingly, one – DSN Pest Services – answered the phone and made an appointment for Wednesday morning.
After many tries, I managed to get this photo of one of the critters. The green background is the back lawn, out of focus because of the severe close-up.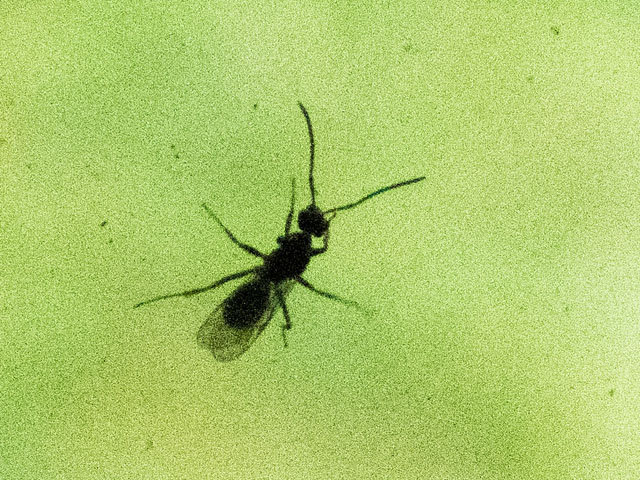 When checking identification diagrams, I was dismayed that termites, like my specimen, had straight antennas. On the other hand, it seemed to have the pinched waist and the longer legs – thicker near the body – of an ant.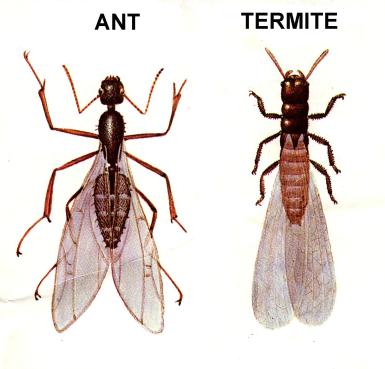 Tuesday morning, July 5th, when I called the Arlington County Virginia Cooperative Extension Service, a Horticultural Help Desk expert examined my photo and also came down on the side of a flying ant. Maybe there are different breeds that have straight antennas.
When I spelled out my email address, including i-e-e-e, so she could send me some links to relevant publications, I was surprised that she immediately knew i-triple-e (the Institute of Electrical and Electronic Engineers). The reason was another surprise – she's a chemical engineer herself.
Having received no callbacks by Tuesday afternoon, I re-called one, again getting a recording. Although this time my call was returned, the first appointment available was a week and a half away.
As David Noble, of DSN Pest Services pointed out the next morning, if it takes that long for a prospective customer to get an appointment, what would their response be to a warranty issue?
He and his wife Sara, the S in DSN, started Noble Pest Control over 20 years ago, beginning with residential customers. They later branched out to the commercial market, including Whole Foods, Magruders, and others.
Eventually, after their children left home, they decided that they didn't need to work 60-hour weeks any more and sold the commercial business to Terminex. The name went along with it, the reason they're now DSN Pest Control, although their website retains a vestige of the previous name. Not knowing the background, one might wonder what kind of pest might be considered noble!
David immediately identified our insects as flying ants and carefully inspected all areas of the basement, then the exterior of the house, finding no evidence of termites or any other infestations. He offered a pest control treatment effective for one year for $350 (a $25 coupon on their website provided a one-time discount). Pests include crickets, stink bugs, cockroaches, mice, and rats(!), but not termites, bedbugs, chipmunks or other wild creatures. However, he does also offer termite treatment, if necessary.
If any issues turn up during that time, they'll return and resolve them. At the end of a year, one can renew, including inspection and treatment, for the same price – forever. Some long-time customers are still paying $225.
Initially, we were going to follow Checkbook's advice and get estimates from three providers, because they often found big differences in price for the same services. However, since we began with only those firms having a large number of reviews that were check-rated for both value and price, DSN was so responsive – particularly noticeable with the next appointment being a week away – and the price seemed reasonable, we accepted it.
The next day David returned with a pump sprayer that discharges a fine stream of liquid. He started along the exterior, in case it might reveal areas that could require extra attention on the inside. The liquid is odorless and safe for people and pets. It's also not repellent to pests, so they walk through it and carry it back to their nests, eventually eliminating their companions as well.
He then treated the basement interior, not just where the joists meet the concrete, the baseboards, and below-ground areas where the wall and ceiling meet, but other locations where they might tend to congregate. He also treated the sill of the window where they were discovered as well the adjacent one.
There's been no sign of any unwanted critters since then. I highly recommend you give David a call if you suspect any pest activity. The inspection is free, and you can be confident in his diagnosis and recommended treatment options, if required.
© Copyright 2016 Jack Ludwick - All Rights Reserved
Home