Home


Bombs Away!
August 31, 2007
No, they didn't let us drop them,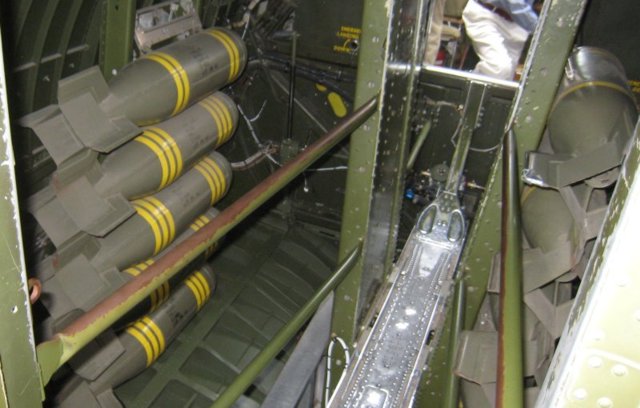 However Frisky1, aided by Betty Lou, did shoot down several Fokkers – although maybe that's not the way the earlier aviators pronunced it.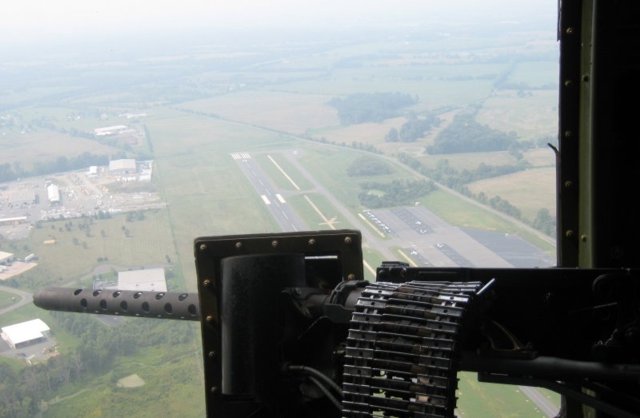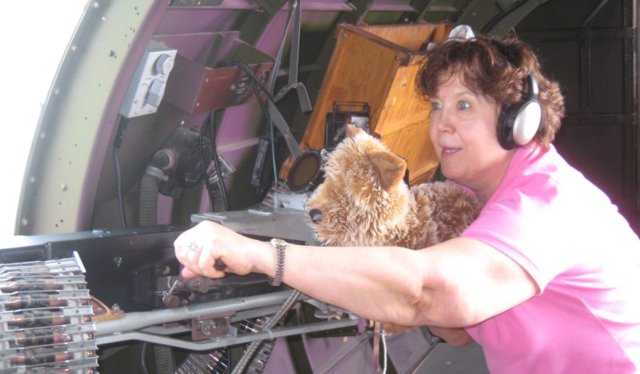 We had the opportunity to fly in a restored B-17 Flying Fortress, the Aluminum Overcast, compliments of our Wachovia financial adviser, at Warrenton-Fauquier airport.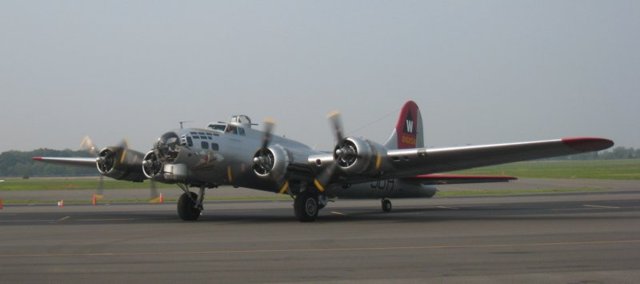 The Aluminum Overcast was an actual bomber flown in missions over Nazi-held territory in World War II. Although it was shot down over France on its 34th combat mission in 1944, a crew member detailed its exploits in a book. When a late-model B-17 that had not seen military service became available, and a group of "Warbird" collectors bought it, they referenced the book and incorporated its name, tail number, colors – and "nose art." No doubt the name referred to the fact that hundreds of B-17s in formation over a target would create the impression of a sky overcast with aluminum. Nearly 13,000 B-17s were built, 4,800 were lost during the war, and most survivors were cut up and melted down. The Aluminum Overcast is now one of only fourteen still flying in the world.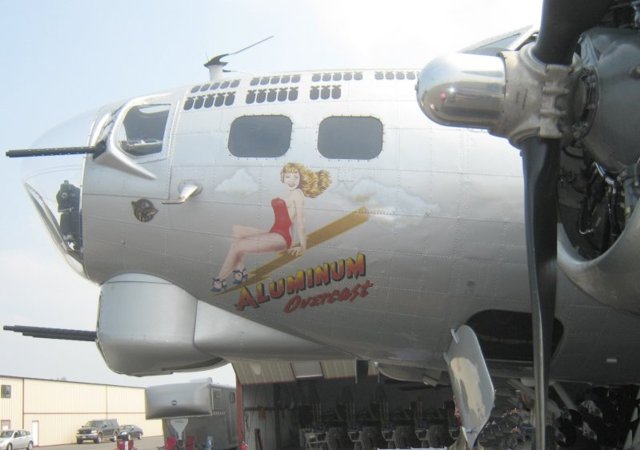 The aircraft was made airworthy and taken to numerous air shows before it was donated to the Experimental Aircraft Association (EAA) in Oshkosh, Wisconsin. They displayed it in their museum and undertook the task of bringing it back to World War II configuration. Restoration was not a trivial matter; because although the aircraft had seen no military service, its twenty years of civilian service, including flying cattle between Florida and Cuba, high-altitude mapping, and fire ant spraying, had taken its toll. Also, since such applications had little need for items such as machine guns, Norden bombsights, turrets, and military communications equipment, many original components had to be located and reinstalled. Over the last several years it has been touring various parts of the U.S.; this year, from July to November, mainly in the east.
During wartime operation, four officers were responsible for offense (pilot, copilot, bombardier, and navigator) and defense was handled by six enlisted men, who, regardless of their earned rank, were made sergeants. It was believed that if they were captured, sergeants would receive better treatment by hierarchy-conscious Germans than lower-ranked airmen. The average age of an Eighth Air Force Force bomber crew in Europe was 22, and the unfortunate truth was that their life expectancy in 1943 and 1944 was about 15 missions.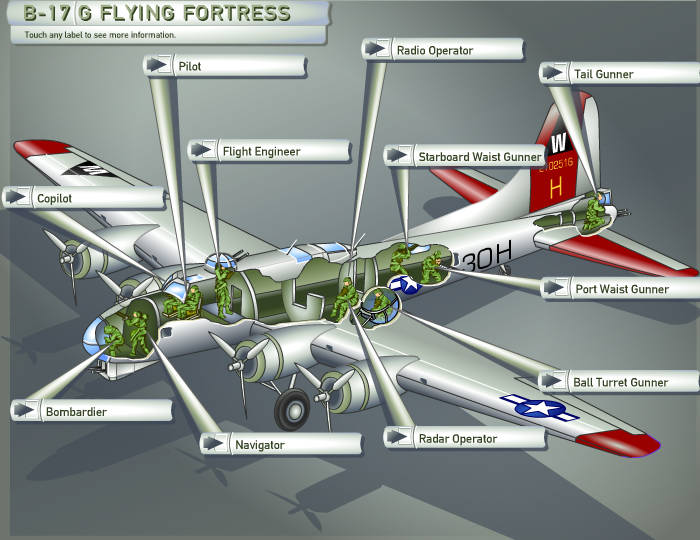 You might think that the ball turret gunner had a particularly unenviable position, enclosed in a swiveling bubble beneath the aircraft. However, it was actually one of the safest positions, due to its compact size and armor plating, which was lacking at other positions. Also, the bombardier and navigator had to reach their positions in the nose compartment by crawling through a tunnel under the flight deck – and would have to return the same way in a hurry if they had to bail out. After major losses from head-on fighter attacks, machine guns were added in the front and the bombardier and navigator were also given defensive assignments. The previous nose art picture also shows the "chin" machine guns under the bombardier position, which he would use as necessary when not on a bomb run, and a "cheek" gun (there was one on each side) that would be manned by the navigator. Each of the thirteen .50-caliber machine guns aboard had enough ammunition to last about one minute. B-17s flew in tight formation to enable fire from multiple aircraft to be concentrated at oncoming fighters.
During flights today only three crew members are required: pilot, copilot, and tour coordinator. Because of space limitations, there is seating for only ten passengers at a time, and we were extremely fortunate to be awarded two of the fifty slots that were available to Wachovia. Our group included a World War II Air Force veteran, who was given a prime seat on the flight deck. Between takeoff and landing we could move around freely, but the tour coordinator directed us in moving from one part of the aircraft to the other to avoid traffic jams – treading the narrow catwalk over the bomb bay (the first picture), and crawling through the tunnel under the flight deck. We could visit all the positions except the ball turret, which was closed, and the rear turret, which was blocked by seating. A panel in the roof had been removed to let air in on the warm day, so we could stick our heads out and look around. We did have to sign several waivers before boarding!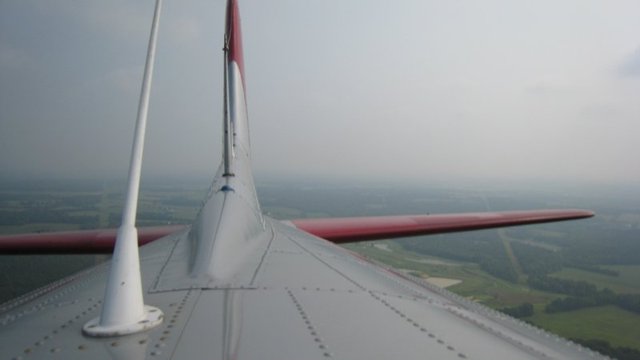 Being too warm was something a wartime crew didn't have to worry about. With its supercharged engines, the B-17 could cruise at altitudes where the temperature was -50 degrees or lower. Crew members wore heavy shearling and leather jackets and coveralls over electrically-heated flight suits, as well as oxygen masks.
Although superchargers weren't needed at our altitude, the four 1,200 horsepower engines located just on the other side of the aluminum skin were really loud. Fortunately we had brought our Bose noise-canceling headphones, which worked superbly. I wished I had thought also to bring my sound-level meter, but the noise was loud enough that you had to shout to be heard. There weren't any long conversations while airborne! During our half-hour flight, moving among the various positions provided a variety of views of the surrounding countryside, including straight down at the bombardier's seat.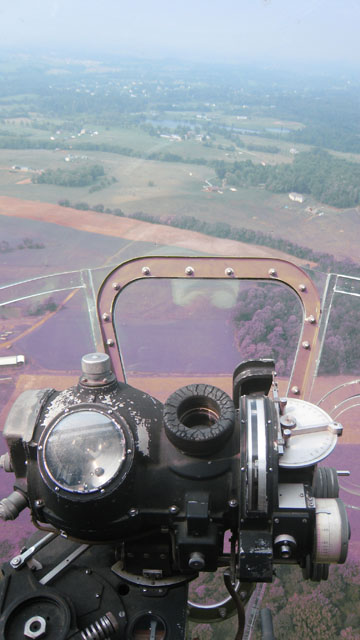 The instrument blocking the view is the famous Norden bombsight. The bombardier would input information such as airspeed and altitude and it would calculate the trajectory of the bomb being dropped. Near the target the aircraft would fly on autopilot – continuing straight and level despite flak – to the point calculated by the bombsight to release the bombs. It was considered a highly classified instrument, and it was the bombardier's responsibility to destroy it if an emergency landing was made in enemy territory.
Betty Lou particularly enjoyed the flight; in fact, when we landed she told them that she'd have to stay aboard for the next flight because she couldn't unhook her seat belt.
You can learn much more about the Aluminum Overcast and its 2007 tour, B-17s and their role in World War II, and the EAA at http://www.b17.org.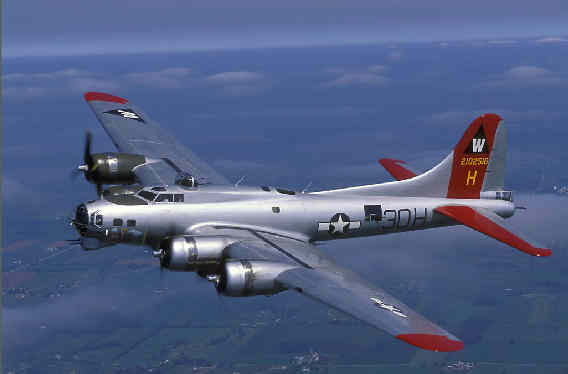 The B-17's appearance here was sponsored by a local chapter of the EAA. Several members own their own vintage aircraft, and the names of ten participants were drawn for flights on some of them.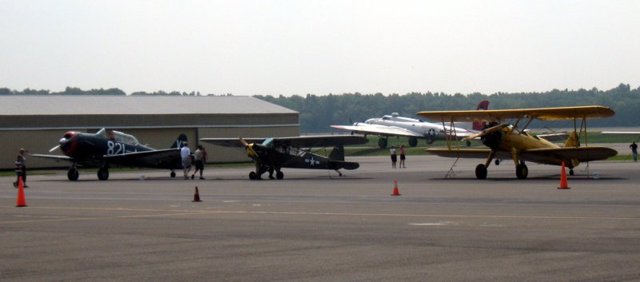 I won one of them, and requested the open-cockpit Stearman biplane, on the right. Mastering the Stearman was the first step for prospective pilots, after which they progressed to more advanced trainers. The Stearman was such a popular choice that day that another owner was called for me to fly on. The history of this aircraft was particularly poignant. During the time it was being restored to perfection, the previous owner contracted Alzheimer's and was never able to fly it.
The open air flight was an exhilarating experience. No doubt we covered some of the same ground as in the B-17, but now I had a 360 degree view, or would have if I could rotate my neck like an owl. Or maybe it was really 720 degrees, because I could look over the left or right side down to the ground, as well as above to the heavens.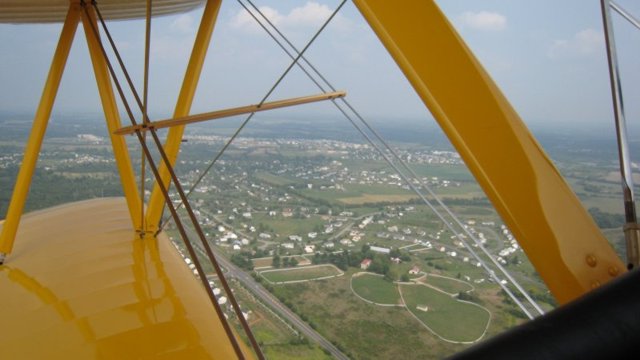 When I checked the instruments, they showed we were at about 1,500 feet at 100 mph. Even though the cockpit was open, the windshield gave very good protection from the air stream. There were duplicate controls at both positions, but to give the passenger the better view, the pilot chose the rear seat. Forward visibility from there wasn't very good – when maneuvering down the taxiway, he would zigzag to see what was ahead. I forgot about that – when we were landing I wanted to get a good picture of the runway approaching, and he had to warn me to lower my hands so he could also see it!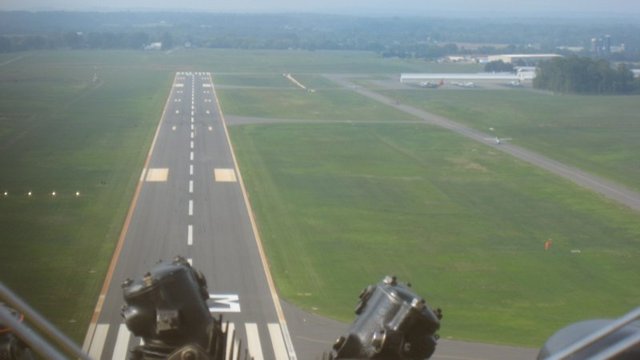 Later, Betty Lou was at the right place at the right time, or maybe it was her schmoozing, because she also was able to go up, in the other Stearman. Since the Stearman is a two-seater, Frisky had to sit this one out. Or maybe he went up in another plane while we were airborne.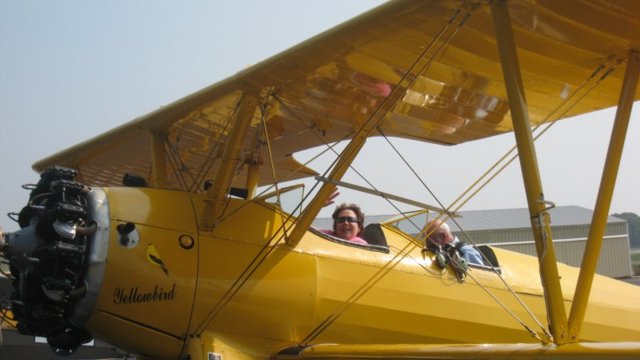 Betty Lou kept trying to encourage her pilot to fly upside down, but he said parachutes were required to do aerobatics. She said she'd signed all the releases, so he didn't have to worry, but he was adamant about following the pesky regulations. He did make a few sideways turns for her.
What a memorable experience for this World War II history buff to take a flight, or actually two, into the past.
---
1 For those of you may not yet have met Frisky, we found him at the Homestead gift shop when we stayed there a couple of years ago. He is a Norwich Terrier puppet, and Betty Lou is very adept at manipulating him to act like a real live dog.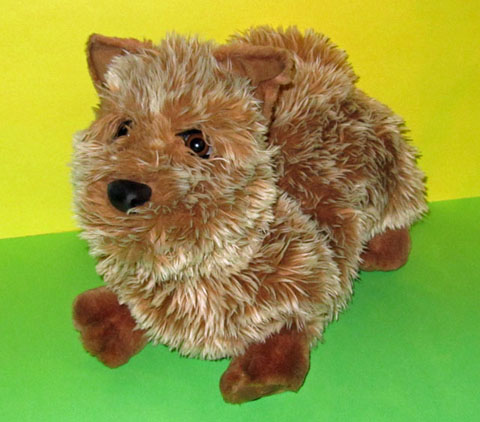 When she first got him, she was walking down a hall and as a couple approached, the woman lamented, "And they told us we weren't allowed to bring our pets!" As they got closer, reality must have set in, because they made an abrupt turn down a side corridor.
He often joins us on forays to restaurants and to friends' homes. When he's not with us, people often ask where he is. One day when we were lunching at the Tyson's Corner Palm, a man who saw Frisky in action came over to ask if he could buy him for his son. Betty Lou asked how old his son was, and he said, "Forty!" I guess she's not the only one who is young at heart.
© Copyright 2007 Jack Ludwick - All Rights Reserved
Home