Home
Next Story
Nick Cage and Me
April 2007
Perhaps you saw this item in the April 11th The Washington Post "Reliable Source:"
Cold Night at Mount Vernon


It was a super-glam night at Mount Vernon, 300 guests mingling on the riverfront yard at a black-tie birthday party for the president. Except that it dragged on until dawn, the women were freezing in their strapless dresses and open-toed shoes, and the POTUS? Actually actor Bruce Greenwood.


Yes, it was another shoot for Nick Cage's 'National Treasure' sequel, which has been filming all across the D.C. area this month. Tuesday night's, though, stood out for the number of extras employed, the late hour, and the fact that no major movie has filmed at George Washington's house since 'The Pelican Brief' in 1993. Extras playing waiters passed real hors d'oeuvres, which no one was supposed to eat, but you know how it goes.
Even if you missed this article, you've probably heard about various Nicolas Cage sightings around town this month.
Who would have guessed that before this evening was out, I would be suggesting that Nick himself top up my glass of champagne?
---
It all began when an actor friend, Mary Yee, sent me a notice that a casting company was "currently looking for 21 men who own fitted tuxedos to work as extras on 'National Treasure 2.' You must be available to shoot tomorrow (Tuesday the 10th) night and again on Wednesday the 11th. These are night shoots and you would work all night. If you are available, please email a photo of yourself with your stats and all phone numbers and email address."
Actually, she had first sent me a notice about this in early March:
Carlyn Davis Casting is going to be casting 2,500 Extras for Jerry Bruckheimer's film, "National Treasure 2: The Book of Secrets."


Only serious applicants should apply. These shoot days are very early, and very long. You must have a flexible schedule. Some are night shoots. It is hard work, but fun.


We will be needing the following types of extras:
- Cigar smokers (Senators) & White House Staff Types
- Secret Service and FBI types
- Good Drivers w/Cars (not black, white, red or yellow)
- Real Military to include 2 Generals and 1 Major
- Real Catering Waiters/Waitresses, Chefs and Bartenders
- George and Martha Washington look-alikes
- Diplomat couples in formal attire (authentic Scottish, African, Japanese, French and Middle Eastern costumes)
- Beautiful Model types 25-40 in age for a formal scene
- Formal types-ladies in FULL length dresses, men in Tuxes
- Bomb Detection Units w/dogs
- Real Bike Messengers
- Real College students including 20 skateboarders and some hacky sackers
- Real University Professors
- Real Security Guards and Police
- Lots of Business and Tourist types
- Real Librarians
- Real Joggers (female)
- Dog Walkers with dogs
- Senior Citizens
- Bicyclists with bikes
- 18 and older who look 15-17
- Real Park Rangers
- Real Teachers
- Rich Texans
- Real String Quartet
I had no intention of applying; my only comment questioned whether they would actually get real Generals, Police, Park Rangers, and a String Quartet. Although now that I look at it more carefully, I realize that I have no clue what is required to be a hacky sacker. I could believe that they'd get real Catering Staff, Bike Messengers, College Students, University Professors, Security Guards, Librarians, Joggers (although, as a jogger myself, I was miffed at the implied sexism), and Teachers. Mary assured me that they'd get them; everyone wants to be in a film! And I hadn't noticed the huge number of extras – I thought the 200 or so I estimated at Mt. Vernon was a lot. Of course, this was for the entire month they were filming in Washington at many venues.
This time, when I contacted them, it was too late to be selected for the frigid night described above, but after a short phone "interview" with Scott ("How long since you've worn your tux?" "You'd be surprised how many haven't worn theirs in years. They may not still fit and may even be out of style!"), and his viewing the attached photo from a QE2 crossing (of course, they brought the camera out on the deck when the moon and sky happened to present a harmonious composition), I was accepted for Wednesday night.
I also called a tuxedo-owning friend, Charles Shelleman, who I thought might be up for such an adventure, whose cruise ship photo got him accepted. We later met another last minute tux-er, who became upset when he realized that he could have easily done the same thing. Instead, he had donned his formalwear and gone to his sister's house to have his picture taken.
Logistics
When we arrived at the "base camp" for our 5 o'clock check-in, I was amazed at the magnitude of the operation. I don't know what it should really be called, not having a film background, but it was set up in a part of a huge parking lot in a multiplex south of Alexandria, from where buses would take us to Mt. Vernon.. There were two large, adjacent tents, one for check-in, and later check-out, and one with Wardrobe, Makeup, Hair Styling, and a dressing room.
The fenced parking area had already been filled, so they directed us to park outside it. We walked back to join a long line leading into the administrative tent to check in. This gave us the opportunity to find our more about what we were getting into from nearby fellow extras, all of whom had been there the previous night, and which had lasted for 13½ hours. One told us what a lovely sight the full moon over the Potomac was when he was driving by the Pentagon at 6:30 AM. He agreed that based on today's weather forecast (42°, rain beginning in the evening, and becoming heavier throughout the night), he'd be unlikely to repeat the experience.
When we finally got inside, we saw that there were numerous tables, for filling out the required form, as well as for dining on the food provided nearby, including hot dogs, hamburgers, and all the makings for beef tacos. We decided to eat while waiting in line, and by the time we finished, we were near the front. The multi-carbon form asked for the usual contact information, but also passport or driver's license and Social Security "I-9" data verifying our citizenship. This is a new form devised for the Department of Homeland Security, who will be able to verify for employers that the applicant is eligible to work in the U.S. I never would have guessed that illegal aliens were such a threat to able-bodied American extras. I was relieved to know that I wouldn't be working next to any, although nobody asked to check our documents.
Since we had been told that our tuxes had to be approved by Wardrobe, we next tried to find out if we would have to join the long line now leading there. We approached a woman who seemed to be working the line, but before we could ask, she told Charles: "Your hair needs work." Then to me, "Your hair needs work. And we have to do something with your beard." When we did get a chance to ask her about the tux approval, she said she didn't know anything about it.
In any case, we needed to be in our tuxes to be checked, so we returned to the car and considered the trek back to the dressing room to change, then again to the car with our street clothes. We decided to change in the parking lot – there wasn't that much traffic by then – and returned to the line. This time we did find someone who regretfully informed us that, yes, we did have to join that long line. Then the hair person came along again and announced that only women's hair was going to be done. I've since wondered what they would have done to my beard.
A guy who had been there the night before said that they had trimmed the hair over his ears. He said that since he had so little hair, being nearly bald, he cherished every follicle, and combed it down again as much as he could. Although they weren't able to "work" on our hair at the time, during the course of the night, whenever there was a break in the action, numerous stylists circulated among us, making sure that our hair was in perfect condition. In spite of the earlier stylist's opinion, others didn't seem to think I needed their ministrations, perhaps because at times there was enough spray in the air to also keep mine in place when it settled. We were momentarily distracted by a line of five stretch limos and one really long stretch limo driving by – not everyone had to take the bus.
As we neared the entrance, we could see rows of chairs for hair styling and makeup on the left side, and a large wardrobe area to the right. Most extras had garb to pick up here, so you can imagine how large it was. People had to leave one of the copies of the check-in form when picking up their wardrobe items. In order to check out at the end, they had to retrieve that copy when they returned them; i.e., all but the earliest would have to join another line.
We finally reached the front, and my tux was pronounced fine, but Charles' vest needed some adjustment. So he went behind the counter, removed his jacket, the wardrobe person looked him over, and decided it was okay after all. We later met an unfortunate soul who said he had also brought his own tux, but they told him the pleats in his shirt were too wide, so he had to use one of theirs, meaning that he would have to join that line at the end just to return his shirt. We compared our pleats to his. Charles's were identical, but mine were wider! Whew – I'm glad I drew a different inspector!
We then got on a bus which took us to a Mt. Vernon parking lot, from which we walked about ¼ mile to the "forward staging area," comprised of two more large adjacent tents with Commissaries for Extras and for Crew.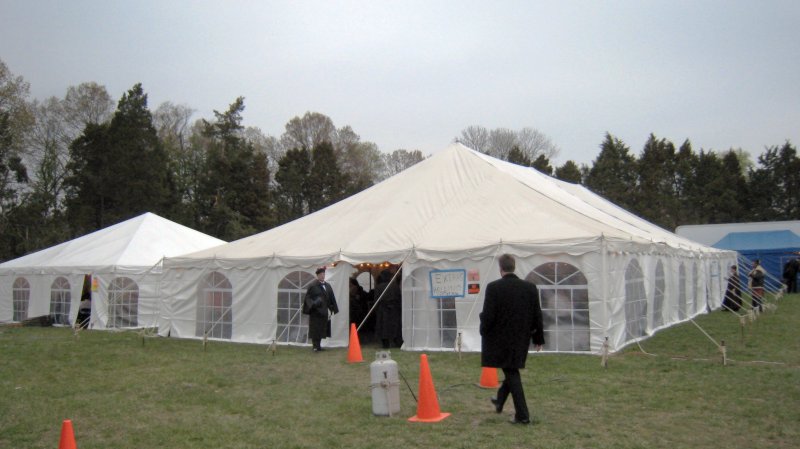 We sat down along four long rows of tables and began our first bout of waiting. We would return here at 11:30 PM for "lunch." There were some snack type items here, pretzels and cheese puffs, for those who didn't have their fill at base camp. However, similar to the previous venue I didn't see any bottled water. When I saw somebody who had a couple of bottles, he said there had been some earlier, to ask an "AP" when more would be available. I confessed that as a newbie I didn't who an AP was or how I would recognize one. He said it stood for Assistant Producer, of whom there were many, and they all had Bluetooth headsets. Of course, you had to be able to distinguish them from the earpieces worn by Secret Service extras, and perhaps other law enforcement personnel.
After another hour or so we were told to leave all our personal items except our coats and umbrellas, and what we could carry in our pockets, since there was limited space, under and behind tables, to hide things during filming. Some people came with rolling suitcases! I don't know what they included, but veteran extras must have been prepared for anything. We were then led another ¼ mile past dozens of tractor trailers parked in a lot near the mansion on the way to the "final staging area." I would have liked to have known what was in the various trailers. Some of them looked like they were living quarters, perhaps for crew, and others like they might have housed technical studio equipment.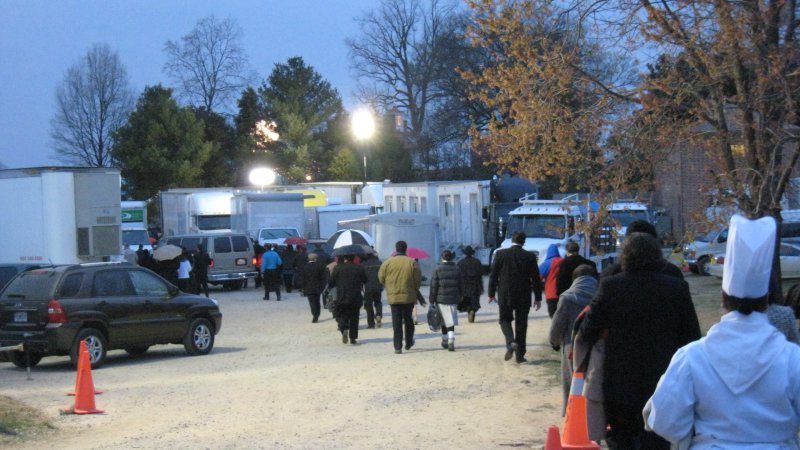 We finally arrived at a huge Presidential birthday party tent that had been erected north of the mansion. A breezeway also had been constructed that led from the tent to the back porch area of the mansion. The party tent is where we would wait between scenes, and when we weren't involved in the scene currently being shot.
The tent was arranged with two rows of five round tables each, on each side of a dance floor, with two groaning buffet tables at the front, and a stage at the back. The tables were set as for a Presidential dinner: china, silver, crystal – 3 wine glasses plus water glass – and a large floral, although fake, centerpiece. It was open for filming in the front, so although we were protected from the later rain, the inside temperature approached that of outdoors.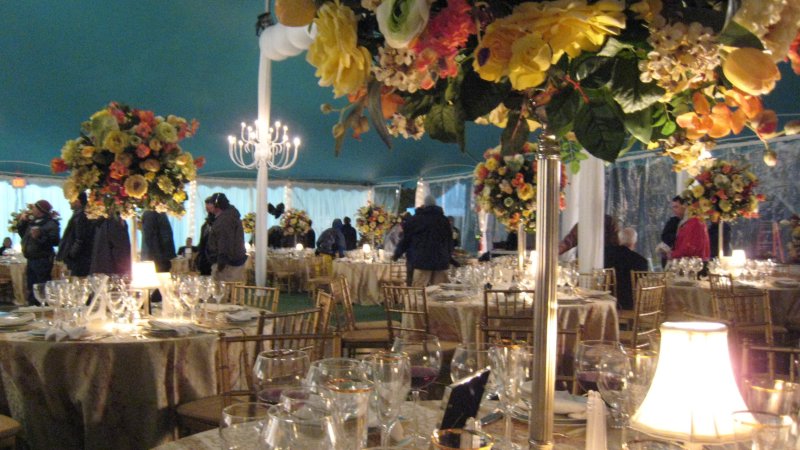 The website had warned "no cameras." Of course, I brought my pocket Canon, but the warning did deter me from photographing the lines at the Administrative and Wardrobe tents. When I later saw others in the Commissary tent taking photos, I did also. I had already set my camera to be inconspicuous: Flash Off, Auto Hi ISO, Auto-Focus Lamp Off, Display Off, Mute On. When we arrived in the elegant Presidential party tent and noticed many others taking pictures of their friends, Charles asked if I'd like to have my picture taken against the elegant background, and I agreed.
I took off my trench coat and posed, Charles aimed the camera, and just at that moment, an AP happened to come in and shouted "No pictures on the set! Cameras will be confiscated and be the property of Disney!" The volume was such that it was not just for my ears, and probably had the desired effect. At least in my case it did – I only took a few pictures afterwards, because it was impossible to tell among the horde who was one of us and who was one of them. This leather-lunged woman seemed to be the head AP. She later shouted out to us who should be where for the various scenes and other information. Why she didn't use one of the available bullhorns I don't know.
When we were later seated for the Presidential entertainment, I realized we accounted for 160 people, and perhaps as many as 40 others were on the dance floor. I had also estimated that there were about that many from previous seating in the catering tent. Who knows where the "Reliable Source" got its info, possibly from an extra like me who gave them a scoop, but who didn't have as analytical a background. In any case, we were a crowd!
Weather
The temperature had increased from the previous night; as previously mentioned, up to 42°. However, there was now a wind off the Potomac of 10-20 mph, and it soon began to rain. By the time the final, indoor, scene was shot, the rain on the tent sometimes was so intense as to drown out conversation. By morning an inch of rain had fallen.
I had taken care to read the warning on the website:
"SHOOT IS AT MT VERNON AT NIGHT OUTSIDE ON THE LAWN. It is the President's birthday party. You should prep a 'personal warmth package' for yourself - wraps, fleece blankets, jackets, down coats, Ugg boots, sweats, long underwear, hand warmers, etc."
I'm glad I had a pair of cold-weather running tights that I could wear under my trousers. I also tried on a light sweater under my shirt, but Betty Lou said the light blue color might be noticeable. Afterwards, I wished I'd worn it; I'm sure nobody would have noticed the slight blue tinge. I took my trench coat with the liner zipped in and ski gloves. Fortunately, I didn't wear my patent leather shoes, because the thin leather soles would have been scant protection from the cold, and wet, ground, and later, mud. However, I should have also worn my rubbers, which look very much like black shoes themselves.
It had to be miserable for those women in high heels; and even the gowns that weren't strapless were backless, and without much in the way of fronts, and most of the women were also out there the night before. Fortunately, the full-length gowns did permit them to wear long johns underneath. Of course, the producers had reasonably anticipated that it would be spring this time of year, not winter; and, "the show must go on!"
During one of the breaks, "toe and foot" warmers were distributed,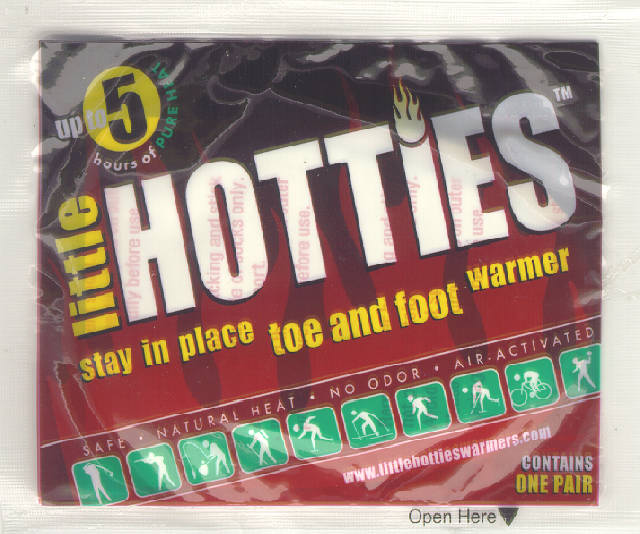 followed by hand warmers. A woman told me that during a cold shoot on an earlier picture, someone had told her of a type of warmer he stuck on the back of his shoulders and a warming belt he wore underneath his shirt. She called her husband and had him immediately buy her the same items. As she was of my age, she was alarmed by the warning that those above 55 should not place the belt next to their skin.
Scenes
Six scenes were filmed that night, at least that the majority of us were involved in. We also heard that one would involve Nick racing through the kitchen.
Not much has been released in the way of plot details, but it is said to involve Abraham Lincoln, John Wilkes Booth, and eighteen missing pages from Booth's diary. In addition to Nicolas Cage and Bruce Greenwood, actors include Diane Kruger, Justin Bartha, Jon Voight, Harvey Keitel, Ed Harris, and Helen Mirren.
Scene 1: Lawn Party
The first scene was a continuation of the "guests mingling on the riverfront yard" described by the "Reliable Source." Those who had been there the previous night knew where they were supposed to be. They stood in their coats, umbrellas aloft while being coached on their "background" motions and "crossings." Nobody had told us what to do, so Charles and I observed the activity from chairs under the back porch roof. A "waiter" came by and asked if we were "guests" (we already had our glass of "wine" – white or red grape juice or ginger ale for champagne). I said we didn't know, we were some new tux guys. He handed us each a plate of "hors d'oeuvres," and I realized that we were indeed guests. Mine had a meat skewer that looked and smelled pretty good, and four grapes. Charles had a little variety, in addition to the meat, a big strawberry and a cherry tomato. So we were ready to mingle when the time came, but in the meantime we stayed out of the elements.
When the signal came to doff our cold-weather gear we looked around and saw a table (a small, tall one of the type you'd stand at) that only had one person at it, so we just walked down and stood by it. We were then told to mingle on the back lawn as if we were at a cocktail party. When various people strolled by and talked to us, I got into it, and when I saw somebody coming by with a bottle of champagne, I suggested that he could top me up. As he passed, I noticed that the bottle was unopened and as my gaze traveled upward, I realized that it was carried by Nicolas Cage! I guess that's what comes from being more of a connoisseur of wine than of film. Fortunately, nobody noticed, or at least commented on, my egregious faux pas, and I was sure to be properly noninvasive in later takes.
Once, between shots, we all went back to the party tent and waited for some adjustments to be made, or perhaps to wait for the rain to abate a little. Other times we stayed in position, or in our case, on the porch. We didn't even know where the camera was, but being somewhat near to Nick, we might get some screen time. Keep an eye out for one of the very few bearded men who was also wearing a tux with a red pocket square!
Scene 2: Discussion with President
We were not in the second scene, which was also a continuation of the previous night. It involved Ben discussing a paper on a table with the President, evidently somewhere near a group of extras who were out in the cold (some of the extras must have been pretty clueless, because after they asked for those who had been in that scene the previous night, they later had to announce that Ben was Nicolas Cage and the President was the shorter man he was with.)
One impression I got is that even without the cost of today's special effects, such a huge operation has got to cost a bundle. Even the lighting methods were amazing. There were a couple of huge globes – maybe 10' tall with internal lighting and possibly filled with helium because they stood upright. For the outdoor party shot, they were atop cranes and provided enough light to illuminate the whole area. For this and a later shot that was more localized, they anchored them to the ground nearby. They reminded me of the mysterious globes in the old "Prisoner" series. This picture was taken after our strict warning. I just held the camera at waist level, and unfortunately didn't frame the scene very well. I guess that's another photography skill I'll have to practice.

For the later entertainment scene, they wheeled in what looked like one of the klieg lights you see, or maybe only used to see, at Hollywood premiers. In front of it they put a large screen which turned out to be a diffuser, and fine-tuned the effect by putting another large, opaque, screen over part of one side. When they were taking meter readings, occasionally technicians would put a couple of light yellow gel panels over the diffuser. And of course, one doesn't plug such huge lights into Mt. Vernon's electrical outlets; there were large generators all around the area.
Scene 3: Buffet Line
The head AP asked for people who were new tonight, and Charles and I were among those chosen to be in the line at one of the buffet tables at the front of the tent. We were told to pick up a plate, act like we were selecting food, work our way around the buffet, and eventually to move towards a table. Before we could get there, Secret Service men raced by on the lawn in front radioing "Code 1!" Evidently Ben had accessed one of Mt. Vernon's secret doorways. I don't know where the camera was located, but it seems likely that if they wanted to have people doing things at the buffet, we might have been in this shot. Of course, as in the other scenes, we then put on our coats and waited for the next take.
Scene 4: Fireworks
This scene, similar to Scene 2, only involved those who were there the first night. We heard it would be shot twice, once with the crowd oohing and aahing at nonexistent fireworks, and the second time with the actual fireworks. Because of how long it took, I imagine the first part was shot several times, but we only saw one set of real fireworks. Although showy, they were silent, and didn't have very much altitude. A neighbor who was now an extra, described later, said he didn't think they'd be able to get permission to set off any disruptive fireworks that late at night, after 11 PM.
Charles and I had settled at a table which we discovered was fortuitously situated next to a hot air blower, and soon attracted a group of standees. Realizing that mealtime was nearing, we made a precautionary pit stop, and just as we were returning, the fireworks lit the sky. Since we arrived at the exit just when it was being announced that "lunch" would be served back in the commissary tent, we were among the first to slosh through the newly-formed mud to arrive there. They provided a huge meal, although rather bland – chicken Parmesan, sausage, meatballs, fish, and peas. I skipped the pasta, rice, and roll, and hit the salad bar, which had a good ranch dressing and croutons, cole slaw, and deviled eggs. By the time we had finished eating the line still extended to the door.
Scene 5: Presidential Entertainment
This was another scene which we had no chance of being seen in. One camera was on our side of the room, another at the front of the tent, both focusing on the stage. After the setting up of tracks for the camera dollies to run on and extensive light meter readings on stand-ins, the director came up on the stage and told everyone how incredibly pleased he was with our performance, that they wouldn't have been able to make the film without those who had braved the elements. I was impressed with how well everyone treated us all night. I imagine most directors are not of the dictatorial type – Clint Eastwood comes to mind as one who never raises his voice – but the extreme is what gets the press.
He then announced that, as a reward, Randy Travis was going to perform for us. After introducing him and recounting some of Randy's accomplishments, he asked if his band had a name. The bass player piped up with "The Gorgeous Guys!" He then announced "Randy Travis and The Gorgeous Guys," pause, "and a bass player." bringing down the house.
By now they had installed plastic curtains over the front of the tent, and the heaters had a chance to make inroads against the cold, so it was becoming comfortable, and we just sat there and enjoyed it – three songs' worth. It would have been more enjoyable if the grape juice had been fermented, but then I might have been like another geezer at our table who kept falling asleep, although never quite out of his chair. This was around 3 AM, and he might have been one of those who was also there the previous night until 6 AM. We met several who had been there and had gone to work before returning that afternoon! Hard-core extras are a hardy lot.
Another half hour or so was required to move some camera dolly tracks and to recheck light meter readings on the stand-ins. Then Randy Travis came back and repeated the performance. We knew this was a lip-synced replay, and actually perhaps the first one also was. This time, after the first song, he declared how pleased he was to be able to perform at the President's birthday party. Unfortunately the president was a no show, nor did we see any of the other principals – which included Ed Harris and Helen Mirren! – and I never saw Nicolas Cage again after the first scene.
Scene 6: Breezeway
Serendipitously, Charles and I were among those an AP selected to be among a few small groups chatting in the breezeway between the mansion and the tent when, again, Secret Service men raced through breathlessly radioing other warnings, while we gawked in surprise.
At first they wanted the three in my group to stand slightly outside, but after it started to rain more than just a mist, I decided I wasn't going to ruin my own tux. The other guy said his was from the Wardrobe department so he wasn't concerned about that aspect of it, but he didn't particularly like getting wet either. After we came back under the canopy, a woman came by and brushed the rain off my shoulders. I thought that was thoughtful of her, until she told me it was because the droplets would create an unwanted sheen! Although now that I think of it, I guess that means they expect that I might actually be seen in the shot.
After about six takes, they had the Secret Service men stand under a mike repeating their exclamations several times to get the proper phrasing and intonation ("faster," "faster," "now quieter"). That turned out to be the wrap-up, so we sloshed through the mud, first to the forward base to pick up what we had left there, then to the buses to take us back to base camp. I knew that my shoes would be muddy, but not that my trousers would be splattered halfway to the knee. Having our own tuxes, we didn't have to change, and then join the line to return items to Wardrobe. Instead, we were able to proceed directly to checkout, so they would be able to send us our pay. Fortunately, this was before rush hour, and I got home around 5:30 AM.
People
We saw perhaps three categories of people involved in the production: those in charge, technicians, and extras – and of course principal actors and stand-ins. Among the first group, we were mainly aware of the Assistant Producers, although we didn't actually know what the director looked like until he took the stage, and no doubt he had other minions to assist him. We were aware of various technicians. There were those who set up, moved, and adjusted the lighting. There were those who laid the tracks the dollies ran on, set up the cameras on the dollies, connecting and taping down their multitude of cables (one had about six different-colored rolls of tape hanging from his belt), and pushed and pulled the dollies to get the smooth movement you never notice in the finished product. Actually, I guess I now know what the "dolly grip" I've seen in the credits does.
The dolly itself carried two riders, one aiming through the eyepiece, framing the action. Of the two dollies we viewed during the Presidential entertainment, the second rider on one seemed to be making vertical adjustments to the camera; perhaps the first one was only making lateral adjustments and perhaps zooming. On the second dolly, the second rider was seated and I couldn't determine that he was doing anything. The cameras had a monitor on the side and we could see what was being filmed. Unfortunately for those gyrating on the dance floor, the first camera rarely viewed them, and the second one just grazed their heads.
• We noticed that there was a wide range of ages and ethnic groups represented. In fact, one woman said that's one reason she likes being an extra, that she meets more people of different ages and backgrounds than she would in her normal experience. One thing Charles observed (in addition to the fact that a Presidential dinner with such tables as I've described wouldn't have been a buffet) was that there probably wouldn't have been as much diversity as we had. Or at least, under the current administration.
• This shoot did involve nasty weather, but we heard some horror stories from a couple of shivering women about previous shoots. One, who told us that feeling was now returning to three of her toes – it had previously only been two – had been an extra at a film in Baltimore that was exactly the opposite of our situation. It was filmed in the blistering summer heat, but it was supposed to be in the winter, so everyone was bundled up, and the building was not air-conditioned. Another told of a film that was set in the fall, but the temperature was 19°. She was able to wear something somewhat warm, but some others didn't have that option. After an extra was taken to the hospital with frostbite, they implored everyone to let them know when they were experiencing difficultly, not to just try to tough it out.
• We did meet one man who said that this was also his first night as an extra. However, he had been there the night before. This unusual situation arose because he lived nearby and a friend told him about the shoot and suggested they both go over to take a look. He demurred, but the friend persisted, so finally he went. The friend never showed up. He just walked in with somewhat casual clothes and observed the activity. Nobody paid any attention to him, and I can see why – with the variety of costumes extras wear and the casual attire of technicians, nobody would notice somebody who didn't belong. And only someone who could have walked in, or had been dropped off, could have been there, because outsiders weren't allowed to park at Mt. Vernon after hours. He told us that he did have the advantage of being able to just go home and go to bed at midnight. Of course, that was the night before.
• During "lunch," we learned that a guy at our table, who was dressed as a chef, was also a competitive eater. However, he didn't demonstrate his talent. He was slim, like surprisingly many of the top competitors. He keeps trying to enter the annual Coney Island hot dog eating contest, but they never announce in advance when the online entry begins, and so far he had been too late to be among the first ten entrants. Obviously, the really top eaters don't have to do this, but he isn't yet among those. Later, he was to be in the kitchen when Nicolas Cage ran through. Someone recommended that he should choose to be doing something he really liked, because he'd be doing it a lot. Another suggested that it would be even better if he could do it sitting down. Of course, you've heard about how much time is spent waiting for the next scene to be set up, but it's something else to experience it as we did. We didn't see him afterward, so we don't know how that went.
• The saddest story we heard was from a guy who told us of a previous film he'd been in where he'd been one of a small group that the camera included. He knew this would be a great shot and he excitedly took his family to the theater when the film came out. Just as he was to come into view, the guy next to him leaned forward a little and scratched his nose, obscuring his moment of fame! He even bought the DVD and advanced it a frame at a time, but still could never get a glimpse of his own face.
Pay
During the setup for the Randy Travis scene I had time to talk to the woman seated next to me, who was about my age. When I found out that she was a SAG member, I queried her about SAG membership. She had been a member for so long that she wasn't sure exactly what the requirements were now; she originally was able to join because she was a member of AFTRA. But she said she thought there was a Catch-22 aspect to it – that you needed to have a certain amount of SAG work to become a SAG member, but you can't get SAG work unless you're a SAG member. Obviously there are some ways around this, but I don't think I'm interested enough in joining to pursue it further.
There is also a substantial fee to join (over $1,500) and the annual dues are not insignificant. As for pay, I think she said they got a base of $168 for 8 hours work (now I know what they're talking about when I hear that somebody got some small amount for appearing on a talk show), with extra for night work, and for night work after midnight. (This reminds me of when I was working in construction during summers in college. As a union member, I received time-and-a-half for hours greater than 8 each weekday, and double time for weekends. One year on a road construction job, I worked 10 hours each weekday and 8 on Saturday, for a total of 71 hours. At $2.50 an hour that really added up!)
There is also extra for work in the wet (which at one point, the head AP reminded everyone they were eligible for, so be sure to include it on their form. It was interesting, in addition to how considerate they were in general to all of us, how they seemed to have a collaborative relation with the union. I had read that there was a bitter strike in 2000, mainly regarding residuals and use of commercials on the Internet.) There also is extra pay for various penalties, but the only thing I remember now is that a meal has to be served within some time period. I noticed that they had marked a "Meal Penalty" box on my form in addition to my scheduled check-in time of 5 PM, and actual check-out of 4:45 AM, meal in and meal out times of 11:30 PM and 12:30 AM. As I said, there was certainly enough of a spread when we first arrived, but even if that qualified as a meal, maybe 6¼ hours was too long before "lunch." Of course, we don't get anything extra for that penalty, or any of their other benefits.
Which brings us to the pay for us, the non-union extras: I had heard that it would be $75 plus $10 for gas. However, when my paycheck arrived several weeks later, I found that it was not that simple. At $6.81 an hour, it did pay better than my previous construction job, although that was nearly 40 years ago, and we also received time-and-a-half for our 2.8 hours overtime. I just realized that since Charles drove, I owe him some of that, although maybe a finder's fee would offset it. However, now that I think of it, I guess any finder's fee should go to Mary.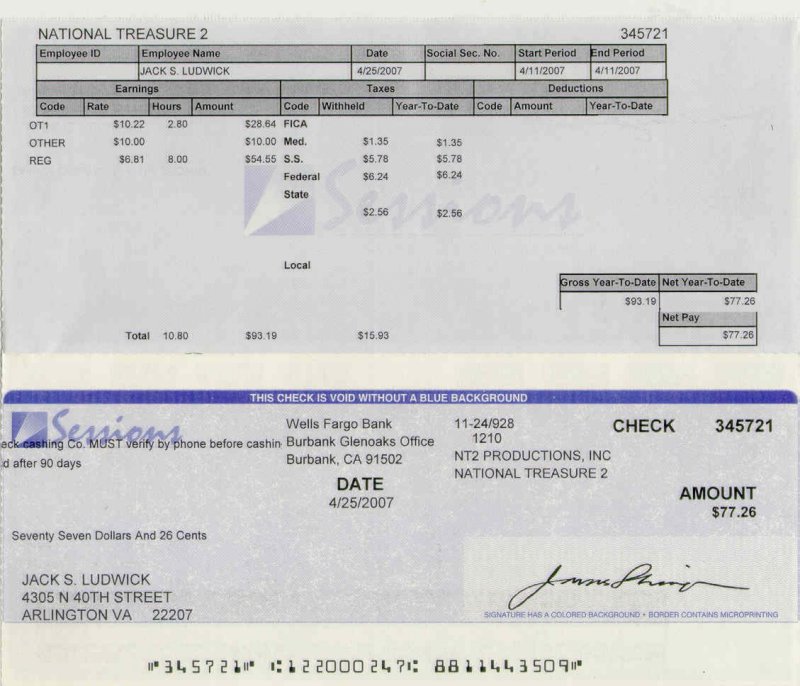 Epilogue
When I had first called Scott to apply as a tux wearer, Leo, who was casting for the Saturday and Sunday night shoots at the Library of Congress, answered, and asked if I was interested in being a tourist. Checking the calendar, I said I was available. However, as the weekend neared and heavy rains were forecast for both nights, my enthusiasm waned. Friday morning Betty Lou saw that I was listed on the website for Saturday, and I began to consider whether it would be better just not to confirm that I was coming, or to call Leo in person, in case I might be interested in some future work. However, when I looked later in the day, I found that although there were many readers, a few librarians, and various law enforcement personnel, there were no tourists for either day.
The next Tuesday's "Reliable Source" reported that "Nicolas Cage and Harvey Keitel endured gale-force winds without coats during a scene outside the Library of Congress, said to play a key role in the story." It also mentioned that they were heading for the Black Hills of South Dakota, where they might find better weather.
It was a fascinating experience. I felt that I was continually being bombarded with new sensations. It will be interesting to see how well they are able to remove the rain from the final version – and of course, to see if I make it onto the big screen. I'll let you know if I do, and if so, where. It is said to be set for release around the big Christmas season.
Mary told me of a friend who has been desperately trying to be an extra, but had never been chosen. He happened to be out of town for this one. I guess that's show biz – someone who has struggled for years to break in misses his opportunity, while a walk-in off the street hits the big time!
© Copyright 2007 Jack Ludwick - All Rights Reserved
Home
Next Story