&nbsp &nbsp Home
Hummingbirds
Montego Bay Jamaica
February 13, 2000
The national bird of Jamaica is the Red-Billed Streamertail, a hummingbird whose likeness is emblazoned on Air Jamaica aircraft. Also known as the Doctor Bird, one theory about that name is that the black crest and long tail feathers of the male bird resemble the top hat and tail coats worn by doctors in days gone by. You may have noted from the description that the logo isn't totally accurate.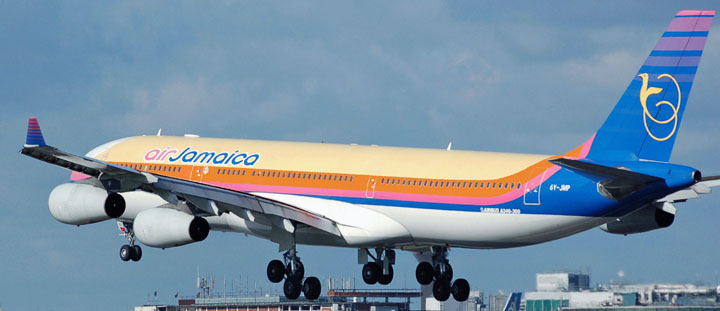 A guidebook entry that had attracted our interest was about Rockland's Bird Sanctuary in the hills above Montego Bay. Miss Lisa Salmon1, also known as, "Mis Lis, The Bird Lady of Anchovy" (the intriguingly-named nearby town) had, over a period of forty years, tamed many species of birds to flutter down and eat from one's hand.
Having earlier been impressed by the demeanor of a taxi driver when he delivered guests to the resort, we obtained his cell phone number. When we called to arrange a visit to the sanctuary, he had just picked up his two children from Sunday School and we agreed it was fine for them to come along. No doubt they didn't often encounter foreigners and they were quite shy at first, but soon warmed to our interest in them.
Although there is no charge, we made a generous donation, and after strolling through the grounds of a seeming aviary, sat down and held out a bottle. Sure enough, Doctor Birds soon arrived, perched on our outstretched fingers and helped themselves to a sweet drink. Since I didn't have three hands, this one had to sip in midair for a while to be photographed.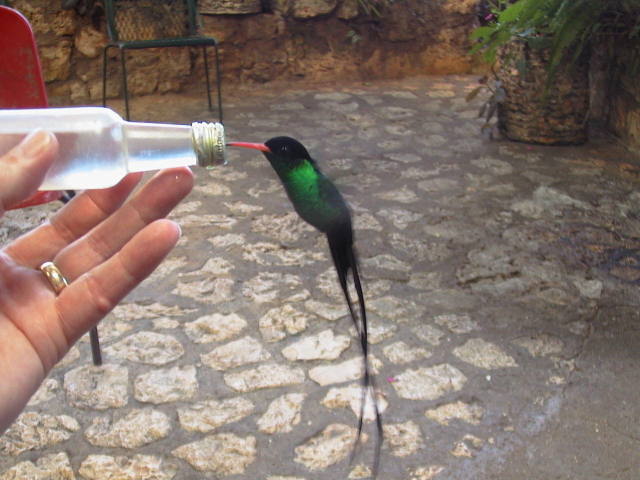 The children were equally fascinated.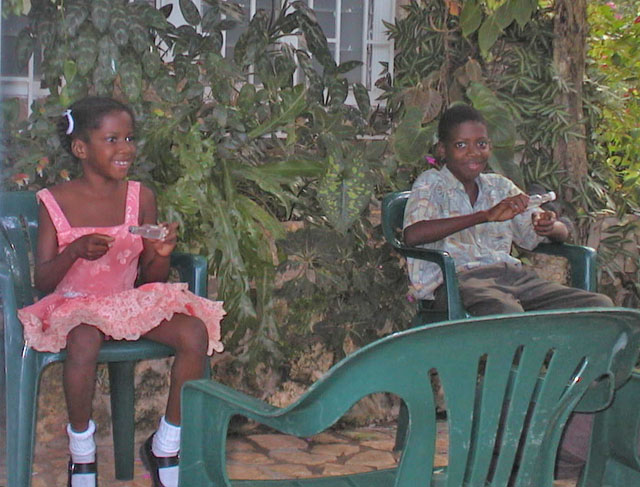 The grateful father provided a sightseeing tour on the way back.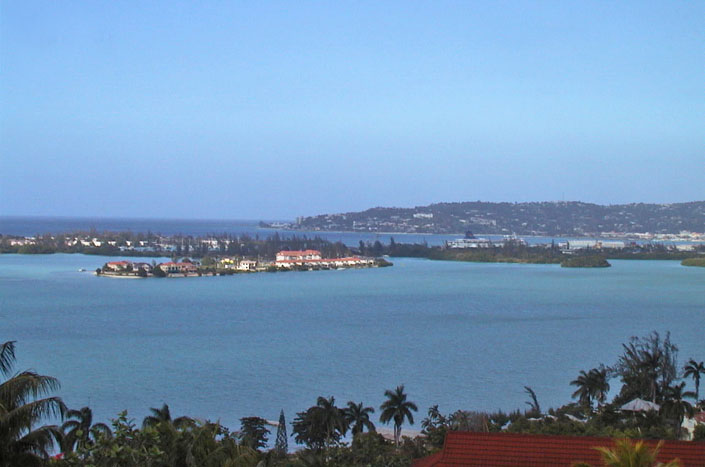 1We have since learned that Mis Lis died later that year, at the age of 96. Fortunately, Rockland's is still being run as a sanctuary by her nephew, and continues to be managed by Fritz.
---
You have noticed that this story is dated February 2000 but the copyright is 2013. The reason is that I only recently recently realized, while browsing through early photos I took after after switching from camcorder to digital camera, that I had overlooked this highlight of our trip to Jamaica.
It's hard to believe that, although that camera, the A-50 – the first in a line of pocketable Canons I've purchased over the years –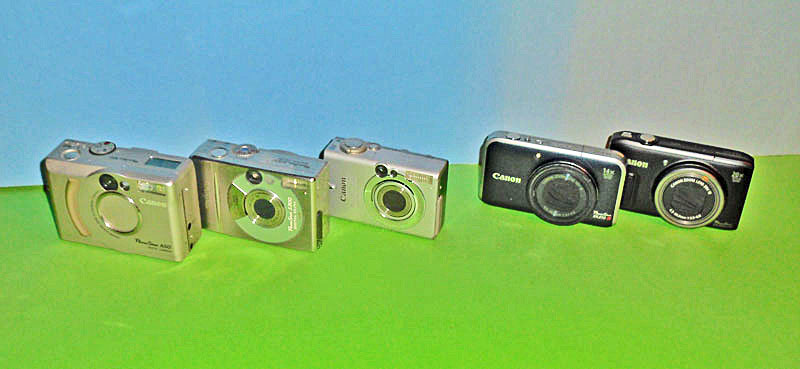 cost over $500, it came with only an 8 MB memory card, enough for 43 pictures at the relatively high resolution I chose. That led to some agonizing choices over which already-captured photograph to delete when a new can't-miss opportunity presented itself. I haven't been able to find out what such a memory card cost in 1999 – I had to continually resist search engines' desire to "correct" my queries to 8 GB!
The gap in the lineup is for the camera for which I purchased an extended warranty. When it failed, that model was obsolete, so Best Buy gave me the next one. You may have inferred that the earlier ones all failed after the original warranty period elapsed. Of course, since then, they have been reliable.
Compared to the original, the most recent one has a 20x optical zoom range – 25 to 500 mm! – and it cost less than half of the first one, including a 16, yes GB, memory card. (In case you wondered how I photographed all of these cameras, it was with a relatively inexpensive one I keep in the car.)