&nbsp &nbsp Home
A Promenade in the Country
August 17, 1997
Today we took a train into the country, to a village called St-Germain-en-Laye. It includes a ch'teau with lovely gardens laid out by Le NŰtre and a renowned Museum of Antiquities. We also had made reservations for lunch at a restaurant outside of town called Cazaudehore La ForestiŤre. It's a member of the exclusive Relais & Chate'ux collection as well as being recommended by Michelin – and for which we had a coupon in our Entertainment Guide. (Perhaps you are beginning to see a pattern to our touring.) We had not brought our detailed highway map, and Michelin had only said that it was 2.5 km out route D284 on the Route des Mares, so we went to the Tourist Bureau to determine how to get there.
We asked the representative if we could walk. She looked dismayed: "Oh no, you canít walk! It would take half an hour ... maybe 20 minutes." "Is it along a narrow road with much traffic?" "No, there is a sidewalk ... and there are trees." In fact, it was a pleasant stroll through the woods. Except for the heat.
We enjoyed a delicious meal in charming surroundings. Although I don't have a photo of my own, this scan of their matchbook cover(!) perfectly captures the view from our table.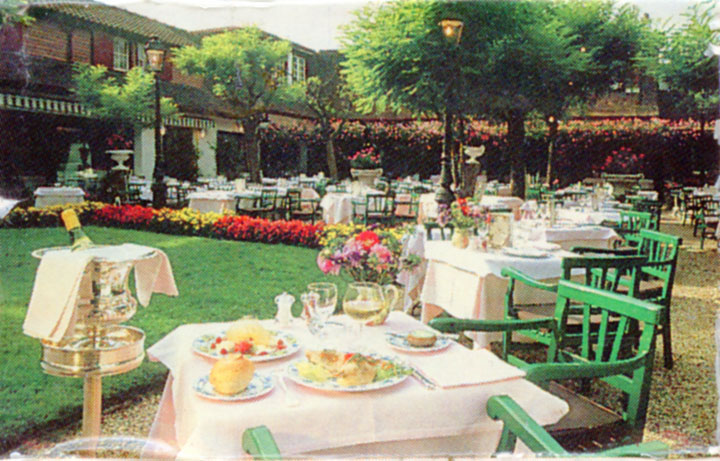 I mentioned the heat – fortunately, we had chosen an air conditioned hotel. And the sunshine is contributing to unprecedented pollution alerts in Paris and other major cities in France this year. Another part of the pollution equation, as reported by a local newspaper, and illustrated by the woman in the tourist office, is a result of the French penchant to "get in their car for any errand, even if it is only two blocks" – so it's not a uniquely American phenomenon after all.

Although normally this is counteracted by the natives deserting Paris for the provinces during August, global competition is said to be causing them to limit their vacation time. And in fact we have found more shops and restaurants open this August than in previous years. However, another contribution that is only getting worse is the increasing number of tourist buses from all over Europe. Every popular tourist area we have been near has been inundated by crowds. Iím glad weíve seen them already—and they hadnít yet discovered the sewers!

© Copyright 2000 Jack Ludwick - All Rights Reserved


&nbsp &nbsp Home