Home


Finger Lakes Wineries
June 2005
We were invited to a luncheon at Syracuse University on Friday, June 3 and realized that this was the perfect opportunity to go up early and spend a few days in the Finger Lakes wine region. With much better roads along the way than when I used to visit my parents in Union Springs on the east side of Cayuga Lake where I grew up (35 miles north of Cornell and five miles north of Wells College, which may be more familiar locales) – almost all are now divided highways – we reached Hammondsport in about six hours. (We did leave at 7 AM to avoid Washington's morning rush hour and arrived in the Harrisburg area after theirs.)
The map shows the wineries that were on our prospective list, although we didn't get to any of those on Cayuga Lake (the easternmost lake, whose name is not shown), and others (details below) were closed when we were there: Tuesday afternoon, Wednesday, and Thursday. Most were very good – we had researched them beforehand – although there were a couple of duds.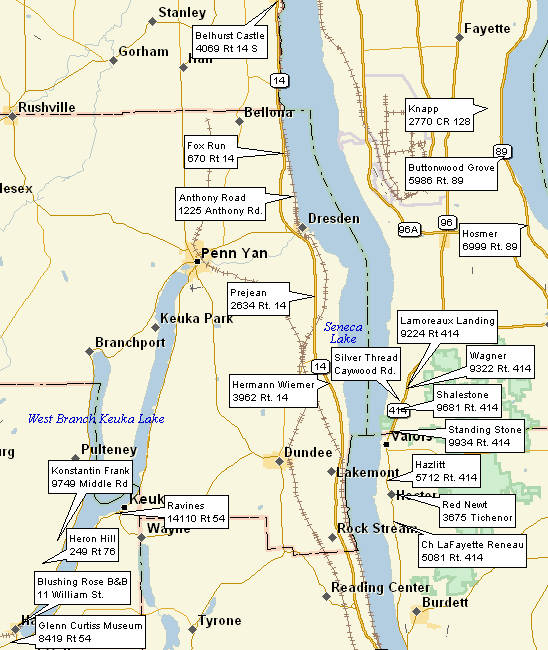 I didn't know until researching another subject that Cayuga Lake has its own AVA – American Viniculture Area – because "the wineries along the lake were able to demonstrate that the depth of the lake and the gradually sloping hillsides created a unique mesoclimate. The lake's mesoclimate keeps temperatures more moderate, giving the area 205 growing days; 15 days more than the rest of the Finger Lakes."
Wine tastings usually ran from 10 to 5, and we visited two western Keuka Lake wineries the first afternoon. If we hadn't gotten so involved at Konstantin Frank's (see later), we probably would have had time to also go to Ravines on the east side, but we figured time was too short. So we stopped at Bully Hill – a big mistake. I don't recall that they had almost all soda pop wines the last time we were there, when Walter S. Taylor was still alive and mobile. The guy now running the tasting room is a comedian who basically does a show – including pushing the glow-in-the-dark panties for sale in the winery store – which unfortunately runs a long time.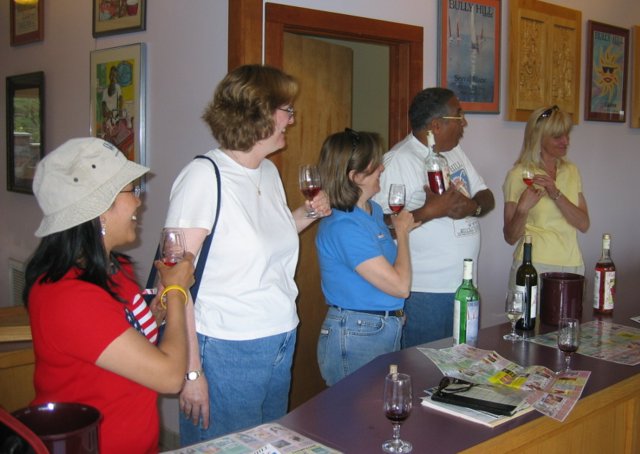 I guess he has his usual audience pegged, both as to the wines available for tasting and his schtick, because the others seemed to eat it up.
The next day, Wednesday, we visited wineries on the east side of Seneca Lake. Thursday we checked out of our B&B and went to Ravines and those on the west side of Seneca Lake on our way to the Belhurst Castle, where we stayed that night. Even the Belhurst Castle now has a winery, and it may become a stellar one, as there is a lot of money behind it.
The best wines we tasted were at Konstantin Frank, Chateau Lafayette Reneau, Hazlitt, Wagner, Lamoreaux Landing, Ravines, Hermann Wiemer, and Fox Run. Next were Red Newt, Standing Stone, and Anthony Road. Last were Heron Hill and Prejean. Many of the wineries, being situated on hillsides overlooking the lake, had sweeping panoramic views. Shalestone is a small winery only open on weekends or by appointment. We had called them before we left and found that when we would be there was their anniversary, which they were celebrating elsewhere. Silver Thread is also small, and was closed when we were there. Glenora was originally on our list, but we removed them when several people said they'd branched out so much (restaurant, hotel, big expansion of sparkling wines) that they'd seemed to have lost their focus. We also visited McGregors, which was a disappointment.
The Wines
Of course Riesling has long been a standby of the Finger Lakes, but we also found very good Chardonnays, Gewurztraminers, and Vignoles (a French hybrid particularly suited for dessert wines because of its susceptibility to botrytis and its high acidity which balances the sweetness). We also tasted a very good Cayuga at Ravines, which is picked before full ripeness, minimizing the "foxiness," and fermented dry. Pinot Gris is widely available and several wineries make Rkatsiteli.
There were surprises in the area of reds – Cabernet Franc has proven to be suitable to the climate and many wineries make it well. It reminded us of some of our Loire favorites. We tasted a couple of very good Cabernets, but they cost $50, and even then are only available at the wineries. As you may imagine, those aren't among the normal tasting choices but were offered after we had conversed for a while with the winemaker. The time we went was perfect for tasting and talking – most wineries were open, but the Memorial Day crowds had left and the summer tourists hadn't yet arrived.
Other Cabs we tried didn't taste very varietal, like many of the Virginia ones we've had. We bought a lovely Meritage from Konstantine Frank, and only later noticed that its appellation was "New York," not "Finger Lakes," which a winemaker later told us meant that at least some of the grapes came from elsewhere in New York, most likely Long Island. He was particularly speaking of Merlot, although the rich Merlot we bought from Lamoreaux Landing had the Finger Lakes appellation. We even bought a Pinot Noir from Wagner.
The Vineyards
Wagner is probably the biggest and it also had some very good wines.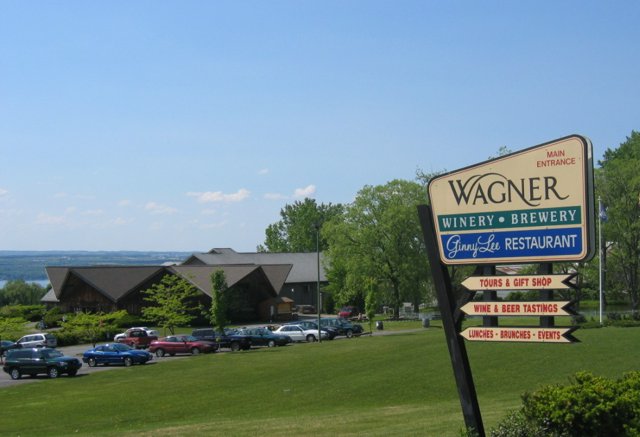 They also have a brewery on site, but we didn't try any of the beers. The pourer was a retired psychiatric social worker, which I commented was probably good training for this job. He agreed. He was only one of several who told us that the fee entitled us to taste a certain number of wines, "although I don't count very well," after we'd had some conversation with them; i.e., after they realized that we weren't "hoppers." This was a term we learned at Herman Wiemer's,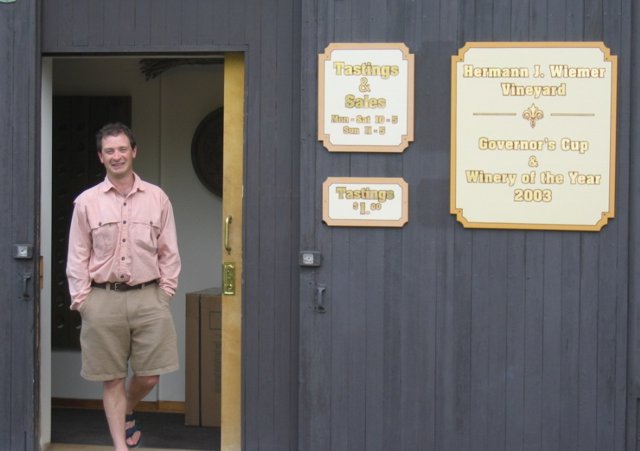 whose entrance had the only sign we saw that warned that buses and vans were only accepted by appointment. The pourer, pictured, said that he'd often get a call from Herman from his house across the driveway to limit the tasting of some who'd just arrived because in his opinion they were just "hopping" from one winery to another to drink.
The first winery we visited, Heron Hill, had the highest tasting fee we encountered: $5 for a choice of 5 wines, among 15, with other, premium, wines being available for an additional $1 each. There, as elsewhere, the pours were usually about an ounce, and we usually had a single round of whites and one of reds, sharing them. Heron Hill's bottle prices were more expensive than we thought were deserved. Also, although they have a grand tasting area on a hill overlooking Keuka Lake,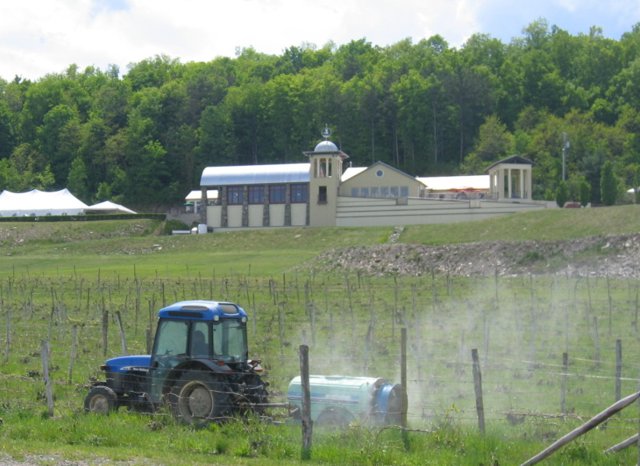 most of their grapes came from Canandaigua Lake, a couple of lakes to the west. Most other wineries charged $1 or $2 for up to 7 wines, exclusive of those who "can't count very well."
We next visited Konstantin Frank's Vinifera Cellars. As we were scoring our first few wines a couple of people noticed the American Wine Society score sheets we were using and struck up a conversation. One was Fred Frank, grandson of the founder and now President, who was showing his newly-hired sales manager around. We had an extensive conversation, during which he asked us if we knew that the AWS was founded on the side porch.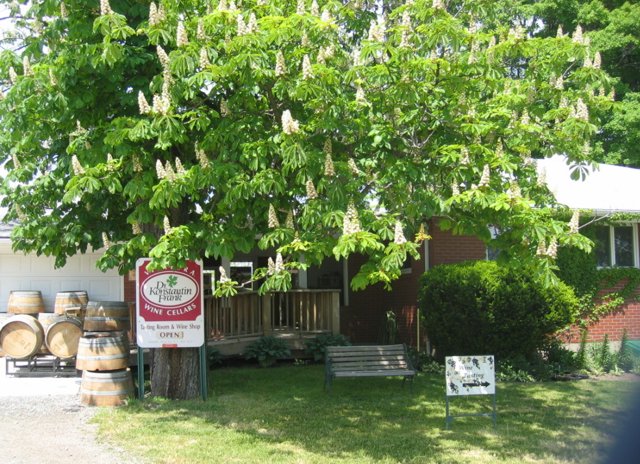 When we admitted that we didn't, he asked us if we knew that wines were 1/3 off for AWS members! That also was a surprise, but although we did buy 4 wines, we weren't quite up to the $50 Cabernet that he brought out for us as well as the sales manager to taste. We found out that they'd taken Willie, his father and still Chairman, out to dinner the night before at the Snug Harbor Restaurant just north of Hammondsport where we had reservations that night. They packed us a press kit and suggested we contact their distributor in Falls Church if we were interested in having a presentation for our chapter.
Other tidbits
• Chateau Lafayette Reneau has the cutest, friendliest winery cat. Jenny had no qualms about hopping on the counter, and sprawling across our tasting notes, the better to receive pets.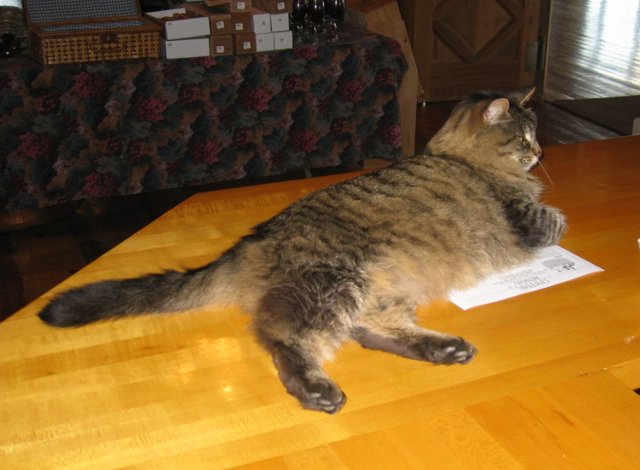 On a much earlier trip to Sonoma, we had made friends with Ernest and Julio at Lambert Bridge, across from Gallo, as you might have guessed, but they had not nearly the charm of Jenny. Reneau is a Francofying of the name of the owner, Dick Reno. By a ghastly coincidence, he had suffered an aneurysm the day before and the only staff on hand were the pourer, who had been there a week, and the accountant, who had been there for a day. When we mentioned this at various other wineries, it was the first they'd heard of it. Area vintners are a close-knit community and everyone was concerned about his condition.
• Ravine's, owned by Morten and Lisa Hallgren, is a boutique vineyard.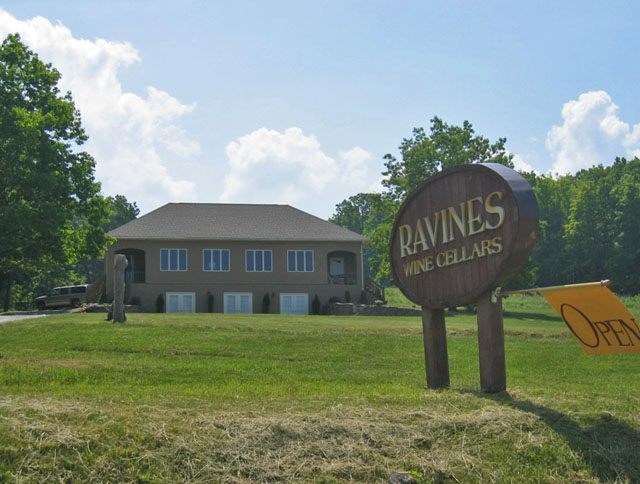 Morten is also a winemaker at Konstantin Frank's, which can be seen across Keuka Lake, three miles as the crow flies. However, since there are no bridges across any of the lakes, if the crow has to drive, it's 15 miles away. Historically there used to be various ferries plying the lakes – in fact a nearby town down the lake from Union Springs is named King Ferry. That was a long time ago – before automobiles made day trips around the lakes feasible.
• Although Silver Thread proved to be closed when we were there, our visit revealed something about the sometimes uneasy relationship between residents and vintners. From Route 494, their sign directed us west towards Seneca Lake down a narrow road, which soon turned to dirt. A road to the right led to several homes, but signs at the corner warned: "No Wine," "No Info," "No Toilets." After a dusty mile we approached another intersection, this time to the left. The winery was ahead, but a sign on that road said that they were currently closed. The other road sported several, professionally made, signs warning that it was a private road and that only residents and their guests could proceed further.
• If you visit the area, be sure to stop in to the fascinating Glenn H. Curtiss Museum in Hammondsport. Glenn Curtiss was an early speed demon, and his high-powered motorcycle engines were a natural for aircraft. The museum has quite an assortment of vintage aircraft, as well as motorcycles and automobiles. In an adjacent area, we watched a workman reconstructing other historic aircraft. In fact, we got called on to help when he needed a spare hand to check some measurements.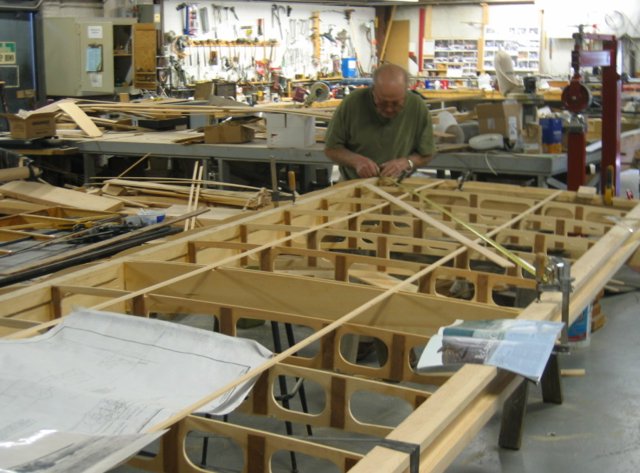 • We stayed at the Blushing Rose B&B in Hammondsport, a block from the south end of Keuka Lake. Rose is a shy maiden whose blush can just be seen under her wide-brimmed hat on the sign in the front yard. This B&B was used by several members of our local chapter who toured various wineries in previous years. Since most of the wineries we visited were around Seneca Lake, it would have been somewhat more convenient to have stayed nearer there, but the extra distance is only 20 miles and Hammondsport is a charming village. The proprietors, Dick and Patty, were perfect for this business: gregarious, hospitable, and full of energy. They researched the business, and locations, by substituting for other B&B owners while they vacationed. And Patty's breakfasts were culinary delights. A surprise did await us in the Starlight Room that we had reserved.
• Several of the wineries have restaurants that we heard were quite good. Red Newt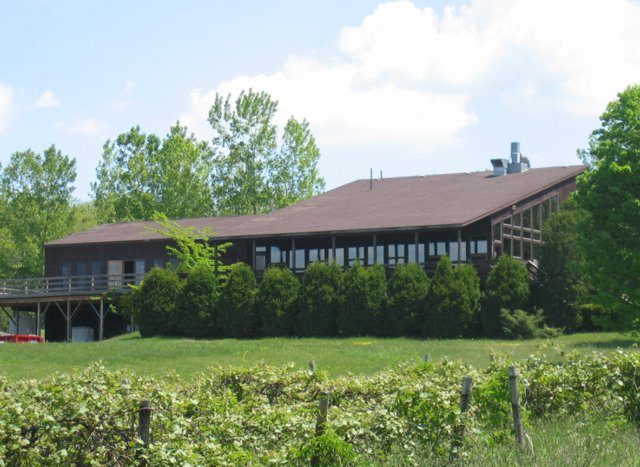 and Wagner were open for lunch when we were there; Bully Hill was only open for dinner this early in the season. One wag told us that the only downside to eating there was that the only wine available was Bully Hill's. In addition to the Snug Harbor we had dinner at the Village Tavern. The Snug Harbor has a picturesque location, with a dining veranda on the lake. The service was superb but the food quality was uneven. Both factors were exactly the opposite at the Village Tavern, a block up the street from our B&B.
• Click on the links for more information about wineries on Keuka Lake, Seneca Lake, Cayuga Lake, as well as ones further afield.
© Copyright 2005 Jack Ludwick - All Rights Reserved
Home