Home


Concorde
(We were informed that it's not the Concorde. In fact, it's also not the QE2.)
June 11, 2003
The experience starts long before you're aboard. Arriving at Heathrow's Terminal 4, we were directed to the Concorde check-in area. (Confusingly enough, this is the first Heathrow underground stop. We later wondered how many other Concorde passengers arrived by tube.) Appropriately, Concorde has its own room away from the commotion of the main terminal. Although there were several passengers already there, representatives came out to greet us, take our luggage, and check us in. They then directed us to the Fast Track security check area and told us how to get to the Concorde Lounge. This time a half dozen people were in front of us, including First Class and even – horrors! – Business Class passengers. (Although we were among those last year when we accepted an upgrade, including Business Class lounge, in return for taking a later flight – by three hours.)
There is nothing to identify the location of the Concorde Lounge. Once through security, it's to the right, past Harrods and The Caviar House, across from Gate 10. At the end of an anonymous corridor, the guardians of the gate confirm its identity. When we entered the lounge, floor-to-ceiling windows revealed Concorde below being refueled and loaded with luggage.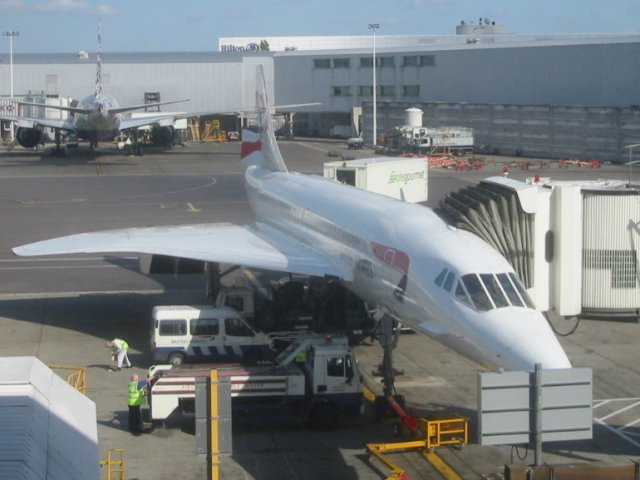 Although we'd arrived two hours early, the lounge was nearly full; perhaps many were first-timers like us, who wanted to experience supersonic flight. I was about to say that they were probably also bargain-hunters like us, but when I just checked the British Air web site, I found they are quoting $6,340 one-way fares.
We located and moved a couple of vacant chairs to better view the activity, and retrieved a nearby unused table on which to place our glasses of 1989 Pommery Louise Champagne. In case one wished something other than vintage Champagne (Betty Lou did request a different one, pronouncing the Pommery to be a little more oxidized than she liked), a fully-equipped bar was available at the other end. We declined the plentiful hors d'oeuvres – it wouldn't be that long before Concorde food would be served on board.
Actually our orientation to Concorde occurred much earlier. The second night on QE2, we were invited to a Captain's Party. Since we were among the first to arrive, we spent quite some time talking to the Captain. (He had a wry sense of humor – during later remarks, he claimed that he had looked up "captain" in a dictionary and found it to be a figurehead, which was likewise defined as a wooden person in the front of a ship.)
We then gravitated to an impressively-kilted Scot who we assumed was also a crewmember. We were slightly wrong; although he later gave two lectures, Ian Smith was former Chief Flight Engineer of Concorde, retired now for seven years. We learned a lot about the history, technology, and, very importantly, politics of the development and operation of Concorde. His later lectures included videotape of some amazing images of Concorde in flight, including one with the British RAF Red Arrows aerobatic team in formation with Concorde flying over QE2, and one with four Concordes flying in diamond formation. Ian said they only did that once because of the huge training expenses.
Entry to Concorde was directly from the lounge. You've probably heard about the tubular aspect of the aircraft – the cabin is 130' long and 8' 8" wide!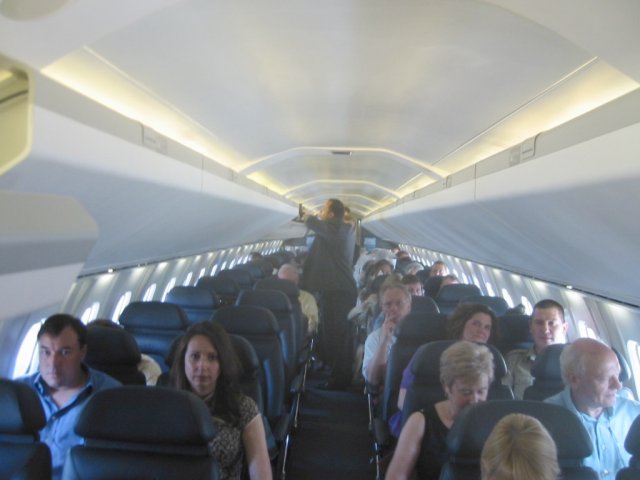 A center bulkhead does help minimize the visual effect. A really tall, or wide, person would probably feel confined. It didn't concern us, possibly because we'd read about it. The seats were comfortable enough, and the legroom was generous. Although it was designed to be able to carry up to 144 in a "high density" configuration, both Air France and British Airways limited seating capacity to 100 passengers. Of course even Business Class in a widebody jet is more spacious. Thanks to the narrowness of the cabin, seating is two by two. You may imagine that the toilets were compact!
We were in the second row from the bulkhead, which gave us an unobstructed view of the Mach and altitude display mounted there. I took many pictures as we approached and passed Mach 1, but it soon became commonplace, so after that I only photographed Mach 2 (about 1,350 mph at cruising altitude).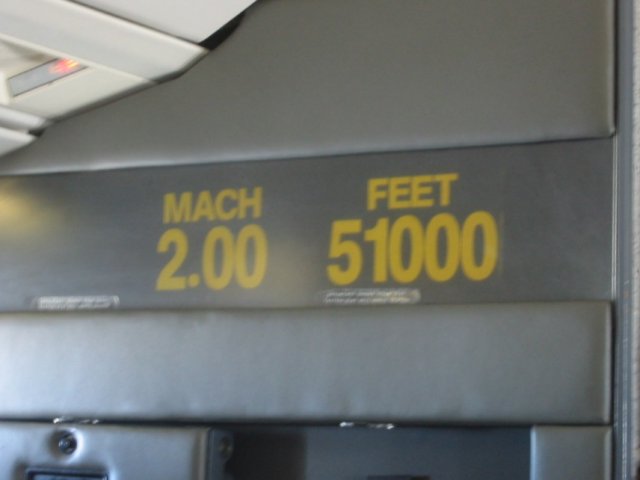 Concorde can cruise at Mach 2.2, limited by heating of the aluminum skin, but I guess that's only used for record attempts. The fastest flight between New York and London took 2 hours 59 minutes. Cruising at over 50,000 feet, Concorde is not influenced by the jet stream and of course there is no turbulence at that altitude.
The takeoff used afterburners (or, as the British call it, reheat) and the climb was quite steep, to quickly gain altitude. The combination of steep takeoff angle and 152,000 pounds of thrust really presses you back in the seat! After 30 seconds, the afterburners are shut off, for noise abatement, until over the ocean. They are then used for about 30 minutes while accelerating from Mach .95 to 1.7 – the transonic phase, when air resistance increases sharply. During the transonic phase the aerodynamic center of the aircraft shifts, which is counteracted by fuel being pumped from tanks in the front to the rear of the aircraft. The reverse process occurs during deceleration. I didn't detect any change of any kind when we passed through "the sound barrier" either way. However, Concorde does seem to be somewhat noisier than subsonic aircraft, probably from the powerful engines, because the noise didn't seem to substantially change with speed. Of course, it is louder when the afterburners are engaged.
Betty Lou, viewing from the window seat, said we seemed to be really racing over the clouds below. Since it was daylight when we left, 6:30 PM, we didn't notice any dramatic effect as we gained on the sun. Unlike a friend, who in a past year left London after dark and eventually saw the sun rise from the west!
Of course, long before reaching cruising altitude, we were enjoying Concorde-class service, beginning with another very nice Champagne – 1986 Pol Roger Winston Churchill. Wine expert Jancis Robinson chooses their "cellar," which on this flight also included a 1997 white Burgundy: Chassagne-Montrachet; a 1994 red Bordeaux: Chateau Pape-Clement; and a 1983 Port: Warre's Colheira. Of course, we tried them all at appropriate times. Lobster salad, new season lamb cutlets, poached wild salmon, crème brulée, and selected cheeses were served on china, although the cutlery was plastic.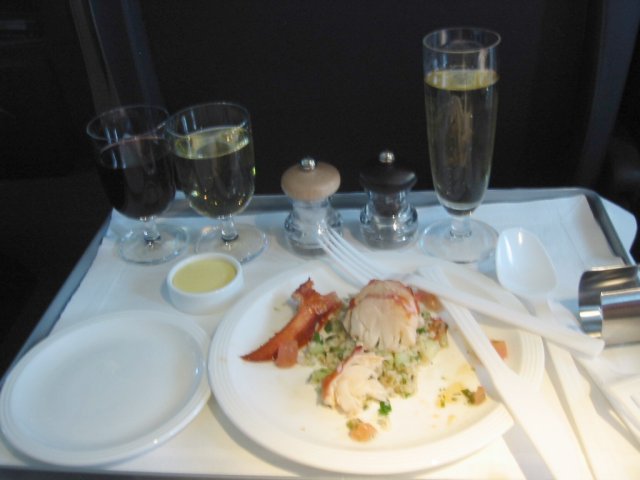 Betty Lou pointed out that I should also note for some of our friends that the finishing touch was miniature boxed chocolates.
I wish we could have viewed the landing from outside, but here's one I found on the Internet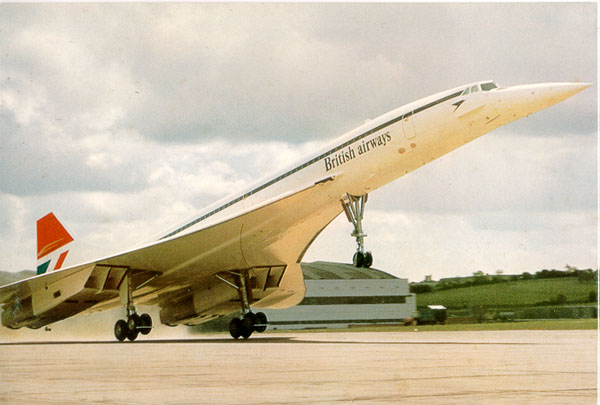 Its nose-up attitude is similar to takeoff – it settles down on the runway, at 170 mph, on a cushion of air formed under the wing surface, similar to some waterfowl. There is an auxiliary landing gear on the rear of the fuselage in case the pilot doesn't ease the nose downward in time, but Ian said it has rarely been called into use.
Concorde-class service continues after departure – luggage is waiting at the baggage claim area when the passengers arrive there. Unfortunately, one then reenters the real world.
© Copyright 2003 Jack Ludwick - All Rights Reserved
Home