Home


Favorite Cars
My first new car was a 1965 Pontiac GTO, with a 360 horsepower 389 cubic inch V8 engine with three 2-barrel carburetors, 4-on-the floor Hurst shifter, dual exhausts, power steering, and power (metallic) brakes. Of course, nobody bought air conditioning for convertibles in those days – and it cost all of $3,600! The shift knob was nothing special, something like a white pool ball with the shift pattern etched in the top.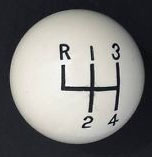 However, one day when we were having lunch in Georgetown, someone stole it! I applied epoxy to its replacement before screwing it in place.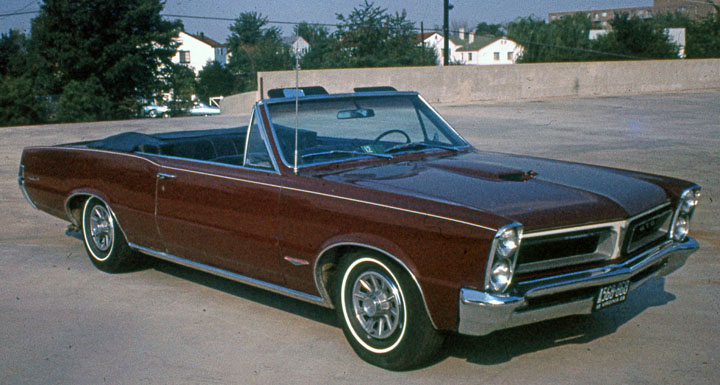 The roar of all that air rushing into six carburetor throats (the three air cleaners were low-restriction foam) when accelerating is unlike anything I've heard before or since. It wasn't really a gas guzzler, because only the center 2-barrel carb operated during normal driving. The white grille surround was unique, and probably a mistake, but I thought it was a nice touch – every other GTO I'd seen since had the same color as the body paint; burgundy, in case the color of the old photo has faded. I really wish I'd kept this one – I sold it six years later after about 90,000 miles.
I then purchased a 1971 Dodge Demon 340 (cubic inch V8), for which I can't find a photo. This one, from the Internet, is nearly identical (I didn't order the optional hood scoops this one has) but it is same striking color, called "Citron Yella."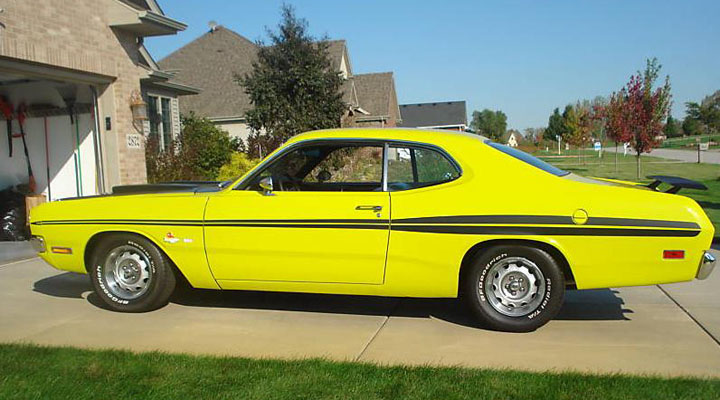 It had a four-barrel carburetor, dual exhausts of course, but an automatic transmission. Although the engine was smaller than the GTO, it had equivalent performance because it was fairly light, and was helped by headers which I had installed. I know I took a few photos of its totaled condition after an inexperienced driver came around a corner in the rain, lost control of his van, bounced across the median and hit us head on. This was in 1976, before air bags, but fortunately after seat belts and shoulder harnesses, which we always wear.
The replacement hot car was a used 1970 Mach 1 Mustang with 351 Cleveland engine with a 4-barrel carburetor and dual exhausts, of course, also with automatic transmission. The ram-air hood scoops were functional. Thanks to increasingly strict emission and gas efficiency standards, that was the last year for high performance cars for a long time.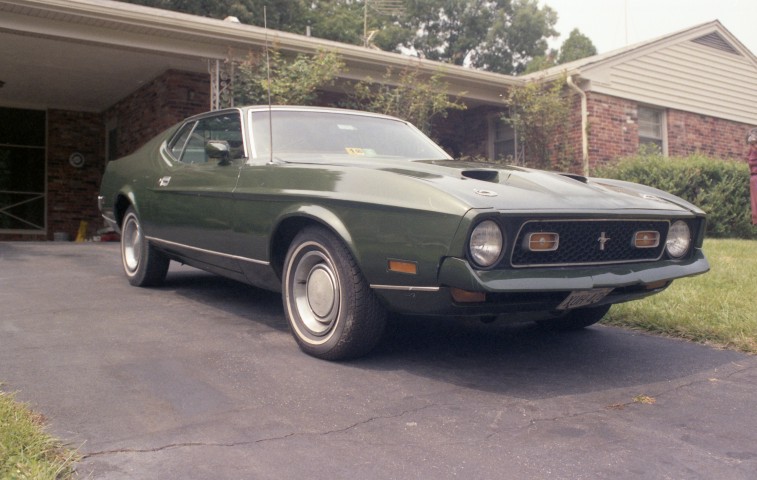 In 1988 I decided to restore it, so I had all the rusted body parts replaced with real sheet metal. I was just considering a $2,000 paint job when a job opportunity with my company (MITRE) came up in Frankfurt Germany After I was accepted, I feared that there was little hope of getting this car through the very strict German inspection so I tried to sell it for only what I'd just spent on the body work, about $3,200.
I had no bites, but fortunately a friend had a parking space in the basement of her condo that she'd rent us, which MITRE paid for in lieu of shipping the car. She had a big Cadillac which she couldn't maneuver around the posts, so she parked it in the above-ground lot, and a MITRE colleague volunteered to drive it occasionally and get it inspected.
The paint job you see is a MAACO $199 Presidential Special. Although the color is the original shade, I didn't also get the Mach 1 decals and stripes from Ford to make it look like new. (We had many problems with the move, but the one pertinent to this story is that I had the car parked in front of the house and the moving van backed into it – actually somewhat over the sloping hood, pressing it down and scraping up the new paint! The various insurance problems weren't resolved until nearly two years later when we returned.)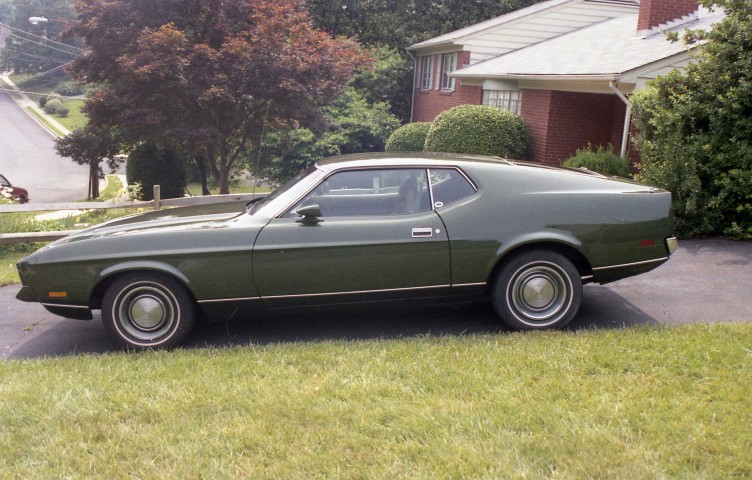 The paint job actually lasted pretty well – after our return I drove it until 1998, when I realized that the rusted front cross member wouldn't pass Virginia inspection, so I sold it to a guy who restored Mustangs – he already had five but this was his first Mach 1! Some day I'll have to track him down and see what it looks like now, if he still has it.
By the way, the Mustang in the famous car chase scene in James Bond's "Diamonds are Forever" was a '71.
The decision not to bring the Mustang was borne out by the travails of a colleague who, at his wife's insistence, brought over her much newer sporty car, a Toyota Celica. He was a real car fan and I'm sure he would much rather have waited until arriving in Germany to purchase an even sportier BMW – in fact, like ours (but see below).
It took months for the Celica to be modified to meet Germany's strict standards. In the meantime, the rental car expenses mounted, which put him on the wrong side of the site leader, and affected the rest of his three years there. This was particularly unjust, since the site leader was born in Austria but wouldn't lift a finger to intervene with the solely-German-speaking mechanics.
Arriving carless, I purchased a 1983 BMW that belonged to a returning MITRE colleague and enjoyed many high-speed Autobahn miles. Unfortunately, I was using a camcorder in those days so I don't have a photo, but I did find one on the Internet, and here is some information about ours, which was the first of a succession of red sporty cars.
Actually, I later learned of some intrigue involving the car. My only concern with the purchase was its 135K mileage, which wouldn't have bothered me on the typical American high-torque, low-rpm V8 with which I was familiar. However, I wasn't sure how much different it might be on a relatively smaller, higher-revving engine, so I asked my friend's opinion. As I mentioned, he was very knowledgeable about cars – he had rebuilt engines in his youth and had owned several foreign cars with similar engines. He was uncharacteristically noncommittal, so I had her get a compression test, which looked OK, and I bought it.
I later found out that before my arrival my friend had been interested in buying it himself. However, when the attractive owner brought it around to his house, his wife found enough objections to reject it. Of course, my suspicions regarding both his wife's and his motivations are only circumstantial, but it's possible he hoped I'd decide not to buy it and he'd have a second chance.
He eventually purchased a used Volvo, and neither attended her going-away party.
In any case, by circumstance my purchase turned out to be a very profitable decision. Except for an early battery problem, it was trouble-free and I basically only changed the oil.
I paid $5,000 for it and when I needed to sell two years later (July '91) a lot of things had happened in the meantime. After The Wall came down, only four months after we arrived – November 9, 1989 – there was a pent-up demand for used cars and the "Blue Book" values went way up. However, about the time we were returning, the American military also was leaving and suddenly there was a glut of cars on the market.
I tried to sell it: in the newspapers, on bulletin boards, with a sign when it was parked. The only guy who came to look at it disconnected a vacuum hose then tried to convince me the suddenly rough running was a defect! He didn't claim to speak any English but, although my automotive German wasn't good enough to properly rebut him, he knew that I knew better, and he was only looking for a really good deal.
I finally had to deal with a sleazy car dealer and got about $4,500 for it. The sleaze emerged when he wouldn't complete the deal until the Friday before the weekend we were leaving – he needed to completely inspect it first, he said. That was the day of the going-away luncheon for us and – by coincidence – the friend with the ill-fated Celica, and I ended up being late to it.
They did have the good fortune of being able to take "home leave," three weeks of extra vacation time and round-trip economy fare home. This was available every two years, as long as you agreed to stay on when you came back. Unfortunately, we weren't able to take advantage of it because Arlington County would only extend Betty Lou a leave of absence for two years. They did helpfully suggest that she could quit if she wished to stay. Most timed it so they'd stay for six months or so after the last home leave. Some were there long enough to have taken it a half-dozen times or more.
Fortunately, the Blue Book value hadn't yet reflected the drop, and MITRE paid me the difference between what I got and the retail value of $6,000! Not bad to get paid $1,000 for driving a car for two years!
The next sporty car was a 1990 Mazda Miata with five-speed manual shift, which I bought used in 1992 after our return (this had a "For Sale" sign in case someone driving by might be interested). The custom wheels were installed by the previous owner. We enjoyed it for a long time, and I was considering installing a supercharger when some hard-to-diagnose problems occurred. I considered this to be an omen and decided it was time to start anew.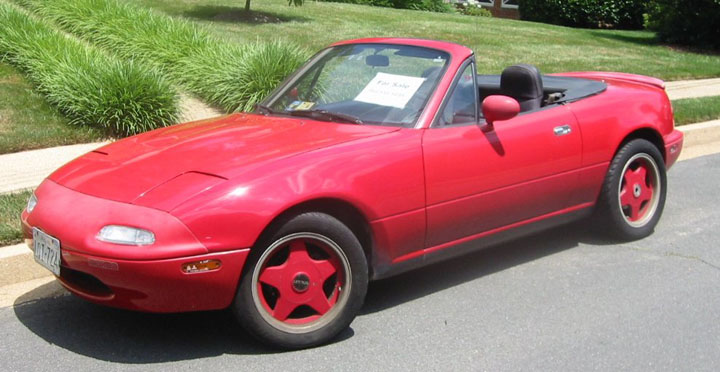 When we were looking to buy a Miata in 2003 I found a very good deal on a low-mileage previous-year model from a private owner in Woodbridge. It was substantially less expensive than a new one, and had everything I wanted, including being red – except anti-lock brakes. They were not yet standard equipment and few were ordered with that option. I thought about it for quite a while before deciding that I absolutely wanted them, so I bought a new 2003 Mazda Miata with ABS, and even then the dealer had to find one in Maryland.
You may notice that even fourteen years later there isn't that much difference in appearance, one exception being the headlights – Betty Lou preferred the earlier pop-up ones, while I more appreciated the streamlined in-body look.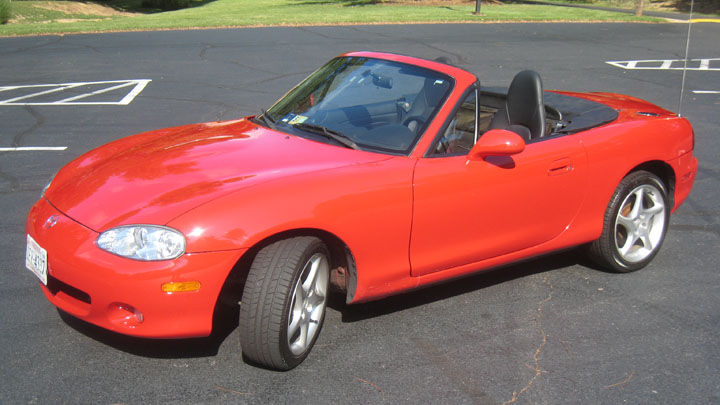 Several weeks after its purchase, we were returning on the Dulles toll road from a late lunch in the country. Congestion builds up in the right lanes near the Beltway as rush hour approaches, much of it from people who have just entered from the Tyson's Corner area. I was in the left lane just passing through, heading for the 123 McLean exit, when an impatient driver suddenly pulled out out of line directly in front of me.
I slammed on the brakes and waited for the screech, slide, and crunch – in that instant I had forgotten about the ABS. What actually happened was rapid deceleration and a little chirp as one wheel briefly lost traction; no tire flat spots or front end damage. I had meant to test it some day – but after I'd put more than 800 miles on the car! It's rare that the correctness of a decision is so quickly demonstrated.
This Miata came with a six-speed manual shifter, which unfortunately was not as smooth as the previous five-speed, so I began looking for a replacement after "only" six years. A test drive revealed that the 2009 Miata was indeed very nice, and it could even be ordered with a hard convertible top that didn't take up any more room in the trunk than the soft top. However, after we test drove a Corvette, there was no comparison. This was a car that one could take on a trip.
As this was near the end of the model year I realized that if I chose one in stock it would soon be last year's model. Also, those available had several expensive extras that weren't of interest to me, some of which could even result in future maintenance issues. When they wrote up the order, most prices were listed as W/A: "Will Advise." Fortunately, when my car arrived, the prices were about the same as the previous year's.
Unfortunately it didn't arrive in time to drive to my 50th high school reunion.
© Copyright 2010 Jack Ludwick - All Rights Reserved
Home