Home
A Mystery Shopper Cruise
April 2006
We had just returned from an 11-day cruise to the Caribbean on the same ship, the Maasdam, as the previous year although to different islands, when we received a call from a friend asking if we'd like to take a Caribbean cruise! She'd been contacted by a friend who has an international market research firm, who wanted her to take an all-expense-paid cruise as a "Mystery Shopper." She couldn't make it so she recommended us.
However, this wasn't to be a relaxing jaunt, like the previous one – we had to investigate every aspect of the operation and fill out a 19-page questionnaire. Admittedly, it wasn't all drudgery – we had to sample all the 10 dining venues, including the extra-cost specialty restaurants, imbibe at all the 13 bars and lounges, and chat up other guests to find out their expectations and experiences.
We lucked out when we discovered that the first extra-cost restaurant we tried also provided breakfast and lunch exclusively to VIP cruisers. Since the staff recognized us, they didn't question our appearance during later visits. However, we did make enough appearances at other facilities to fulfill our obligation to review them. And in fact, the main dining room provided one of the more memorable dinners.
We particularly noted that the fare at some specialty restaurants lacked spices typical of the cuisine, or at least at the expected levels. We learned the reason after talking to the executive chef – recipes are corporate decisions, evidently deemed suitable to their demographic, and they may not deviate from them. He agreed with our assessments of the authenticity and quality of the food, but his hands were tied. However, there sometimes were some tasty choices among the available menu items.
We also had to attend all the shows and visit all the venues where piano, guitar, and combos played at different times – for which we normally would have been selective – investigate the children's program, check out the video arcade, and determine many passenger demographics.
Although the shows included the usual comedians and a magician, a notable addition was a Second City troupe, with several hilarious sketches and two improvised routines based on themes from the audience. It reminded us of the old Saturday Night Live – of course this group doesn't have to come up with new material every week.
A large ship with this many passengers is able to provide Las Vegas-style shows. There were two major musical productions with first-rate singers and dancers, but the standouts were an outstanding couple that performed amazing aerial acrobatic routines combining flexibility, strength, and balance that could have been straight from Cirque du Soleil.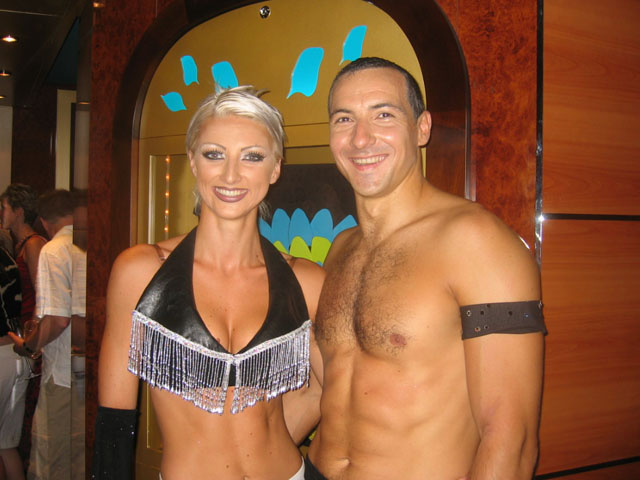 She's Russian, he's Italian.
Other facilities and activities we had to explore included the spa and fitness center. Betty Lou relaxed with a facial and reflexology, while I exerted with a three-session Yoga class – the only non-adept, as well as the only non-babe.
It may not surprise you that certain poses on a moving ship at sea may pose more difficulty than others.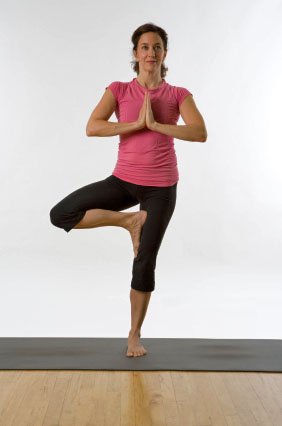 This isn't one of our members – you'll have to take my word that they were more babelicious.
Actually, we had to investigate all aspects of the trip, from arrival to departure, including the cabin, shops, room service, and laundry. One suggestion was to "accidentally" leave some cash in a pants pocket – they passed that test, and since the five-dollar bill showed no signs of being laundered, but the pants did, it must have been carefully removed and replaced.
One area where we spent little time was the Casino. A major moneymaker, it's also a locale that allows smoking, so in addition to gamblers it attracts non-gambling smokers. We did tally the complement of tables and slots one day in port when it was closed but didn't return to determine the demeanor of the dealers and croupiers.
Demographics
What would have been the easiest on a previous cruise was the percentages of passengers from various countries. Unfortunately, unlike on that cruise, here they never published the results in the daily newsletter, not even after a suggestion to the Cruise Director. He said some do that, but he didn't think he would. Fortunately, Betty Lou was adept at schmoozing the Front Desk and was eventually able to obtain that breakdown.
A more difficult demographic to obtain was age categories. Here I relied on my statistical experience, but first some background.
As I've previously noted, the inexpensive cruise line deals are subsidized by many on-board charges: for casinos, spas, art auctions, and shore excursions – more about those later – the $12 to $15 per person per day gratuities, and as one wag put it, "big city drink prices for free-port booze." (The latter two expenses are included in the fares of the high-end lines, e.g., Silversea and Seabourn, which also offer, for those who like it, real Champagne and caviar when you wish at no extra charge.)


However, another big profit center is photographs. Photographers roam the dining rooms and lounges coaxing cruisers to strike a pose during "formal"– or in today's world, "dress-up" – nights. Before dinner, they are stationed in various lobbies with glamorous backdrops and studio lighting. Since the photographers are professionals, this can be a good opportunity to have one's portrait taken.





Photographers are also often stationed at the bottom of the gangway at port stops with a theme character; for example, a pirate or a dolphin. 8x10 photos are displayed for several days afterwards in the "Photo Gallery" located along a main corridor which passengers pass several times daily to entice purchases. Of course, packages including a number of photos in a variety of smaller sizes to send to friends and relatives are also heavily promoted.


However, the one place where everyone is photographed is during initial embarkation, next to some cruise-related symbol, for example a buoy, which includes the name of the ship and the cruise.
This suggested the possibility of our viewing a sample of photos to estimate the passengers' ages. Betty Lou had also learned that there were many more children aboard this cruise than usual, since it was Spring Break time in both the US and the UK. With the average number of people in each photo substantially greater than for more geezer-oriented cruises, I estimated that a 20% sample might require examining 150 or so photos, not an unreasonable number.
We did attract some quizzical looks as we seemed to be intently interested in many families' photographs, every fifth one in fact, for each member of which we were assessing the age range – Betty Lou's experience as a high school teacher was invaluable for the younger members – and marking another stroke on the list for each in the appropriate age group.
However, one requested demographic was impossible to determine, possibly even for the cruise line – income categories, although we were able to get a pretty good idea about those we talked to. Interestingly, when we received a copy of a completed report from Mystery Shoppers on an earlier cruise in a different region, we found percentages neatly included for each. It made me wonder how much of their other data could be relied upon, and it reminds me of an earlier experience.
In 1971 Betty Lou was awarded a sabbatical to earn a Master's degree at Syracuse University and I took a leave of absence to tag along. This was during an economic downturn and, as the responses to 50 application letters showed, people with my qualifications were being let go, not hired. Fortunately, the wife of a fraternity brother (I had earlier received an SU Bachelor's degree in Electrical Engineering) had previously worked for the Census Bureau as an "enumerator" in the past and told me of a current project they had for the Labor Department. I told them they didn't need a survey for that, I could tell them first-hand the state of the labor situation!


After a week's training (from a REALLY LARGE manual) we were sent to randomly-chosen addresses across the city to identify who lived there and ask questions about their job situation, their backgrounds, and many other items. (As one of the few men, and only non-geezer, I was assigned the dicier areas, the possible subject of another story, as was my later job with the Onondaga County Sheriff's Department.)


In any case, one day when I was turning in my forms a reviewer noticed that another enumerator had interviewed someone that worked at the same company as another reviewer's husband. When she mentioned it to her husband, he said that no such person worked there! Evidently that enumerator had been making up all his data, selecting names of people and employers at random from the phone book! He was one of the geezers I alluded to; perhaps he didn't want to be bothered with the physical activity required.


It's hard to know how much his bogus data could have skewed the results of the carefully chosen statistical sample. Or, for that matter, how often that has occurred, undetected. However, I later learned from a Census Bureau statistician that such practices aren't unknown; in fact they have a term for such a person – "curbstoner," vizualizing someone sitting on a curb while filling out the forms himself.
Art Auction
They're another big moneymaker for the cruise lines, but we hadn't previously attended any. One reason is that we long ago filled our walls with artworks – often floor to ceiling – and we're not in the market for a larger house. There were two auctions on this seven-day cruise, although we missed the first one because it was advertised as a preview. However, when we later walked by the Fyzz Lounge, we saw it was packed with bidders.
The buildup to each auction began the day before with art works being displayed along the corridors and around the lounge where the auction would be held. The event began promisingly with sparkling wine being generously poured while prospective bidders registered and were given numbered paddles.
Things quickly went downhill, when the auctioneer, a Brit, became upset that people weren't even offering an opening bid on $6,000 to $15,000 items. Most of the affordable items were by "famous" artists that we, at least, had never heard of, copies (serigraphs), and lithographs – some "hand embellished." Some of the more expensive ones were by artists known to be heavily counterfeited, for example, Dali. The auctioneer's spiel was interspersed with insulting comments about people having no taste or being asleep. He had previously announced this was his last cruise, so maybe he was burning his bridges.
We did see an interesting female face in profile offered for $50 and were the only bidders. The auctioneer even asked if we wanted to buy another. This seemed to be fairly common – sometimes his assistants would hold up three next to each other! It's not clear why anyone would want more than one – these weren't Warhols!
At the end, when I came to the front desk to provide shipping information (another $40 to $60), I saw that the item listed was a small, undistinguished Norman Rockwell copy. I pointed to the nearby one we had actually bid on and they said that one wouldn't sell for less than $175! Fortunately, we noticed this in time to invalidate the sale, but I wonder how many others have not discovered such "mistakes" until they received the work 6 to 8 weeks later.
However, my presence at the front was rewarded when two works of art were awarded to lucky ticket-holders – the numbers being the same as on the auction paddles – and one was ours! As an admirer of Chagall's work, I immediately chose the numbered lithograph before the other winner could arrive. Although shipping was not included1, it was double-matted and handsomely framed, a very good deal indeed, although at 32" by 40" it would necessitate some serious rearranging of our existing hangings.
Shore Excursions
We were also told to sign up for shore excursions where we could mingle with other passengers and find out what they thought of the line and the voyage – "but not the helicopter tour!" Based on recommendations in Frommer's "Ports of Call" we chose the "Sting Ray City Observatory and Island Tour" in Grand Cayman and the "River Tubing Safari" in Ocho Rios. Initially I planned to include those stories here, but they are sufficiently extensive that they appear in a separate note.
On our return, most of the next three days were spent filling out the questionnaire from our notes, increasing the original 19 pages to 42. After our report had been received and reviewed, we were told that it was being sent to others as a model. We never did learn who was paying for the investigation; whether a competitor or the line itself to find out how their passengers perceived them.
You may have inferred that it must have been a competitor, since the cruise line would have known demographic information. However, the questionnaire was developed by the project manager, who also didn't know the identity of the customer.
And of course, I can't reveal the ship or the cruise line, or I'd have to kill you!
---
1 A month later, fortunately, after we had returned from a trip to view the tulips in Holland, we heard a thump on our front porch and the sound of a departing truck. The large package included multiple layers protecting our Chagall, and for whose packaging and shipping we hadn't been charged.
It's simply called "Bella" – Marc Chagall's wife, in her wedding gown. It contains many of his motifs: a village seen from above, a bird, a moon, angels, a candelabra, even a red horse, but research hasn't revealed any overall meaning, if there even was a conscious one. In any case, it's a favorite of ours – but, as the bloggers say, 'Your Mileage May Vary."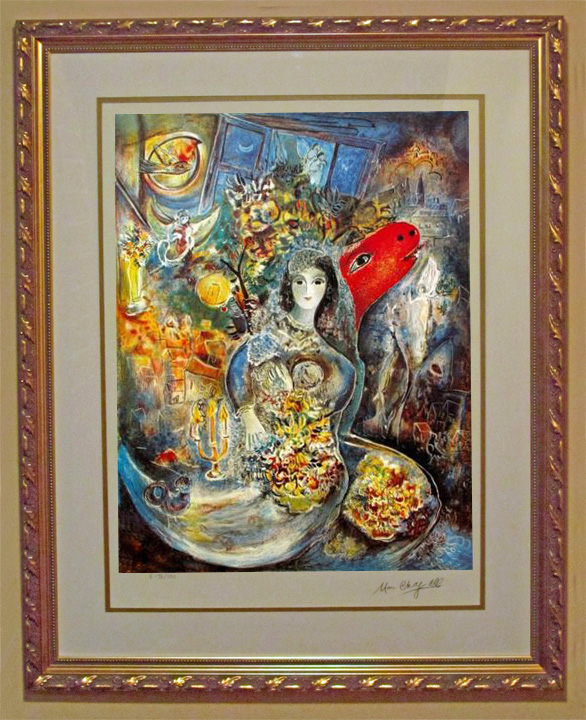 I just realized that although I had described many of our data-gathering activities, I hadn't mentioned our conclusions. We were impressed enough that we sailed the same ship the next year, with a different itinerary. However, we found the service to not be up to previous standards and we recognized few staff. Then we realized why – our Mystery Shopper ship was the newest one at the time, and the most experienced staff get first choice of assignments. The next year another one had been launched and most had moved on!
© Copyright 2015 Jack Ludwick - All Rights Reserved
Home