Home


Moving Up!
February 2006
As soon as we arrived in our cabin, Betty Lou, as a lark (she just told me) suggested we tell the Front Desk that if a suite became available, we'd be interested. I thought it unlikely, since, unlike last year, there was no nasty weather anywhere in the U.S.–or Canada, since Canadians have even more reason to escape the winter than we do.
Just in case, we didn't start to unpack before departure. Soon after, a form letter under the door notified us that, although pleasing their guests is their first priority, they regretted that no staterooms were available to meet our request–they would, however, maintain our inquiry as active. Oh well, it was worth a try.
Four days later, at our first stop, we came aboard from St. Thomas to a ringing phone. Oh, oh–we had given the shipboard satellite phone number to relatives, but at $16 a minute, this could be serious. However, it was the Front Desk. Someone in a Deluxe Verandah Suite had to leave at St. Thomas–were we still interested?
We ascended from deck 5 to deck 10, and into a new world. It was everything we expected–and more. Holland America Lines' standard cabins are known for being among the largest of the cruise lines, the outside ones being nearly 200 square feet. However, at three times the size of our previous cabin, this one could really be called a stateroom, although this picture can't also show the bar with refrigerator, expansive closets, dressing room, whirlpool bath and shower, and original art on the wall.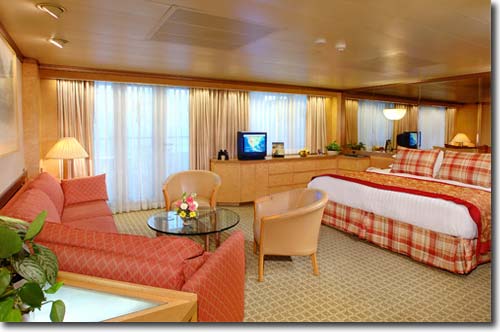 In fact, the adjacent "verandah" alone, at 10'x21', only glimpsed outside the floor-to-ceiling windows, was larger than our entire previous room. The captain lives in a similar suite, although in another part of the ship. Of course, the people who had to leave the suite did not receive a refund, but Holland America was not going to give it away for free. However, it was the next best thing; instead of three times the price for the remaining seven days, it was one-third.
Down the hall was the Trident Lounge, with a Concierge catering to our every need, for example, arranging shore excursions without our having to wait in line, or taking care of the inevitable errors in the end-of-cruise shipboard charge statements. Several times a day a variety of hors d'oeuvres was available–some people didn't even bother going to breakfast and lunch. In case you did, another perk was that you could partake of it in the elegant Pinnacle Grille.
A coffee machine ground beans and brewed single cups of your choice, including espresso and cappuccino. Occasionally, it would beep to warn you that it was about to run a cleansing stream of steam through the mechanism. An assortment of magazines rivaled that of the library, and there was a huge plasma-screen TV in case you really wished to spend your shipboard time that way.
One day, I happened to notice that the Brie that was available during breakfast hours was not there later in the day. Beth, the Concierge, took note, and from then on, an hors d'oeuvres plate that included Brie was waiting in our stateroom in the afternoon. A hallmark of HAL ships is formal afternoon tea; we found we could have it served in the suite if we wished. And the desk portfolio included personalized stationery, with our suite number. Too bad the cruise wasn't longer.
When we first started traveling, in the late 60's, a travel guide had a valuable suggestion: make two piles on your bed, the first of your clothes, the second of your money. Then cut the first pile in half and double the second one. Although our style is such that we haven't had to do the latter, the former was great advice. We travel with one carry-on-size, wheeled, suitcase each; even when it includes formal wear for cruises or the QE2. After all, as Betty Lou notes, if the Queen invites us for dinner, we can always buy something suitable. And laundromats are available everywhere, including on the Maasdam. After four days, we were about to avail ourselves of their services when we were upgraded.
Friends who frequently cruise on the high-end Silversea line had told us that one of the perks that relative newcomers envy of them is that after cruising 100 days they received free laundry service. We noted that free laundry service, as well as dry-cleaning and pressing, was included for our suite. We immediately took advantage of the laundry service, and the next day had my two jackets dry-cleaned. We should have brought more clothes! Of course, if one doesn't have a Deluxe Verandah Suite, there might not be enough closet space to put the extra clothes, or room to store the extra suitcases.
All passengers are invited to a Captain's reception the first formal night, which is held in the theater, with passengers seated. Repeat travelers are invited to a later reception, also in the theater, when various levels of cruising are recognized, for example, up to 600 days on this cruise. However, suite passengers get invited to other, more intimate, receptions where one can mingle with the Captain, the Hotel Manager, and other high-level officers. One of these is where we met our Frankfurt neighbors. Another featured a caviar station, as well as filet mignon passed by white-gloved waiters, who also took orders for drinks or champagne.
Unfortunately, we did miss out on the corsage and boutonniere that were available the first formal night, since that had already passed. However, a bouquet of fresh flowers and a bottle of champagne did await us. And if this trip had included any island that required tendering, we would have received "priority access," although I think I'd have been discreet about requesting that.
For the rest of the cruise we took advantage of the verandah, particularly the days at sea. Even the day before our arrival in Norfolk, the weather was warm enough for us to sun and read on our private deck space. Betty Lou said that she felt that she had attained Princesshood!
© Copyright 2006 Jack Ludwick - All Rights Reserved
Home