Home


More Weighty Matters
January 2005
As before, we spotted plenty of on-board "whales" on this cruise. However, one dining at the next table in the Rotterdam Dining Room set a new sighting record for us—he might have weighed over 500 pounds! When he walked, which was a study in slow motion, he had to pause frequently to regain his breath. Since we were seated on the lower level of the dining room, I wondered how he would make it up the stairway. It turned out that, although it was not normally used by passengers, there also was an entrance on the lower level.
We later commented about him to the Maitre d' and learned that they had special chairs constructed just for such people. In addition to being stronger, they had no arms, allowing him to hang over each side.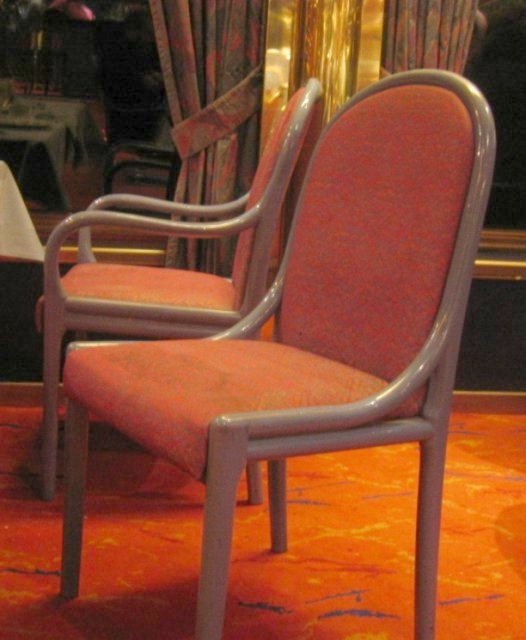 He didn't seem to eat that much during dinner, although one night he did devour five rolls. It is possible that he had taken the edge off his appetite with an earlier meal in the cafeteria-style Lido Restaurant. Having reserved only two weeks before sailing, we were relegated to the 8:30 seating1, while the Lido opened at 6:30. We never saw him in the dining room during breakfast or lunch, when it had open seating.
We might have discovered the answer one day when we passed through the Lido at lunchtime, where a waiter was carrying his tray out to the pool area. When we came by later we saw why—he was seated at a banquette, of which there were none available inside. Not only didn't he have to worry about "hangovers," he also had plenty of space for the three trays now before him!
---
1 8:30 was a little late for dinner for us. On our previous cruises, seatings were at 6 and 8. This year the early and late seatings were split, to 5:45 and 6:15, and 8 and 8:30, with doors being closed fifteen minutes later. They claimed it was because passengers wanted more flexibility, but it's more likely that they could reduce kitchen staff by spreading out the demand
When we commented to someone how late the last seating was, they informed us that in Spain it's common to eat late. Having been there, I pointed out that we also might have begun lunch at 3, whereas the dining room closed at 1.
After the Maitre d' told us that there are always people who don't show up for dinner, we sometimes would arrive at 6:25 and he always found a table for us. However, another method we found very convenient was to order room service—there was no charge and we could order anything on the dinner menu during serving hours.
© Copyright 2005 Jack Ludwick - All Rights Reserved
Home