Home


Unexpected Consequences
November 2003
We recently spent a week in Cancun, thanks to the generosity of Betty Lou's sister and brother-in-law, who had a spare bedroom in their time-share villa. Initial omens forecast a pleasant visit.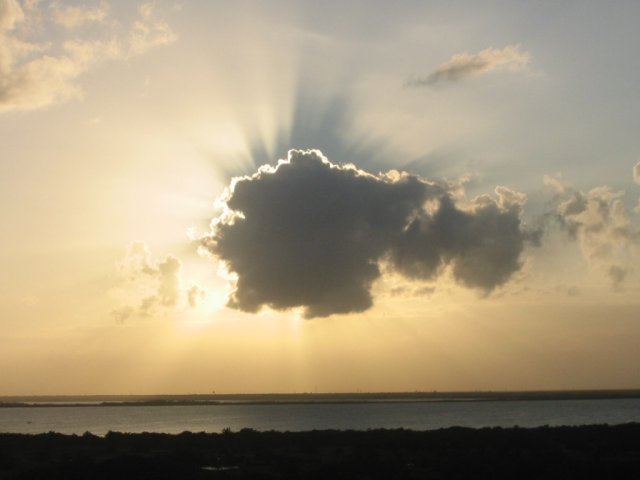 The fourteen-mile-long sliver of a barrier island, chosen as the site for a planned resort area more than thirty years ago by the Mexican government, is now populated by more than 100 resort hotels.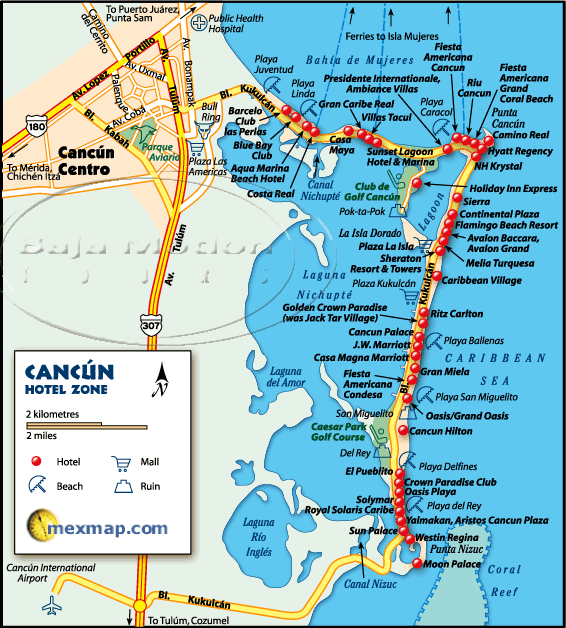 This was our first trip there and the pristine beaches along the hotel zone are as beautiful as we'd read about, although we also spent time relaxing around the Royal Islander's many pools.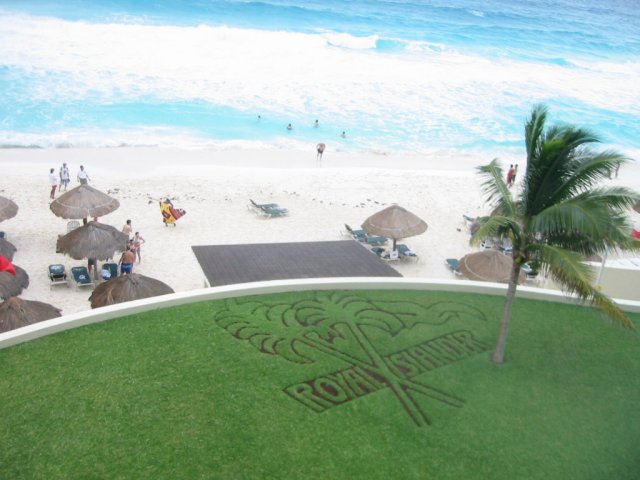 The island includes all the attractions, golf courses, shopping malls, and restaurants that anyone could wish. One night we had a delicious dinner at Ruth's Chris Steak House, part of the large Kukulcán Plaza shopping mall. Another night, at Captain's Cove restaurant on the lagoon side several alligators swam up for handouts. Although the deck was elevated above the water, the low railing between the two categories of diners would not be adequate in the U.S. I later realized that we had seen para-sailers over the lagoon!
The city of Cancun, across the lagoon on the mainland, has a variety of markets, of the type where you're expected to haggle; fine restaurants; a bullring – and a Wal-Mart and a Costco. One day we went into town by bus, which soon ground to a halt because of a broken throttle linkage. After a short wait beside the road, a transit police car pulled up and an officer came aboard to manually control the throttle. The bus driver directed him when to accelerate and when to back off when he was about to shift.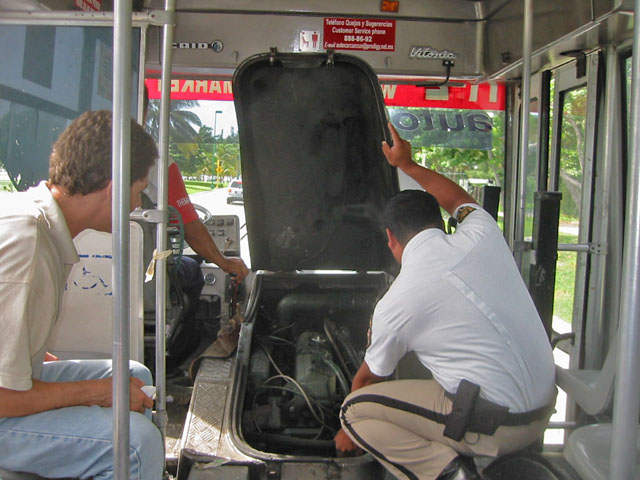 We only traveled a few miles that way, to get to a safe place to pull in, where they flagged down another bus for us – fortunately service is frequent. We had no problem on the return, since that bus was much more modern. Along the way several tourists got on and rode for quite a distance before they realized they were going in the wrong direction.
Another day we took an early trip to the impressive Mayan ruins at Chichen Itza. Leaving at 6:15 AM, we arrived even before the site opened, giving us time for breakfast in the nearby restaurant that seats hundreds during lunch. As we were only two twelve-person vanloads, we had very good service. There were some interesting breakfast items, including a salsa whose heat was sufficient to complete our wake-up process.
Among the first to enter, we had the grounds to ourselves for several hours, until the arrival of the tour buses. Unfortunately it rained for quite a while, so the climb to the top of the Pyramid, with its steep slope and shallow steps, was even more hazardous than usual. (The figures in white at the base of the Pyramid are nuns.)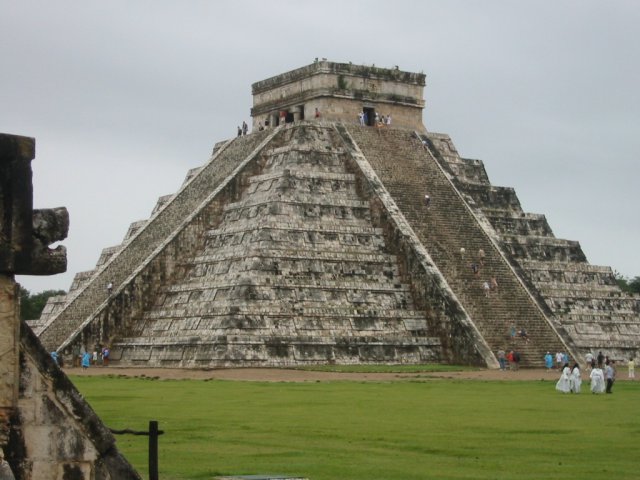 This ascent also would never be allowed in the U.S. – hand railings, even elevators, would be required.
Unfortunately, the rain prevented my taking pictures on the way up and down, although the view from the top was impressive.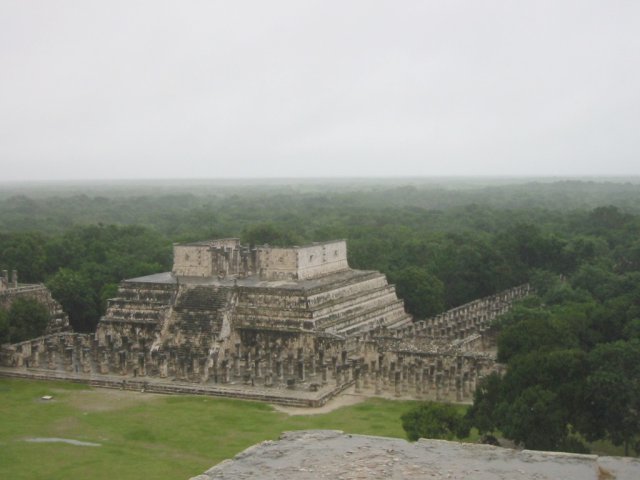 On the other hand, I had heard from others who had been there before that the climb during the heat of the day could be opressive.
The grounds also include a huge open-air "ball court," twice the length and width of a football field (Players on two teams tried to knock a nine pound hard rubber ball through one of the two stone rings placed high on either side wall, using only their elbows, knees, and hips!), a large pool thought to be the site of sacrifices, an astronomical observatory, and many other fascinating structures, which archaeologists are still recovering from the jungle.
---
Last week I went in to donate blood and added Cancun to the list of places outside the U.S. where I've been in the last three years. You can imagine that the list takes them a while to write down. They asked if I'd visited any ruins, and I said yes, Chichen Itza. They said that made me ineligible to donate blood for a year!
It turns out that it isn't even Chichen Itza that's the problem, but having traveled through the jungle area to get there! Malaria risk, they said. I said it was ironic that the only place we noticed any mosquitoes was in Cancun, which is not a risk.
In fact, there is a whole slew of areas that are in the same category. I expected Africa, but not parts of Jalisco – the home of tequila, and which includes Puerto Vallarta and Guadalajara – much of Costa Rica and Peru, although not Cuzco or Machu Picchu, and all of India. In fact, the exceptions take up twenty pages or so of a loose-leaf notebook. Unfortunately it isn't available online, or I could have saved my time and theirs. I had checked their web site to make sure that my second Hepatitis A shot, a couple of weeks before, was not a problem.
© Copyright 2003 Jack Ludwick - All Rights Reserved
Home