Home


Lights, Camera, ...
Rio de Janeiro, August 2004
On the last leg of our flight to Rio de Janeiro, from Sao Paolo, the in-flight video showed many of the attractions of the city: Sugar Loaf Mountain (fortunately, when we took the cable car, James Bond and Jaws weren't fighting overhead), Corcovado Mountain, crowned by the statue of Christ, Carnaval, and, of course, an assortment of beauties in a wide range of hues wearing dental floss bikinis. There were also many scenes showing people bicycling, running, playing soccer and volleyball, much of it on and along the expansive beaches. Something to balance the cheesecake, I thought.
However, when we got there, it was true—everywhere, people were in aerobic motion. Soccer, of course, since it's their national obsession; it's said that no one goes to work in Brazil on big international game days. One night, returning from a samba club around midnight, we passed a park with a complex of a dozen floodlit fields, all occupied. As well as beach soccer and volleyball, a Brazilian variant of the two, futvolei, is popular: volleyball played without using the hands.
Along the beaches, between the wide promenades and the streets, were spacious bicycling/running lanes, and not just in the famous Ipanema and Copacabana districts. One day, on a trip into the country to visit a fascinating museum of na´ve art, runners and cyclists populated the miles and miles of trails along the beaches—just as in the video. And the promenades are filled with strollers.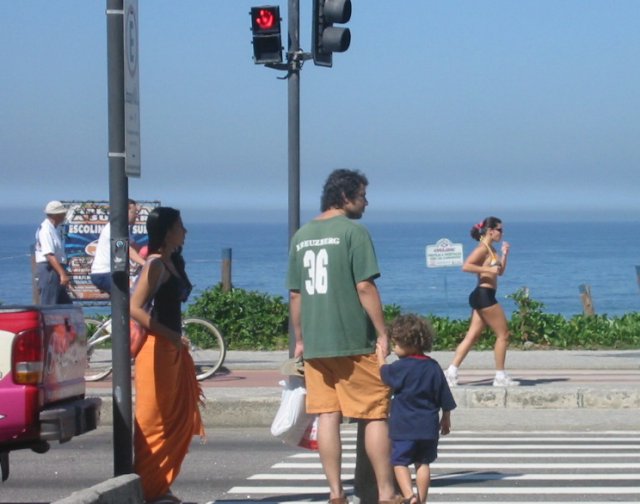 Since our hotel was only a block from the ocean, one day I took a run down to the east end of Ipanema beach, a location recommended by our guide to watch the sun set behind the peaks to the west. (I later read in the Lonely Planet guide that the beach in this area, the Garote de Ipanema, is also known as the CemetÚrio dos Elefantes "because of the old leftists, hippies, and artists who hang out there, but it's also popular with the young and beautiful who like to go down there around sunset to smoke a joint." Perhaps our guide was giving us a tip, which I missed out on.)
The next day I went in the other direction. On the way back a couple of young lovelies suddenly jumped in front of me and motioned me to stop. They wanted to take a picture—not necessarily of me, but one that included me. Although Portuguese isn't one my languages, I could figure out what they wanted, particularly since they pointed out that I should pretend that I was running just before a bicycle symbol painted on the path. The first try wasn't exactly what they wanted (digital camera), so I tried again. That one seemed to be satisfactory. When I asked what they had in mind, I found they did speak some English. It was for a class project. Too bad I couldn't get an e-mail copy—from now on I'll carry a business card!
© Copyright 2004 Jack Ludwick - All Rights Reserved
Home