&nbsp &nbsp Home
Austria
July 1996

Our Story Thus Far
As often happens we didn't know very far in advance when we would be able to take a vacation this summer. Betty Lou had been asked to work on curriculum design for three weeks and my project had several products to be delivered. When we finally concluded that the best time seemed to be two weeks in early July, we had less than a month to make plans. Austria had been on our list for several years – it was one of the few places that doesn't get too hot in the summer that we hadn't yet visited. Although we had been through the western part (Innsbruck, Garmish-Partenkirchen) on our first trip to Europe many years ago (1968!) and spent a half day in Vienna on our way to Budapest in 1990, we knew there was much more to see.
The best arrangement turned out to be from BWI to Frankfurt. We'd have preferred Dulles to Vienna, but were persuaded by the bottom line – Vienna: $815 air and $50/day for a compact car (VW Golf); Frankfurt: $434 air and $17/day for the same car. Also, since we had lived in Frankfurt for two years, it would be interesting to see how things had changed in the meantime.
At the last, last minute – the Wednesday before our Saturday departure – Betty Lou called the Austrian Embassy to ask if they had information about their wine regions. (The Internet hadn't been very fruitful, but the Austrian Tourist Bureau had sent a semi-useful brochure – in German of course.) No one was knowledgeable, but one person suggested she call the Austrian Trade Bureau in New York, who gave her the name and fax number of the head of the "Oesterreicher Weinmarketingservice" in Vienna.
Realizing that time was getting short, Austria being 6 hours ahead, we spent the Fourth of July evening composing a letter requesting information about touring the various wine regions and giving our very flexible itinerary: arrive in Frankfurt July 7 (and depart from there two weeks later), drive to Salzburg a day or two later, probably touring the lake area of the Salzkammergut (to the east of Salzburg), then along a particularly picturesque part of the Danube to Vienna. We told them that we'd visited the wine regions of France, California, New York – even Virginia – and had attended the German Wine Academy when we lived were.
We faxed the letter off around midnight. We had designed an impressive letterhead for the National Capital Area Chapter of the American Wine Society, including officers' names, to give it authenticity.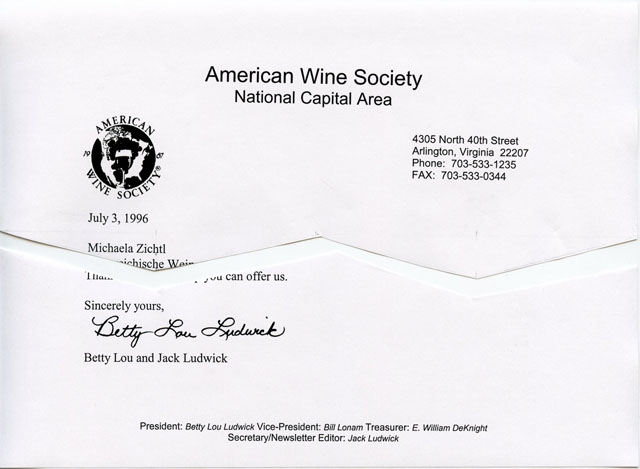 Actually, the German Wine Academy probably carried the most weight with them – it lasts for a week and includes daily lectures, tours of most of the German wine regions, various research and testing facilities – and tasting of hundreds of wines.
They faxed a return almost immediately (the computer logged the time as 3:30 AM), proposing a program, yet to be determined, for four days near the end of our visit, involving two meetings a day in the wine regions of Vienna, Lower Austria, and the Burgenland!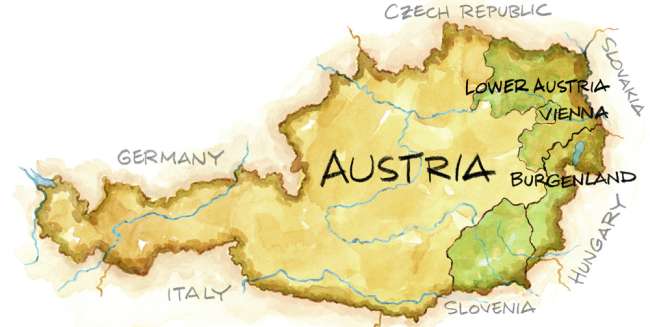 Lower Austria gets its name from being nearer to the source of the Danube, that is to the west of Vienna; Burgenland turned out to be south of Vienna, adjacent to the Hungarian border – in fact, it used to be part of Hungary. So suddenly a good portion of our vacation had a lot of structure, although its exact shape wouldn't be known until we contacted them when we arrived in Austria.1
We intended to arrive at the airport four hours in advance, but managed 3-1/2, and found a serpentine line with over 100 people already in place! Having plenty of time to talk with others, we soon learned that most of the early arrivals had been told that the flight would depart at 7:30 PM instead of 9:30! Evidently, since we had booked only three weeks before, we had the latest information. Another thing we had was our actual tickets, Fed Ex'ed to us the previous week, while many of those who had reserved six months or more in advance through a travel agent had been told they'd have to pick them up on departure. I know we'd have been very nervous about such an arrangement. (We dealt directly with a discount ticket broker, Fare Deals, although the tickets said Euram. Betty Lou had called both, and found Euram asking $50 more for the same tickets! And we found other travelers who had paid $100 more – in March. The wonders of deregulation.)
We finally got our seat assignments and went to the observation lounge to relax, and to celebrate the beginning of our trip with a bottle of champagne we had brought in a cooler bag. A half-hour before boarding we sauntered to the departure gates – or rather to within 150 feet of it, to join another line inching its way through the single metal detector. One reason for the delay was that the sensitivity was set so high that almost everyone had to be hand checked. One woman had triggered it because she was wearing too many hairpins! And this was before the TWA crash2. BWI has some way to go to earn the "I."
The L-1011 flight was uneventful and we soon found ourselves reliving our 1989 approach to Frankfurt-Main airport, when we had been accompanied by our 18-year old cat, Crumpet, under the seat. Fortunately we got to the car rental counter ahead of the group of 17 whose 2 vans were proving difficult to locate. Particularly because the computer was down, so everything had to be done by hand.
We had no advance hotel reservations, so we bought a phone card good for about $8 in calls (although these had been popular in France, they were not yet widespread in Germany when we lived there. Now they are a necessity – particularly in smaller towns and along the highways, there may be no phones that accept coins.) and called a motel not far from our favorite everyday restaurant. The car rental clerk (she had been trying to be very knowledgeable about things American) couldn't believe that there was actually a motel in Frankfurt!
No doubt it's because it's not far from the military compound that previously housed the "Shopping Center" catering to the American troops. It included a large supermarket – as well as a mini-market – liquor store, bookstore, department store, electronics store, gas station (U.S. prices; 1/3 the price of German – for US-registered cars only), auto repair shop, laundry, travel agency, and nightclub. Since MITRE's contract was with a civilian agency (the "Budesanstalt für Flugsicherung," equivalent to our FAA), we did not have access to these wonders. Actually, the operators of the bookstore would turn a blind eye, a godsend for those of us trying to find English language travel and language books or an occasional newspaper.
Anyone with a US passport could enter the grounds, but you needed the proper ID to buy anything, and in fact, even to enter most of the other stores. After Betty Lou had been teaching for a year or so and word of her teaching abilities had grown enough for her to be able to demand an ID, we also had access. We rarely bought groceries – the food available in the German stores generally was superior in quality and freshness – and our car was German-registered, but we did occasionally buy a bottle of Cognac, and our return on the QE2 was arranged through SATO, the travel agency.
Through the chain link fence, we saw the shopping center was deserted, with grass growing in the cracks of the acres of asphalt. When a friend had visited us during our stay in Frankfurt, we had taken a city bus tour with commentary in German and English. I noticed that it was not always a complete translation – when we passed this area, the guide told only the Germans that it was soon to revert to German ownership, and would provide many much-needed housing units. The expense of integrating East Germany has curtailed many plans.
That night we visited our favorite Frankfurt restaurant, "The Chicken Place." We talked to the chef and to the owner, who after dinner insisted that we join him in a Maltese (a digestif tasting somewhat like acquavit and served ice cold). When we gave him one of the cards revealing our exalted status in the National Capital Chapter of the American Wine Society, which we had made to give to winemakers we would be visiting, he gave us one with the address of his condo in Ft. Myers, Florida! The rascal could speak English perfectly well, but had been content to let us stumble along in our German for all the time we had lived there! We still don't know about the chef.
We had previously known that the owner actually was also a Chef at the nearby Deutsche Bank headquarters. In German a Chef is a chief – the person in the kitchen is a Küchenchef.
The next day, Monday, we planned to visit the owners of our local wine shop. We had noticed when we drove by that it would be open until 3 PM that day. After a typical German breakfast – 2 kinds of cheese, 3 kinds of cold cuts (and liver sausage), a boiled egg, roll, and coffee – we took the U-Bahn (subway) downtown. (Unlike in most French hotels today, German ones still include breakfast in the price; however the price is higher to make up for it.) We found some of our favorite stores and restaurants closed; Berlitz, which had occupied an entire floor in a prominent location, had totally vanished; graffiti had blossomed in even respectable neighborhoods; there was substantially less traffic in the pedestrian zone during lunch hour than when we had been there – and the Hotel Schwille, where we had spent our first month, was now an auction house!
We walked by our apartment, which seemed not to have changed, except for the replacement of our name among the four mailboxes. However, the garage door of the adjacent apartment was decorated with graffiti, as was the apartment building across the street. As we approached our wine shop, we noticed it was still dark. Looking closer at the opening time, we realized that the German word meant it would be open "from," not "until" 3 PM – we should have remembered the German propensity for long weekends. (The autobahns would be already crowded at 3 PM on a Friday.) When we stopped by later, we found the shop open, but operated by strangers! It turned out the people we knew were on vacation for another week.
That night we checked Frommer and Fodor for hotels in Salzburg. This was the first time in years that we were in a country not yet covered by a comprehensive Michelin Red guide. Nothing was very cheap, so we decided we might as well stay in the Old Town, in the 700-year-old Hotel Elefant. (It meant what you think, in fact there was a large statue of one in the lobby, but we never did learn how it got its strange name.)
Although we had a very good map of Austria, and a pretty good one of Salzburg from the Austrian Tourist Bureau, we left the autobahn an exit earlier than planned, but lucked out by being only a few blocks from an Information kiosk. The clerk showed us on the map exactly where the hotel was and drew a rather circuitous route, through a tunnel in the Moenchsberg ridge behind the Old Town, then via several careful turnings to get there – one-way streets, he said.
When we got there we found that he had neglected to mention that the whole area was also a pedestrian zone, and it was the peak of the day. The throngs of visitors let us know that they didn't think we belonged there. If we had known exactly where we were going, we could have eased our way through the crowd to the proper turning, but we missed our opportunity and were soon on the fringes of the Old Town.
Betty Lou walked to the hotel to ask them where their parking garage was located so we could go there. The woman behind the counter was adamant: "You MUST bring your car to the hotel! After you have unloaded, it will be taken it to the garage!" (Although we were now in Austria, that sounded pretty German to me. It reminded me of the saying that in Germany everything that isn't forbidden is compulsory!)
I wasn't about to run that gauntlet another time, and fortunately the map showed a parking garage which we entered by another tunnel in the Moenchsberg ridge. That turned out to be the correct place – as we entered, there was a sign with a map showing us how to get to the Hotel Elefant, and since our luggage consists of one, wheeled, carry-on bag each it was not a problem getting there. We later talked to a couple who had parked in a remote area and had taken a taxi! (Signs in the area do announce that taxis are allowed; besides the drivers know exactly how to get where they are going, as well as being more thick-skinned about what pedestrians may think.)
Frommer had written of a nearby restaurant, Goldener Hirsch (Golden Stag) in such glowing terms that I didn't expect we could get a reservation that night – but perhaps the next, or for lunch ... ("Even if the restaurant only served the clients of its adjoining hotel, it would still attract the brightest luminaries of the international music and business community. The fact is, however, that dozens of the fans of this place travel a long distance to eat in the authentically renovated ambiance of an inn established in 1407.")
When I called to try to reserve for 7:00 there was no problem! Perhaps the on-again, off-again rainy weather was a factor, or maybe all those luminaries were waiting for the Salzburg Music Festival which would begin in two weeks, and last for a month.
---
1 As you'll learn, after our arrival we experienced several days of increasing unease before learning where we'd be going. To cut to the chase, here is our eventual itinerary:

Sunday, July 14: AM: Mayer am Pfarrplatz (Vienna), PM: Wieninger (Vienna)
Monday, July 15: AM: Dolle (Kamptal), PM: Saloman Undhof (Kremstal)
Tuesday, July 16: AM: Hirtzberger (Wachau), PM: Höpler (Burgenland)
Wednesday, July 17: AM: Juris (Burgenland), PM: Kracher (Burgenland)

2 When I wrote this, the event was fresh in everyone's mind, but today the allusion might not be so clear: on July 17th, TWA flight 800 exploded and crashed into the Atlantic Ocean off the coast of Long Island, killing all 230 on board. When we awoke the next morning in our Vienna hotel, it was the main story on all the TV channels – not exactly the kind of thing we wanted to think about with our return flight three days away.

© Copyright 2000 Jack Ludwick - All Rights Reserved


&nbsp &nbsp Home